Strawberries and Cream Oatmeal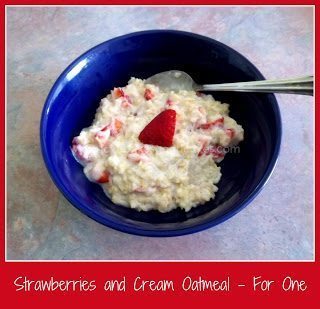 Someone eats oatmeal at our house almost every morning. As a mom, I try to vary the healthy stir-in's to help encourage them to eat it. One of my favorites, is this "Strawberries and Cream" version. (I like my oatmeal kind of thick and not so runny … as you can see in the picture!)
Grab a bowl and let's get to work!
Strawberries and Cream Oatmeal – For One
Printable recipe
1/2 cup quick-cooking oatmeal
1 cup milk
1/4 tsp. vanilla extract
1/2 cup ripe strawberries, washed and slightly mashed
sugar, if desired
In a large*** microwave-safe bowl, combine the oatmeal, milk and vanilla extract. Microwave on full-power for 3-5 minutes or until it reaches your desired consistency. Add strawberries and stir. Add sugar, if desired.
Enjoy hot!
*** Please, make sure you use a large bowl so you're not cleaning up your microwave from the oatmeal spillage! Trust me on this.
Check out some things I found on the web this week –
I know soup isn't really a "summer" food, but I love soup! This
Summer Vegetable Chowder at Cake Student
looks like a wonderful way to use your garden's bounty! Healthy and tasty – what more could you ask for?
I'm sure some of my regular readers have figured out that my family loves pizza … if you're new and stick around for awhile, you'll notice! 😉 This
Pad Thai Pizza By Lady Behind the Curtain
combines the best of Pad Thai and pizza … the results, I'm sure are amazing! Chalk this up as another Friday night recipe to try!
My favorite, "favoritest" (ok, I made that word up) fish is salmon. This
Teriyaki Salmon with Sriracha Cream Sauce from Damn Delicious
sounds so tantalizing! Since I don't know how to say the "s" word, I just call it "rooster sauce". 🙂 This recipe sounds quick, easy and sure to please! I cannot wait to try this one out!
I hope y'all have a fantastic weekend. I think we're planning on enjoying 2nd Saturday – here in NC, there are tons of free things to do all over the state during the summer on the 2nd Saturday of the month.
Linked up at
these
fun parties!