This microwave Strawberries and Cream Oatmeal makes a quick and easy breakfast choice. It's a healthy and delicious way to start your day.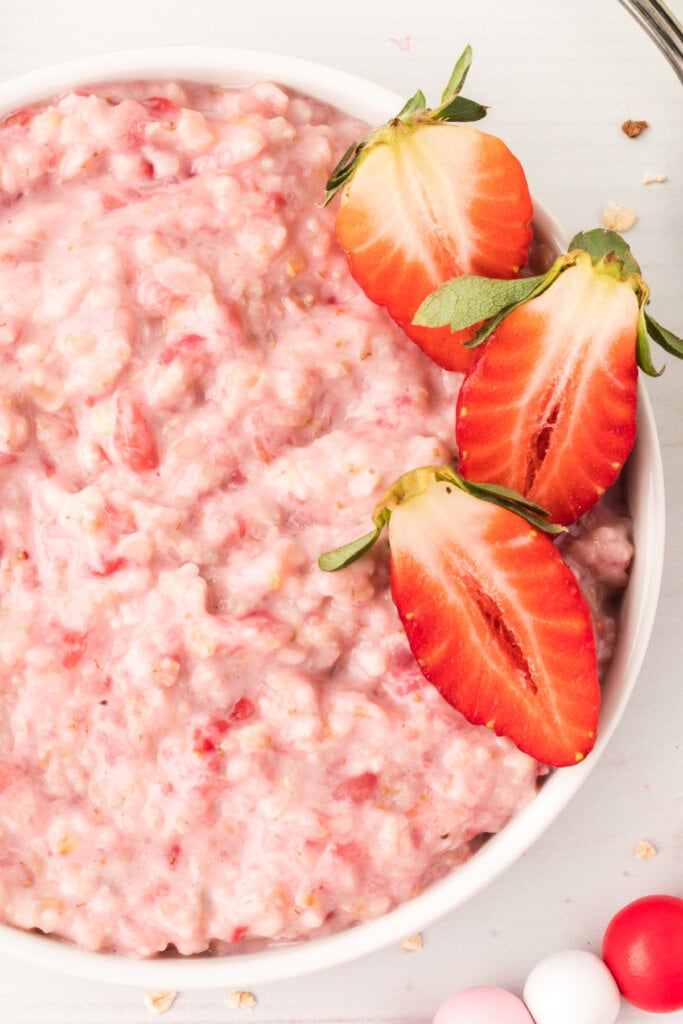 Strawberries and Cream Oatmeal Recipe
Y'all know I'm not a breakfast person. It's the ongoing saga of this blog I think! Hehe! However…someone eats oatmeal at our house almost every morning. For that reason, I love this strawberries and cream oatmeal because:
The serving size is exactly 1 (meaning no leftovers or waste),
It's super quick and easy,
And it's full of healthy stir-ins like strawberries! You could even add something like chia seeds if you wanted, too!
This is a super simple recipe that's 100% family-friendly and kid-approved. It makes oatmeal, which can be so bland and boring, into a sweet-yet-healthy treat. It's also really easy to modify it for various diets, so you could use non-dairy milk, for instance!
Let's grab a bowl and get to work … Enjoy!!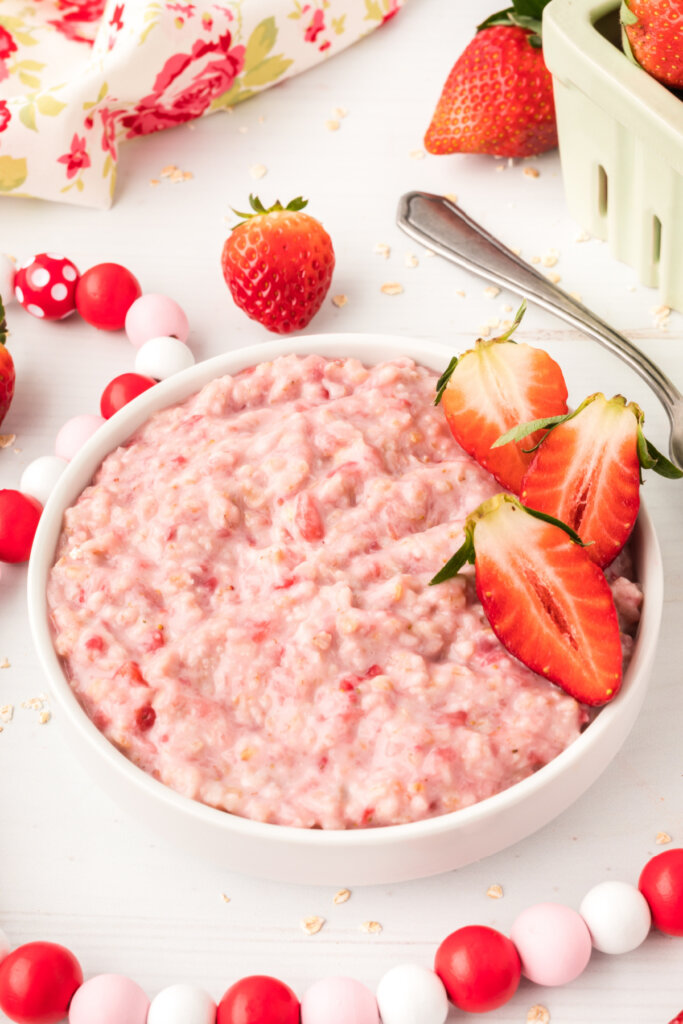 Strawberry Oatmeal: Ingredients & Equipment
To make this oatmeal with strawberries, you'll need …
Ingredients
quick-cooking oatmeal – the base of everything! You want quick cooking because it's efficient for those busy mornings.
milk – is the always-necessary ingredient in oatmeal to give it its texture and sweet flavor. You can use non-dairy milk as well.
vanilla extract – just a touch of this and you've turned your milk-and-oatmeal into cream oatmeal! It lends a specific flavor that kicks this oatmeal up a notch. (And I know that sounds odd about oatmeal, just trust me on this one.)
strawberries – ripe, washed, and mashed. You'll stir these in after heating your oatmeal.
sugar – optional, but tasty to add if you feel you need more sweetness after everything's done. Granulated sugar is what I'd use, but I've also heard that honey or brown sugar is AWESOME in this recipe!!
NOTE: You can also throw this recipe in the blender for a sort of strawberry and cream oatmeal smoothie. I haven't personally tried it, but I know a lot of people who have and swear by it on hectic mornings!! Try it out!
Equipment
large bowl – to mix your oatmeal … and to serve it!
measuring cups and spoons – to accurately measure ingredients.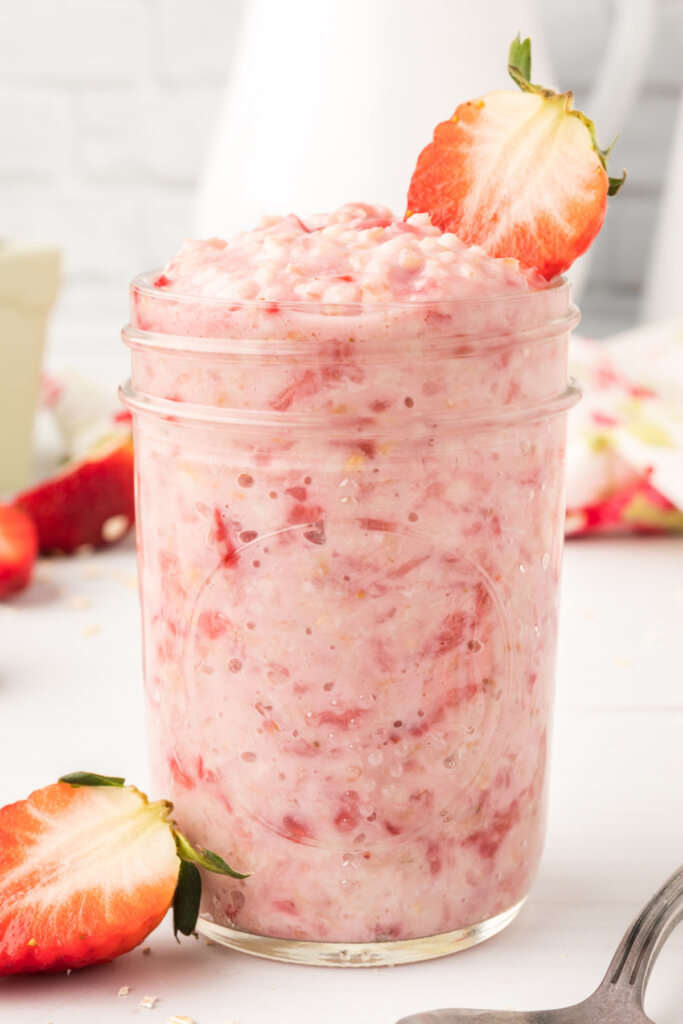 Strawberries and Cream Oatmeal: FAQs
How long does it take to make Strawberry and Cream Oatmeal?
15 minutes or so! 10 minutes to cook, 5 minutes to prep. It's definitely one of those quick and easy breakfast recipes!!
How many servings does this oatmeal recipe produce?
Just one! You'll want to make a few batches if you need oatmeal for your whole family, for example.
Can you switch out the vanilla extract for almond extract?
Sure! It's going to taste a little different, I think, but it'd still have the overall strawberries and cream flavor you'd be looking for!!
Are there any additions you recommend?
Try …
– other fruits, if you want to make a whole big fruity, creamy oatmeal
– chia seeds, chopped nuts, or other healthy add-ins
– maple syrup is a natural sweetener
– salt – yes, really, salt! A small pinch can boost all the other flavors!
Should I use fresh or frozen strawberries?
Either is fine, but fresh ones taste better in my opinion!!
Can you use cream instead of milk?
I don't see why not!! Really, any dairy (or non-dairy substitute) should work. Do keep in mind that it might change the flavor slightly depending on what you use … but not so much that you'd notice a huge difference.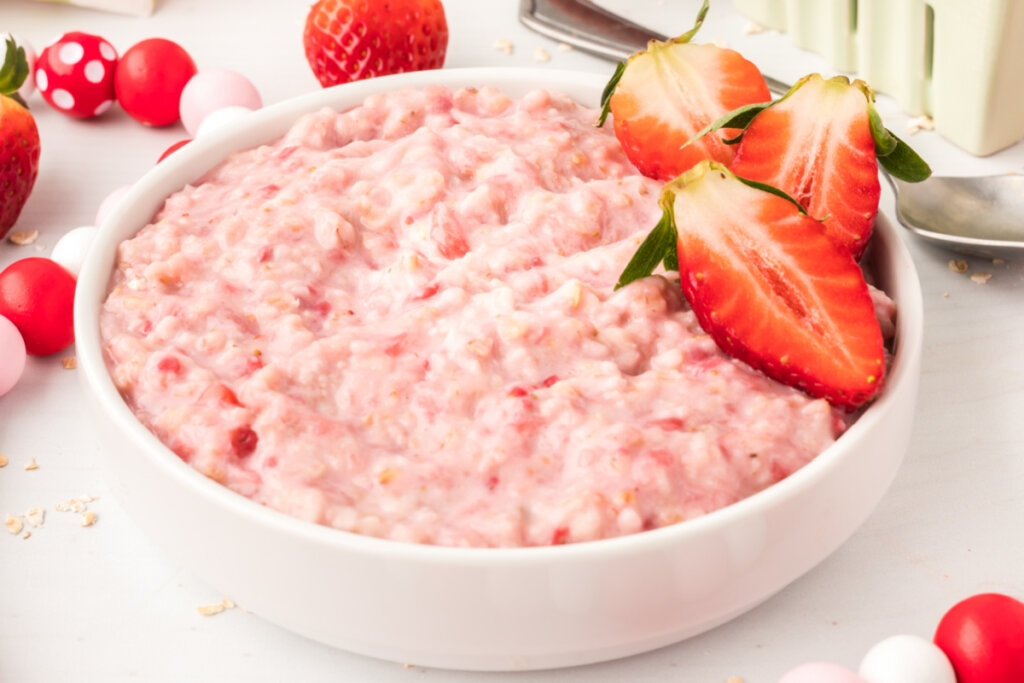 Other recipes you may enjoy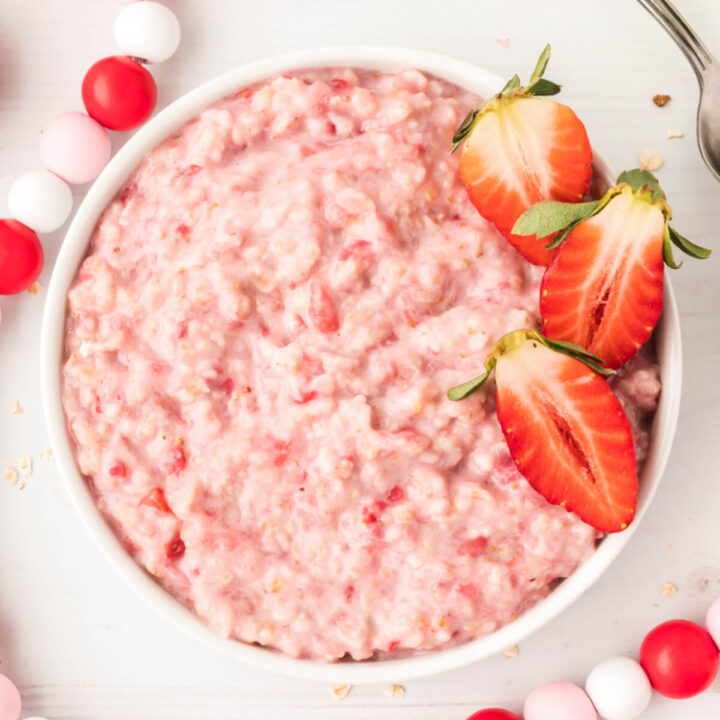 Strawberries and Cream Oatmeal for One
This microwave Strawberries and Cream Oatmeal makes a quick and easy breakfast choice. It's a healthy and delicious way to start your day.
Ingredients
1/2 cup quick-cooking oatmeal
1 cup milk or non-dairy alternative
1/4 teaspoon vanilla extract
1/2 cup ripe strawberries, washed and slightly mashed
granulated sugar (or sugar substitute), if desired
Instructions
In a large microwave-safe bowl, combine the oatmeal, milk, and vanilla extract.
Microwave on full power for 3-5 minutes or until it reaches your desired consistency.
Add the strawberries and stir. Add sugar to taste, if desired.
Enjoy hot!
Notes
Please, make sure you use a large bowl so you're not cleaning up your microwave from the oatmeal spillage! Trust me on this.
Recommended Products
As an Amazon Associate and member of other affiliate programs, I earn from qualifying purchases.
Nutrition Information:
Yield:

1
Serving Size:

1
Amount Per Serving:
Calories:

247
Total Fat:

7g
Saturated Fat:

3g
Trans Fat:

0g
Unsaturated Fat:

3g
Cholesterol:

20mg
Sodium:

120mg
Carbohydrates:

35g
Fiber:

4g
Sugar:

20g
Protein:

12g
Please note that the nutritional information listed on this page is an estimation based on the products I used. Ingredients and nutritional information can vary significantly between brands. Always be sure to read labels. Please verify that a recipe fits your needs before using it. Nutrition info may contain errors, so please verify it independently. Likewise, recipes may contain errors, so please use your common sense when following them.
Originally published on June 8, 2012. Updated on April 11, 2022.