This Southern-Style BBQ Pork and Coleslaw Mini Taco Boats recipe is perfect for game day – or for an easy weeknight dinner! #OldElPasoTailgate
BBQ Pork Tacos
Who else is ready for football season?!
It feels like it's been forever … doesn't it? How long has it been? Seven months or so?!
I have to be honest with you … as much as I love watching the game, it's not my favorite part. Not even close. Don't get me wrong – I love watching the game, but I love all of the yummy tailgating food more!
Football season is a big deal in the Love Bakes Good Cakes house because we love to get behind our teams and eat all of the food! Almost every weekend you can find us cheering for our favorite team while enjoying some of our favorite foods!
I love, love, love this time of the year!
Southern-Style BBQ Pork and Coleslaw Mini Taco Boats
One of our favorite game day foods is BBQ Pulled Pork Sandwiches with Coleslaw on top. I knew I had to grab all of the ingredients to make this recipe happen.
It was a hit with the family. We'll be serving these little boats again in two weeks when we have a few friends over to watch football! This Southern-Style BBQ Pork and Coleslaw Mini Taco Boat recipe are the perfect snacks while watching the game. Everyone will love them – and you'll love how easy they are!
Other recipes you may enjoy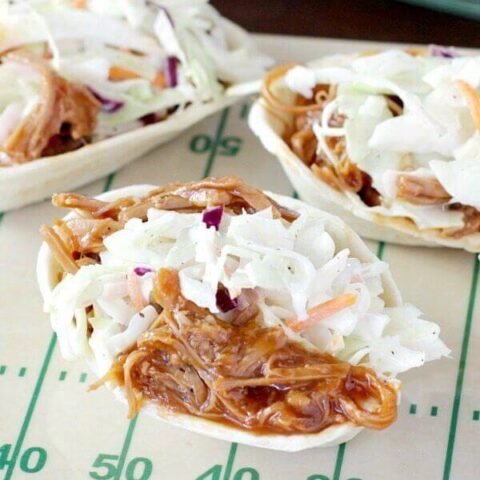 Southern-Style BBQ Pork and Coleslaw Mini Taco Boats
Total Time:
8 hours
10 minutes
This Southern-Style BBQ Pork and Coleslaw Mini Taco Boats recipe is perfect for game day – or for an easy weeknight dinner!
Ingredients
For the Coleslaw
1/2 cup mayo
2 tablespoons granulated sugar
1 1/2 tablespoon lemon juice
1 tablespoon distilled vinegar
1/2 teaspoon salt
1/4 teaspoon ground black pepper
1 bag (16 oz.) coleslaw mix
For the BBQ Pork
2-3 pounds boneless pork picnic roast
Salt and pepper, to taste
1 cup water
1 1/2-2 cups BBQ sauce
To serve
2 packages (12 count each) Old El Paso Mini Four Tortilla Taco Boats
Instructions
For the Coleslaw:
In a large bowl, combine the mayo, sugar, lemon juice, vinegar, salt, and pepper with a whisk until well combined.
Add the coleslaw mix and stir to combine.
Cover and refrigerate for at least 2 hours.
For the BBQ Pork:
Place the picnic roast in a slow cooker. Liberally season it with salt and pepper. Add water to the crock.
Cover and cook on low for 6-8 hours or until the pork shreds easily with a fork.
If desired, drain the liquid from the crock. Shred the pork. Add BBQ sauce. Stir to combine.
To serve:
Place a small portion of the BBQ Pork into the Old El Paso Mini Flour Tortilla Taco Boat. Top with the desired amount of coleslaw. Repeat with remaining pork, coleslaw and taco boats. Serve immediately.
Nutrition Information:
Amount Per Serving:
Calories:

173
Total Fat:

9g
Saturated Fat:

1g
Cholesterol:

34mg
Sodium:

272mg
Fiber:

1g
Sugar:

8g
Protein:

11g