My easy recipe for Crockpot Italian Beef for sandwiches is simple and delicious. This Slow Cooker Italian beef is family-friendly too!
Italian Beef Sandwiches
It's the time of year when a hot meal made in the slow cooker or crockpot tastes best. That's where this Italian beef shines. It takes a while to cook, I'm not gonna lie…but you're going to adore it, especially on sandwiches. Filling, savory, and maybe even a little unusual if you don't live somewhere it's not commonly served (like the southern US) – I honestly can't get enough of this recipe – especially when it's cold out.
This isn't just any Italian beef recipe…it's sandwich-worthy Italian beef made in a crockpot or slow-cooker! If my visitors' previous comments are anything to go by, this is going to be on constant rotation in your house ASAP.
How do I know this crockpot Italian beef recipe is good? Everyone's told me!
"These are so good! I've never made my own, but I love the pulled beef with melted cheese on bread. Yummy! Thanks for the recipe!"
Here's another one:
"Yum! These sandwiches look delicious! I love coming home to a warm, slow-cooked meal."
Let's dig in…
Dietary Note
I've noticed that some Italian dressing mixes are not gluten-free, so please don't assume the recipe is gluten-free just because you found gluten-free hoagie buns! I don't want anyone getting sick. Always check the nutritional facts and info on the package, y'all!!
Crockpot Italian Beef recipe
chuck or rump roast
Italian dressing mix
pepperoncini juice
pepperoncini peppers
garlic powder
dried basil
dried oregano
beef broth or water
salt and pepper to taste
Additional Ingredients to make sandwiches:
Provolone cheese slices
Hoagie buns
Sliced pepperoncini peppers
How to make Italian Beef
Place roast into the slow cooker. Add on top seasonings, peppers, pepperoncini juice, and beef broth.
Cover and cook for 8-10 hours or until the roast is fork-tender.
Remove roast from slow cooker and shred with a fork.
Place shredded roast back into the cooker and let stand for about an extra 30 minutes to allow the meat to absorb more flavor.
Slice buns in half and spoon shredded meat on to bottom bun. Top with provolone cheese and sliced peppers.
Italian Beef: FAQs
If you have questions about this Italian Beef recipe, I have answers! Take a look at this section before leaving a comment if you run into trouble.
What can you do with leftovers? Do they freeze well?

Yes, you can put leftovers of this recipe in the freezer, but that's assuming that you have any leftovers! It's just that good! 😉 If you don't want to freeze it immediately, it will stay in the fridge for a day or two. You can then use any leftovers in rice or burrito bowls or reheat them for sandwiches again if you're still craving them.
Can you cook this on high in the crockpot, so it's ready faster?

To maintain that yummy savory tenderness, you're going to want to cook it on low and let it cook for the 9 to 10 hours listed in the recipe. I know that makes it a slower recipe and not suitable when you need something quick to throw together…but it is very much worth it, I promise you!!
I've heard of using beer instead of beef broth. Is that substitution any good?

Yes, I've heard that beer can be an excellent substitute for beef broth and bring a whole different kind of flavor to the dish! However, I prefer beef broth as the 'liquid' in this recipe. Plus, it's non-alcoholic if that is important to you. 🙂
Can you substitute the beef with another meat?

I've heard variations on this recipe that involve turkey or chicken. I wouldn't follow this particular recipe, though, and instead look for one suitable for poultry…that is, unless you are an expert cook and know how to change things up!! (You'll have to adjust cooking times and all that.) I've even heard of people using venison if that's your taste! I'd LOVE to hear your experiences with variations in the comments.
How did you like this recipe
Are you excited to chow down on the best Italian Beef Sandwiches in the world? There's seriously nothing better! Leave me a comment with your thoughts on this recipe, and if you have any questions I didn't answer, I'd love to help you!
Other recipes you may enjoy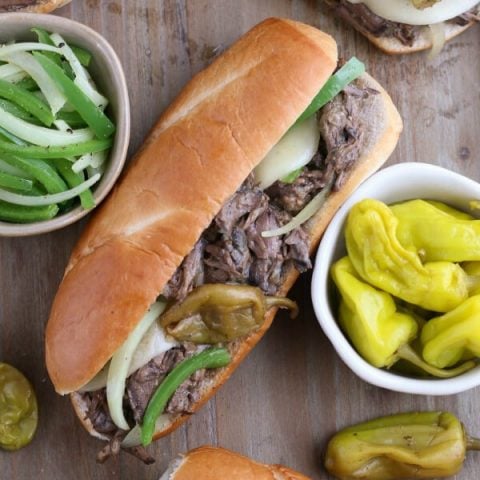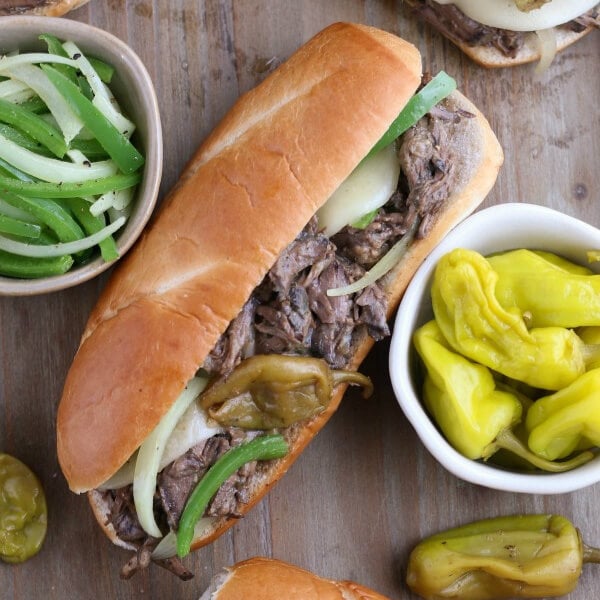 Slow Cooker Italian Beef Sandwiches
Cook Time:
5 hours
30 minutes
Total Time:
5 hours
50 minutes
My easy recipe for Crockpot Italian Beef for sandwiches is simple and delicious. This slow cooker Italian beef is family-friendly too!
Ingredients
1 4-5 pound rump roast
1 cup beef broth or water
1 packet (0.7 oz.) dry Italian-style salad dressing mix
2 teaspoons Italian seasoning
1 teaspoon salt
1/2 teaspoon pepper
1 teaspoon garlic powder
10-12 crusty rolls
10-12 slices Provolone cheese
Cooked onions, roasted peppers, sliced pepperoncini (optional)
Instructions
Place the beef in a slow cooker. Add the broth or water over the top. Sprinkle the dry Italian-style salad dressing mix, Italian seasoning, salt, pepper, and garlic powder over the top of the roast. Cover and cook on LOW for 10-11 hours or on HIGH for 5-6 hours or until the beef shreds easily.
Remove the beef from the slow cooker and shred with 2 forks. Place meat in the rolls and top with a slice of cheese. Place the sandwiches on baking sheets and broil 2-3 minutes or until the cheese is melted.
If desired, strain the juices in the slow cooker and serve as a sandwich dip or drizzle juice over the sandwich. Top with onions, roasted peppers, and/or sliced pepperoncini, if desired.
Recommended Products
As an Amazon Associate and member of other affiliate programs, I earn from qualifying purchases.
Nutrition Information:
Yield:

12
Serving Size:

1
Amount Per Serving:
Calories:

1845
Total Fat:

98g
Saturated Fat:

39g
Trans Fat:

0g
Unsaturated Fat:

45g
Cholesterol:

662mg
Sodium:

1109mg
Carbohydrates:

18g
Fiber:

2g
Sugar:

2g
Protein:

210g
Please note that the nutritional information listed on this page is an estimation based on the products I used. Ingredients and nutritional information can vary greatly between brands. Always be sure to read labels.
Originally published on February 8, 2013. Updated on April 27, 2020.