Get ready to celebrate with Sherbet Party Punch! This sparkling, fruit-infused beverage is a crowd-pleaser for any occasion. From festive holiday gatherings to summer picnics, its sweet and tangy flavors delight guests of all ages. Pour it into a punch bowl and watch it become the centerpiece of your event.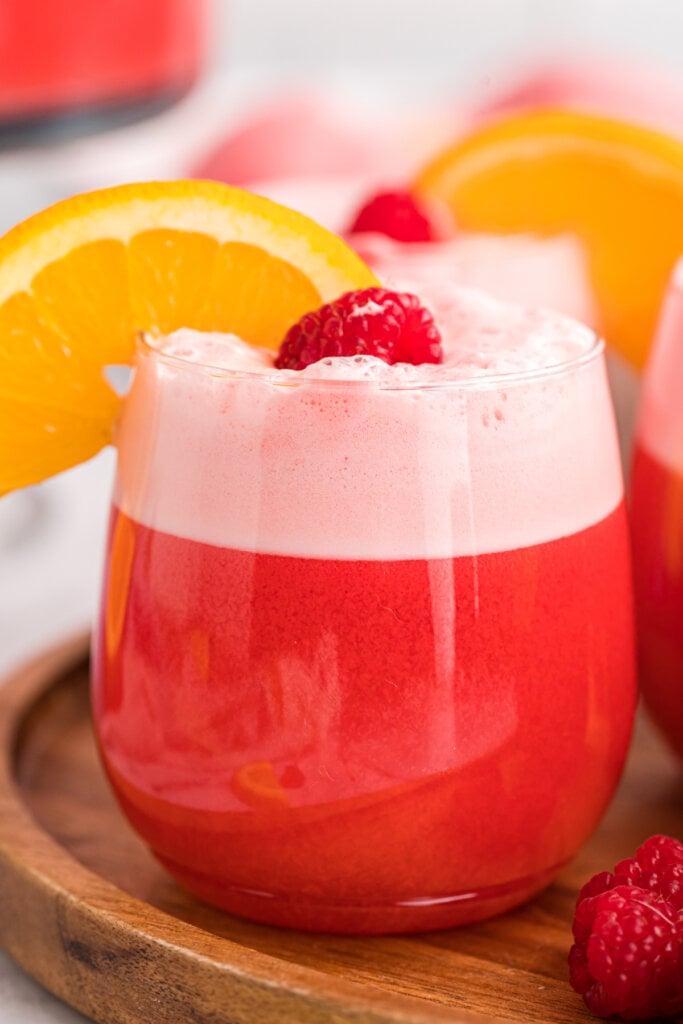 Sherbet Punch
Sherbet Party Punch, also known as Sherbet Punch or Party Punch, is the quintessential drink for any celebration. With its refreshing taste and eye-catching appearance, it's no wonder this beverage has become a favorite at parties and gatherings of all kinds.
This Sherbet Party Punch recipe is a delightful mixture that's both sweet and fizzy. Its vibrant color and fruity flavor come from the combination of just three key ingredients: Fruit Punch, Lemon-lime Soda, and Sherbet. Together, these elements create a drink that's not only delicious but also visually appealing.
Sherbet Punch, with its easy preparation and universal appeal, is a must-have for any festive occasion. Whether it's a birthday, holiday celebration, or casual get-together, this Party Punch will surely be a hit. The blend of tangy and sweet flavors caters to both children and adults alike.
Moreover, the versatility of Sherbet Party Punch allows for creativity. You can customize it by adding different flavors of fruit punch, soda, or sherbet. You can also try garnishing with fresh fruit.
Sherbet Party Punch is more than just a drink; it's an experience that brings joy and color to every gathering. Its simplicity, combined with the playful interaction of Fruit Punch, Lemon-lime Soda, and Sherbet, makes it a winning choice for any celebration.
So why not try making Sherbet Party Punch for your next event? It's perfect for various gatherings such as birthday parties, holiday events, baby showers, or simply a fun family get-together. It's sure to add a splash of fun and taste that will make your guests return for more!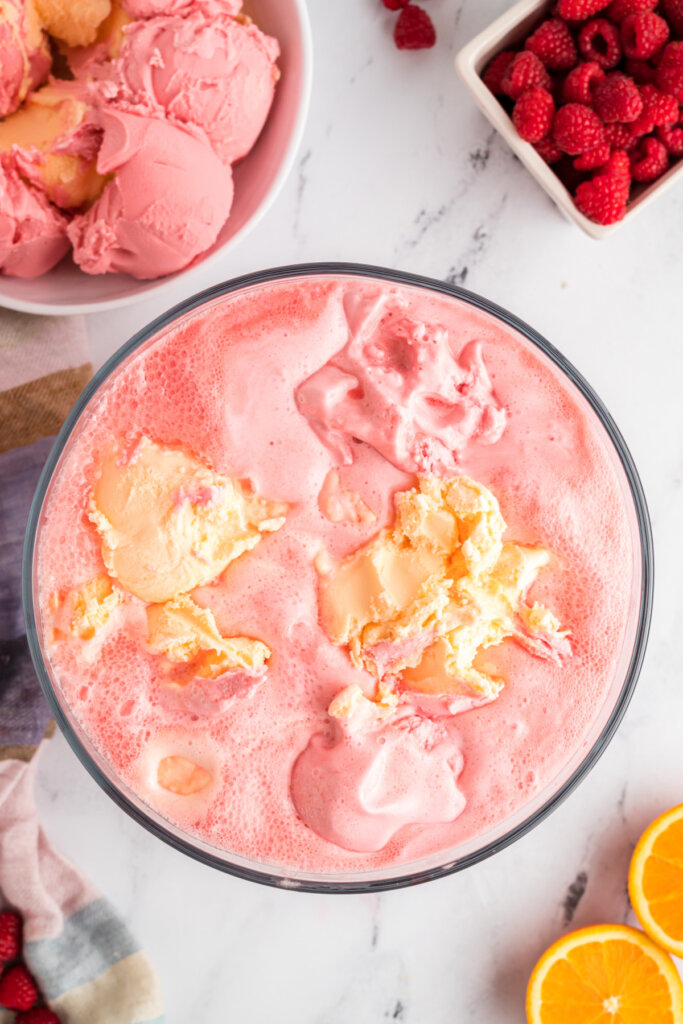 Sherbet Party Punch Recipe: Ingredients & Equipment
To make Sherbet Party Punch, you will need …
Ingredients
fruit punch – his serves as the base, providing a rich, fruity flavor.
lemon-lime soda – this adds the effervescence that makes the punch sparkle and dance on your taste buds.
sherbet -this ingredient gives the punch its unique creamy texture and enhances the overall taste.
Equipment
12-cup punch bowl – to combine your ingredients in and for serving.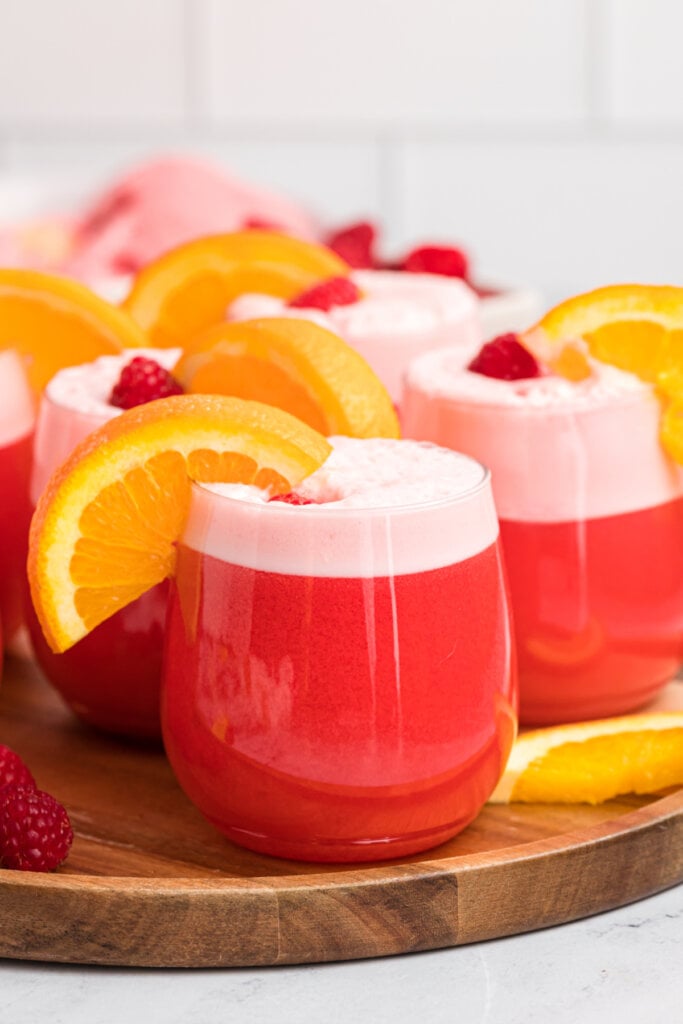 How to make Sherbet Punch
Add ingredients to punch bowl. Combine the fruit punch and lemon-lime soda in a punch bowl.
Stir in sherbet. Scoop the sherbet over the top and gently stir.
Serve and enjoy. Serve immediately.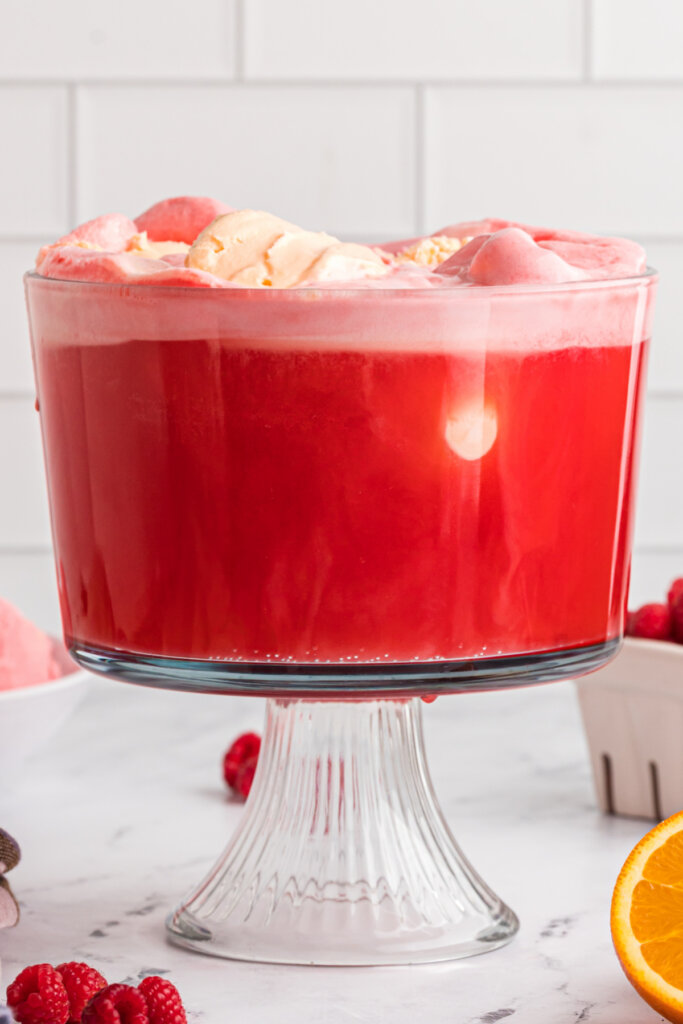 Sherbet Party Punch Recipe: FAQs
How long does Sherbet Party Punch last?
It is best enjoyed fresh. If you have leftovers, refrigerate them, but consume them within 24 hours, as the fizz from the soda may diminish.
Can Sherbet Punch be made in advance?
It's best to make it shortly before serving to maintain its fizzy texture. You can prep the fruit punch and lemon-lime soda ahead of time but add the sherbet just before serving.
Can I freeze this?
Freezing isn't recommended, as it may lose its effervescence and texture. It's best to enjoy it fresh.
Can I adjust the sweetness?
Certainly! Adjust the sweetness by altering the ratio of fruit punch to lemon-lime soda or by choosing a less sweet sherbet flavor.
Can I use different flavors of sherbet?
Absolutely! You can experiment with various sherbet flavors to create a unique taste for your Party Punch. Popular choices include orange, raspberry, or lime sherbet. You can also try a combination of flavors!
What other soda can I use?
While lemon-lime is classic, other clear sodas like ginger ale or club soda can also work well, depending on your flavor preferences.
Can I add alcohol?
While traditionally a non-alcoholic beverage, some adults may choose to add a splash of rum or vodka for a more spirited version. Always label it appropriately if serving a mixed-age crowd.
Can I make a diet version?
Yes, you can make a lighter version by using diet soda and a reduced-sugar fruit punch. Opt for a sorbet instead of a sherbet for a less creamy texture.
How can I garnish this punch recipe?
Garnishing with fresh fruit slices, mint leaves, or even edible flowers can add a beautiful touch. Feel free to get creative with your presentation!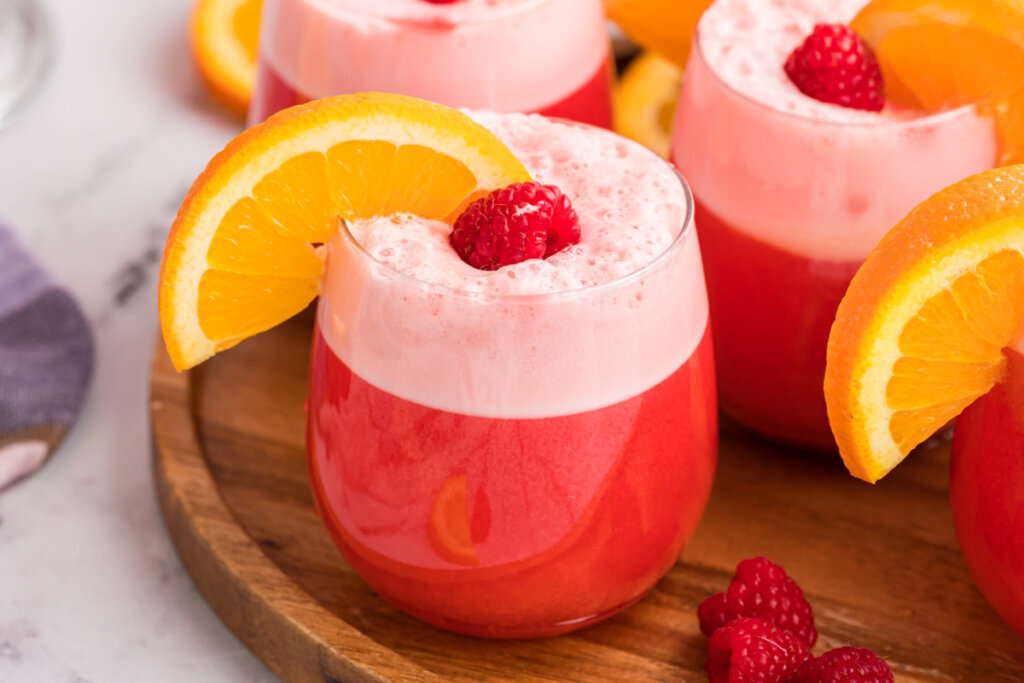 Other recipes you may enjoy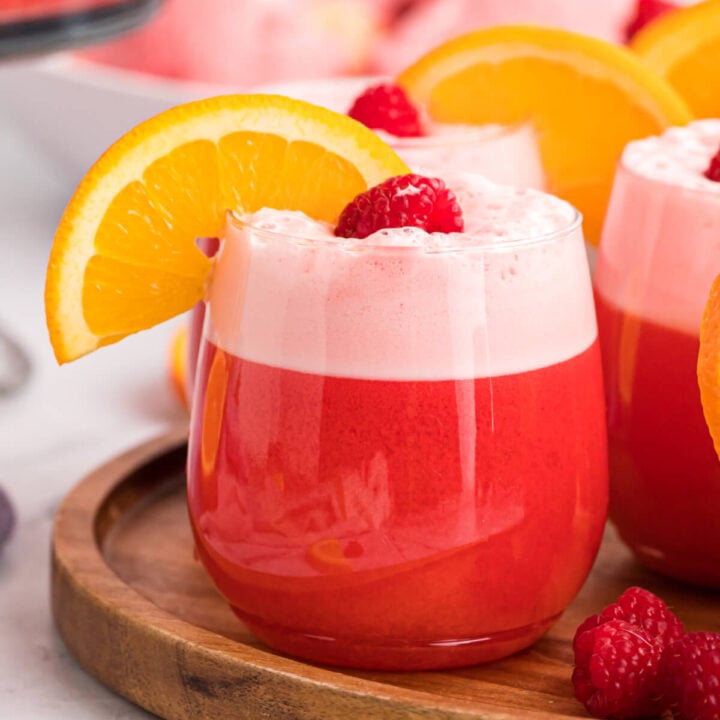 Sherbet Party Punch
Celebrate with Sherbet Party Punch! A festive drink that's perfect for any gathering. This fruity, fizzy delight brings joy to every occasion.
Ingredients
4 cups fruit punch (I used Hawaiian Punch
4 cups lemon-lime soda
6 cups sherbet (I used 3 cups raspberry and 3 cups orange)
fresh fruit, for garnish (optional)
Instructions
In a 12-cup punch bowl, pour in the fruit punch and lemon-lime soda then stir.
Scoop in the sherbet and stir again lightly.
Serve immediately and enjoy!
Notes
For best results, chill the fruit punch and lemon-lime soda before using.
Any sherbert flavor or combination of flavors can be used in this recipe. Likewise, use any flavor of fruit punch - Hawaiian Punch makes numerous flavors! The lemon-lime soda can also be switched out for ginger ale, cream soda, club soda, etc.
The punch is meant to be made and served on the same day.
Recommended Products
As an Amazon Associate and member of other affiliate programs, I earn from qualifying purchases.
Nutrition Information:
Yield:

12
Serving Size:

1
Amount Per Serving:
Calories:

248
Total Fat:

2g
Saturated Fat:

1g
Trans Fat:

0g
Unsaturated Fat:

1g
Cholesterol:

1mg
Sodium:

68mg
Carbohydrates:

57g
Fiber:

2g
Sugar:

49g
Protein:

1g
Please note that the nutritional information listed on this page is an estimation based on the products I used. Ingredients and nutritional information can vary significantly between brands. Always be sure to read labels. Please verify that a recipe fits your needs before using it. Nutrition info may contain errors, so please verify it independently. Likewise, recipes may contain errors, so please use your common sense when following them.