Salted Almond Butter No-Bake Cookies are the perfect sweet treat that still tastes awesome allergen-free. Gluten-free, dairy-free, and vegan.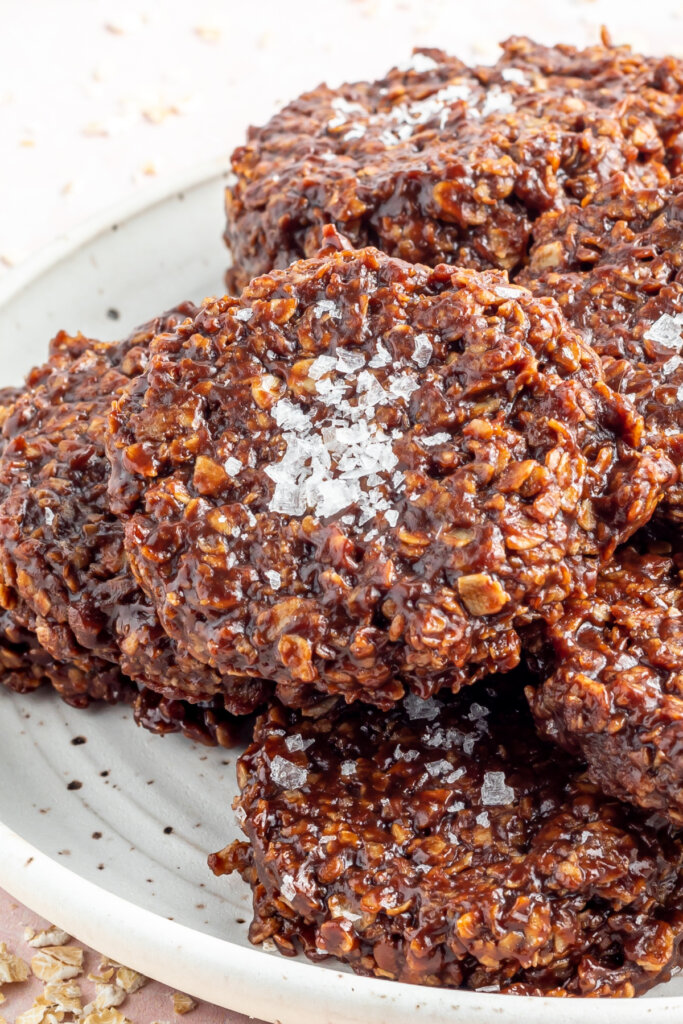 No Bake Cookies with Oatmeal
Got an event coming up? Need to bring a sweet treat that still tastes awesome when it's made allergen-free? These chocolate almond butter cookies can be easily made gluten-free, dairy-free, and vegan … plus, they're no-bake!
What makes a good cookie? Let's think for a moment …
A good cookie has to be delicious, of course. And easy to make. And, in my opinion, you should always try to make your cookies enjoyable for the biggest number of people possible. A good cookie is something everyone can love without worrying.
If you consider all these proper criteria for a good cookie, then my Salted Almond Butter No-Bake Cookies totally fit the bill! They're good cookies, y'all!
First of all, they taste amazing. They're no-bake chocolate cookies, too, and only require an hour to chill in the fridge. Finally, though you can make them with regular dairy products and oats, I've found that they actually taste better with almond milk, vegan butter, and gluten-free oats.
Who said that diet-friendly treats had to be boring and difficult to put together? Not me!!
This recipe is perfect if you have to make a lot of cookies for someone you know who has special dietary needs. I've also found these chocolate almond butter cookies are wonderful to bring to an event where you don't know the people well – someone is bound to thank you for it!
Of course, you can also just make them for your family, just because. They taste that good and don't require you to go out of your way very much. In fact, you can eat them all yourself if you'd like. I won't tell. 😉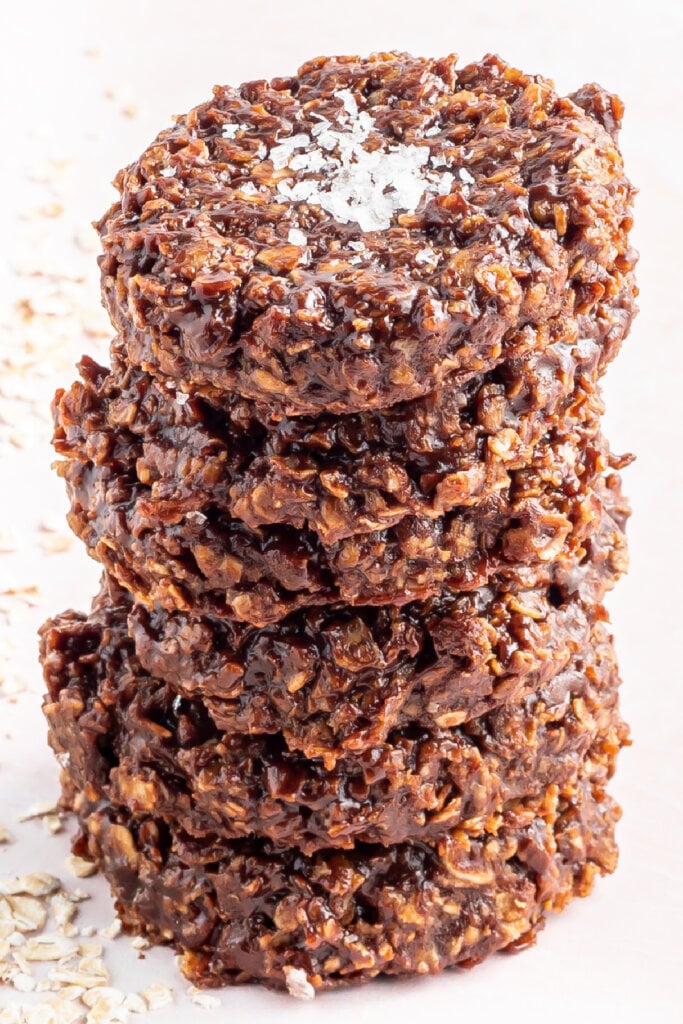 Salted Almond Butter No-Bake Cookies: Ingredients & Equipment
To make these Salted Almond Butter Cookies, you'll need …
Ingredients
coconut sugar, cacao powder – your dry mix! The coconut sugar doesn't make these cookies taste like sugar, by the way, but it does give them a different kind of sweetness you wouldn't get from normal sugar. You'll see what I mean – it's delicious!
milk and unsalted butte – I singled these two ingredients out to let you know you can choose vegan options here and the cookies will taste just as good, if not better, than the non-vegan variety!! In particular, I tend to use almond milk and Miyoko's brand vegan butter.
almond butter – make sure the ingredients list only almonds.
vanilla extract – standard in most cookies!
quick-cook oats – these hold your cookies together and give them a crunchy texture. I generally use the gluten-free variety, which takes another possible allergen out of the mix!!
sea salt – another dry ingredient, and to top your cookies afterward. Adding a bit of salt to anything sweet is just … mmm-mmm. You salty-sweet lovers know what I mean!
Equipment
baking sheet with parchment paper or silicone mat – this is a no-bake recipe, but you'll still want to put your cookie mixture dollops on one of these to let them chill.
medium pot and whisk – to boil and mix the coconut sugar, butter, milk, etc.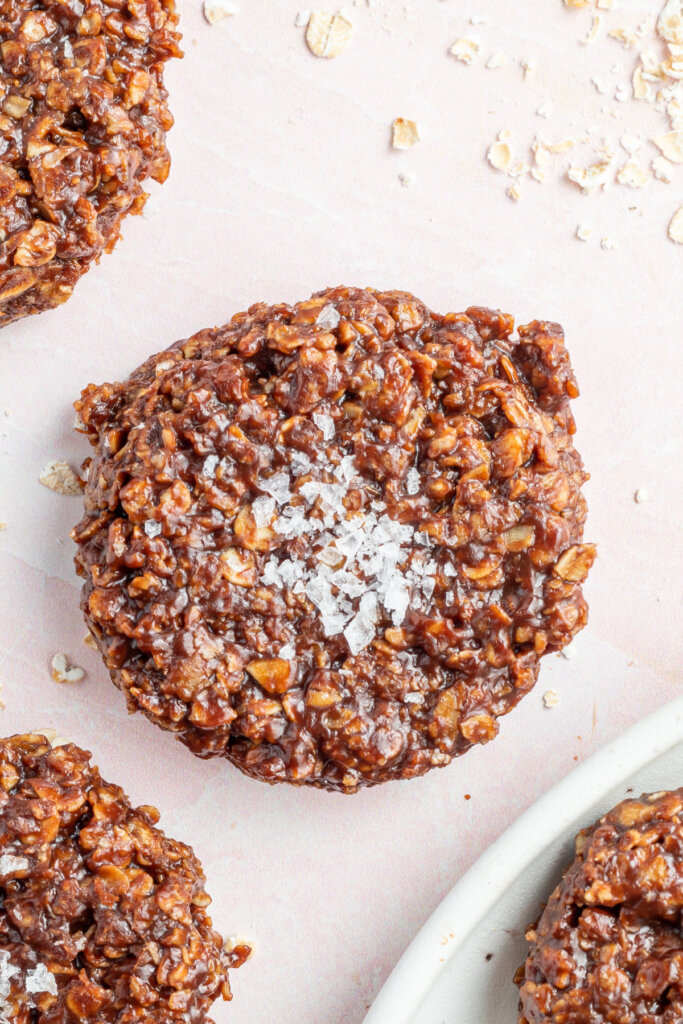 Salted Almond Butter No-Bake Cookies: FAQs
How many chocolate almond butter cookies does this recipe make?
About 24 cookies – perfect for a party – or just to snack on at home!
How long does this recipe take to make?
Altogether, about an hour and 15 minutes. About an hour of that is just letting the cookies chill, so it's a very low-effort recipe for a lot of amazing cookies!!
Can I store finished cookies in the fridge?
Yes! Put them in an airtight container and they'll be alright for about a week.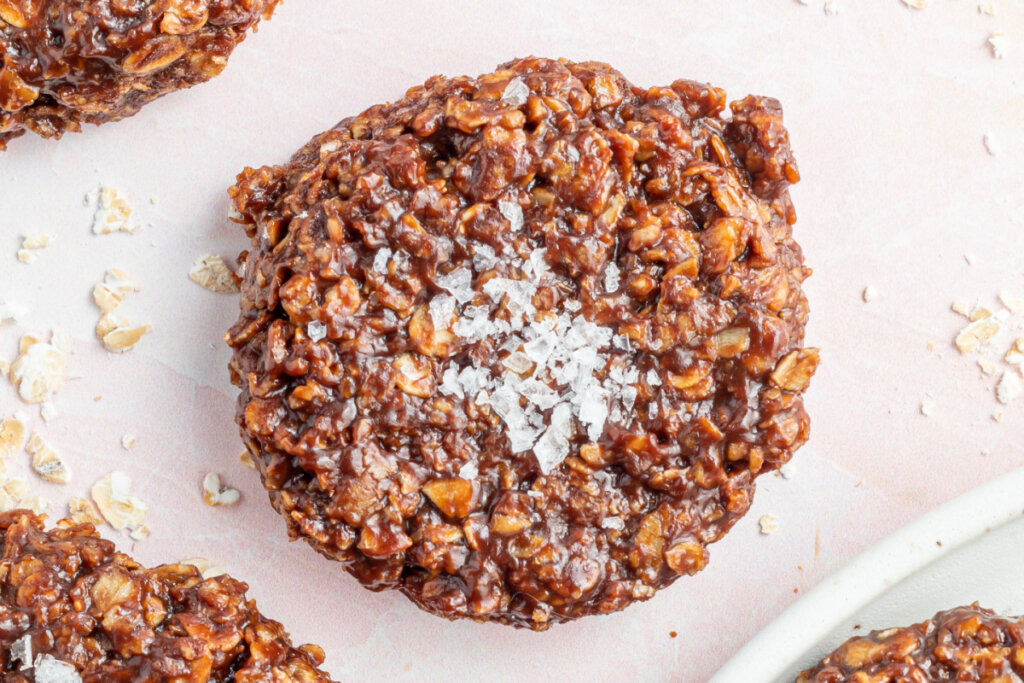 Other recipes you may enjoy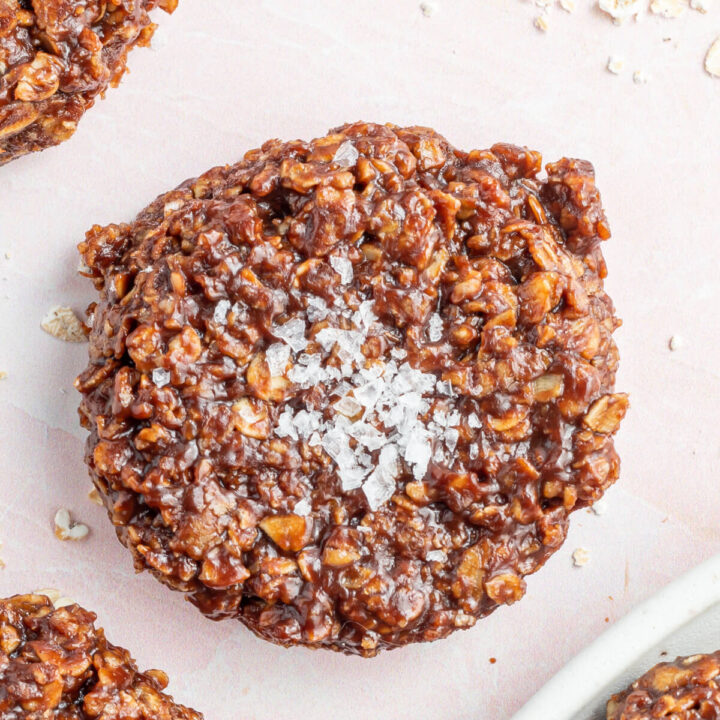 Salted Almond Butter No-Bake Cookies
Total Time:
1 hour
15 minutes
Salted Almond Butter No-Bake Cookies are the perfect sweet treat that still tastes awesome allergen-free. Gluten-free, dairy-free, and vegan.
Ingredients
1-1/2 cups coconut sugar
1/2 cup cacao powder
1/2 cup unsalted butter (vegan if desired - we used Miyokos)
1/2 cup milk (we used unsweetened almond milk)
2/3 cup creamy unsweetened almond butter (the ingredients should just be almonds)
1 tablespoon pure vanilla extract
1/8 teaspoon sea salt
3 cups gluten-free quick cook oats
flaky sea salt, for topping
Instructions
Line a baking sheet with parchment paper or a silicone baking mat, and set aside.
Combine the coconut sugar, cacao powder, butter, and milk in a medium pot over medium heat. While whisking, bring to a rolling boil for one minute and 30 seconds, then remove from the heat.
Stir in the almond butter, vanilla, and salt until smooth. Add in the oats and mix well.
Drop two tablespoon dollops of the mixture onto the prepared baking sheet, flattening slightly.
Chill for one hour before serving.
Notes
Store the cookies in an airtight container in the refrigerator for up to one week.
Recommended Products
As an Amazon Associate and member of other affiliate programs, I earn from qualifying purchases.
Nutrition Information:
Yield:

24
Serving Size:

1 cookie
Amount Per Serving:
Calories:

191
Total Fat:

9g
Saturated Fat:

3g
Trans Fat:

0g
Unsaturated Fat:

5g
Cholesterol:

11mg
Sodium:

39mg
Carbohydrates:

26g
Fiber:

2g
Sugar:

17g
Protein:

3g
Please note that the nutritional information listed on this page is an estimation based on the products I used. Ingredients and nutritional information can vary significantly between brands. Always be sure to read labels. Please verify that a recipe fits your needs before using it. Nutrition info may contain errors, so please verify it independently. Likewise, recipes may contain errors, so please use your common sense when following them.