This recipe for Salted Caramel is easy and is great for topping all of your favorite desserts!
Salted Caramel
I don't know who enjoys this Salted Caramel more … me or my kiddos?! We use it on everything – but we especially love it on ice cream! One of my favorite ways to use this salted caramel is to add it to my iced coffee!! I loooovvvee it!! I've just gotta say, whoever decided to add salt to caramel was such a genius!
This recipe may sound difficult, but I assure you, it's easy! Have a little patience with the sugar melting and you're golden! Literally … the sugar will be a melted pool of golden sugar! After the sugar has melted, the recipe moves pretty quickly. The hardest part will be letting it cool down so you can have a taste – you know, for quality control purposes. Inevitably, I have burned myself a few times for not waiting long enough. I have the hardest time controlling myself from wanting to put this one everything ……. and I mean everything!
How do you plan on using this salted caramel? I would love for you to leave a comment below!
Other Posts You May Enjoy:
No-Churn Chocolate Cake Batter Ice Cream with Chocolate Chunks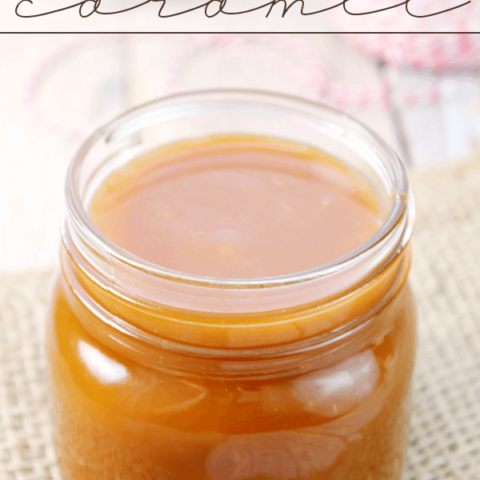 Salted Caramel
This recipe for Salted Caramel is easy and is great for topping all of your favorite desserts!
Ingredients
1 cup granulated sugar
6 tbsp. butter, cut into pieces
1/2 cup heavy cream
1 tsp. salt
Instructions
In a large saucepan over high heat, cook the granulated sugar, stirring constantly until it is melted and forms a caramel-colored liquid. The sugar will clump, but just keep stirring!
Once the sugar is completely melted, add the butter. The caramel will bubble up, but that is okay. Stir the butter into the sugar until it is completely melted. Very slowly, pour in the heavy cream while continuing to stir. Once all of the heavy cream has been added, boil for one minute. Remove from the heat and add the salt. Stir to combine.
Allow to cool completely. Transfer to a covered container and refrigerate. Use within 10-14 days.
Notes
You may reheat the salted caramel slightly in the microwave before serving.
Nutrition Information:
Amount Per Serving:
Calories:

1795
Total Fat:

113g
Saturated Fat:

71g
Cholesterol:

346mg
Sodium:

940mg
Fiber:

0g
Sugar:

203g
Protein:

3g