Rustic Triple Apple Bread is a homemade tradition that my family absolutely loves! Can you imagine eating a warm slice right now?
Rustic Triple Apple Bread
I enjoy making homemade bread. Probably as much as my family likes eating it! 🙂 There is something so comforting about bread making. I find the process almost therapeutic. Now, I won't lie. Sometimes, I rely on my handy dandy bread machine to help me out a little in the mixing and rising.
Has anyone ever figured out how the exact same bread baked in the bread machine comes out heavy and dense ….. but taken out of the bread machine, it's light and airy? Anyone out there have the same problem? Personally, I do not like my bread baked in the machine – so I use the dough only setting 99.5% of the time.
I ran across this recipe a few years ago in a Taste of Home magazine. I loved the idea of Apple Bread, but hated the idea of baking it in the bread machine. The dough is a little sticky to work with, so be sure to flour your work surface fairly well. The end result is well worth the effort, I think.
Other recipes you may enjoy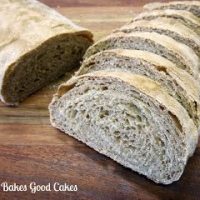 Triple Apple Bread
Yield:
1 loaf (1½ pounds)
Ingredients
3/4 cup finely chopped, peeled apples
3/4 cup warm apple juice
1/4 cup warm applesauce
1 tablespoon butter, softened
2 tablespoons brown sugar
1-1/2 teaspoons salt
1 teaspoon ground cinnamon
1/8 teaspoon ground nutmeg
2 cups bread flour
1 cup whole wheat flour
2-1/4 teaspoons active dry yeast
Instructions
In a bread machine pan, place all ingredients in the order suggested by the manufacturer. Select dough setting. Check dough after 5 minutes of mixing and add 1-2 tablespoons water or flour if needed.
Just before turning the dough out, grease a rimmed baking sheet and set aside. Preheat the oven to 375°F.
When the cycle is complete, turn the dough onto a floured surface. (Dough will be sticky). Roll dough into a rectangle, dusting with flour as necessary to prevent sticking. Roll up jelly-roll style, starting on the long side. Fold ends under and pinch seams to seal. Place dough on the prepared baking sheet. Cover and let rise in a warm place until doubled in size, about 20 minutes.
Bake for 20-25 minutes or until golden brown. Remove bread to a wire rack to cool completely.
Nutrition Information:
Yield:

12
Serving Size:

1 slice
Amount Per Serving:
Calories:

153
Total Fat:

2g
Saturated Fat:

1g
Trans Fat:

0g
Unsaturated Fat:

1g
Cholesterol:

3mg
Sodium:

363mg
Carbohydrates:

30g
Fiber:

2g
Sugar:

5g
Protein:

5g
Please note that the nutritional information listed on this page is an estimation based on the products I used. Ingredients and nutritional information can vary significantly between brands. Always be sure to read labels. Please verify that a recipe fits your needs before using it. Nutrition info may contain errors, so please verify it independently. Likewise, recipes may contain errors, so please use your common sense when following them.
Originally published on October 19, 2012. Updated on April 22, 2021.