Pumpkin Oatmeal Chocolate Chip Cookies are too good not just eat one! These make a wonderful Holiday cookie idea for a cookie tray.
Pumpkin Oatmeal Chocolate Chip Cookies for OXO
Disclosure: I was sent an OXO gift box for free but I was not compensated monetarily for this post. All opinions expressed are my own. I truly love OXO tools and support their #OXOGoodCookie cause.
Pumpkin Oatmeal Chocolate Chip Cookies are a sweet way to bake a difference … and they're a great Fall treat. I'm sure you've noticed all of the pumpkin and apple recipes flooding the internet right now – It's kinda hard not to notice. I'm just helping by doing my part and feeding the frenzy! 😉 These little goodies are soooo yummy – and the recipe makes a bunch – perfect for sharing!
Background inspiration
Before we get to the cookie, let me give you a little background – Cookies for Kids Cancer was founded by two OXOnians (OXO employees) inspired by their 2 year old son's battle with cancer. It provides inspiration, ideas and support for people everywhere to help fight childhood cancer — through the simple concept of local events like bake sales.
Since the beginning, OXOnians have pledged their time and energy by baking cookies and hosting bake sales, with proceeds matched by their parent company. This year, OXO will donate up to $100,000 to support this cause. Be sure to check out the end of this post to see how you can help bake a difference!
These are the nifty tools OXO sent me to try out. The funny thing is, one of my measuring cups broke recently (I won't point fingers at the 17 yr old – *ahem*) – so I was actually looking to buy new ones! Thanks OXO for the awesome stuff! I love them all – but I especially appreciate the measuring cups! 🙂
If you're interested in getting your very own OXO tools for cookie making or baking in general, be sure to check out OXO's website for their full line of products. If you choose to buy OXO products, be sure to look for this green dot! Starting in September, if you buy any specially marked OXO baking tool, 25 cents will be donated towards Cookies for Kids' Cancer. Be sure to look for these tools at participating retailers!
Now on to the Pumpkin Oatmeal Chocolate Chip Cookies.
Cookies for Kids' Cancer on Facebook
You can find OXO on Facebook and
Featured on foodgawker, A Southern Fairytale, Songbirds and Buttons and Raising Arrows
Other recipes you may enjoy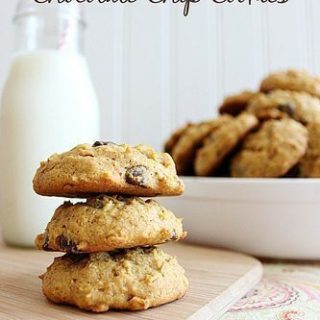 Pumpkin Oatmeal Chocolate Chip Cookies
Pumpkin Oatmeal Chocolate Chip Cookies are a sweet way to bake a difference ... and they're a great Fall treat.
Ingredients
1 1/2 cups (3 sticks) butter, softened
2 cups brown sugar, packed
1 cup sugar
1 can (15 oz.) pumpkin puree (NOT pumpkin pie filling)
1 egg
1 teaspoon vanilla extract
4 cups all-purpose flour
2 cups quick-cooking oats
2 teaspoons cinnamon
2 teaspoons baking soda
1 teaspoon baking powder
1 teaspoon salt
1 bag (12 oz.) chocolate chips
Instructions
Preheat oven to 375°F. Line baking sheets with parchment paper and set aside.
In a large bowl, beat the butter, brown sugar and sugar until creamy. Add the pumpkin, egg and vanilla; beat until smooth and well combined.

In a separate bowl, combine the flour, oats, cinnamon, baking soda, baking powder and salt. Mix into the pumpkin mixture just until combined. Fold the chocolate chips into the dough. Using a cookie scoop, drop dough onto the baking sheets, spacing about 2 inches apart.
Bake for 10-12 minutes or until the edges just begin to brown. Allow to cool on the pan for 3 minutes before removing to a cooling rack to cool completely.

Store leftover cookies in a covered container.
Nutrition Information:
Amount Per Serving:
Calories:

1644
Total Fat:

65g
Saturated Fat:

38g
Cholesterol:

157mg
Sodium:

950mg
Fiber:

12g
Sugar:

143g
Protein:

22g
Originally published on September 17, 2013. Updated on April 24, 2021.