Hey, my #LoveBakesGoodCakesPeeps! It MUST be the first Friday of the month, as Jamie has so graciously allowed me to take over for the day! It's me, Kim – from Soliloquy Of Food & Such (shameless plug #1).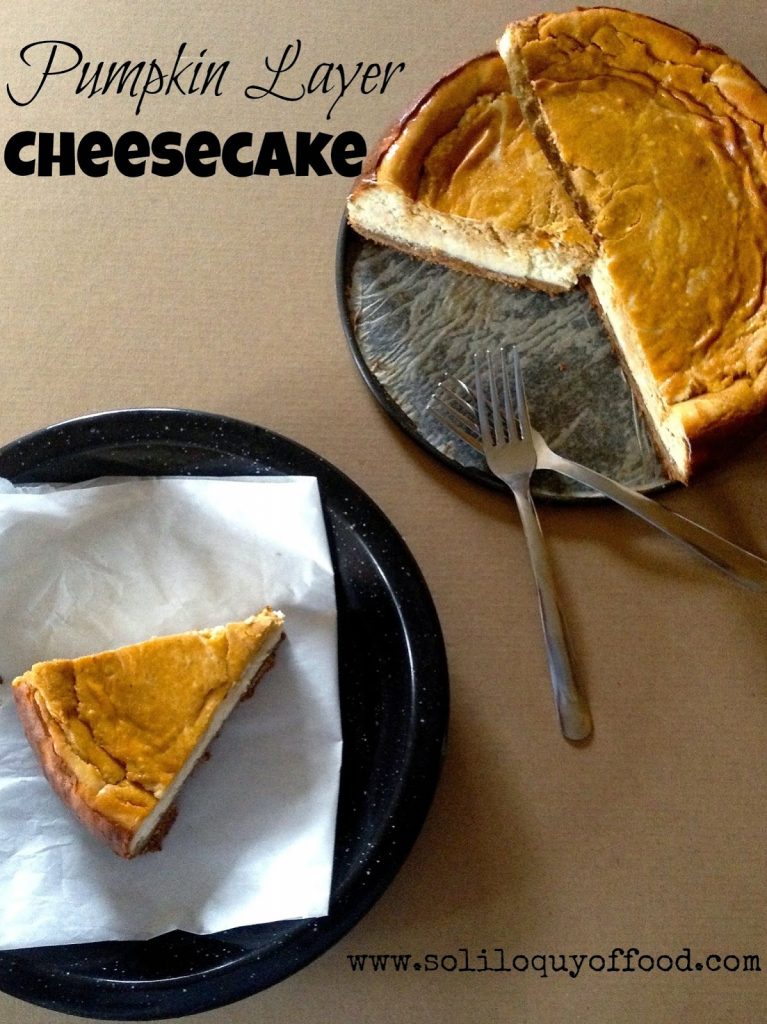 Today I am sharing my Pumpkin Layer Cheesecake. With a thicker graham cracker crust, and a layer of pumpkin-laced cream cheese batter atop, this will surely please the cheesecake lovers in your world.
Needless to say, I had to slice into it – prematurely, before it was chilled thoroughly – for Sean to "taste-test"…..just like in my
potato salad post
(shameless plug #2).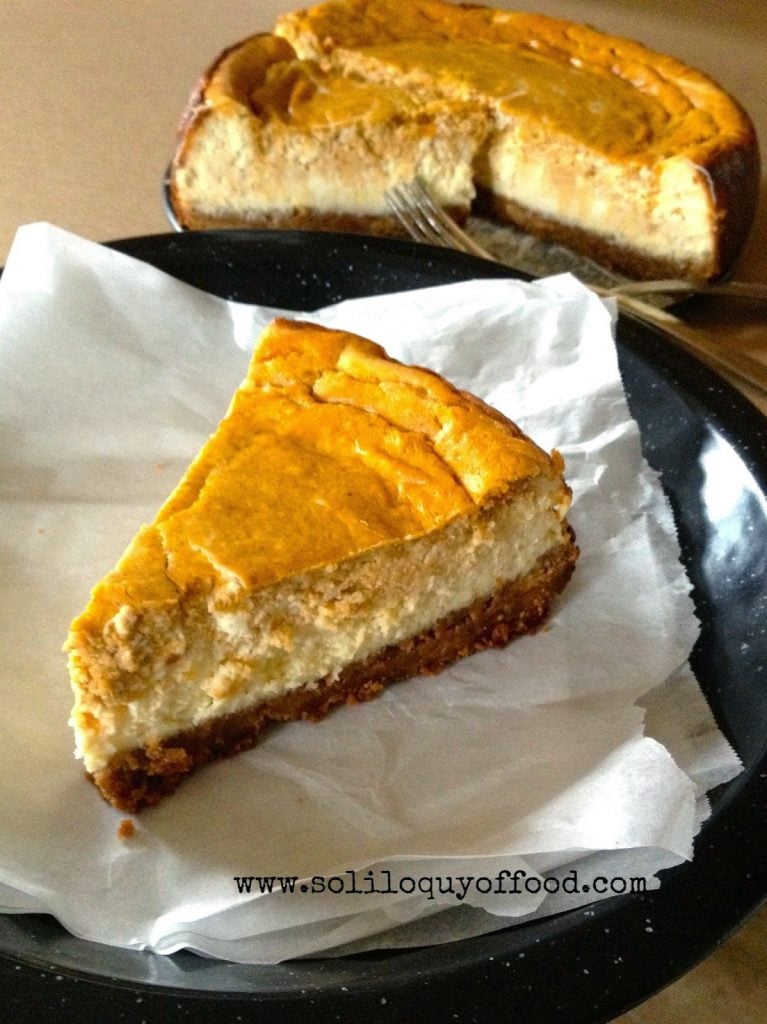 Plan on chilling this overnight, or at least 5 hours, for it to completely set up and chill sufficiently. Also, plan on making 2, one for Sean to prematurely taste-test, and one for you to serve…..unscathed, whole, and complete…..no Pac-Man pieces missing.
Pumpkin Layer Cheesecake
For The Crust:
1 1/2 sticks of butter, melted
2 sleeves of graham crackers, crushed (about 2 1/4 cups)
For The Cheesecake:
3 8-oz blocks of cream cheese
1 14-oz can sweetened condensed milk
2 eggs
2 tsp vanilla extract
1/2 cup pumpkin puree
3/4 tsp cinnamon
Preheat oven to 350 degrees and line a 9″ springform pan with buttered parchment paper.
Combine butter and gram cracker crumbs, press into the bottom of the pan, slightly working the crumbs up the side a bit. Set aside.
With a mixer, beat cream cheese and sweetened condensed milk until smooth and lump-free (about 3-4 minutes on low), add eggs and vanilla and mix for another 30-45 seconds – until eggs are fully incorporated. Reserve 1 cup of the batter for the top layer, pour the remaining batter over the prepared graham cracker crust. Spread the batter out evenly with a spatula. Combine the reserved batter with the pumpkin puree and cinnamon. Gently pour the pumpkin layer atop in a circle evenly distribute the top layer – carefully spread out the pumpkin to cover the top.
Bake for 45-50 minutes, turning the pan 180º at about the 23 minute mark. The cheesecake will still have a little giggle to it, yet be firm on top when finished.
On a baker's rack, cool in the pan for 30 minutes, loosen the sides of the cake with a knife and remove ring of the pan, continue to cool at room temperature for an additional 30 minutes. Chill for at least 5 hours before serving.