This Gnocchi and Meatball Bake is perfect for a weeknight dinner and can be special enough to serve to company! #MyTuscanTable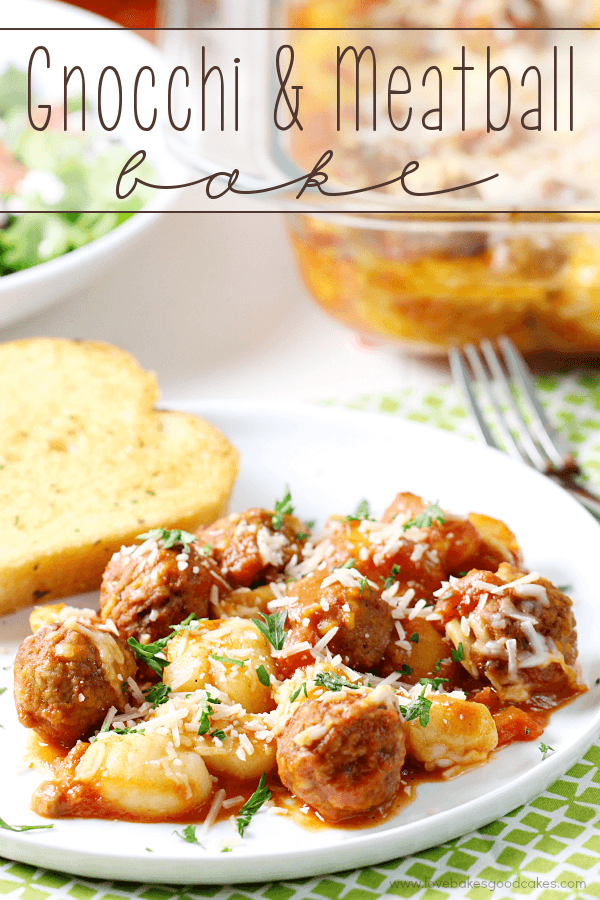 This is a sponsored conversation written by me on behalf of Bertolli. The opinions and text are all mine.
Gnocchi and Meatball Bake
So, we recently celebrated Brian's birthday. We don't really do big extravagant parties …. but, in the Love Bakes Good Cakes house the birthday person does get to pick their dinner. Anything they want. If you know nothing else about my husband, Brian is a huge fan of Italian food – and 9.9 times out of 10 if I ask him what sounds good, he will come back with some sort of pasta dish, pizza or calzone as his answer. Seriously, make him Italian food (or chocolate chips cookies!) and he's a happy camper!
Come to think of it, our first date was Italian food … and many dates since are usually some sort of Italian place! It's only once in awhile I can convince him to try a new Mexican place or other restaurant! 😉
Making the recipe
When I asked him what he wanted to eat for his birthday, he never really gave me a specific answer …. but I know him well enough to know that Italian-style food would score me major points! One of our favorite things lately is gnocchi. I absolutely LOVE IT. So much that I want to use it in everything, and I've been told by my kids that it's not really appropriate to put gnocchi in everything. What do they know, anyways?! I decided to surprise Brian and make this Gnocchi and Meatball Bake for his birthday dinner. It was served with a fresh salad and warm garlic bread! I felt like a rock star …. he kept raving about how perfect the dish was! What a great dinner to celebrate Brian's birthday and to bring a little bit of Tuscany to our table!
Bertolli
Speaking of celebrating and birthdays … this is a milestone year for the Bertolli brand! They are celebrating 150 years of delivering delicious, high-quality Italian-style foods inspired by their authentic Tuscan heritage. Americans are invited to join in celebrating Bertolli brand's rich, authentic and delicious heritage. To join the celebration, discover 150 ways to bring Tuscany to the table and more by visiting www.villabertolli.com. Fans can experience the Italian love of life and food, plus stay up to date on the latest Bertolli news by following the brand on Facebook, Twitter, and Pinterest. For each #MyTuscanTable share during the month of October, Bertolli will donate funds to help No Kid Hungry feed kids in need 10 healthy meals*, with a minimum donation of half a million meals.
*This amount is based on the individual experiences of grant recipients. Contributions will be used to reach the highest number of children facing hunger in America. Share Our Strength is a non-profit 501(c)3 organization.
The New Bertolli Riserva Pasta Sauces are Tuscan-inspired and made with a select blend of unique, specialty ingredients that pair beautifully to elevate the taste of any meal! They are made from the finest ingredients like imported Parmigiano-Reggiano cheese, extra-virgin olive oil, aged balsamic vinegar, and porcini mushrooms. The sauces are so complete, that adding other ingredients simply isn't necessary! The sauces bring the taste of Tuscany to the table and can be served with pasta, chicken, and other Italian-inspired dishes!
New Bertolli Riserva Pasta Sauces
Asiago with Artichokes: Aged Asiago cheese and tender artichokes are paired for a delectable, savory experience; suggest serving with farfalle pasta or chicken.
Balsamic with Caramelized Onions: Aged balsamic vinegar and sweet caramelized onions create a delicious, tasty, tangy experience; suggest serving with fusilli pasta or chicken.
Marinara with Parmigiano-Reggiano: Imported Parmigiano-Reggiano and extra-virgin olive oil marry with freshly crushed garlic and vine-ripened, freshly crushed tomatoes to create a sumptuous classic sauce. Use it as you would your favorite marinara.
Porcini Mushrooms with White Truffle Oil: Shade-grown porcini mushrooms and decadent white truffle oil create an indulgently rich taste experience; suggest serving with fettuccine pasta or chicken.
These super-premium sauces have no artificial colors and use imported ingredients. You can find Bertolli Riserva at select grocery and mass retailers nationwide or by visiting their store locator at www.villabertolli.com. The suggested retail price is $5.99 per 24 oz. glass jar.
My family really enjoyed this dinner and I know we'll be enjoying it again soon! I hope you will give it a try!
Other Posts You May Enjoy: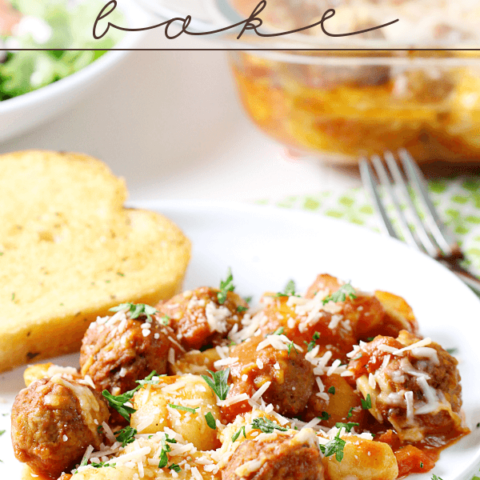 Gnocchi and Meatball Bake
This Gnocchi and Meatball Bake is perfect for a weeknight dinner and can be special enough to serve to company!
Ingredients
1 lb lean ground beef
2-3 cloves garlic, minced
1 large egg
1/4 cup milk
1/2 cup dry breadcrumbs
1 tablespoon fresh parsley, minced
1/2 tsp. salt
1/2 tsp. dried oregano
1/4 tsp. fresh ground pepper
1/4 cup grated Parmesan cheese
1 jar (24 oz.) spaghetti sauce
1 cup (4 oz.) Mozzarella cheese, shredded
1 pkg. (16 oz.) potato gnocchi
additional chopped parsley, optional (for serving)
Instructions
Preheat the oven to 375°F. Spray a baking sheet with cooking spray and set aside.
Cook gnocchi according to package directions.
In a large bowl, add ground beef, garlic, egg, milk, breadcrumbs, parsley, salt, oregano, pepper, and Parmesan cheese. With clean hands, mix the ingredients until well combined. Form the meat mixture into 1-inch balls. Place the meatballs on the prepared baking sheet and cook for 18-20 minutes or until the meat is no longer pink.
Lower the oven temperature to 350°F.
Spray a 9x13-inch baking dish with cooking spray. Place the cooked meatballs and cooked gnocchi into the baking dish. Pour the jar of spaghetti sauce over the top. Stir the mixture with a spoon. Sprinkle Mozzarella cheese over the top.
Bake casserole for 30-35 minutes or until the cheese is melted and the sauce is bubbly.
To serve, garnish with chopped additional parsley if desired.
Notes
To make this recipe even quicker, use frozen, thawed meatballs. You will need about 24-30 of them.
You can use homemade gnocchi in this recipe if you prefer.
A small cookie scoop to portion the meatballs ensures they are all the same size, making the process quicker.
Nutrition Information:
Yield:

6
Serving Size:

1
Amount Per Serving:
Calories:

320
Total Fat:

14g
Saturated Fat:

6g
Trans Fat:

0g
Unsaturated Fat:

6g
Cholesterol:

114mg
Sodium:

548mg
Carbohydrates:

19g
Fiber:

1g
Sugar:

2g
Protein:

28g
Please note that the nutritional information listed on this page is an estimation based on the products I used. Ingredients and nutritional information can vary significantly between brands. Always be sure to read labels. Please verify that a recipe fits your needs before using it. Nutrition info may contain errors, so please verify it independently. Likewise, recipes may contain errors, so please use your common sense when following them.