This post may contain affiliate links. As an amazon associate, I earn from qualifying purchases. See my full Disclosure Policy for details.
Hello my Love Bakes Good Cakes peeps – #LBGCP! (It is officially a hash-taggy thing, now…just go with it…humor me). It is I, Kim, from Soliloquy Of Food & Such. This month has just flown by, I tell ya! Thanks for reading my #FirstFridayOfEveryMonth contribution on #LBGC. #TooManyHashtags? (sorry, I got carried away).
I am sharing this Pepperoni & Feta Pasta Salad today, it is one of our favorite pasta salads. Seeing how we are super busy with our new #workcamper jobs, my food preparation level has fallen to: #OMGWeAreEatingTHISForSupper?!?!?!?! I kid you not. It's been eat-to-live, not live-to-eat; so when it came time for Pepperoni & Feta Pasta salad, making and eating this sure was a treat!
Oh, did I forget to mention that I mixed it all up in a Ziploc bag? Super fancy…I know, right? I can AT LEAST say we plated it on actual dishes and refrained from eating it directly out of the bag like a couple of savages. WHAT would Martha Stewart say (#WWMSS)?
If you like pepperoni, feta, black olives and banana peppers, then this is for you! Now imagine them tossed with pasta and a little salad dressing…..Good Lord, gimme a Ziploc (#GLGAZ)!
Okay. I'm done. No more hashtags (#NMH).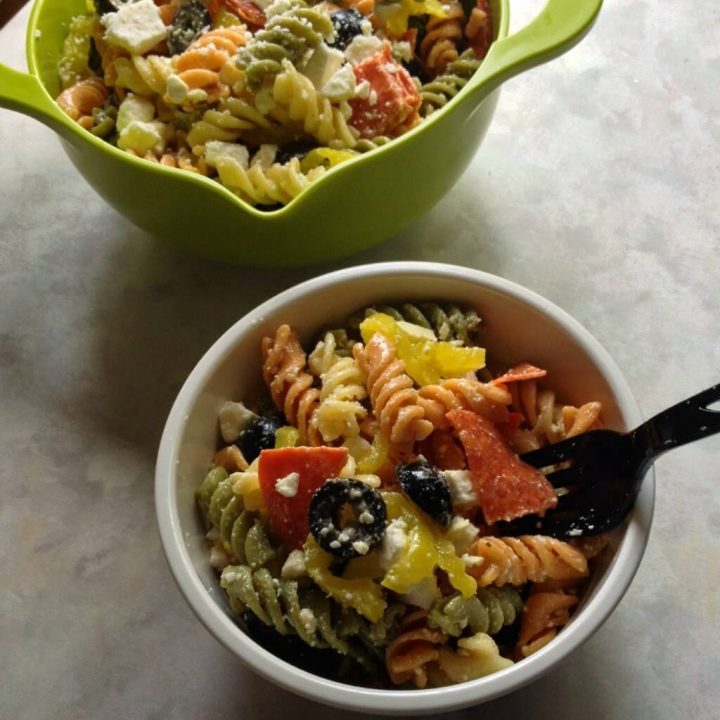 Pepperoni & Feta Pasta Salad
I am sharing this Pepperoni & Feta Pasta Salad today, it is one of our favorite pasta salads.
Ingredients
1 pound of rotini pasta; cooked, drained & cooled
3/4 cup crumbled feta cheese
6 oz small sliced pepperoni rounds; chopped into quarters
6 oz can of black olives; drained and sliced
1/2 cup banana pepper rings, chopped
1/2 cup Italian salad dressing
1 gallon-sized Ziploc bag (optional)
Instructions
Combine everything in a large bowl (or Ziploc bag); toss well.
Chill for about an hour before serving; it's recommended....but if you can't wait, you can't wait. I get it.
Nutrition Information:
Amount Per Serving:
Calories:

898
Total Fat:

46g
Saturated Fat:

14g
Cholesterol:

70mg
Sodium:

1327mg
Fiber:

5g
Sugar:

5g
Protein:

29g
Related Posts: