Pepperoni Pizza Grilled Cheese with Pizza Butter
Hey all my #LoveBakesGoodCakesPeeps!  It's me, Kim from Soliloquy Of Food &Such – AGAIN!!  Today I am sharing my Pepperoni Pizza Grilled Cheese – with Pizza Butter.
Okay.  I know you're like….pizza butter?  Say whaaat??  Lemme just tell you….it's amazing…. that I am breaking Kim's Cardinal Rule #654:  do not overuse the word amazing….it's that good.The base for the pizza butter is tomato paste; you get a concentrated pizza sauce flavor without the mess of runny, liquify sauce – which is great on pasta, but not so much on a grilled cheese.  Also, precooking the pepperoni enhances the overall  pizza outcome.  I used Munster cheese, which is one of my favorite melty cheeses, it really works well for this.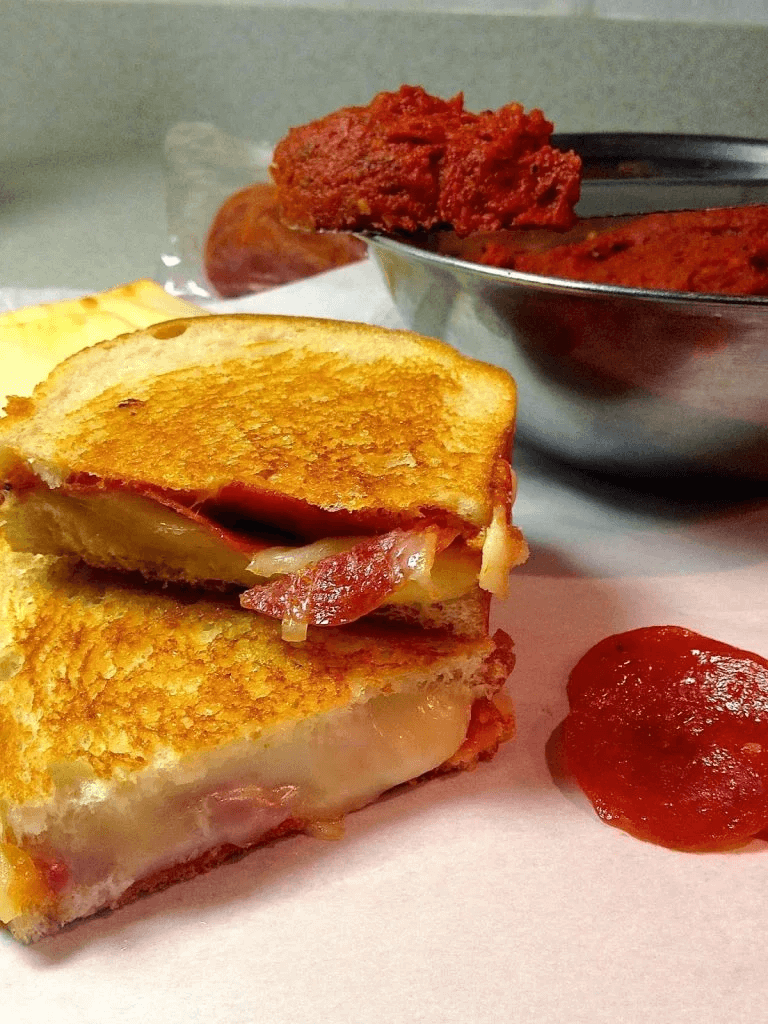 This is a great idea for your next lazy day meal – or if you are looking for something new to feed a crowd. 
In just minutes you can transform your regular grilled cheese sandwich into a pepperoni pizza!
When Kim is not thinking of things to stuff into grilled cheese sandwiches, she can be found on Soliloquy Of Food & Such, or on the following social media sites:
Related Posts: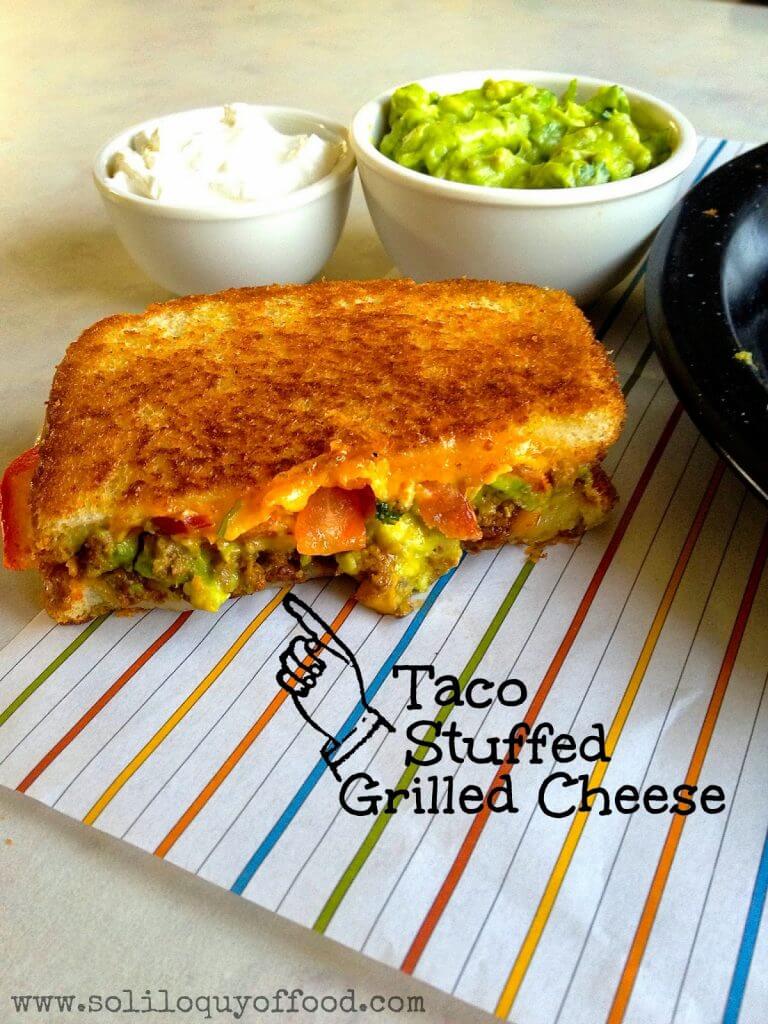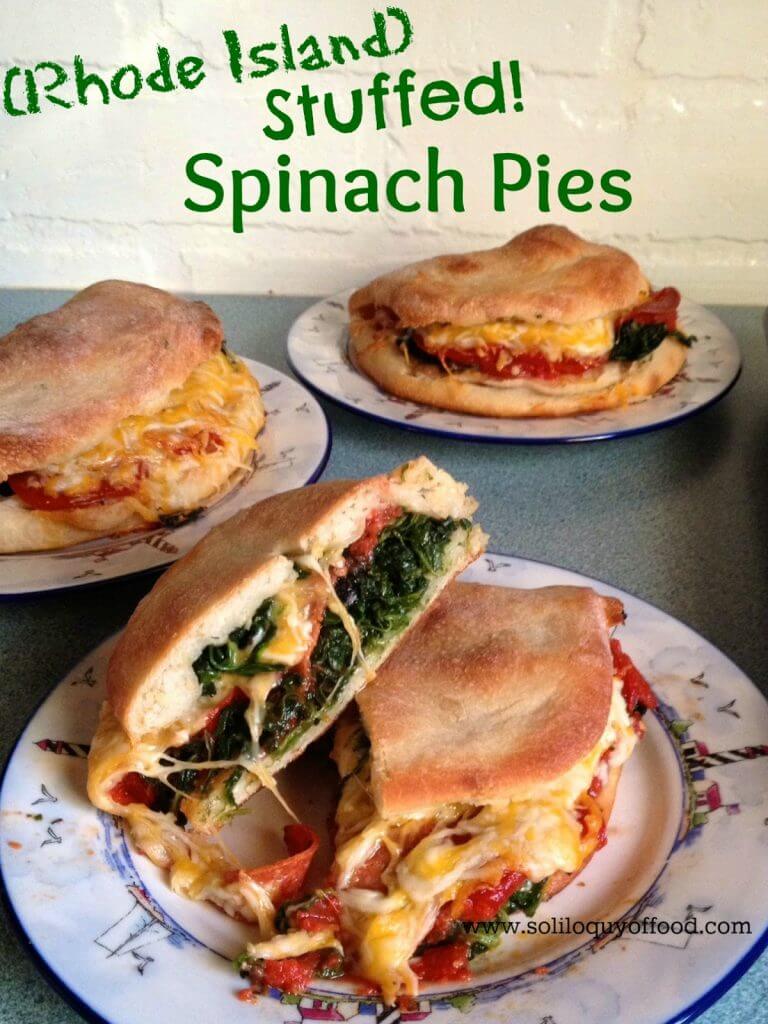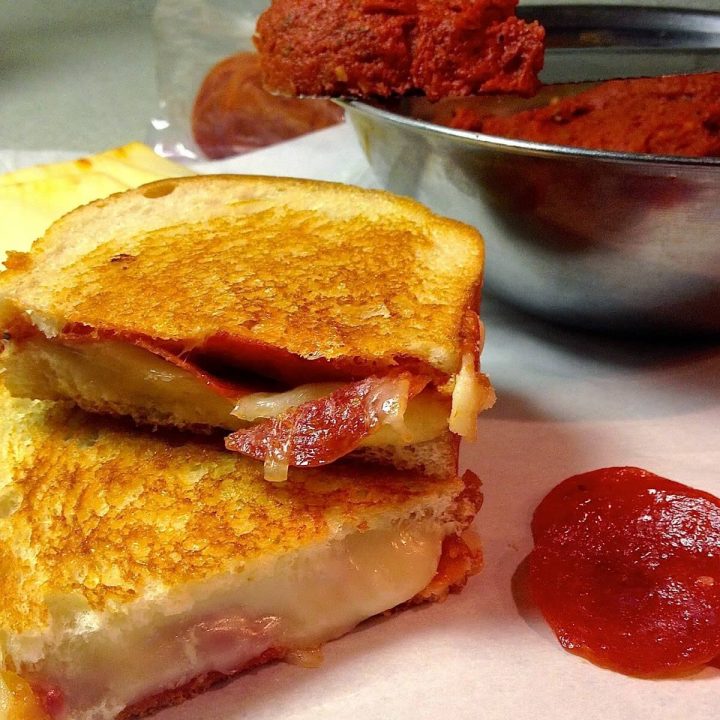 Pepperoni Pizza Grilled Cheese with Pizza Butter
Today I am sharing myPepperoni Pizza Grilled Cheese – with Pizza Butter.
Ingredients
For The Pizza Butter
5 TBS tomato paste
2 TBS plus 2 tsp butter, melted
1/2 tsp salt
1/4 tsp ground pepper
1/2 tsp dried oregano
1/2 tsp garlic powder
For The Sandwiches you will need
12 slices of Italian Bread, sliced
1/2 lb Munster cheese, sliced
48 slices pepperoni
4 oz pizza pepperoni pizza butter (recipe above)
2-3 TBS butter, melted
Instructions
For The Pizza Butter:
In a small bowl add the melted butter to the tomato paste and quickly stir together until fluffy.
Stir in the remaining seasonings; set aside.
For The Sandwiches:
Heat a large nonstick skillet over medium heat; add the pepperoni slices, keep in a single layer, cook for 2 minutes on each side, or until the slices have curled up and begin rendering. Cook up as much pepperoni as you think you will use; for mine I used 8 slices per sandwich, 48 slices of pepperoni total for 6 sandwiches.
Transfer cooked pepperoni onto a few layers of paper towels to drain; wipe out pan.
Divide the pizza butter amongst the 6 sandwich bottoms. Top with a few slices of cheese, the pepperoni, and another slice or two of cheese – this makes everything hold together when grilled.
Place on the sandwich tops.
Grill 2-3 at a time, brush the top of the bread with melted butter then place buttered-side down; butter the remaining side. Keeping a medium heat as to not scorch the bread before the middle melts, grill until golden brown – about 2-3 minutes on each side.
Cool for 1-2 minutes before slicing, then serve and eat immediately!
Nutrition Information:
Amount Per Serving:
Calories:

478
Total Fat:

38g
Saturated Fat:

24g
Cholesterol:

103mg
Sodium:

581mg
Fiber:

2g
Sugar:

2g
Protein:

13g