Dinner is done easy and delicious with this One Pan Chicken & Orange Chile Noodles! Your taste buds will thank you!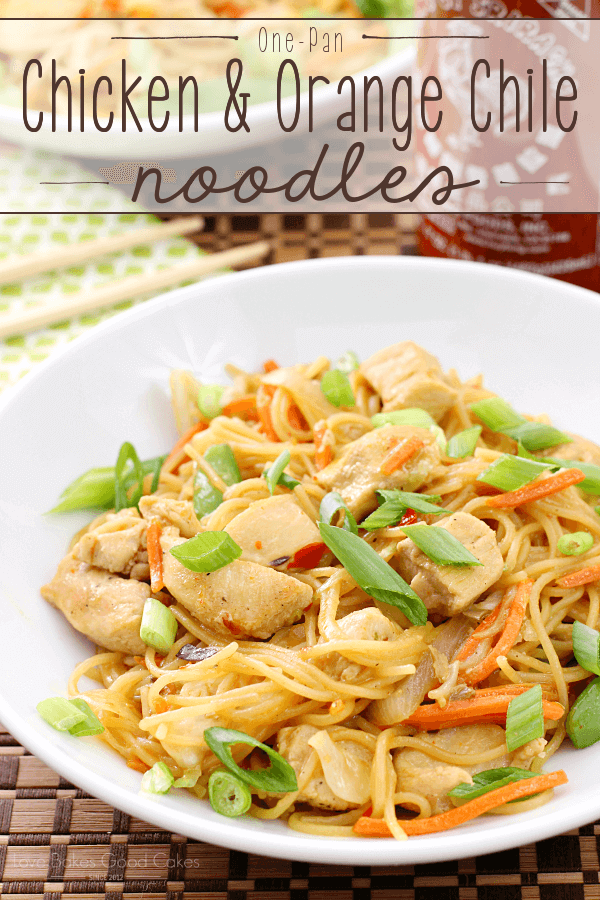 One Pan Chicken & Orange Chile Noodles
I've been on this Asian-flavored noodle kick lately. I'm not even sure why other than all of the dishes I've made have been highly flavorful and easy. Not to mention, when your family doesn't talk over dinner because they're too busy eating … that's a pretty good sign that something is good.
And let me tell you, these noodles really are that good!
Lip-smacking, try to get every last bit of sauce, good. The sauce IS what's up.
One of the things I love about this dish, besides being fast, easy, one pan, and delicious – is that it's easy to use veggies you have on hand. I imagine this would be equally awesome with broccoli, squash, sweet potato cubes, tofu …. or anything else your family digs!! For my family, I use onion, carrots, cabbage, sugar snap peas, and green onions – because they're things I always buy and have on hand! If I have bean sprouts, I'll use them, too!
I will note that you need a very large pan for this recipe. I like to use my jumbo cooker. You should be able to find the sweet-hot chile sauce in the ethnic section of your local grocery store. I usually use a brand called Mae Ploy. Please note that Sriracha is not a good substitute!!
This One Pan Chicken & Orange Chile Noodles recipe is one the whole family will love – even the kiddos! The sauce makes the dish totally irresistible – it's a recipe you'll come back to time and time again!
Other recipes you may enjoy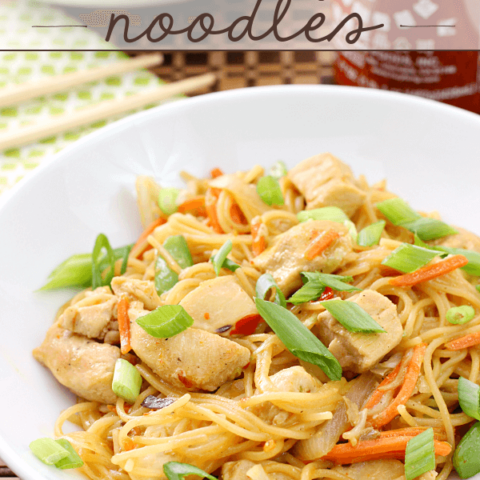 One Pan Chicken & Orange Chile Noodles
Dinner is done easy and delicious with this One Pan Chicken & Orange Chile Noodles! Your taste buds will thank you!
Ingredients
2 tablespoons olive oil
1 pound boneless, skinless chicken, cut into bite-sized pieces
3 cups chicken broth
1/4 cup vegetable oil
3 cloves garlic, minced
1 tablespoon peeled, minced fresh ginger
1 tablespoon frozen orange juice concentrate, thawed
1 large orange, zested and juiced
1/4 cup soy sauce
1/3 cup sweet hot chile sauce (nuoc cham ga or mae ploy, a Thai condiment)
1 large onion, cut in half and then into slices
16 ounce pot-sized spaghetti pasta
2 cups shredded cabbage
1 cup matchstick carrots
8 ounces sugar snap peas
Chopped green onion, for garnish, optional
Instructions
In a jumbo cooker, heat the olive oil over medium-high heat. Add the chicken pieces and cook 4-5 minutes, stirring occasionally, or until the chicken begins to brown.
Meanwhile, in a medium bowl, combine the chicken broth, vegetable oil, garlic, ginger, orange juice concentrate, fresh orange juice and zest, soy sauce, and sweet hot chile sauce. Set aside.
Once the chicken begins to brown, add the onion and stir-fry for 3 minutes. Add the uncooked spaghetti pasta to the skillet with the chicken and onion. Immediately pour the prepared sauce over the top. Bring to a boil, cover and reduce heat to simmer. Cook for 10 minutes.
Remove the lid and stir the pasta. Add the cabbage, carrots, and sugar snap peas. Raise heat to medium and continue to cook and stir until the liquid is mostly gone and the pasta is tender, about 7-10 minutes.
Immediately serve with chopped green onion, if desired.
Nutrition Information:
Amount Per Serving:
Calories:

677
Total Fat:

28g
Saturated Fat:

5g
Cholesterol:

60mg
Sodium:

1165mg
Fiber:

6g
Sugar:

12g
Protein:

30g