This Cheesy Chicken Noodle Casserole is a comforting and delicious dish full of chicken, noodles and lots cheese! Family approved! #MealtimeSolutions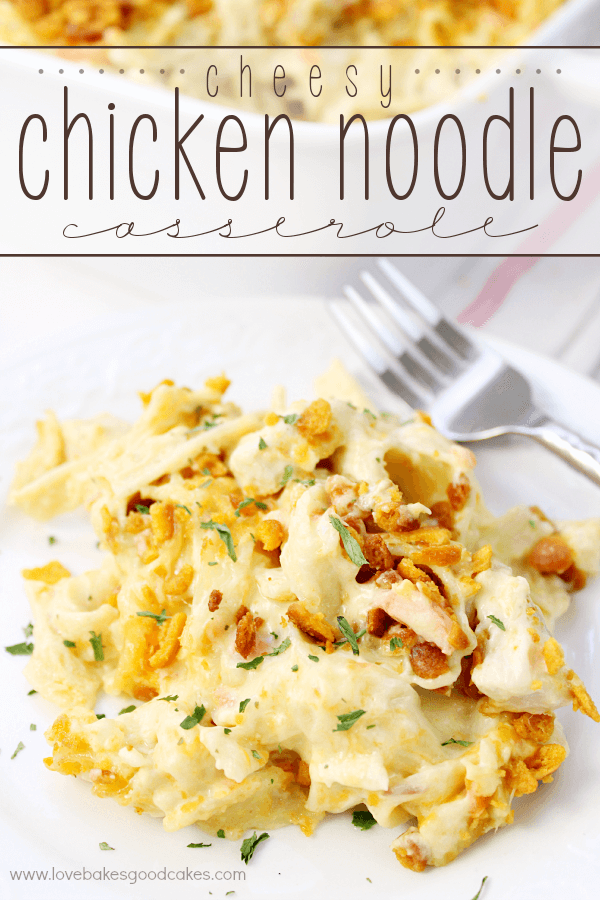 Cheesy Chicken Noodle Casserole
This is a sponsored conversation written by me on behalf of Horizon Organic. The opinions and text are all mine.
Last weekend, we had some of our family over for a BBQ, and had a great time! It always happens, we make way too much food! We had everything on the grill – hot dogs, burgers, ribs, pork chops, and grilled chicken. In other words, we had tons and tons of food! Which meant, tons and tons of leftovers!
I don't mind leftovers, for the first day or two, but after that, it needs to be made into something different. You know?! The kiddos pretty much finished off the burgers, ribs, pork chops and hot dogs for lunch, but I still had a bunch of grilled chicken breasts to use. For me, I love using leftover grilled chicken in casseroles! It makes dinnertime easy peasy!
Lately, I have been majorly stressed out with so many things going on. Most days, I don't know if I'm coming or going! Sometimes, a bit of comfort food just sounds good and it hits the spot. Ya know?!
Making the casserole
Remembering those chicken breasts that I needed to use, I made my Cheesy Chicken Noodle Casserole! It's a spin-off of a casserole I ate as a child and it uses ingredients I keep on hand. It is easy, delicious and loved by kids! As a matter of fact, my kiddos love to snack on Horizon Cheddar Snack Crackers. Aren't the cow shapes the cutest?! If you have followed me for any length of time, you know that we have visited a few local dairy farms here in the Phoenix area and since our visits, Abby is obsessed with all things cows! Anytime we go anywhere, she wants to know if we're going to see the cows! I had some Horizon Cheddar Snack Crackers on hand, and this is a cheesy casserole, after all, so I used some of the kiddos crackers on top of the casserole for a bit of extra "Mmmmmm factor!"
What could be better than a cheesy chicken and noodle casserole dish?!
Enjoy!
For the latest Horizon Organic news, special offers and more great recipes, be sure to visit them on Pinterest, Facebook, and Twitter.
Other Posts You May Enjoy:
Black Bean & Corn Enchilada Quinoa Casserole
Cheesy Chicken Noodle Casserole
This Cheesy Chicken Noodle Casserole is a comforting and delicious dish full of chicken, noodles and lots cheese! Family approved!
Ingredients
1 tbsp. Horizon Organic unsalted butter
2 stalks celery, finely chopped
1 small onion, finely chopped
2 carrots, finely chopped
2 cloves garlic, minced
1 lb. boneless, skinless chicken breasts or tenders, cooked and chopped
1 lb. wide egg noodles, cooked and drained
1 container (24 oz.) sour cream
2 cans (10.5 oz each) cream of chicken soup, undiluted
1 bag (6 oz.) Horizon Organic Cheddar cheese, shredded
1 bag (6 oz.) Horizon Organic Mozzarella cheese, shredded
1 cup Horizon Organic Cheddar Snack Crackers, crushed
1/4 cup Horizon Organic unsalted butter, melted
Instructions
Preheat oven to 350°F. Lightly grease a 9x13-inch baking dish and set aside.
Meanwhile, in a large skillet, saute the celery, onion and carrots in 1 tablespoon of butter for 3 minutes. Add the garlic and cook and additional 2 minutes. Remove from heat.
In a large bowl, combine the vegetable mixture along with the chopped chicken, cooked noodles, sour cream, soups, Cheddar cheese and Mozzarella cheese. Mix until well combined. Pour the mixture into the prepared baking dish.
In a small bowl, combine the cracker crumbs and butter. Sprinkle the cracker crumbs over the top of the casserole.
Bake for 30 minutes or until the crackers are crispy, and the cheese is melted.
Nutrition Information:
Amount Per Serving:
Calories:

599
Total Fat:

36g
Saturated Fat:

19g
Cholesterol:

157mg
Sodium:

553mg
Fiber:

2g
Sugar:

4g
Protein:

27g