Try this super simple No-Churn Salted Caramel Ice Cream! It's a combination of flavors everyone can enjoy, and you can make it right at home!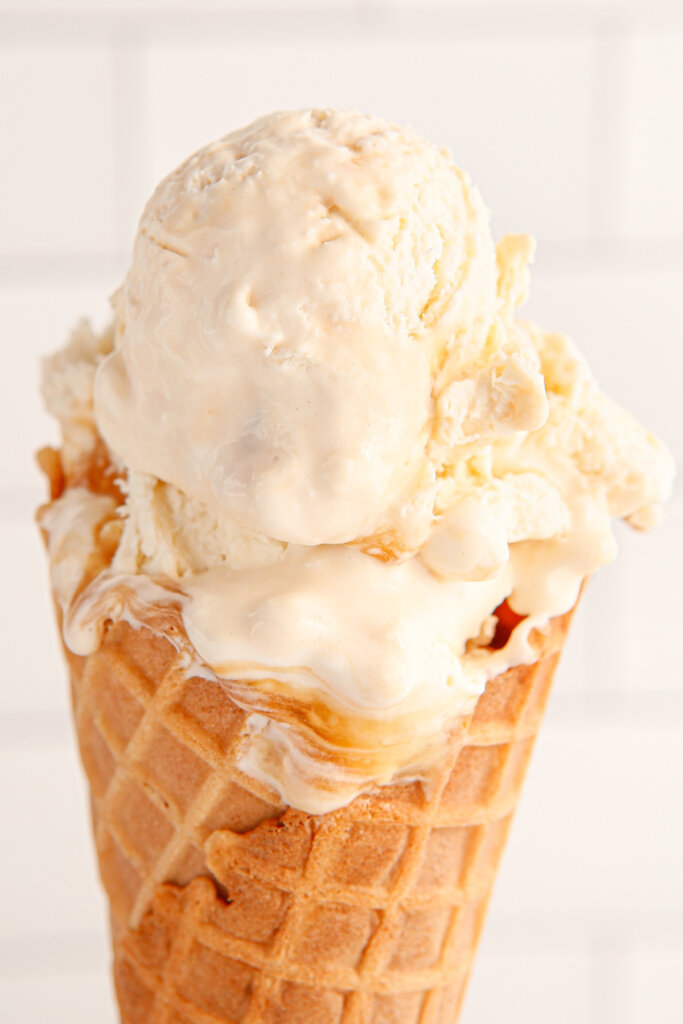 Salted Caramel Ice Cream
Want a super simple ice cream treat this summer? Try this No-Churn Salted Caramel Ice Cream! It's a combination of flavors everyone can enjoy, and you can make it right at home!
The weather's getting warmer, which means it's ice cream time, y'all!! And so I have to share this ice cream recipe with you. There's nothing quite like that salted caramel combo … mmm mmm. 😋
But, what do I mean by "no churn"? (Other than the fact that it makes this recipe SUPER simple.) An ice cream-making machine will churn the ingredients with air until they freeze into that gloriously amazingly WONDERFUL texture we all know and love. Not all of us need an ice cream machine, though … or want one … or can even afford one!
So this is an alternative that doesn't involve that churning. You can't just freeze these ingredients together, or else you'll get a brick of weird, icky sugar milk. Instead, we'll be whipping heavy cream into an ice-cream-like consistency using an electric mixer and adding the rest of the ingredients. It's fun and quick!
(There's this meme/saying that goes around … " modern problems require modern solutions" … and I think this is one of the best examples!!)
I've done no churn ice cream recipes before and this one is similar, so if you've followed my blog for a bit, you might be a pro at this.
Today we're just making a salted caramel ice cream version of the no-churn recipe.
This Salted Caramel Ice Cream recipe is so easy and it's such a huge lifesaver on those hot summer days when you don't want to head to the store!! 😉 Enjoy!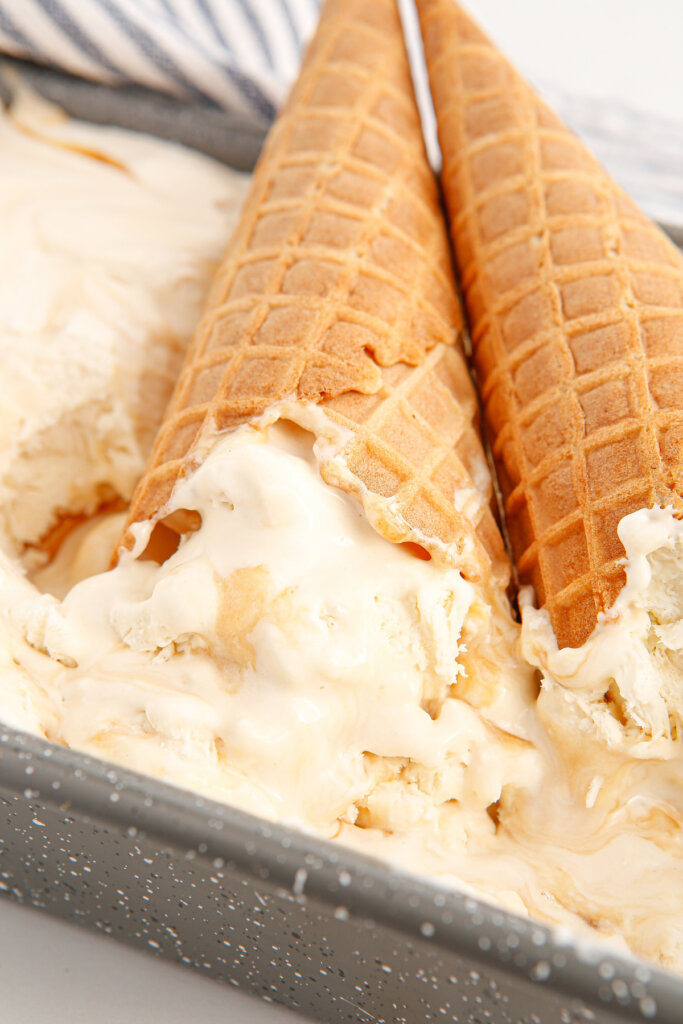 Salted Caramel Ice Cream: Ingredients & Equipment
To make this no-churn ice cream recipe, you'll need …
Ingredients
heavy cream and sweetened condensed milk – the base ingredients for your ice cream. When mixed and chilled, these create a tasty no-churn ice cream!
vanilla extract – added to anything sweet, vanilla extract brings out the flavors even more. You barely taste the vanilla itself, but you certainly taste its effects!!
caramel sauce and kosher salt – these form the salted caramel flavor for your ice cream. So, so delicious! With the caramel sauce, feel free to use store-bought or homemade.
waffle cones, extra caramel – optional to use while you're serving. But also not optional, because who doesn't want a cone and some more caramel?! 😉
Equipment
loaf pan – you'll keep your ice cream in this while it chills.
large mixing bowl and electric mixer – for blending your heavy cream, condensed milk, and other ingredients!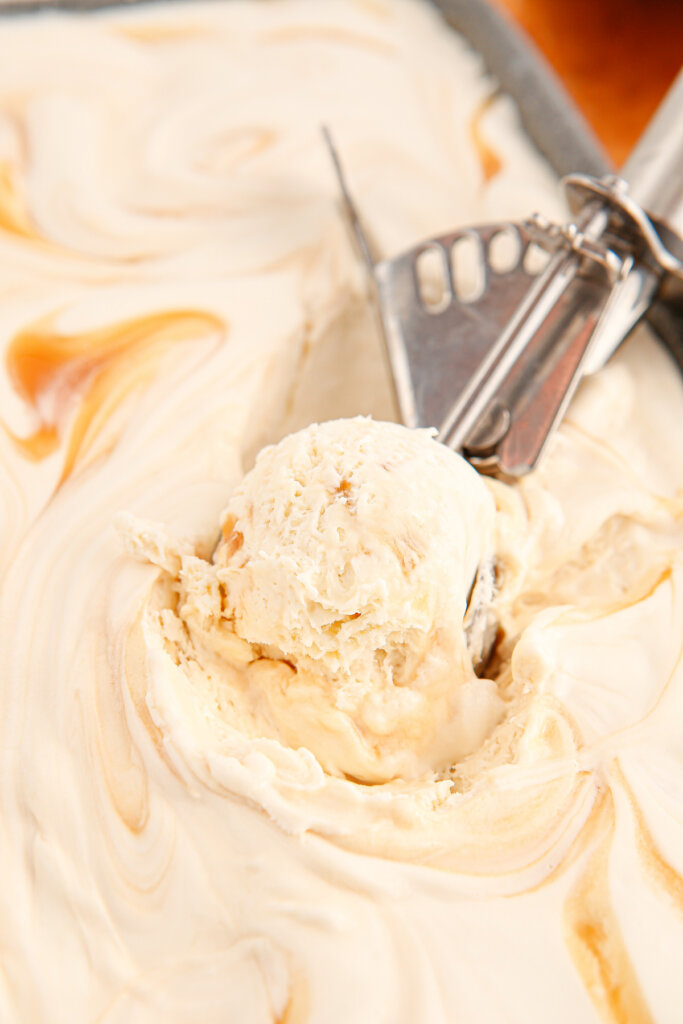 Salted Caramel Ice Cream: FAQs
How many servings does this salted caramel ice cream recipe make?
This recipe makes a quart or eight one-half-cup servings. It's the perfect treat for a family afternoon.
How long does it take to make salted caramel ice cream?
While the ice cream takes about 6 hours to set, the actual prep time is just 15 minutes. So, it's still a very easy recipe!! It's just not fast at all.
How can I store leftovers?
In an airtight container, you can keep salted caramel ice cream in the freezer for about 2-3 weeks!
Do you need to use vanilla extract in this recipe?
I've also heard of people using vanilla bean paste, though I haven't tried it myself!! Either way, you want that vanilla flavoring in the recipe. It balances out the caramel sauce and gives the ice cream a light hint of that classic vanilla taste!
Other recipes you may enjoy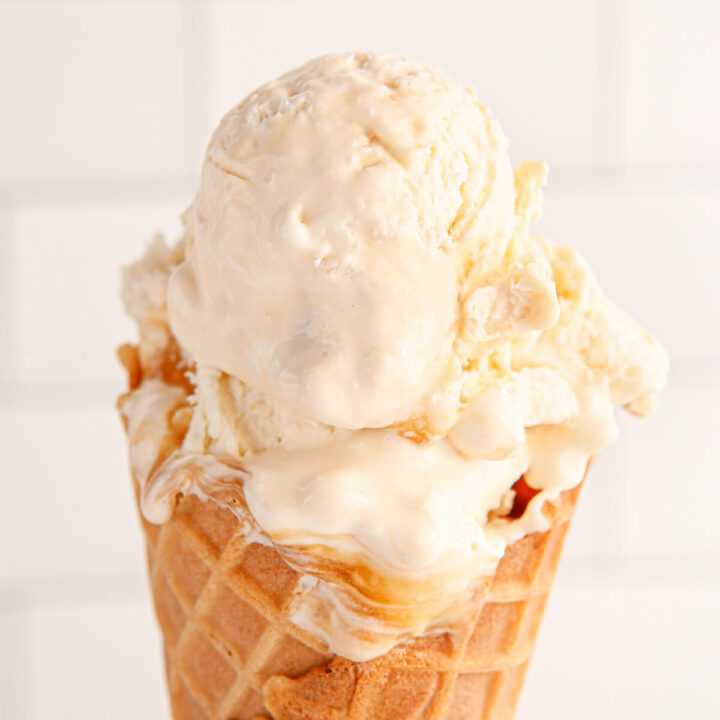 No-Churn Salted Caramel Ice Cream
Total Time:
6 hours
15 minutes
Try this super simple No-Churn Salted Caramel Ice Cream! It's a combination of flavors everyone can enjoy, and you can make it right at home!
Ingredients
2 cups heavy cream, cold
1 can (14oz.) sweetened condensed milk
1 teaspoon vanilla extract
1/2 teaspoon flaky kosher salt
waffle cones and extra caramel for serving
Instructions
Place a loaf pan into the freezer to chill.
In a large mixing bowl, blend the cold cream with an electric mixer until stiff peaks form.
Gently stir in the condensed milk, vanilla extract, and kosher salt.
Remove the loaf pan from the freezer and pour one-third of the cream mixture into the loaf pan.
Pour 1/4-cup of caramel sauce over the top of the cream mixture and use a butter knife or toothpick to swirl the sauce. Next, pour another one-third of the cream mix into the pan, followed by 1/4-cup of caramel sauce. Repeat with the remaining cream mixture and caramel and swirl the top with the butter knife.
Cover the loaf pan with plastic wrap and place it in the freezer, and chill for 4-6 hours in a level spot until the ice cream is set.
Serve as is or with a waffle cone and extra caramel sauce. Enjoy!
Notes
This recipe makes about 1 quart.
Store leftovers in an airtight container in the freezer for 3-4 weeks or store in the loaf pan with plastic wrap for up to 1 week.
Recommended Products
As an Amazon Associate and member of other affiliate programs, I earn from qualifying purchases.
Nutrition Information:
Yield:

8
Serving Size:

1/2 cup
Amount Per Serving:
Calories:

626
Total Fat:

23g
Saturated Fat:

14g
Trans Fat:

1g
Unsaturated Fat:

8g
Cholesterol:

75mg
Sodium:

736mg
Carbohydrates:

107g
Fiber:

0g
Sugar:

102g
Protein:

5g
Please note that the nutritional information listed on this page is an estimation based on the products I used. Ingredients and nutritional information can vary significantly between brands. Always be sure to read labels. Please verify that a recipe fits your needs before using it. Nutrition info may contain errors, so please verify it independently. Likewise, recipes may contain errors, so please use your common sense when following them.