Frito Pie is something relatively new to me ….. I never had it growing up. At least, not to my knowledge. Actually, I can probably count on one, maybe two hands, the number of times I have ever eaten it in my entire life. This is one of those meals that makes a pound of hamburger stretch!! Seriously, it'll feed 8 people with this recipe! Enjoy!

Frito Pie
Yield: 8 servings
1 lb. lean ground beef
1 small onion, chopped
8 oz. tomato sauce
1 pkt. (1.25 oz.) taco seasoning – or try my homemade version!
1 can (2.25 oz) sliced black olives, drained
1 can (8 oz.) refrigerated crescent roll dough
Approximately 2 cups of coarsely crushed Fritos chips, divided
1 cup (8 oz.) sour cream
1 can (4 oz.) chopped green chilies
1½ cups (6 oz.) Cheddar cheese, shredded
Optional toppings: Sour cream, salsa
Preheat oven to 375°F.
Meanwhile, in a skillet, cook and crumble the beef with the onion until meat is no longer pink. Drain if necessary. Stir in the tomato sauce, taco seasoning and black olives.
Unroll the crescent dough into the bottom of a 9×13-in. baking dish, making sure to seal the seams. Sprinkle about half of the Fritos over the dough. Top with the meat mixture.
In a small bowl, combine the sour cream and the green chilies. Spread evenly over the top of the meat mixture. Evenly top with the remaining Fritos and then the cheese.
Bake 25-30 minutes or until the crust is cooked and the pie is heated through. Serve with additional sour cream or salsa if desired.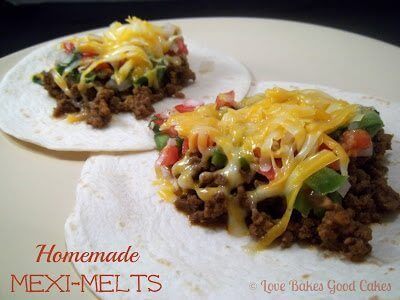 I hope you enjoy! Shared at these
fun parties!
Don't forget to share and comment ♥
Copyright © Love Bakes Good Cakes 2012-2013 All Rights Reserved