Slow Cooker Fiesta Chicken is a great recipe for dinner, and it's completely picky-eater-approved. If you are looking for a simple and drama-free supper option, you'll love this chicken dish!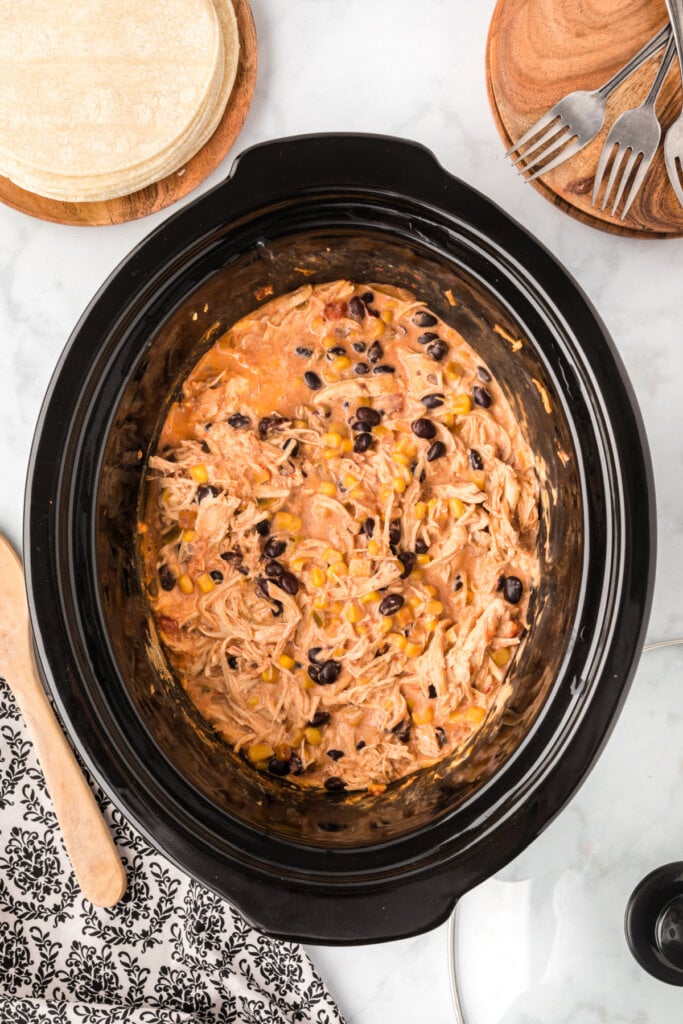 Crock Pot Fiesta Chicken
Sometimes, you just need an easy, fuss-free meal. We don't get delivery out where we live, so picking up the phone and ordering a pizza or something is not an option. I have to keep stuff on hand for those times when things get crazy or, to tell ya the truth, for when I just don't feel like cooking.
Believe it or not, it happens to us food bloggers too! Life happens.
Sure, I could feed my family cereal for supper. Been there, done that. I've given them ramen noodles, grilled cheese sandwiches with tomato soup, and tuna sandwiches. Those tend to be my default "meals." Mostly because I always have that stuff on hand. Not very inspiring, huh? Not very healthy either.
That's where my Crock Pot Fiesta Chicken recipe comes in handy!! An easy, quick meal for a lazy day. Besides, I'm trying to make a better effort to use my crock pot, and really, why shouldn't I?! It practically does everything for me! Just throw all the ingredients in and let it do its thing.
Okay, sometimes you have to do a little chopping. However, this Slow Cooker Fiesta Chicken recipe couldn't be easier that way. No chopping! It's a great meal for those times when you don't really wanna cook, or for when you do! It's great over rice or in a tortilla, or even mixed up with corn or hominy.
Now, how stress-free does this recipe sound?! Perfect, right? And, delicious!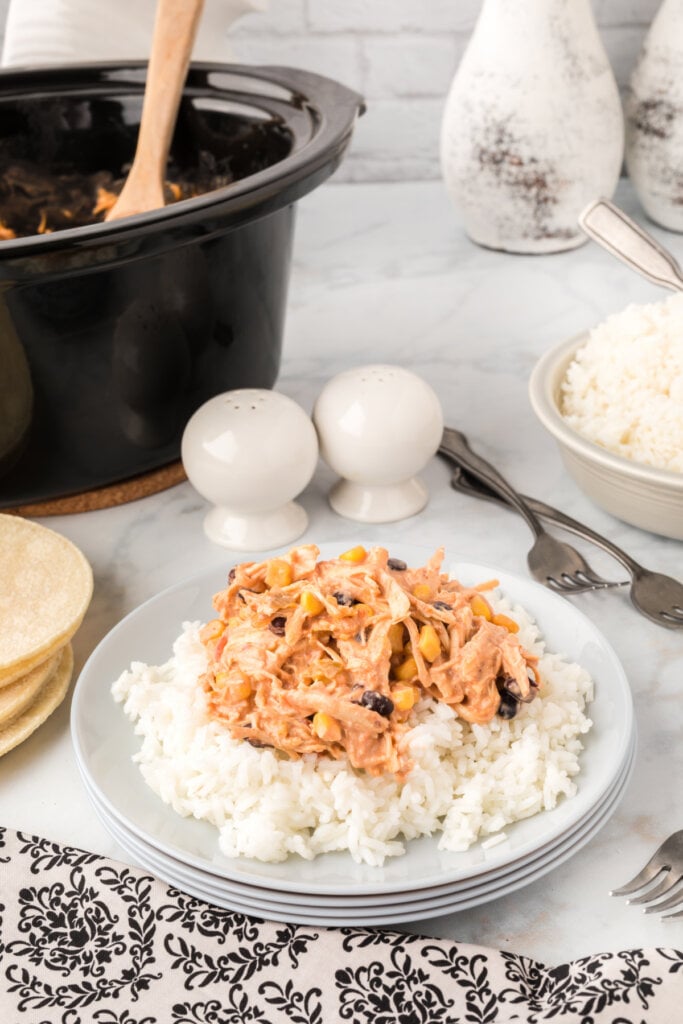 Crockpot Fiesta Chicken: Ingredients & Equipment
For this Fiesta Chicken recipe, you'll need …
Ingredients
boneless, skinless chicken breasts – or your favorite cut of chicken. I just think breasts taste the best in most recipes like this one.
black beans, whole kernel corn – add-ins for your Fiesta Chicken. They really make this meal filling.
salsa – is another one of your add-ins. Depending on your taste, this can be as hot or mild as you like. (FYI, I love that you can adjust the heat in this recipe as needed!)
cream cheese – you'll add this to the Fiesta Chicken about a half hour before it's done.
cooked rice or warm tortillas – optional! This recipe goes great with either of these. Or you can eat it by itself, but I always try to add a little something to my Fiesta Chicken when I make it!
Equipment
slow cooker or crockpot – obviously, but the good news? You won't need anything more than this to cook your fiesta chicken. Yay!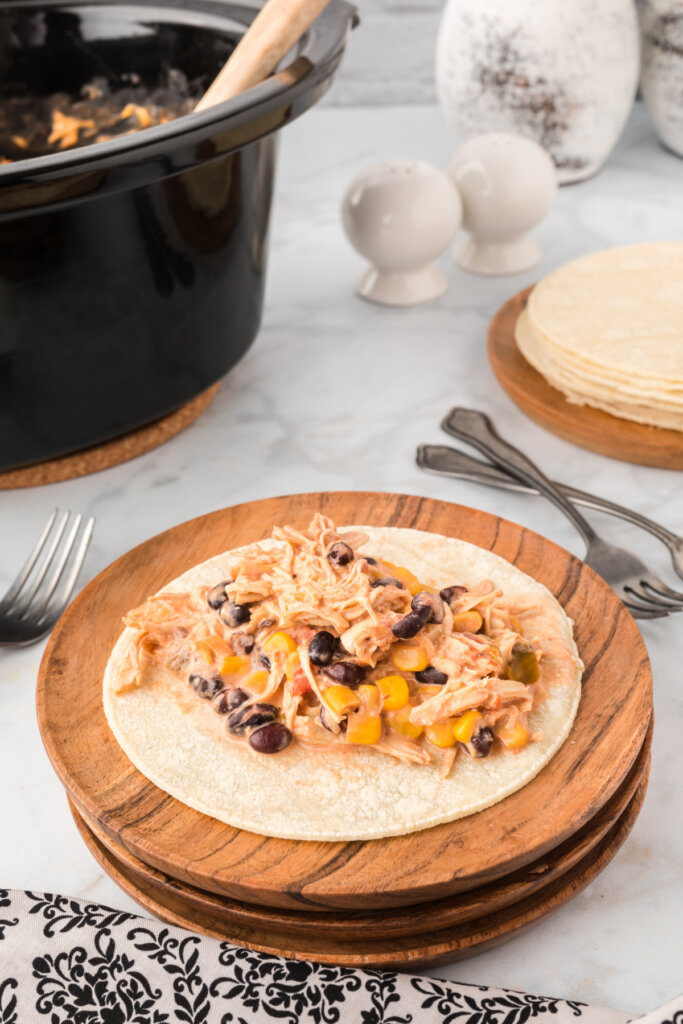 Fiesta Chicken: FAQs
How many servings does this Slow Cooker Fiesta Chicken yield?
About 6 depending on serving size – perfect for most families (or a get-together of all your favorite people).
How long does it take to make Crock Pot Fiesta Chicken?
OK, bear with me on this one. While it takes almost 5 hours, 99% of that is cooking time. Only 10 minutes of it is prepping all the ingredients. Then you just throw them into the crock pot and let them cook! Zero effort! (Well, except for the effort of resisting the urge to peek every five minutes …)
Is there a certain kind of rice that you recommend for this recipe?
Try something like my Mexican rice! Of course, as I said, it's optional; you can use plain white rice. In fact, you may not feel like making it at all. Still, if you have the time and energy, the rice makes this meal ten times better.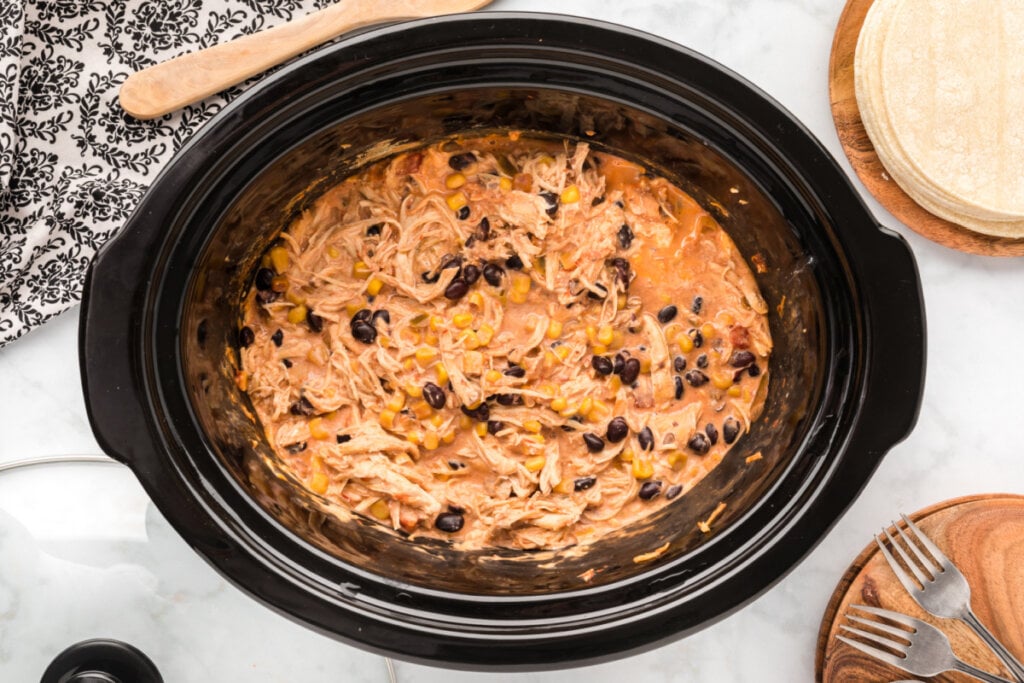 Other recipes you may enjoy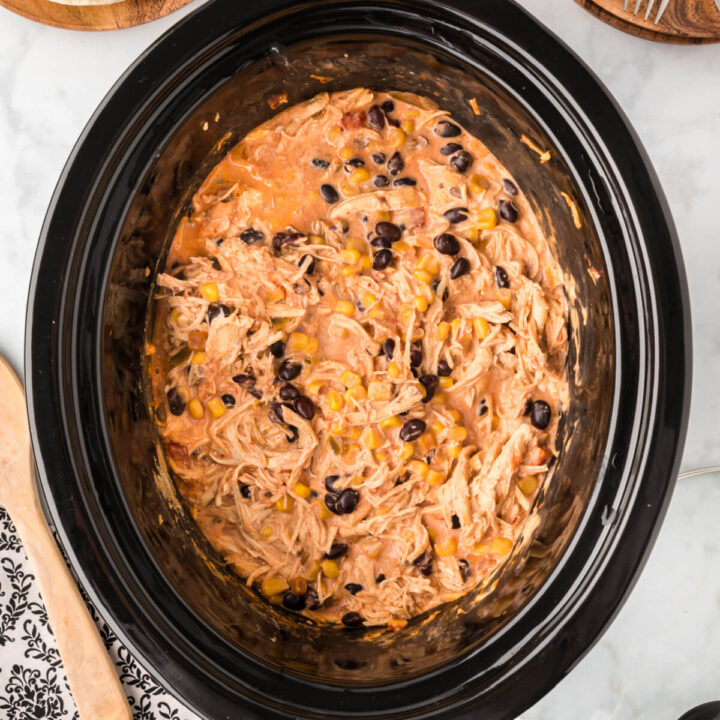 Fiesta Chicken and Rice
Cook Time:
4 hours
30 minutes
Total Time:
4 hours
40 minutes
Slow Cooker Fiesta Chicken is a simple dinner recipe. Serve it in tacos, burritos, or over rice for an easy meal the whole family will enjoy.
Ingredients
1 to 1-1/2 pounds boneless, skinless chicken breasts
1 can (16 oz.) black beans, rinsed and drained
1 can (14-16 oz.) whole kernel corn, drained
1 jar (16 oz.) salsa, as hot or as mild as you like
1 package (8 oz.) cream cheese, cubed
cooked rice or warmed tortillas, for serving
Instructions
Place the chicken breasts in the bottom of a slow cooker. Add the black beans, corn, and salsa. Cover and cook on HIGH for 3-4 hours or on LOW for 6-8 hours or until the chicken shreds easily with a fork.
About 30-minutes to an hour before serving, remove the chicken and shred. Place it back into the slow cooker. Add the cream cheese. Cover and continue to cook until the cream cheese has melted - about 30 minutes.
Just before serving, mix the chicken mixture until well combined.
Serve over rice or in warmed tortillas.
Notes
Pinto beans or kidney beans are also great in this recipe.
For even more flavor, try adding a packet of taco seasoning, or try my homemade taco seasoning!
Chicken thighs also work well in this recipe.
Recommended Products
As an Amazon Associate and member of other affiliate programs, I earn from qualifying purchases.
Nutrition Information:
Yield:

6
Serving Size:

1
Amount Per Serving:
Calories:

367
Total Fat:

6g
Saturated Fat:

2g
Trans Fat:

0g
Unsaturated Fat:

4g
Cholesterol:

129mg
Sodium:

297mg
Carbohydrates:

25g
Fiber:

3g
Sugar:

4g
Protein:

51g
Please note that the nutritional information listed on this page is an estimation based on the products I used. Ingredients and nutritional information can vary significantly between brands. Always be sure to read labels. Please verify that a recipe fits your needs before using it. Nutrition info may contain errors, so please verify it independently. Likewise, recipes may contain errors, so please use your common sense when following them.
Originally published on May 27, 2013. Updated on August 15, 2022.