Nothing says "southern" like a good BBQ, and this Eastern NC Slow Cooker BBQ Pork and Sauce is a flavorful way to have the taste of the whole hog without needing the whole hog. Fork-tender and totally satisfying, it's a recipe you'll come back to!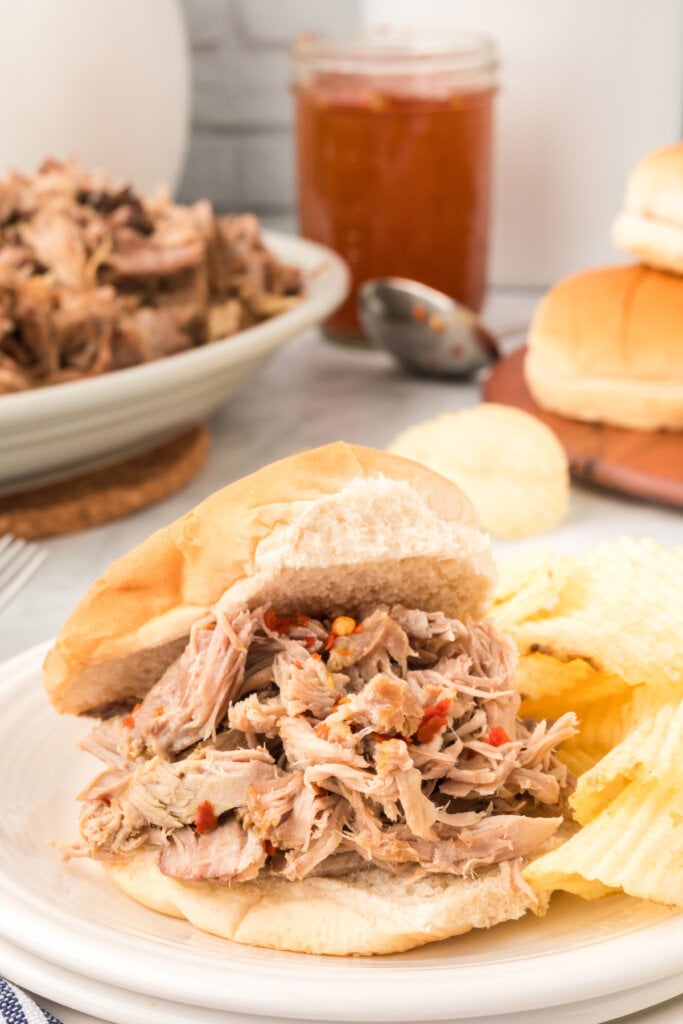 Pulled Pork and BBQ Sauce
I'm not a native of East North Carolinian, but I appreciate their pulled pork and BBQ. Some good stuff right there! I grew up with the traditional thick, tomato-y, slightly spicy BBQ I'm sure you also know. Out there, they do things differently and believe me. It's a good thing!
Eastern North Carolina BBQ pork is a type of BBQ that is characterized by its vinegar-based sauce and slow-smoked pork. The pork is typically smoked over wood, such as oak or hickory.
One of the key characteristics of Eastern North Carolina BBQ pork is its vinegar-based sauce. This style of BBQ sauce is made with a combination of vinegar, ketchup, and spices and is thin and tangy, with a slightly sweet and spicy flavor. The sauce is typically brushed over the pork while the pork is cooking, and it can also be served on the side as a dipping sauce.
Out here, we typically do whole hog barbecue. It's great when you're feeding a crowd. However, it's overkill for a simple family dinner, so I've scaled it down and cooked it in the slow cooker to make it easier.
The cut of pork most often used in Eastern North Carolina BBQ is typically shoulder, or "Boston butt," which is a fatty cut of meat that is well-suited to slow smoking.
Coleslaw, baked beans, and hush puppies are typical sides. It is a popular dish at BBQ joints and outdoor gatherings in the region and has become a beloved part of the state's culinary heritage.
You can eat it straight up – just the meat, sauce, and a fork – or put your BBQ on a bun, top it with some coleslaw, and enjoy. By the way, make sure you keep that sauce handy. It's addicting!
I believe everyone needs a good classic pulled pork recipe, and this is a traditional one right from the BBQ pork region itself!!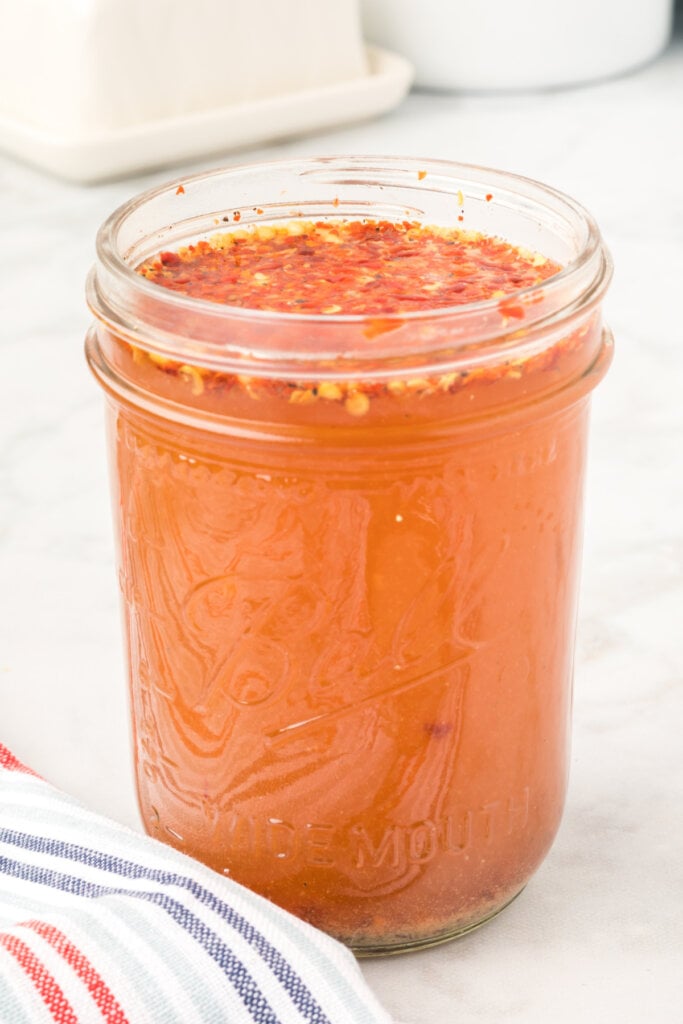 Eastern NC Slow Cooker BBQ Pork and Sauce: Ingredients & Equipment
For this Eastern NC Slow Cooker BBQ Pork and Sauce recipe, you'll need …
Ingredients
For the pork BBQ
pork shoulder, kosher salt – you'll cook this in your slow cooker until it's easily shreddable, then add the sauce below!
For the sauce
Texas Pete hot sauce – this brings the heat to your pork. This ingredient is the most "authentic" thing to use with Eastern Carolina pulled pork, apparently, since, despite its name, it's made in North Carolina. Feel free to use any hot sauce you like, though!
crushed red pepper – for additional spice.
white vinegar and apple cider vinegar – these kinds of vinegar play a few roles in a sauce like this besides making it a vinegar-based sauce. All in all, they balance out any other flavor you have.
sugar – to slightly sweeten the sauce and heighten its flavor profile! Don't leave it out!!
salt and black pepper – I can't imagine a sauce without a little seasoning!
Equipment
crockpot/slow cooker – obviously, ha!! Remember to know your appliance well, as your cooking time may differ slightly from this recipe's depending on the brand.
medium bowl – you'll use this to combine your sauce ingredients.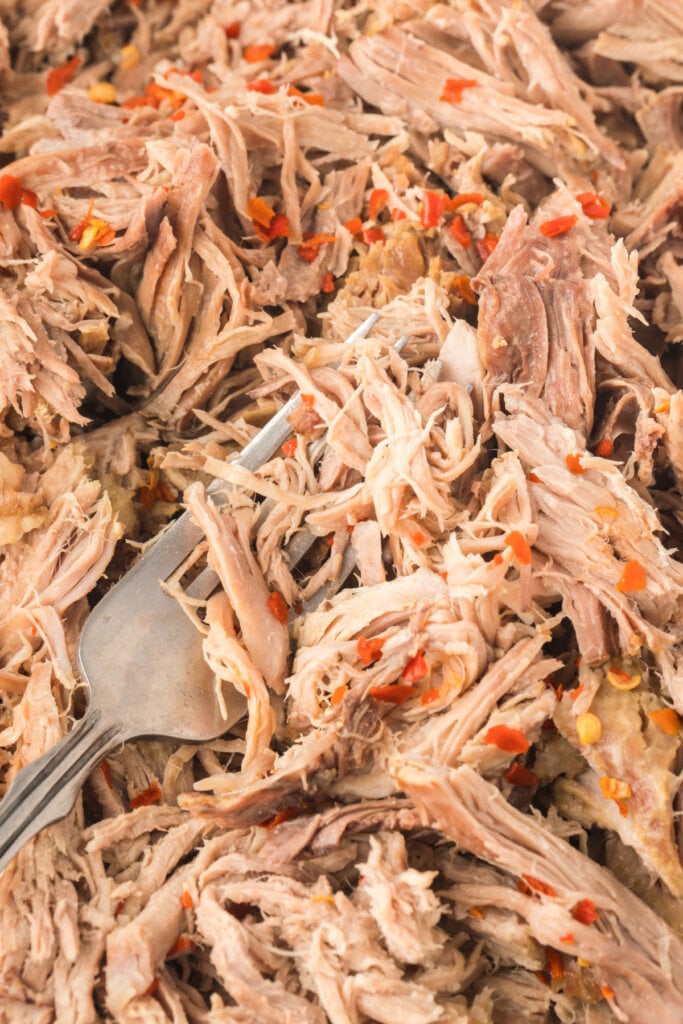 Eastern NC Slow Cooker BBQ Pork and Sauce: FAQs
How long does it take to make Slow Cooker BBQ Pulled Pork?
You will need about 24 hours for the sauce to blend flavors. For the pork, the prep time is about 30 minutes, and the rest of the recipe (4 hours) is hands-off slow cooker time. It's not a fast recipe, I will admit, but it is easy.
How many servings does this recipe produce?
It'll give you 2 cups of sauce and 6-8 large servings of pork, depending on portion sizes.
Should I use bone-in or boneless pork shoulder for my Eastern NC Slow Cooker Pork & Sauce?
Bone-in is always the best choice, in my opinion, as bone-in pork shoulder is much more flavorful. However, there's nothing wrong with boneless if that's what you have!
What's the best bread to pair with my Eastern NC Slow Cooker Pork & Sauce?
Honestly? The best for any BBQ'd meat will always be Southern Cornbread!! My kids like my kicked-up Jalapeño Cheddar Corn Muffins. A lot of people also like brioche. It's got the perfect texture and a slightly sweet flavor that pairs with anything.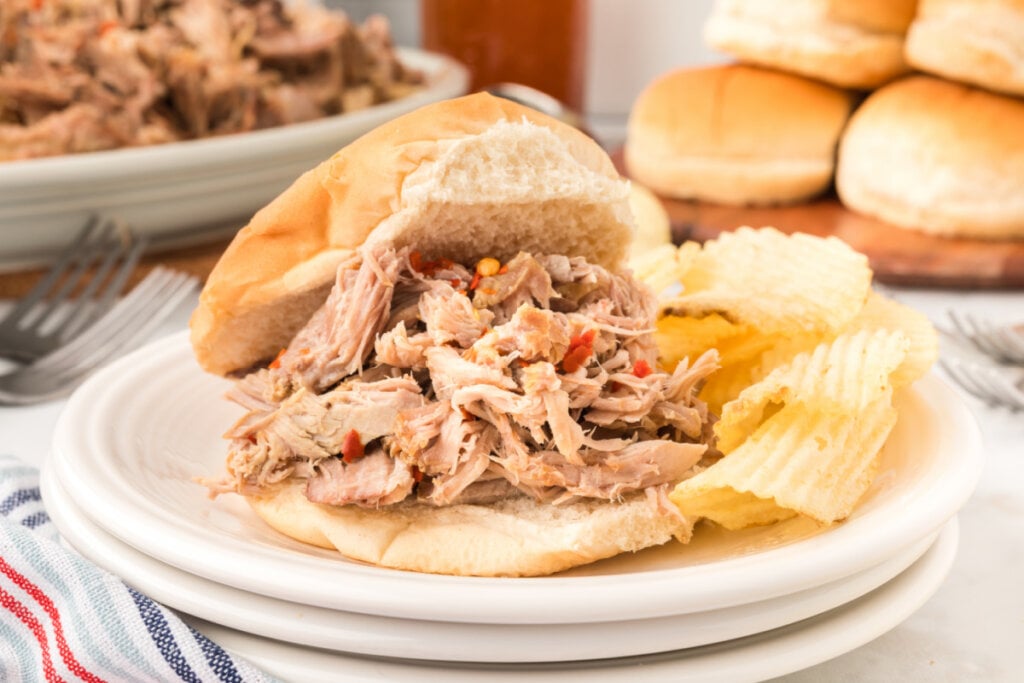 Other recipes you may enjoy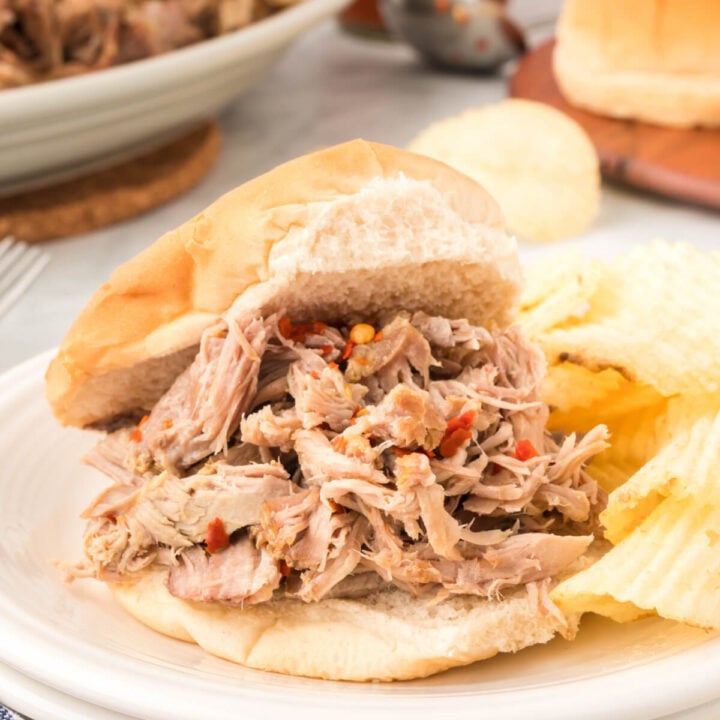 Eastern NC Pulled Pork and BBQ Sauce
Yield:
6-8 large servings with approximately 2 cups of sauce
Total Time:
1 day
4 hours
30 minutes
Nothing says "southern" like good BBQ, and this Eastern NC Slow Cooker Pork and BBQ Sauce is a flavorful way to enjoy this regional favorite!
Ingredients
1 fresh pork shoulder (or use a boston butt)
kosher salt
For the sauce
1 cup distilled white vinegar
1 cup apple cider vinegar
1 teaspoon Texas Pete hot sauce (or more to taste)
2 Tablespoons sugar (whatever you have on hand)
2 teaspoons crushed red pepper
1 teaspoon salt
1 teaspoon black pepper
Instructions
Combine all sauce ingredients in a medium bowl. Put sauce in a squeeze bottle or other container and allow it to sit for at least 24-48 hours for the best flavor. You can also make larger batches, as this keeps well. There is no need to refrigerate the sauce.
Place pork shoulder in the crockpot and sprinkle lightly with kosher salt. Cover and cook on HIGH for 3-4 hours or LOW for 6-8 hours, or until meat easily shreds with two forks.
Remove the pork from the slow cooker and shred or chop, whichever you prefer. Top with BBQ sauce. Serve straight up or on buns. Be sure to serve with extra sauce on the side!
Notes
Be sure to plan ahead - the sauce needs at least 24 hours to blend the flavors.
Nutrition Information:
Yield:

8
Serving Size:

1
Amount Per Serving:
Calories:

75
Total Fat:

4g
Saturated Fat:

1g
Trans Fat:

0g
Unsaturated Fat:

2g
Cholesterol:

15mg
Sodium:

318mg
Carbohydrates:

4g
Fiber:

0g
Sugar:

3g
Protein:

4g
Please note that the nutritional information listed on this page is an estimation based on the products I used. Ingredients and nutritional information can vary significantly between brands. Always be sure to read labels. Please verify that a recipe fits your needs before using it. Nutrition info may contain errors, so please verify it independently. Likewise, recipes may contain errors, so please use your common sense when following them.
Originally published on April 3, 2012. Updated on December 31, 2022.