Nothing screams louder than North Carolina Pulled Pork! There is something to be said about Eastern NC Pork and BBQ Sauce. Try it for yourself!
This post may contain affiliate links. As an amazon associate, I earn from qualifying purchases. See my full Disclosure Policy for details.
Pulled Pork and BBQ Sauce
I'm not a native East North Carolinian, but I do appreciate their pulled pork and BBQ. Mmmmm mhhmmm! Some good stuff right there! I grew up with the traditional thick, tomato-y, slightly spicy stuff you're probably accustomed to also.
Out here, they do things different, and believe me, it's a good thing! Eastern NC Pork and BBQ Sauce uses a spicy vinegar sauce that is nothing like that stuff you buy in a bottle. It does something to the pork you can't even describe, I love it. I love the spice. I love the tang. Trust me, if you've never had it, you need to experience it!
You can eat it straight up – just the meat, sauce and a fork (or your hands if you're so inclined – hehe), or put your BBQ on a bun, top it with some coleslaw (because that's how they do it out here) and enjoy! Make sure you keep that sauce handy, it's addicting!
Now, let me clarify something. Around these parts, they use the whole hog and smoke that bad-boy over hickory, oak or maple to perfection. I have had to modify that part slightly – a whole hog is a lot of pork, and personally, I find the crockpot so much easier for us. It's probably BBQ blasphemy, but it's still good 🙂
Oh, and for the authentic NC taste, be sure to use "Texas Pete" brand hot sauce, in case you didn't know, it's made here in NC. (For some reason that reminds me of the old Pace commercials – hehe – where the cowboys say, "Made in New York City?!?", "Get a rope"), Here's the video in case you have no idea what I'm talking about 🙂
Other recipes you may enjoy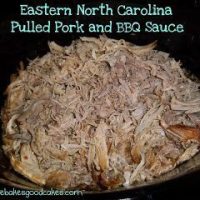 Eastern NC Pulled Pork and BBQ Sauce
Yield:
6-8 large servings with approximately 2 cups of sauce
Total Time:
4 hours
30 minutes
Eastern NC Pork and BBQ Sauce
Ingredients
1 fresh pork shoulder (or use a
kosher salt
For the sauce
1 cup distilled white vinegar
1 cup apple cider vinegar
1 teaspoon Texas Pete hot sauce (or more to taste)
2 Tablespoons sugar (whatever you have on hand)
2 teaspoons crushed red pepper
1 teaspoon salt
1 teaspoon black pepper
Instructions
Place pork shoulder in crockpot and sprinkle lightly with kosher salt. Cover and cook on High 3-4 hours or Low 6-8 hours, or until meat easily shreds with two forks.
Remove pork from crockpot and shred or chop, whichever you prefer. Top with BBQ sauce. Serve straight up or on buns. Be sure to serve with extra sauce on the side!
Combine all sauce ingredients in a medium bowl. Put sauce in a squeeze bottle or other container and allow to sit at least 24-48 hours for best flavor. You can also make larger batches, as this keeps well. There is no need to refrigerate the sauce.
Nutrition Information:
Amount Per Serving:
Calories:

1215
Total Fat:

90g
Saturated Fat:

31g
Cholesterol:

355mg
Sodium:

736mg
Fiber:

0g
Sugar:

4g
Protein:

86g
Originally published on April 3, 2012. Updated on April 20, 2021.