A simple appetizer, snack, or side dish, these Eastern NC Hush Puppies are an old southern staple. Pair them with seafood, BBQ, or any other meal you enjoy!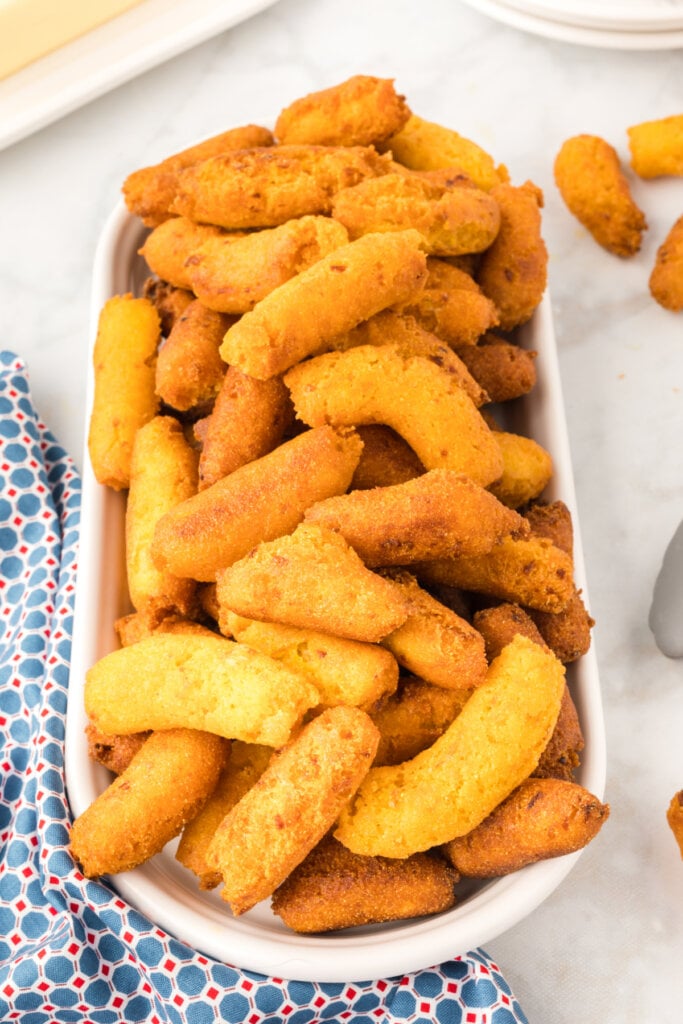 Eastern NC Hush Puppies
Hush Puppies are the perfect partner for any seafood dish and an old Carolina staple! Eastern NC Hush Puppies are made from thick, golden cornmeal batter and stuffed full of seasoned onions before being squeezed into cute little fried strips of flavor. A side dish for the ages, I always say!!
Most people are familiar with traditional hushpuppies that are shaped into a ball. And while those are good, that's not how East Carolina does things.
Here in Eastern North Carolina, hushpuppies tend to be shaped more like a short, thick strips. In some places, you can even find round (like an onion ring!) hush puppies! Who knew there were so many ways to make them?!
Even if you know and love hush puppies, did you know they've got quite the history?! There are all sorts of origin stories for them. You ask one person, and they'll say hush puppies came about when fishermen out at sea fried bits of dough to hush the dogs they took with them. Although why they'd bring dogs with them on a fishing trip is its own mystery, ha!
Other stories claim the recipe came from French nuns in New Orleans or from Cajuns in Southern Louisiana deep frying battered salamander they supposedly called "mud puppies."
Whatever the case, these hush puppies are a classic, and this recipe, in particular, comes from eastern North Carolina. They know how to do seafood and BBQ there, and so I trust them with hush puppies, too. You're definitely going to agree when you bite into these! Enjoy!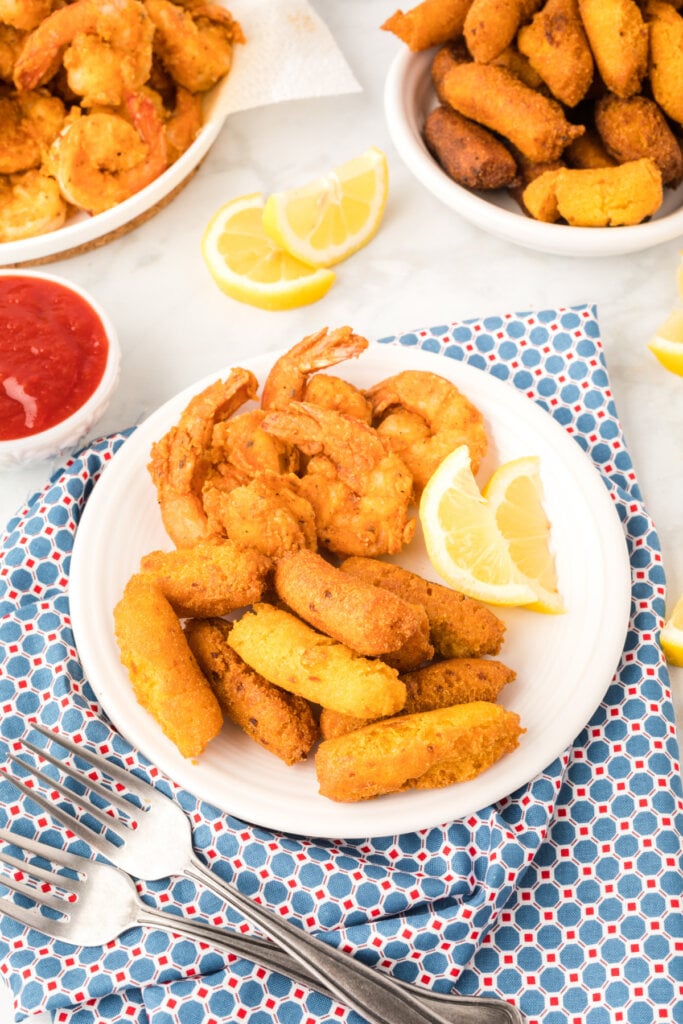 Eastern NC Hush Puppies: Ingredients & Equipment
For this Eastern NC Hush Puppies recipe, you'll need …
Ingredients
all-purpose flour – the best kind of flour to use for this recipe, as it'll provide just the right consistency needed for your hush puppies.
cornmeal – hush puppies are traditionally made with cornmeal!
granulated sugar – for a hint of sweetness, of course!
salt – a dash of salt brings out the flavors in any recipe. You can also sprinkle more salt on after the hush puppies are done if you think they need more seasoning.
baking powder – this ingredient provides any baked good with an "airy" texture.
buttermilk, water – your liquids. Buttermilk, in particular, gives baked goods a slight "tang" that's always delicious.
butter – most baked goods need fat like butter or margarine.
hot sauce, and yellow onion – these are your more savory additions and deepen the flavor of your hush puppies. If necessary, you might want to use a food processor to mince the onion.
vegetable oil – for frying your hush puppies.
butter (or other condiments) – for serving.
Equipment
bowls – one large for mixing your dry ingredients, one medium for mixing your wet ingredients.
deep-fryer or deep skillet – this is where you'll cook your hush puppies to fried perfection!!
piping bag – this makes it easy to pipe your hush puppy mixture/batter into the deep fryer.
scissors or a knife – either or. Using one of these makes it easier to cut the batter into the oil.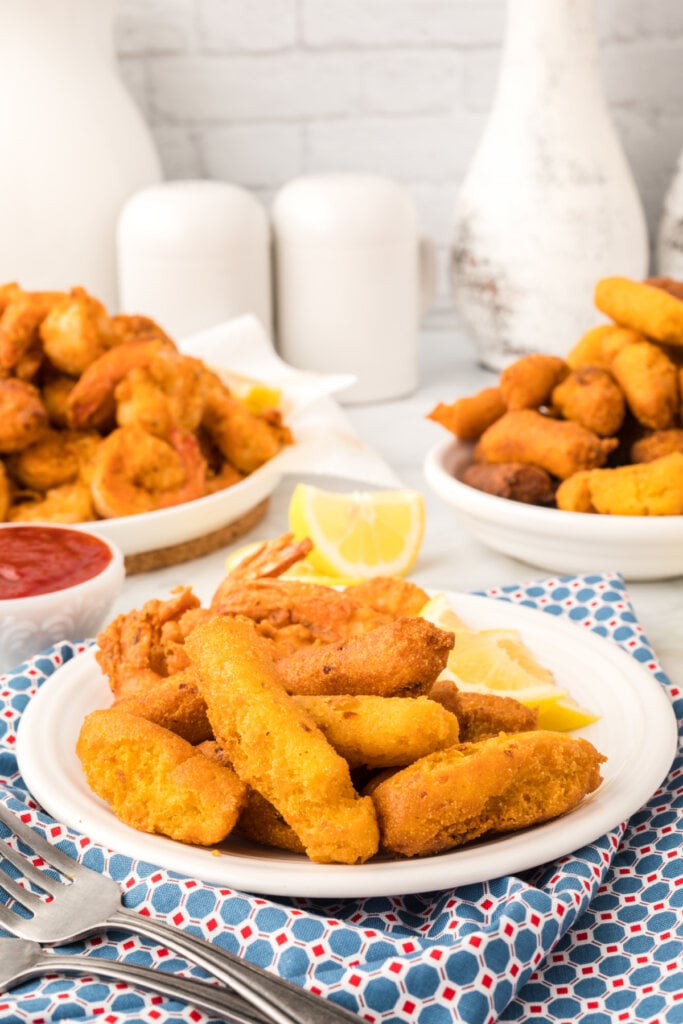 How to make Eastern NC Hushpuppies
Heat the oil. Start by heating the oil and preparing a baking sheet with paper towels to place the finished hush puppies.
Prepare the batter. Combine all of the hush puppy ingredients in a large bowl and transfer the mixture to a large piping bag fitted with a large round hole tip.
Fry the hush puppies. Pipe the batter in 2-inch strips into the hot oil and fry until golden brown. Remove the hush puppies from the oil to the prepared paper towel-lined baking sheet. Continue frying until all of the batter has been used.
Serve. Serve hot, with butter (like we do here in Eastern Carolina), or with another condiment of choice.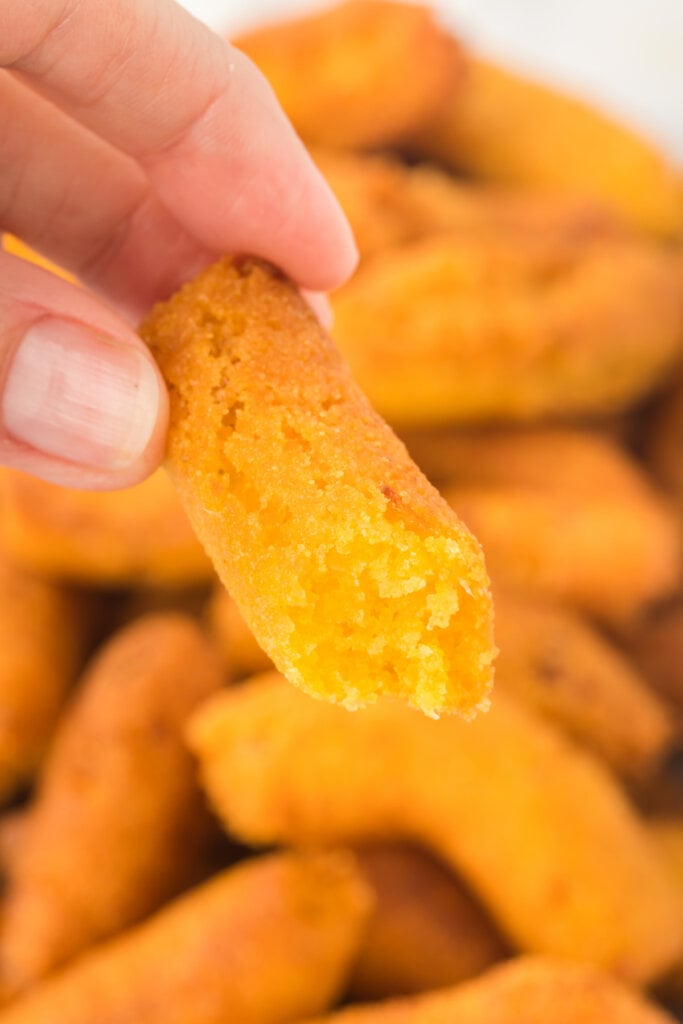 Eastern NC Hush Puppies: FAQs
How many hush puppies does this recipe make?
This recipe will make 8-10 servings, depending on portion sizes, as always!
How long does it take to make Eastern NC Hush Puppies?
Prepping the ingredients takes 20 minutes, while cooking them only takes 3-5 minutes. It's an easy recipe that gets you a side dish on the table in under a half hour!
How do I know if my hush puppies are done?
While hush puppies are meatless, it's always safest to cook them to the right internal temperature!! Ideally, you should use an internal thermometer to make sure they've hit 165°F (74°C) before taking them out of the oil.
How are hush puppies served?
Hush puppies are typically served as a side dish or appetizer, often alongside seafood or BBQ dishes. They are often served with a variety of dips and sauces, such as ketchup, hot sauce, or tartar sauce. Some people like to butter their hushpuppies. Hush puppies can also be eaten on their own as a snack or used as a topping for salads or other dishes.
What do hush puppies taste like?
Hush Puppies have a savory, slightly sweet flavor with a crunchy texture. The taste of hush puppies can vary depending on the specific recipe and any additional ingredients that are added to the dough mixture.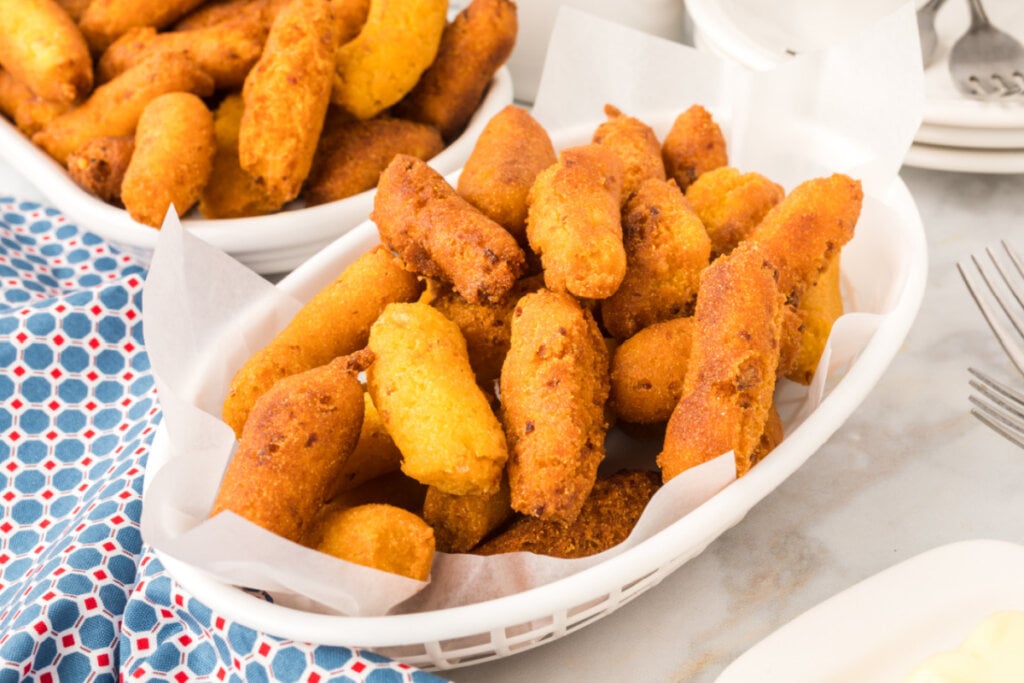 Other recipes you may enjoy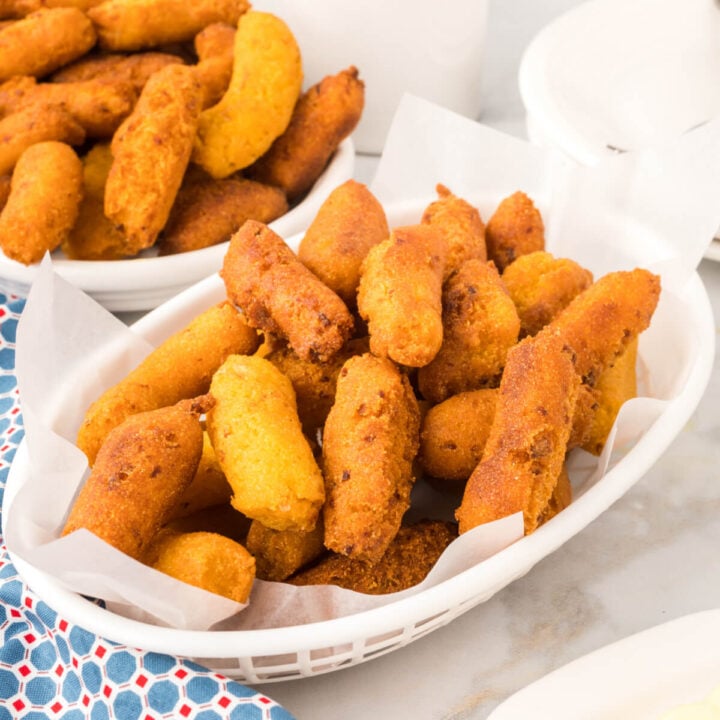 Eastern NC Hush Puppies
Additional Time:
10 minutes
A simple side dish bursting with savory-sweet flavor, these Eastern NC Hush Puppies are an old southern staple. Pair them with seafood, BBQ, or any other meal you enjoy!
Ingredients
2 cups yellow cornmeal
1 cup all-purpose flour
2 tablespoons granulated sugar
1 tablespoon salt
4 teaspoon baking powder
1 cup buttermilk
1/4 cup water
1/4 cup melted butter
1/4 teaspoon hot sauce
1 medium yellow onion, finely minced
vegetable oil, for frying
butter, for serving
Instructions
Whisk together the cornmeal, flour, sugar, salt, and baking powder in a large bowl. Whisk together the buttermilk, water, butter, hot sauce, and onion in a medium bowl. Add the buttermilk mixture to the cornmeal mixture and mix with a spoon or rubber spatula until well combined. Let the mixture rest for 10 minutes.
Meanwhile, heat the oil to 375°F in a deep-fryer or deep skillet to at least 2 inches deep.
Transfer the hushpuppy mixture to a piping bag fitted with a large round hole tip.
Working in batches, pipe 2-inch lines of batter into the hot oil. Fry until golden brown, about 2-3 minutes. Transfer the hushpuppies to a paper towel-lined baking sheet or platter. Repeat the cooking process with any remaining batter.
Serve immediately with butter, if desired.
Notes
Sometimes, it's easier to cut the lines of dough with a butter knife or food scissors into the oil.
If desired, you can sprinkle the freshly cooked hushpuppies with additional salt.
Traditionally, these hush puppies are served as a side with BBQ pork or seafood.
I often use a food processor to get the onion into tiny pieces quickly.
Nutrition Information:
Yield:

10
Serving Size:

1
Amount Per Serving:
Calories:

221
Total Fat:

8g
Saturated Fat:

4g
Trans Fat:

0g
Unsaturated Fat:

4g
Cholesterol:

16mg
Sodium:

931mg
Carbohydrates:

33g
Fiber:

2g
Sugar:

4g
Protein:

4g
Please note that the nutritional information listed on this page is an estimation based on the products I used. Ingredients and nutritional information can vary significantly between brands. Always be sure to read labels. Please verify that a recipe fits your needs before using it. Nutrition info may contain errors, so please verify it independently. Likewise, recipes may contain errors, so please use your common sense when following them.