There's nothing like this finger lickin' good Southern Fried Chicken! It's easy to cook this all-American meal to perfection at home, and I know your family will adore it.
Southern Fried Chicken
Southern Fried Chicken is one of my favorite recipes, and everyone I've met has a liking for it. Still, I know a lot of people are intimidated by the thought of frying chicken. It doesn't have to be scary, y'all!
Basically, don't try to cook your chicken too fast. You'll burn the outside and the inside will still be raw. It could take 10-20 minutes per side, depending on the kind of chicken pieces you're using and how big they are. If in doubt, check the internal temperature of the chicken – it should be at least 165°F before eating. That's my number #1 southern fried chicken tip!
My other tip? Buttermilk is the secret to moist, flavorful chicken. Oh, yes, and it's important to season your flour mixture. This recipe gives you a great start – but feel free to experiment from there. I think that's it!
All in all, this is a simple crispy chicken recipe you'll love. Grab whatever chicken cuts you love most and get to work on a fabulous dinner!
Southern Fried Chicken: Ingredients & Equipment
For this Southern Fried Chicken recipe, you'll need …
Ingredients
chicken – any cut/piece of your choice, bone-in or boneless. You'll want about 3 pounds.
buttermilk, hot pepper sauce – you'll marinate your chicken in this mixture for 2-8 hours in the fridge. They'll give your chicken a tangy flavor with a hint of a kick!!
flour, salt, and pepper, paprika, and garlic powder – these form the breading on your chicken. Always spice it up somehow, y'all, or your chicken might taste just a little bland!
vegetable oil – for frying your chicken.
Equipment
bowls – two large ones for mixing your marinade and your breading.
skillet – you want a big, deep skillet for frying your chicken the southern way!
NOTE: You can serve this chicken with any condiment you enjoy or without any condiments at all. In my house, we use Texas Pete hot sauce as a rule, and we sprinkle a little more salt on the outside of the chicken when it's done!
Southern Fried Chicken: FAQs
How many servings does this Crispy Chicken recipe make?
8 servings. As always, it'll depend a little on portion sizes, etc.
How long does it take to make Southern Fried Chicken?
The prep time takes 20 minutes, then you'll want to marinate the chicken for 2-8 hours. After that, the cooking time is only a half hour.
Can I use a deep fat fryer instead of a skillet?
Absolutely! Just make sure your chicken cooks to 165°F. Use a meat thermometer right into the thickest part of the chicken to know it's done.
Besides vegetable oil, what other oils are good for fried chicken?
Peanut oil is generally my go-to! I also recommend canola oil (a healthier option) or coconut oil (which is actually pretty flavorless). Sunflower oil is good, too, but tends to be pricey.
How do I check the oil temperature in my skillet before/during cooking?
Fun fact, before I answer this, y'all: you should always check your oil temperature before frying, as underheated oil is one of the main causes of soggy, greasy chicken. Ick! A thermometer is best used here to ensure you keep the oil close to 350°F at all times.
Other recipes you may enjoy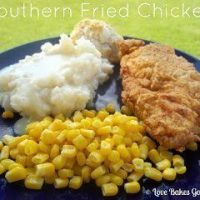 Southern Fried Chicken
I know a lot of people are intimidated by the thought of frying chicken. It doesn't have to be scary.
Ingredients
3 pounds of chicken pieces of your choice
1-quart buttermilk
2 tablespoons hot pepper sauce
3 cups all-purpose flour
salt and pepper, to taste
2 teaspoons paprika
2 teaspoons garlic powder
vegetable oil, for frying
Instructions
In a large bowl, combine the buttermilk and hot pepper sauce. Mix well. Add the chicken pieces and allow them to marinate for 2-8 hours, covered, in the refrigerator.
In a large bowl, combine the flour, salt, pepper, paprika, and garlic powder. Mix well.
Coat the chicken pieces in the flour mixture, coating them evenly. Shake off excess flour and dip the chicken pieces in the buttermilk mixture. Coat well. Remove the chicken from the buttermilk mixture and allow the excess to drip off. Add the chicken pieces back into the flour mixture, one at a time, coating well. Set the coated pieces on the wax paper for 10-15 minutes.
Meanwhile, heat the oil to 350° F in a large, deep skillet. It should be about one to two inches deep.
Carefully add the chicken pieces to the hot oil. Cook the chicken until golden brown on both sides or until the juices run clear and the internal temperature of the chicken reaches 165°F., flipping once. Make sure you don't overcrowd the pan, frying in batches if necessary.
Remove the cooked chicken to a paper towel-lined baking sheet and allow it to drain. Repeat frying with any remaining chicken.
Notes
You can also use a deep fat fryer to fry your chicken instead of a skillet. It is still important to ensure your chicken is cooked to an internal temperature of 165°F.
For extra flavor, season the freshly fried chicken with a sprinkle of salt.
If you prefer, you can use peanut oil in place of the vegetable oil.
In our house, we serve this with hot sauce on the table! Texas Pete is our favorite!
Nutrition Information:
Yield:

8
Serving Size:

1 piece of chicken
Amount Per Serving:
Calories:

570
Total Fat:

19g
Saturated Fat:

5g
Trans Fat:

0g
Unsaturated Fat:

12g
Cholesterol:

203mg
Sodium:

519mg
Carbohydrates:

43g
Fiber:

2g
Sugar:

6g
Protein:

54g
Please note that the nutritional information listed on this page is an estimation based on the products I used. Ingredients and nutritional information can vary significantly between brands. Always be sure to read labels. Please verify that a recipe fits your needs before using it. Nutrition info may contain errors, so please verify it independently. Likewise, recipes may contain errors, so please use your common sense when following them.
Originally published on August 22, 2012. Updated on April 21, 2021.