I love fried chicken … probably too much. I don't eat it often because it's not really the healthiest choice out there. Sometimes though, a girl's gotta do what a girl's gotta do – and that's eat some fried chicken!
I know a lot of people are intimidated by the thought of frying chicken. It doesn't have to be scary. My family prefers boneless, skinless chicken breasts – but use whatever your family prefers. It took my chicken about 11-12 minutes per side to be golden brown and cooked through. Don't try to cook your chicken too fast … You'll burn the outside and the inside will still be raw. It will take a good 10-20 minutes per side depending the kind of chicken pieces you're using and how big they are. If in doubt, check the temperature of the chicken – it should be at least 165° F before eating.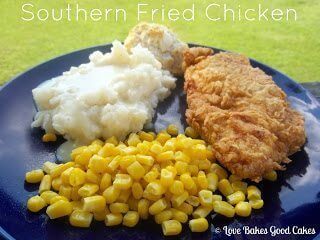 Southern Fried Chicken
Yield: 6-8 servings
3 lb. chicken pieces of your choice
3 cups all-purpose flour
Salt and pepper, to taste
2 tsp. paprika
2 tsp. garlic powder
1 qt. buttermilk
2 tbsp. hot pepper sauce
Vegetable oil, for frying
Heat the oil to 350° F in a large, deep skillet. It should be about an inch or so deep.
In a large bowl, combine the flour, salt, pepper, paprika and garlic powder. Mix well. In a separate large bowl, combine the buttermilk and hot pepper sauce. Mix well.
Coat the chicken pieces in the flour mixture, coating evenly. Shake off excess flour and dip the chicken pieces in the buttermilk mixture. Coat well. Remove chicken from buttermilk mixture and allow excess to drip off. Add chicken pieces back into the flour mixture, one at a time, coating well.
Carefully add chicken pieces to the hot oil. Cook chicken until golden brown on both sides or until the juices run clear and the internal temperature of the chicken reaches 165° F., flipping once. Make sure you don't overcrowd the pan – fry in batches if necessary. Drain on paper towels.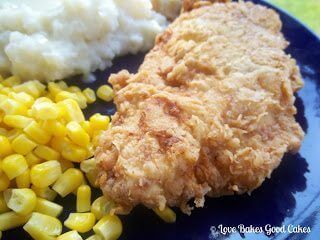 My personal preference – serve with extra hot sauce on the side! 😉
I hope you enjoy!
Shared at these
fun parties!
Featured at Cooking Mimi, The Better Baker, Sunflower Supper Club, The Country Cook, Meet Penny, Life as a Lofthouse


Copyright © Love Bakes Good Cakes 2012 All Rights Reserved