Skip the takeout! Dinner is easy and delicious with this Slow Cooker Beef & Broccoli recipe!
Beef and Broccoli
As much as I love our house and where we live, it does have its drawbacks. For one, we don't have any pizza delivery where we live. It was a huge adjustment not being able to pick up the phone or go online and have food delivered. That also means that we have a little bit of a drive when we want to go anywhere or do anything. In this case, thank goodness for my slow cooker!!
Like many areas across the country, Phoenix took a big hit when the housing market crashed. Although the market was rebounding when we bought our home, we were fortunate enough to get into our house while the market was still low. We bought in an area where half-built houses were literally abandoned. We have hundreds of empty lots in our subdivision.
The market is FINALLY in a place where the builders are back, and people are buying new houses in our area … which means we have new construction coming into our subdivision. I admit it's somewhat exciting to see the growth. Call it selfish, but I think I am most looking forward to having businesses move in … a closer grocery store, gas station, and everything that comes with a growing housing market.
Slow Cooker Beef and Broccoli recipe
Needless to say, I am like everyone else. Sometimes, I need a night off from cooking or, at least, easy dinners. Thankfully, I keep a well-stocked pantry and a few quick meal ideas in the freezer! Hello, frozen pizza, pre-made chicken strips, and frozen lasagna!! Besides, until we have some businesses move in, I often recreate some of our favorite takeout dishes at home.
This recipe is one of my favorites because it is so easy to make. While I prefer fresh broccoli, frozen broccoli works just as well – just be sure to thaw and drain it. Sometimes, I like to make this a bit spicier by adding more Sriracha or a sprinkle of pepper flakes.
A tip to cut the meat super thin – pop it in the freezer for 20-30 minutes before slicing.
Other recipes you may enjoy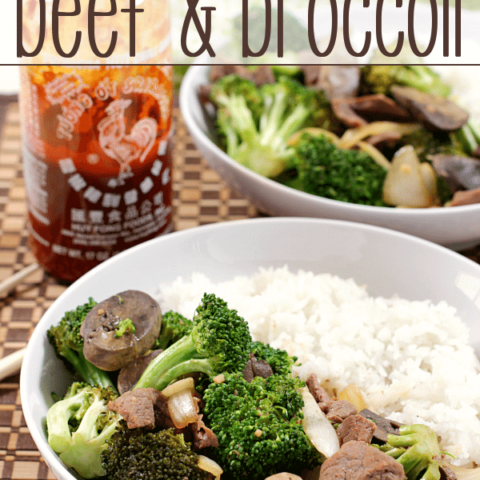 Slow Cooker Beef & Broccoli
Total Time:
9 hours
15 minutes
Skip the takeout! Dinner is easy and delicious with this Slow Cooker Beef & Broccoli recipe!
Ingredients
1-1 1/2 pounds boneless beef top round steak, cut into strips
8 ounces sliced mushrooms
1 large onion, cut into wedges
1 can (14.5 oz.) beef broth
1/3 cup soy sauce
4 cloves of garlic, minced
1 1/2 teaspoons ground ginger
1/2 teaspoon pepper
2 tablespoons Sriracha sauce, or to taste
2 teaspoons sesame oil
1 tablespoon cornstarch
2 tablespoons water
2 pounds broccoli florets, (fresh is best, but if frozen, thaw and drain)
Cooked rice, for serving
Instructions
Place the beef, mushrooms, and onions in a crockpot.
In a medium bowl, combine the beef broth, soy sauce, garlic, ginger, pepper, Sriracha sauce, and sesame oil. Pour mixture over the beef, mushrooms, and onions. Cover and cook on LOW for 6-8 hours or until the beef is very tender.
In a small cup, combine the cornstarch and water. Add to the crock pot and stir. Add broccoli and stir. Raise crockpot temperature to HIGH and cook an additional 30-60 minutes or until the broccoli is cooked through and the liquid has slightly thickened.
Serve over rice.
Nutrition Information:
Amount Per Serving:
Calories:

256
Total Fat:

10g
Saturated Fat:

3g
Cholesterol:

65mg
Sodium:

1256mg
Fiber:

1g
Sugar:

2g
Protein:

29g