Orange Chicken (Better Than Panda Express!) – Who needs takeout when you can make it better at home? #chicken #SuccessRice #ad
Orange Chicken (Better Than Panda Express)
I have been craving Orange Chicken for weeks. Yes, for weeks! Although, it sounds easy enough to just go pick up some takeout from one of my favorite local Asian food joints – it's not that easy …. it's a 20 mile trip – one way!! We live out in the middle of the desert, literally. Thankfully, I keep a well stocked pantry which allows me to make some of my favorite takeout meals at home! Thanks to Success® Rice for sponsoring this post written by me.
Making the rice
Having Success® Rice in you pantry is perfect for a busy weeknight or for entertaining with family and friends. Being able to take shortcuts in the kitchen without sacrificing quality or taste, will help you pull off a successful dinner. Some of my favorite dinnertime shortcuts are bagged salads, jarred sauces, and of course, Success® Rice.
Success® Jasmine Rice is the only Boil-in-Bag Jasmine rice available. It has a buttery, nutty fragrance, silky, smooth grains and delivers fully cooked rice in 10 minutes! It's pre-portioned, BPA-free boil-in-bag means no mess and no measuring involved! Success® Rice cooks up perfectly every time. The brown and white rice can sit up to 30 minutes before being served – giving you plenty of time to get dinner together and it's foolproof!
Choose your flavor
Success® Rice has four varieties available including: Success® Whole Grain Brown Rice and Success® White Rice, and globally-inspired aromatic varieties of Success® Rice, including fragrant Thai Jasmine or Basmati Rice. Success® Jasmine Rice is perfect for Asian-themed dishes, while Success® Basmati Rice is perfect for Indian-themed dishes. With Success® Rice, you can easily take your family on a culinary journey at mealtime!
Your favorite takeout place doesn't have anything on this homemade version of Orange Chicken! This is easily one of my family's favorite weeknight meals – and it's the dinner Isaac requested for his birthday this year! I hope you enjoy!
Visit the Success Rice website for more recipe ideas and for more info about cooking with the four different varieties. For recipe inspiration, lifestyle tips and more, like and follow Success Rice's social media pages: Facebook, Twitter and Pinterest.
Do you have a favorite Success® Rice, or is there one you would like to try? I would love for you to tell me in the comments!
Other Posts You May Enjoy:
Quick and Easy Chicken Fried Rice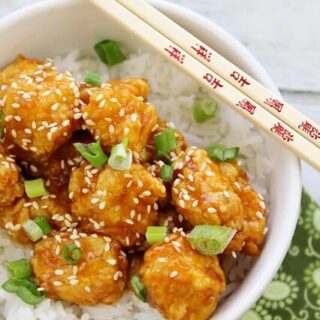 Orange Chicken (Better Than Panda Express)
Orange Chicken (Better Than Panda Express!) - Who needs takeout when you can make it better at home?
Ingredients
For the chicken
1 1/2-2 lb. boneless, skinless chicken breasts, cut into bite-size pieces
4 eggs
splash of milk
1-1 1/2 cups cornstarch
Salt and pepper, to taste
Oil, for frying
For the Orange Sauce
1 cup orange juice
zest of 1 large orange
1/4 cup soy sauce
1/4 cup sugar
1/2 cup rice vinegar
1 tsp. Sriracha sauce
2 cloves garlic, minced
4 tsp. cornstarch
Additional Ingredients
Success® Boil-in-Bag Jasmine Rice
Toasted sesame seeds (optional)
Sliced green onions (optional)
Instructions
1. Heat oil in a fryer to 375°F.
2. In a shallow dish (such as a pie plate), combine the eggs and milk. Place the cornstarch in a separate shallow dish. Season the cornstarch with salt and pepper, stirring to combine.
3. Dip the chicken pieces into the cornstarch, shaking off the excess. Place the chicken into the egg mixture coating well, allowing excess to drip off. Place the chicken back into the cornstarch, coating well. Shake off the excess cornstarch and place the chicken pieces into the hot oil. You may need to work in batches depending on the size of your fryer. Repeat with remaining chicken pieces until they are all golden brown and no longer pink. (To keep chicken warm when cooking in batches, place on a baking sheet in a 200°F oven.)
4. Meanwhile, prepare rice according to package directions.
5. While the chicken and rice are cooking, you can prepare the Orange Sauce. Combine all of the ingredients in a small bowl until the cornstarch is completely dissolved. Pour the mixture into a saucepan and cook over medium-high heat, constantly stirring, until the mixture has thickened and reduced by half. Set aside.
6. Once all of the chicken is cooked, gently stir it into the prepared Orange Sauce, coating all of the pieces.
Notes
To plate:
Place Success® Boil-in-Bag Jasmine Rice on a plate or in a bowl. Top with chicken. Sprinkle with toasted sesame seeds and sliced green onions, if desired.
Nutrition Information:
Amount Per Serving:
Calories:

790
Total Fat:

52g
Saturated Fat:

5g
Cholesterol:

203mg
Sodium:

811mg
Fiber:

1g
Sugar:

15g
Protein:

35g
Originally published on August 27, 2014. Updated on May 1, 2021.