Creamed Spinach is an easy side dish recipe you can quickly make in a pinch. This steakhouse favorite is the perfect accompaniment to any meal.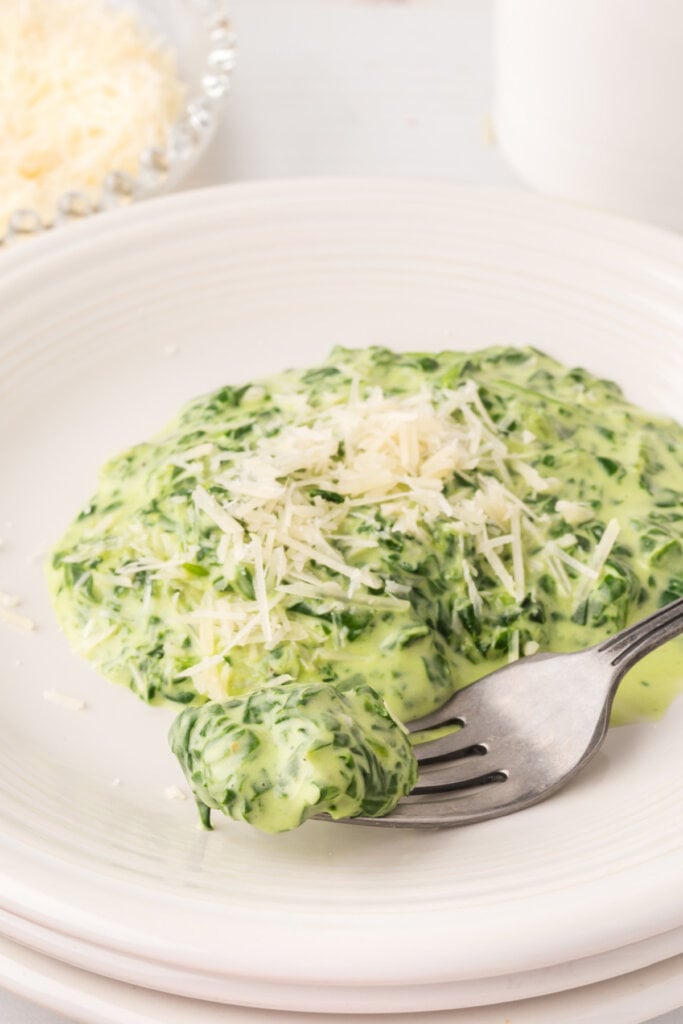 Recipe for Creamed Spinach
Have a hard time feeding your kids or partner veggies? (Yes!) Don't have time for a complex dish but still want some greens with a little extra? (Always!)
Don't fret, y'all! Creamed Spinach is an easy-to-make classic steakhouse dish that uses nothing but frozen spinach and everyday ingredients. This creamy spinach recipe is done in a flash, too, cooked up in 20 minutes or less with enough for everyone in the house to have a bit.
Some of you might be cringing at "spinach", but trust me when I say this particular dish is amazing. It's a secret favorite of mine, it's strange how appetizing spinach becomes when you get older! I'm imagining it now, full of flavor and color, with the emerald green spinach leaves swimming over a white and gold ocean of rich, savory cheese and cream, whew, I think I'm hungry! 😉
But I've found it's pretty easy to get into the kids, too. Cheese always goes over well! Not to mention this side dish pairs perfectly with steaks, roast beef, or chicken. Serve it to your family next time you're having a meaty dinner or lunch! I hope you and your household enjoy it as much as mine does!
This recipe is so quick and delicious. It's surprisingly easy to get the kids to eat, too, or into picky eaters in general! Bonus – it's also low-carb! Lemme show you how to make creamed spinach …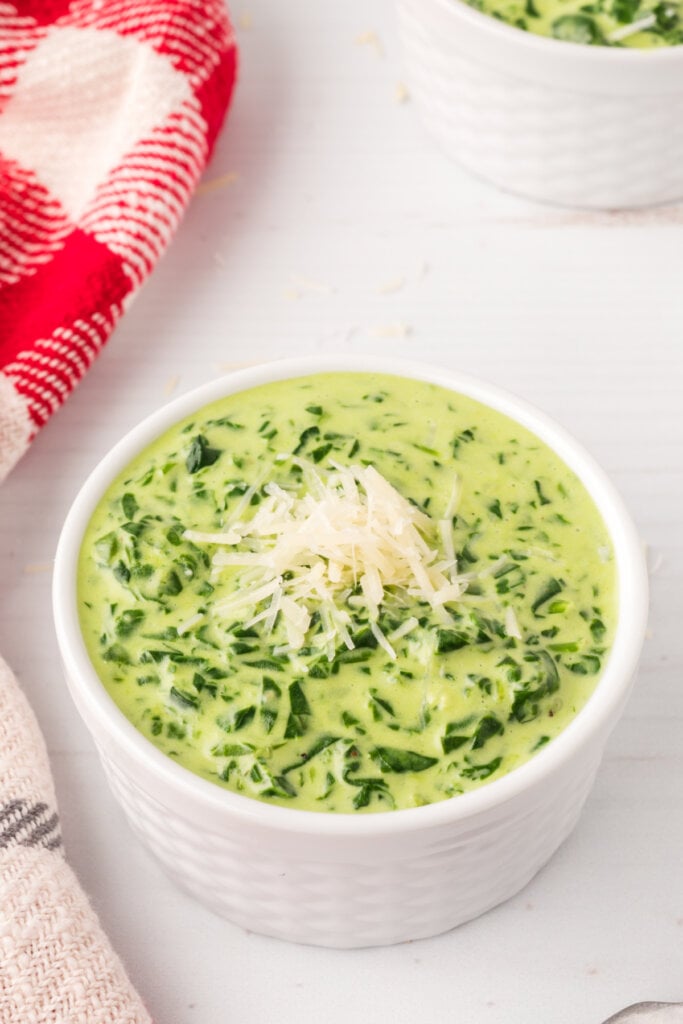 Creamed Spinach Recipe: Ingredients & Equipment
For this Creamed Spinach, you'll need …
Ingredients
baby spinach – chopped. Your spinach should, ideally, be bought whole/fresh and then chopped at home just before cooking to help maintain the texture! However, you can use frozen spinach as well. Make sure you squeeze out as much water as possible when it thaws!
garlic – for flavor.
butter – for sauteing your garlic and spinach!
heavy cream, cream cheese, salt, pepper – this is the tasty "creamed" part of the Creamed Spinach recipe! It takes spinach, which can be boring by itself, and heightens it with delicious cheese.
parmesan cheese – optional, for topping. Adds something to the final dish, and it's great for cheese-lovers like me!
Equipment
saute pan – this is where you'll make your creamed spinach!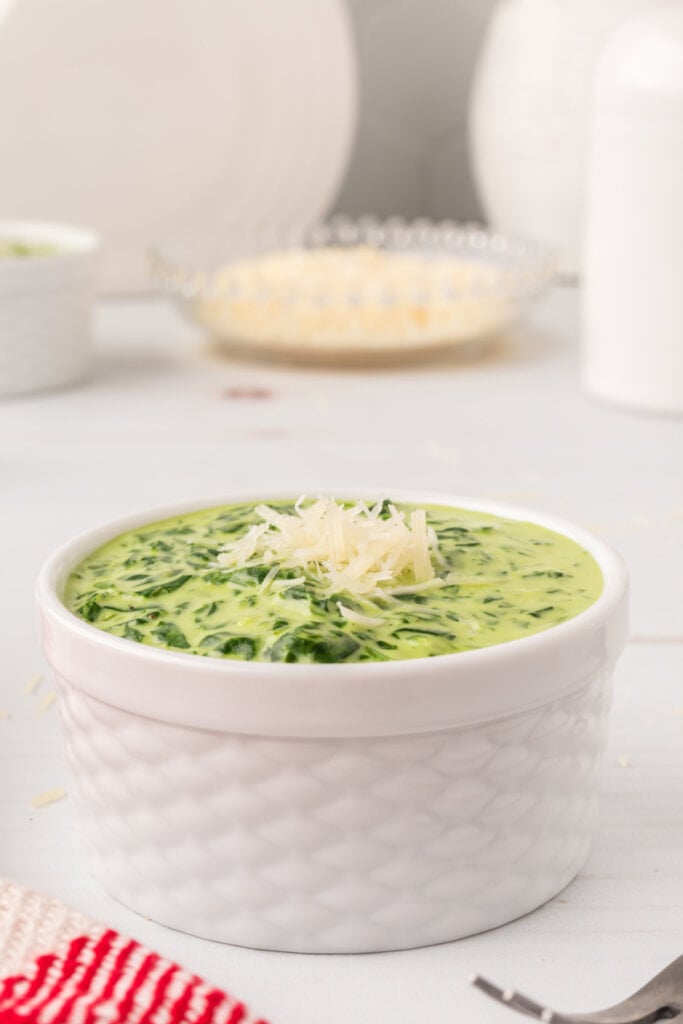 Creamed of Spinach: FAQs
How many servings does this creamed spinach make?
About six, depending on portion size as always. It's likely enough for everyone in the household to have some!
How long does it take to make this creamy spinach recipe?
You'll only need 10 minutes for prep and 10 minutes to cook the spinach, so 20 minutes altogether. Superfast!
Is there a way to heighten the flavors of creamed spinach without overpowering everything else in the recipe?
Try adding …
– a pinch of cayenne pepper
– a pinch of nutmeg
– or a half teaspoon of Italian seasoning
… as these will "amp up" the flavors without making this a different dish!

Can I make this creamed spinach dish ahead?
Sure! You can make this dish one day ahead of time. Just keep it sealed and refrigerated. Then reheat it in the microwave, leaving it uncovered and stirring every half a minute or so until it reaches your desired temperature! (This shouldn't take more than a few minutes.) 

By the way, y'all, after you've reheated the spinach, it may not be quite as creamy and bright-looking as it originally was, but the taste will remain the same! To restore a creamier consistency, you can try adding a bit of fresh heavy cream before reheating and stirring it in.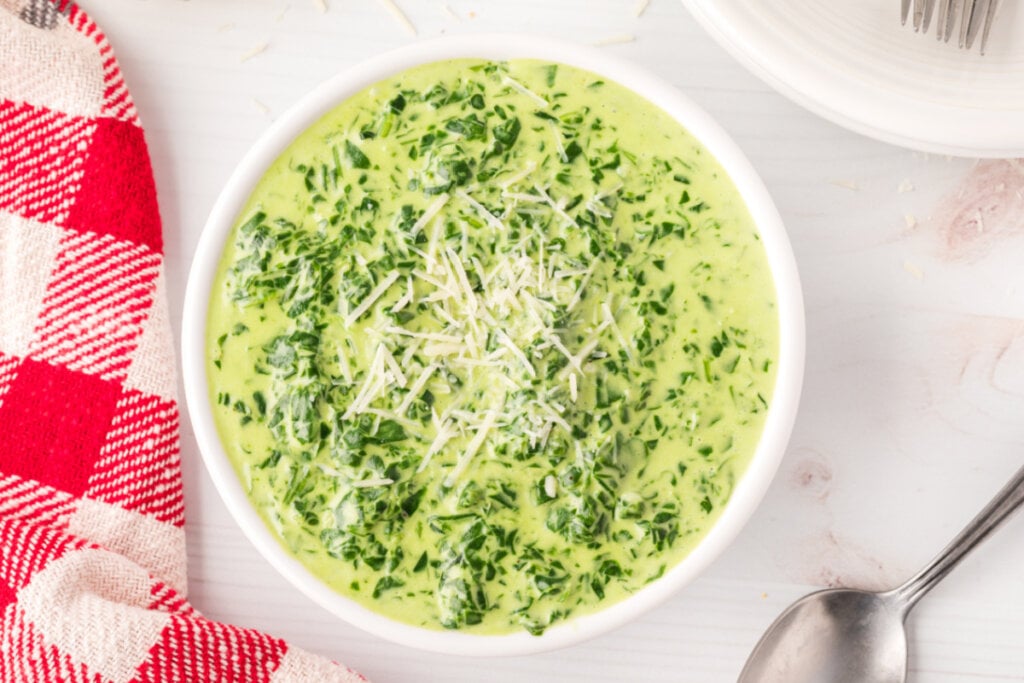 Other recipes that you may enjoy …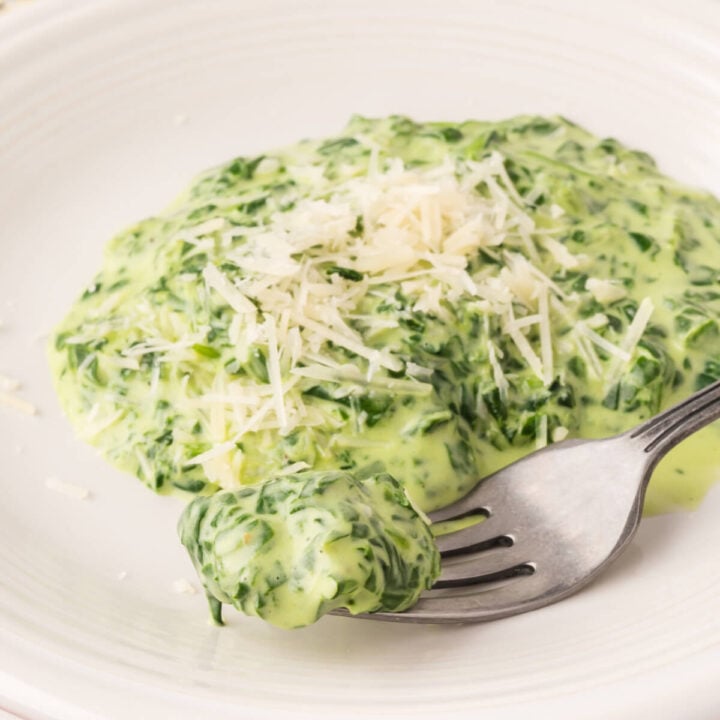 Creamed Spinach
Creamed Spinach is an easy side dish recipe you can quickly make in a pinch. This steakhouse favorite is the perfect accompaniment to any meal.
Ingredients
3 tablespoons butter
3-4 cloves garlic, minced
10-11 oz. baby spinach, chopped
1/2 cup heavy cream
3 oz. cream cheese, cut into small cubes
salt and pepper, to taste
Parmesan cheese, optional (for topping)
Instructions
Melt the butter in a large saute pan over medium heat. Add the garlic and cook just until fragrant.
Add the spinach and saute, stirring occasionally, until the spinach begins to wilt.
Add the heavy cream, cream cheese, salt, and pepper. Stir constantly until the cream cheese melts and thickens slightly. Remove from heat.
If desired, sprinkle with Parmesan cheese before serving.
Notes
Want to amp up the flavor? A pinch of ground nutmeg helps the flavors pop. You can also try a pinch of cayenne pepper. Or, try adding ½ to 1 teaspoon of Italian seasoning along with the salt and pepper.
If the pan is too full at the beginning, you can cover the pan with a lid for a minute or two to help speed up the wilting process.
Frozen spinach can be used in place of fresh. Thaw it and squeeze out as much water as you can.
Recommended Products
As an Amazon Associate and member of other affiliate programs, I earn from qualifying purchases.
Nutrition Information:
Yield:

6
Serving Size:

1
Amount Per Serving:
Calories:

294
Total Fat:

20g
Saturated Fat:

12g
Trans Fat:

0g
Unsaturated Fat:

6g
Cholesterol:

53mg
Sodium:

571mg
Carbohydrates:

21g
Fiber:

11g
Sugar:

3g
Protein:

17g
Please note that the nutritional information listed on this page is an estimation based on the products I used. Ingredients and nutritional information can vary significantly between brands. Always be sure to read labels. Please verify that a recipe fits your needs before using it. Nutrition info may contain errors, so please verify it independently. Likewise, recipes may contain errors, so please use your common sense when following them.