I thought it would be easier for me to find a recipe for this month's Crazy Cooking Challenge. I was so wrong. I'm a little disappointed. I wanted something different, but couldn't find the right "one". I even asked for input from my Facebook readers and got a few good ideas – but not what I was looking for. I ended up settling for a tried and true recipe from the box of Baker's chocolate. This is a very decadent and rich cheesecake – it's so good and practically fail-proof. I've made it so many times, I'd call it my "fall-back" cheesecake.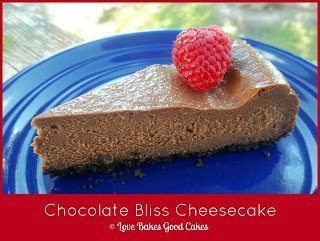 Chocolate Bliss Cheesecake
Yield: 12 servings
18 OREO cookies, finely crushed (1½ cups)
2 tbsp. unsalted butter, melted
3 pkg. (8 oz. each) cream cheese, softened
¾ cup sugar
1 tsp. vanilla extract
1 pkg. (8 squares) BAKER'S semi-sweet chocolate, melted and
slightly cooled
3 eggs
Preheat oven to 325° F.
In a medium-sized bowl, combine the cookie crumbs and butter. Press onto the bottom of a 9-in. springform pan.
In a large bowl, beat the cream cheese, sugar and vanilla with an electric mixer until well blended. Add the melted chocolate and mix well. Add eggs, one at a time, mixing on low speed just until blended. Pour mixture over the crust.
Bake 55-60 minutes or until the center is almost set. Remove from oven and carefully run a knife around the rim of the pan to loosen the cake. Cool 2 hours on the counter, then refrigerate at least 4 hours before serving.
Store leftovers in the refrigerator.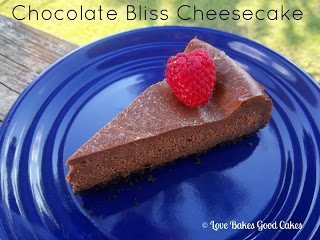 If you like what you see, click my picture below to "vote" for me (I'm #9). If you are interested in more cheesecake goodness, check out the other Crazy Cooking Challenge participants, too! If cheesecake isn't your thing, check out my
Kit-Kat Cake
that posted this morning!
I hope you enjoy!