Chicken Biscuits make a quick and versatile Southern-style meal. They're a tasty option for breakfast, or enjoy them at any time of the day!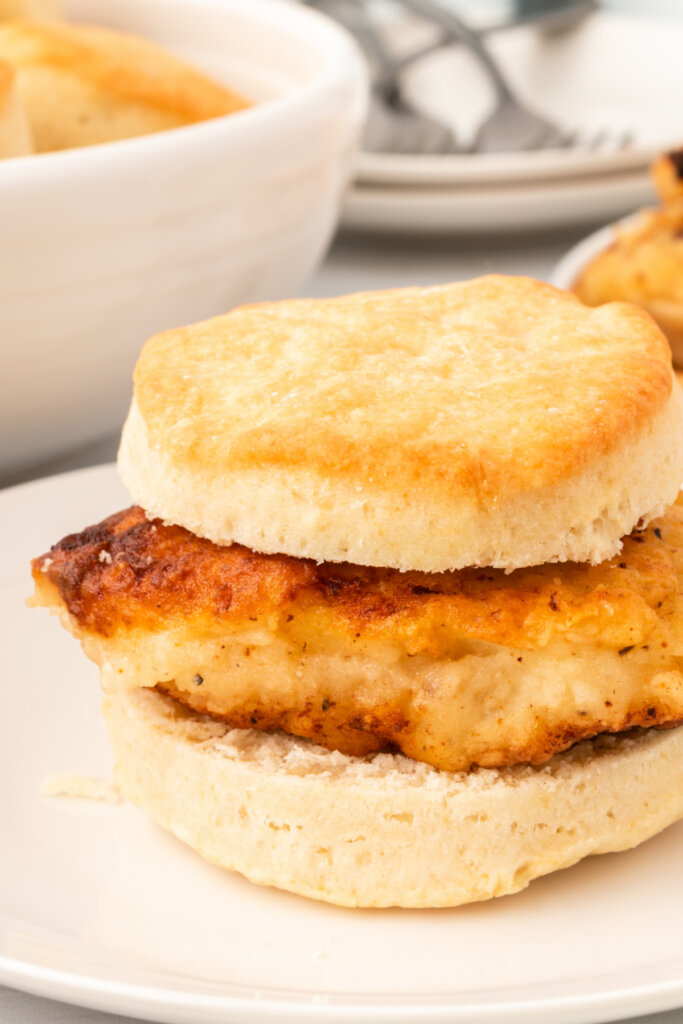 Chicken and Biscuits
If you're looking for a quick and versatile Southern-style meal, you're in luck. Though these easy Chicken Biscuits are a tasty option for breakfast, they're actually incredibly filling at any time of the day!
Once in a while, it's nice to have something different for breakfast. Sometimes cereal doesn't cut it, and you want comfort food! Few things are more "Southern comfort" than fried chicken and biscuits … they go hand-in-hand.
Chicken biscuits are definite a Southern classic, yet everyone, regardless of geography, seems to have big opinions on their favorite chicken biscuit place!! I know I do. Still, only one kind of chicken biscuit beats out the rest, and I'm sure you all would agree…
Homemade! Chicken biscuits right from your very own kitchen always taste better than the ones from a fast food joint or a restaurant. There's just something about chicken and a biscuit made with love, you know? And today…I'm going to show you a recipe that'll keep your family coming back for more. It's fast and easy, and you'll enjoy it each morning you make it.
Of course, these chicken biscuits also work well as lunch or dinner meals. They're really versatile!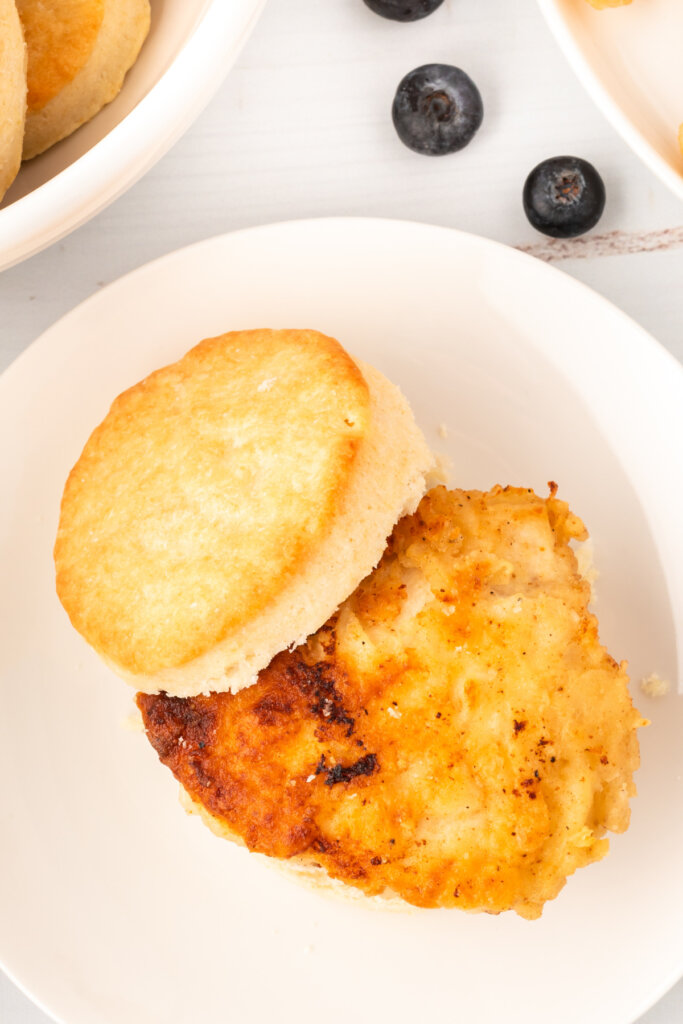 Chicken and Biscuits Recipe: Ingredients & Equipment
To make chicken biscuits, you'll need…
Ingredients
For the chicken
boneless, skinless chicken breast halves are generally the traditional cut used in chicken biscuits.
flour, salt, cayenne pepper, and regular pepper will form your dry mix, which in turn forms the breading on the fried chicken. For the flour, using all-purpose is fine!
hot sauce – is definitely a necessity with Southern-style chicken biscuits, in my opinion!! You don't have to use as much as I've listed in the recipe, though – to taste is fine, especially if you're sensitive to spice.
buttermilk – which you'll add to the hot sauce to make your wet mix.
oil for frying the chicken – use any of your favorites or whatever you have on hand at the house! I find vegetable oil works best, but peanut oil is also a good one.
Biscuits
Equipment
measuring cups and spoons – for accurately measuring your ingredients.
A medium bowl for mixing the biscuit dough.
A baking sheet for cooking the biscuits themselves.
A pie plate for coating the chicken with your dry and wet mixtures.
A fryer of some kind for frying your chicken!
Tongs or skimmer for removing the chicken from the oil.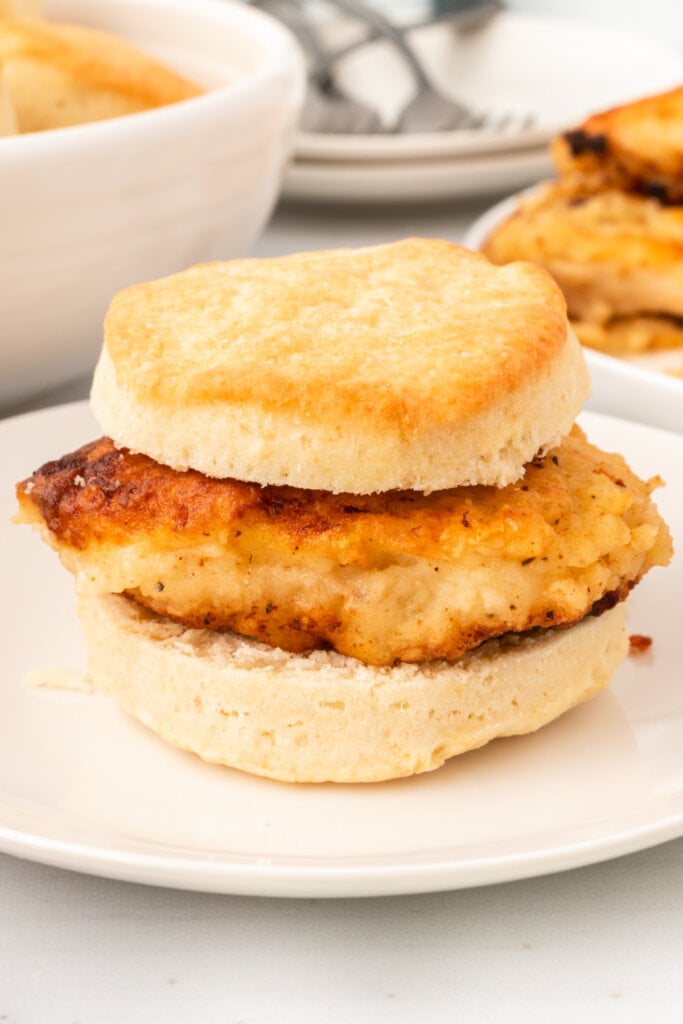 Chicken Biscuits Recipe: FAQs
Are there any other spices you recommend in this recipe?
If you're looking for even more flavor, you can try adding the following spices to your chicken dry mix/breading:
– garlic powder
– parsley
– chili powder
– paprika
Do you have to let the chicken marinate in the wet/dry mixture?
You can if you have the time – two to six hours in the fridge will do the trick. However, trust me when I say the recipe definitely still tastes amazing when done quickly without the marinading time!!
How many servings does this chicken and a biscuit recipe make?
About 8 servings! More than enough for everyone at your house to have a great breakfast (or lunch, or dinner).
How long does this recipe take to make?
No more than 45 minutes. You'll want to set a half-hour aside for cooking and about 15 minutes for prep. Super quick!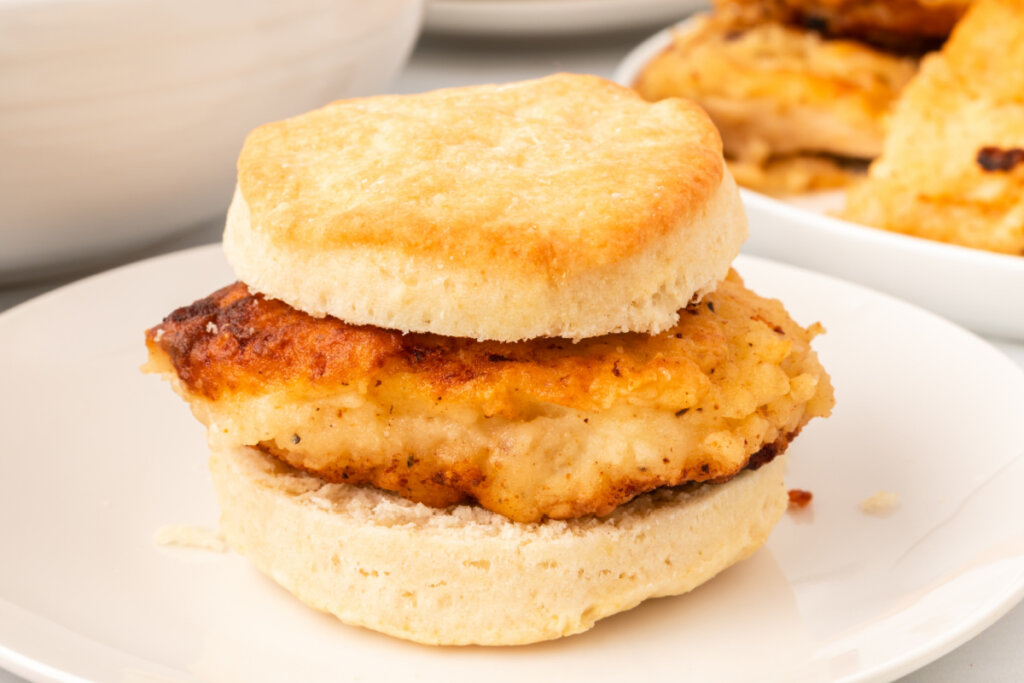 Other recipes you may enjoy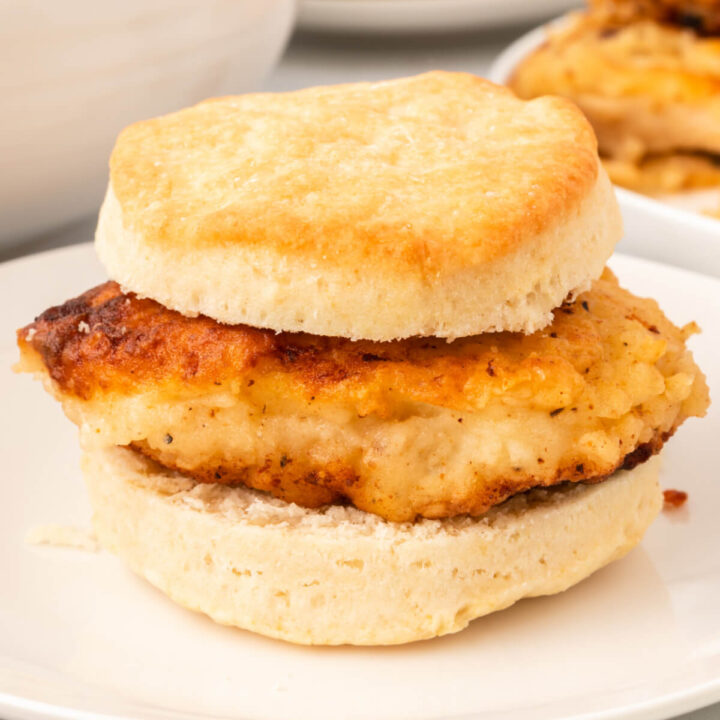 Chicken Biscuits
Chicken Biscuits make a quick and versatile Southern-style meal. They're a tasty option for breakfast, or enjoy them at any time of the day!
Ingredients
For the chicken
4 thin boneless, skinless chicken breast halves
1 tablespoon hot sauce (or to taste)
1 cup buttermilk
1-1/2 cups all-purpose flour
1 teaspoon salt
1/2 teaspoon ground black pepper
1/4 teaspoon cayenne pepper (optional)
oil for frying
For the biscuits
Instructions
Heat oil to 375°F.
Cut each breast in half so there are 8 thin chicken pieces total.
In a pie plate, combine the hot sauce and buttermilk. In a separate pie plate, combine the flour, salt, pepper, and cayenne.
Dip each chicken piece into the flour mixture, then into the buttermilk mixture then dip back into the flour mixture - coating each side well. Place the chicken pieces in the fryer and fry until golden brown on each side, flipping once if necessary. Do not overcrowd. Drain on paper towels. Repeat with remaining chicken pieces.
To serve, split the biscuits in half and top with one piece of fried chicken.
Serve immediately with additional hot sauce, if desired.
Notes
You can add a cooked egg or a slice of cheese for a more filling meal.
If your family is not a fan of spicy food, you can reduce or eliminate the cayenne pepper and hot sauce.
Recommended Products
As an Amazon Associate and member of other affiliate programs, I earn from qualifying purchases.
Nutrition Information:
Yield:

8
Serving Size:

1 biscuit
Amount Per Serving:
Calories:

268
Total Fat:

6g
Saturated Fat:

1g
Trans Fat:

0g
Unsaturated Fat:

4g
Cholesterol:

52mg
Sodium:

412mg
Carbohydrates:

29g
Fiber:

1g
Sugar:

2g
Protein:

23g
Please note that the nutritional information listed on this page is an estimation based on the products I used. Ingredients and nutritional information can vary significantly between brands. Always be sure to read labels. Please verify that a recipe fits your needs before using it. Nutrition info may contain errors, so please verify it independently. Likewise, recipes may contain errors, so please use your common sense when following them.
Originally published on November 29, 2012. Updated on March 20, 2022.