These simple Candy Cane Peppermint Pretzels are a chocolate-covered, minty, sweet, and salty snack. They're a fabulous addition to holiday cookie trays and gift bags!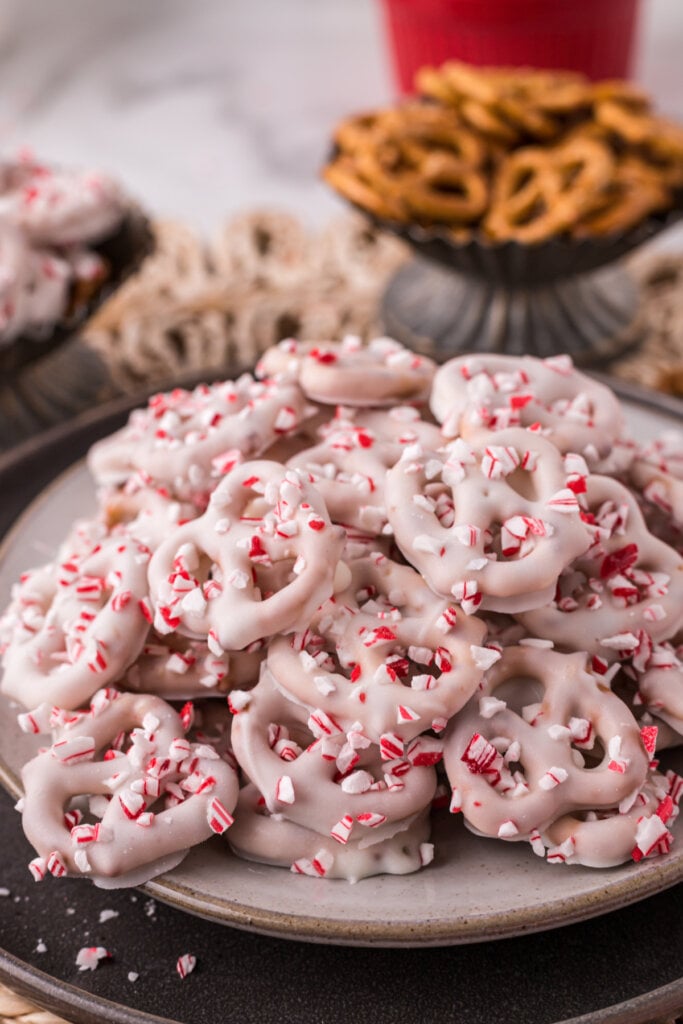 Candy Cane Peppermint Pretzels
Y'all know I love the holidays, and I'm never a bah-humbug kind of person at all! But some years, I'm more tired or busy than others. It's just the way life works.
Still, no matter how packed my schedule ends up, I never want to deny my favorite people some fabulous winter treats!
This recipe for Candy Cane Peppermint Pretzels is perfect during a holiday season when I may not have time or energy to cook anything complex. They're chocolate-covered pretzels with crushed candy cane sprinkles, but they're snackable even if they're simple!
They're the kind of thing that'll go first at any party. You definitely can't have just one!
You'll love making them, too, since they only need 3 ingredients and less than a half hour of prep time. In fact, the longest part of the recipe is waiting for the candy coating to harden!
Worry no more about quick treats for holiday get-togethers…this is one everyone will enjoy! I hope you and your crew enjoy this recipe!
Candy Cane Peppermint Pretzels: Ingredients & Equipment
For this Candy Cane Peppermint Pretzels recipe, you'll need …
Ingredients
mini pretzel twists or pretzel crisps – if you have a lot of extra melted candy and crushed candy canes, try this with full-sized pretzel rods, too!
white candy melts – these are the candy coating for your peppermint pretzels.
crushed candy canes – well, you can't have peppermint pretzels without the candy canes!
Equipment
baking sheet w/ parchment paper – to hold your pretzels while they dry/harden.
bowls – for melting the candy.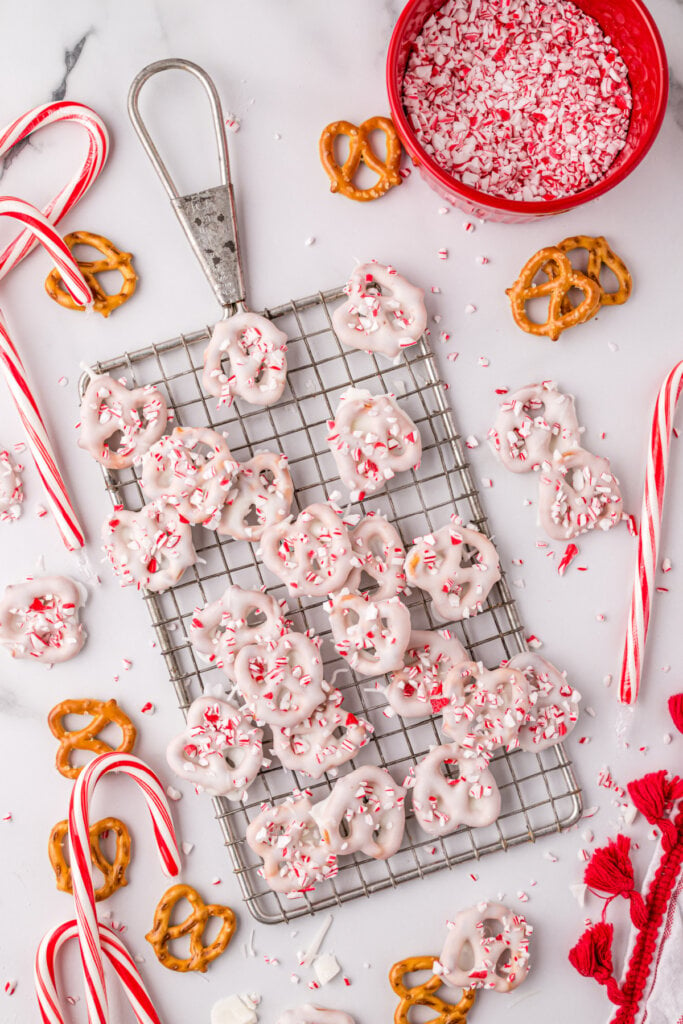 How to make Candy Cane Pretzels
Making white chocolate-covered pretzels is easy peasy and only takes 15 minutes of hands-on prep time!
First, prep your ingredients and utensils. You'll want to grab a large baking sheet and line it with parchment paper. Then set it aside. After, melt your candy melts according to the directions on the package.
Then, coat your pretzels. Use a fork to dunk each pretzel into your candy melts completely. (Or only cover half the pretzel, if you prefer.) Transfer the pretzels onto the baking sheet and sprinkle them with crushed candy canes.
After, serve your peppermint pretzels! Just remember to allow the candy coating to harden first, of course. You can speed up that process by throwing it all in the fridge for about an hour.
Yes, y'all, making these pretzels is really that simple!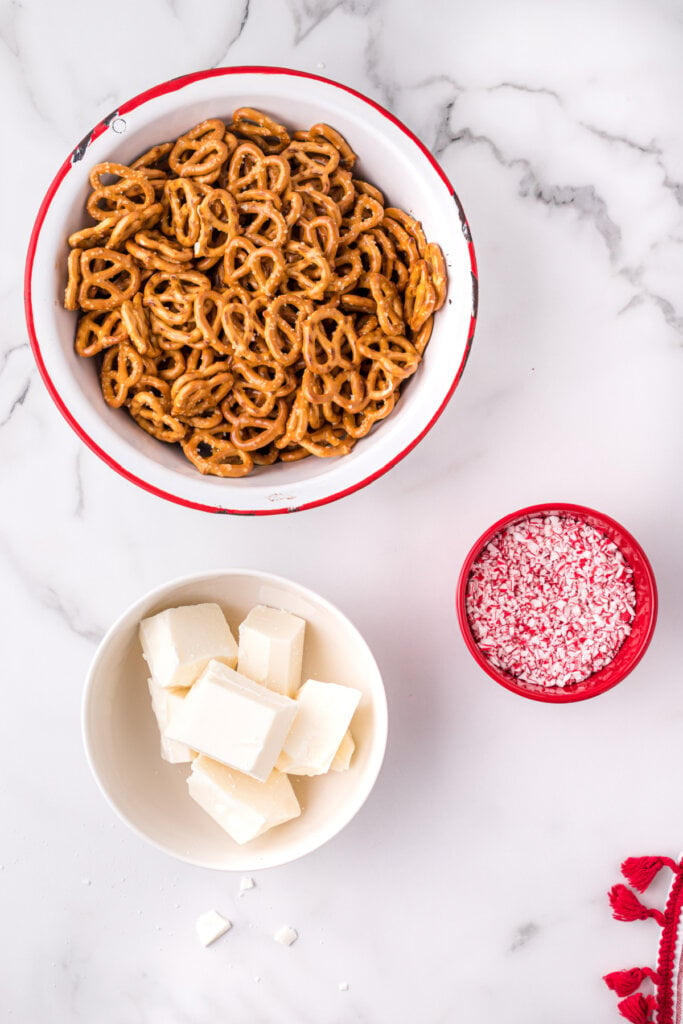 Candy Cane Peppermint Pretzels: FAQs
How many pretzels does this recipe make?
You should have enough candy coating and crushed candy canes to make 30-35 pretzels. Of course, you can always double, triple, etc., the recipe for a big party!!
How should I store my Candy Cane Peppermint Pretzels?
In an airtight container, you can keep them at room temperature for about 2 weeks.
Can I freeze these pretzels?
Yes! They'll stay fresh for about 6 months, and you can eat them straight from the freezer for a nice crunchy snack. Again, be sure to use an airtight container.
Does the recipe still work with milk or dark chocolate?
Absolutely, y'all!! So long as you like minty-sweet and salty all together, these pretzels taste good with any kind of chocolate, really. (Except for orange chocolate. I imagine that wouldn't be good at all 😜)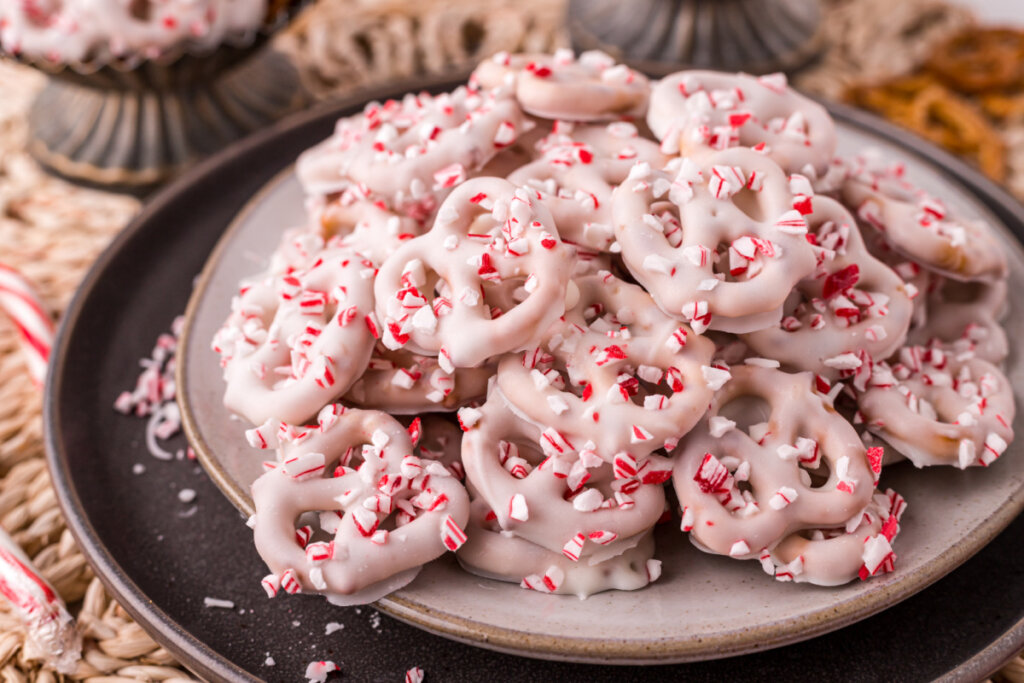 Other recipes you may enjoy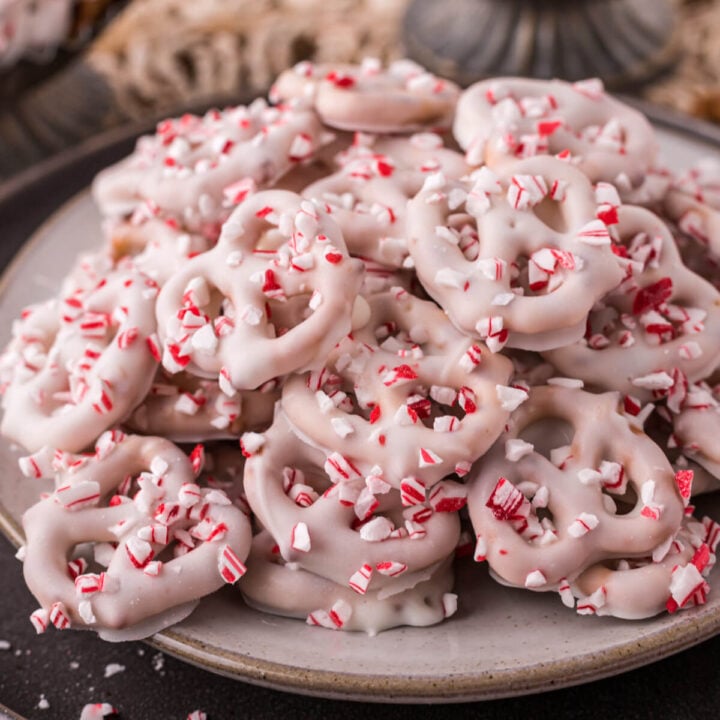 Candy Cane Peppermint Pretzels
Total Time:
1 hour
20 minutes
These Candy Cane Peppermint Pretzels are a minty, sweet, and salty treat perfect for adding to holiday cookie trays or gift bags!
Ingredients
30-35 mini pretzel twists or pretzel crisps
12 oz. white candy melts
1/2 cup crushed candy canes
Instructions
Line a large baking sheet with parchment paper and set it aside.
Melt the candy melts according to package directions.
Using a fork, dunk each pretzel into the melted candy coating, making sure the entire pretzel is coated. Gently shake the fork to remove any excess coating. Transfer the coated pretzel to the parchment paper. Immediately sprinkle crushed candy canes over the top. Repeat with remaining pretzels.
Allow the candy coating to harden before serving.
Notes
Store these pretzels in an airtight container, and this recipe is good at room temperature for about 2 weeks.
You can also freeze them in an airtight container for up to 6 months. Enjoy them straight from the freezer or allow them to come to room temperature.
Speed up the hardening process by placing the baking sheet with the pretzels into the refrigerator.
This recipe easily doubles, triples, etc.
Milk or dark chocolate melts can also be used!
You can dip half of the pretzel if you don't want the entire pretzel coated.
Try this recipe with pretzel rods, too!
These pretzels make a tasty addition to cookie trays, and they make an easy holiday gift idea! 
Recommended Products
As an Amazon Associate and member of other affiliate programs, I earn from qualifying purchases.
Nutrition Information:
Yield:

8
Serving Size:

1
Amount Per Serving:
Calories:

713
Total Fat:

4g
Saturated Fat:

0g
Trans Fat:

0g
Unsaturated Fat:

3g
Cholesterol:

0mg
Sodium:

1603mg
Carbohydrates:

158g
Fiber:

4g
Sugar:

38g
Protein:

13g
Please note that the nutritional information listed on this page is an estimation based on the products I used. Ingredients and nutritional information can vary significantly between brands. Always be sure to read labels. Please verify that a recipe fits your needs before using it. Nutrition info may contain errors, so please verify it independently. Likewise, recipes may contain errors, so please use your common sense when following them.