Get out your rice cooker and make this Brown Sugar and Cinnamon Breakfast Bulgur recipe! It's so simple and perfect for these cooler mornings!
This is a sponsored conversation written by me on behalf of Hamilton Beach. The opinions and text are all mine.
Breakfast Bulgur
If there is one small appliance in my kitchen that I cannot live without, it's my rice cooker. Okay, and my coffee pot … but that's a story for another day! About 15 years ago, I bought my very first rice cooker, and I haven't looked back! I love that I can just add my rice and water then let it do its thing – and my rice comes out fluffy and perfect every. single. time! LOVE!
Now you can see why I can't live without it … when I first started cooking for my family, I sucked at making rice. I swear I burned it almost every single time. Since I got my first rice cooker, no one has had to suffer from burnt rice. I haven't even tried making it on the stovetop – and why should I when it's so easy with a rice cooker?!
Use your rice cooker for breakfast
Here's something I discovered a few years ago – did you know that you can use your rice cooker for so many more things than just to cook rice?! It's true! I've made soup, mac & cheese, steamed veggies, salmon, and I've made numerous breakfasts … all with a rice cooker! You can cook oatmeal, cream of wheat, grits, and bulgur IN your rice cooker!
Bulgur?! I know not many people are familiar with bulgur, so what the heck is it anyways?! Bulgur is a kind of dried cracked wheat common in European, Middle Eastern, and Indian cuisine. Compared to unenriched white rice, bulgur has more fiber and protein, a lower glycemic index, and higher levels of most vitamins and minerals. My kiddos think this Brown Sugar and Cinnamon Breakfast Bulgur tastes similar to oatmeal, and I kinda agree with them!
Personally, I love this recipe with a splash of milk, a drizzle of pure maple syrup over the top, and some fresh fruit – with bananas and strawberries being a favorite! Really, you could use whatever you like – blueberries, peaches, raspberries, etc. I've even added apples and/or raisins (or sometimes, cranberries) to the rice cooker to cook along with the bulgur. It makes a healthy and hearty breakfast and now that we're moving into the cooler months, this is a recipe your family will appreciate and love!
Other recipes you may enjoy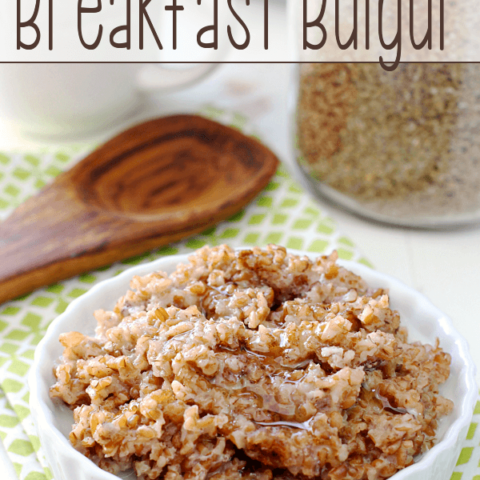 Brown Sugar and Cinnamon Breakfast Bulgur
Get out your rice cooker and make this Brown Sugar and Cinnamon Breakfast Bulgur recipe! It's so simple and perfect for these cooler mornings!
Ingredients
1 cup bulgur
2 1/2 cups milk
2 tablespoons brown sugar
1/2 teaspoon ground cinnamon
Pinch of salt
Optional Ingredients for serving
pure maple syrup, fresh berries, milk
Instructions
Add bulgur, milk, brown sugar, cinnamon, and salt to your rice cooker insert. Stir. Close lid.
Set the rice cooker to the "white rice" setting and allow to cook. When the cook cycle finishes and switches to the "warm" setting, let it sit for another 10-15 minutes, covered to continue lightly steaming.
To serve, top portions with milk, maple syrup, and fruit, if desired.
Nutrition Information:
Amount Per Serving:
Calories:

231
Total Fat:

5g
Saturated Fat:

3g
Cholesterol:

15mg
Sodium:

145mg
Fiber:

5g
Sugar:

12g
Protein:

9g