With just a few ingredients, it's easy to make this Bacon & Egg Breakfast Fried Rice! Who says breakfast has to be boring? Great for dinner, too! #BaconMonth2015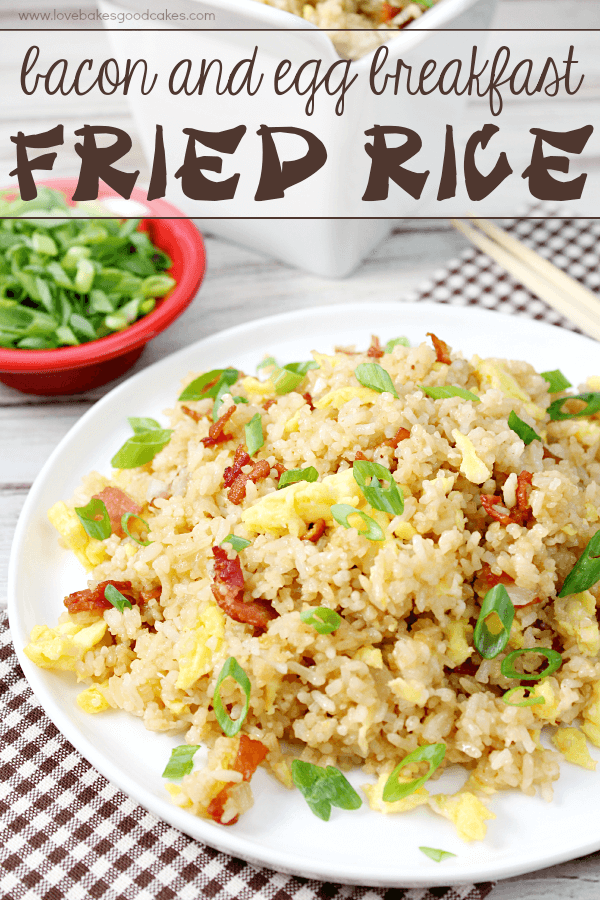 Bacon & Egg Breakfast Fried Rice
I'm a big fan of making fried rice at home. I love it – and I really think the homemade stuff trumps the stuff you get at restaurants every single time. #SorryNotSorry
It's an economical dish that is quick to make and it tastes fantastic no matter what you put into it! For real. I haver made it a ton of ways and it turns out great every single time!! It's a great way to use up leftovers or if you only have a little bit of an ingredient, it's a great way to make it stretch to feed a crowd! Fried rice is definitely in my top 5 dishes of things I like to make when I don't know what to make!
If you think fried rice is only for dinner, I'm here to show you that it is bomb-diggity for breakfast! Yes, bomb-diggity! Brian even asked me to make this again the next day after I made it for pictures for the blog. This Bacon & Egg Breakfast Fried Rice is perfect for a quick breakfast, lunch or dinner!! Although the extent of veggies I used for this dish was limited to onions (white for cooking and green for garnish), you could definitely add some peas & carrots, bean sprouts or any veggie you like to the mix to make it a little more substantial. I like to serve this with fresh fruit for a meal that is so, so simple and delicious!
Don't forget to stop by and see what my friends shared today for Bacon Month!
20 Minute Spaghetti Carbonara
Egg Breakfast Fried Rice with Bacon
Other Posts You May Enjoy:
Quick and Easy Chicken Fried Rice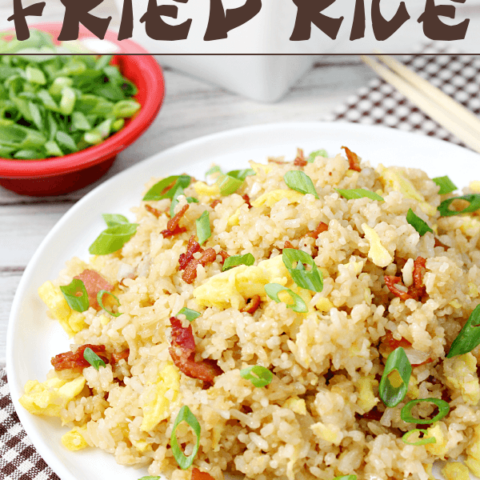 Bacon & Egg Breakfast Fried Rice
With just a few ingredients, it's easy to make this Bacon & Egg Breakfast Fried Rice! Who says breakfast has to be boring? Great for dinner, too!
Ingredients
8 slices bacon
8 eggs, beaten
2 tbsp. butter
2 tbsp. reserved bacon grease
1 small onion, chopped
4 cups cooked white rice, cold (see note)
1/4 cup soy sauce
2-3 Green onions, chopped
Instructions
Melt butter in a large skillet or wok over medium-low heat. Add eggs and scramble until cooked through. Remove from skillet to a small bowl.
In a large skillet, cook bacon over medium-high heat until desired crispness. Remove bacon to paper towels to drain. Reserve 2 tbsp. bacon grease. Discard remaining bacon grease or save for another use.
Heat bacon grease in the same pan used to cook bacon. Add onion. Saute until the onion is soft. Then add rice and soy sauce. Stir-fry together about 3-5 minutes, until mixture is well combined. Crumble bacon. Add the bacon and eggs to rice mixture; stir to combine.
Garnish with green onions. Serve immediately.
Notes
It is very important to use cold cooked rice for this recipe!
Nutrition Information:
Amount Per Serving:
Calories:

734
Total Fat:

44g
Saturated Fat:

17g
Cholesterol:

380mg
Sodium:

1394mg
Fiber:

1g
Sugar:

2g
Protein:

24g