These Blueberry Pie Pinwheels are simply delicious. A few simple ingredients including fresh blueberries and pie crust you get these gorgeous mini-blueberry pies.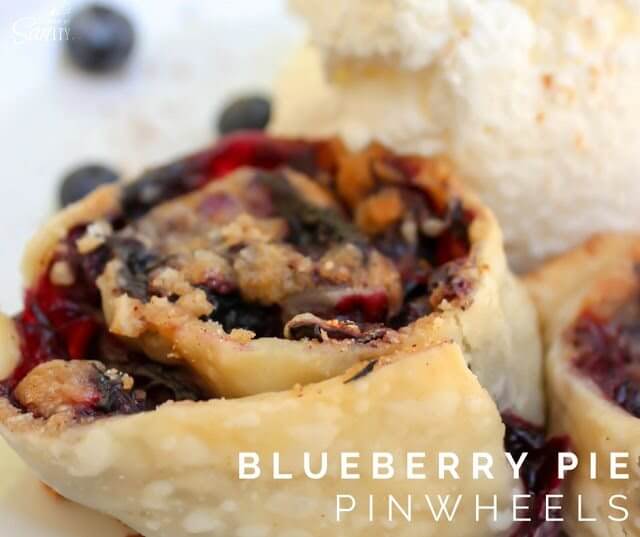 Hey friends, welcome back to Foodie Friday!
Where every 2nd Friday of the month I, Sandra from
A Dash of Sanity
, will be sharing one of my favorite recipes with the friends and followers of Love Bakes Good Cakes.
I am just in love with these Blueberry Pie Pinwheels seriously. I cannot get enough. The flaky crust and fresh blueberries have just the perfect amount of sweetness. Dessert, snack or breakfast these Blueberry Pie Pinwheels are perfect for any occasion.
My favorite feature of these Blueberry Pie Pinwheels is that they are mini, 2-3 bites and you are done. So cute. My daughters think that they make the perfect tea party treat, and they do. Top with some whipped cream and dusted off with a pinch of cinnamon.
A beautiful and simple summer treat, that I guarantee you will make over and over again.
Enjoy!
XOXO San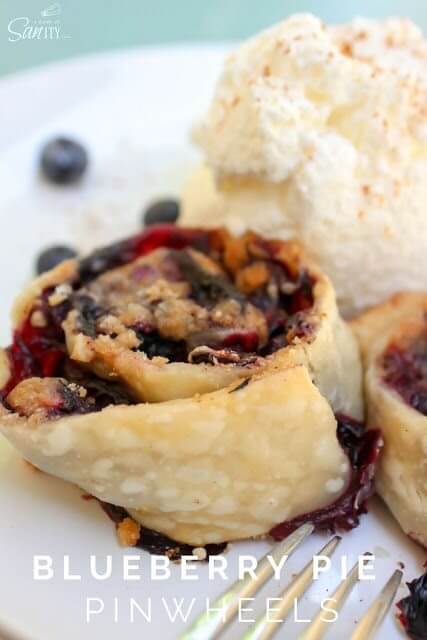 Ingredients:
1 refrigerated pre-made pie crust, you can also do a homemade pie crust, just a recipe for 1
1 ½ – 2 cups fresh blueberries
2 tablespoons butter, melted
2 teaspoon sugar
Sprinkle cinnamon
Topping:
2 tablespoons flour
1 tablespoon butter
1 tablespoon brown sugar
1 teaspoon sugar
Sprinkle cinnamon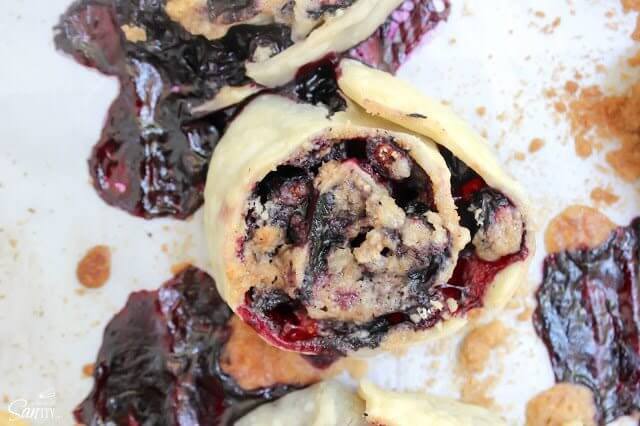 Directions:
Preheat oven to 350 degrees.
Flour your counter surface, get out the refrigerated pie dough and roll out the dough to about 1/8 inch thin. Brush melted butter all over the pie dough. Top with fresh blueberries, spread them evenly. Sprinkle with 2 teaspoons of sugar and sprinkle with cinnamon. Roll up the pie dough like, you would a cinnamon roll. Roll the dough tightly from long end, pinching edges closed when completely rolled.
Slice dough 1 ½ – 2 inch slices and place on baking sheet.
Make topping: add all of the ingredients together in a small mixing bowl. Then using your finger, pastry blender or fork mix all of the ingredients together, crumbling the butter and breaking into small pieces. Once the mixture looks like coarse crumbs sprinkle the top of each pinwheel. Once you have added all of the topping place in oven and bake for 20-25 minutes, or until crust is a light golden brown.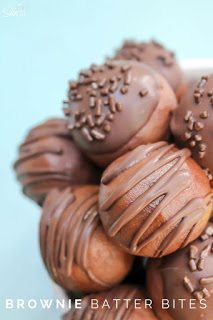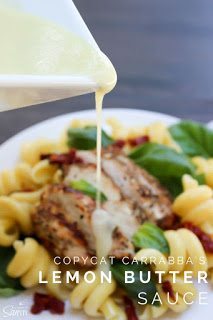 Reader Interactions