This Quick and Easy King Ranch Mac & Cheese makes a great lunch or super simple dinner idea!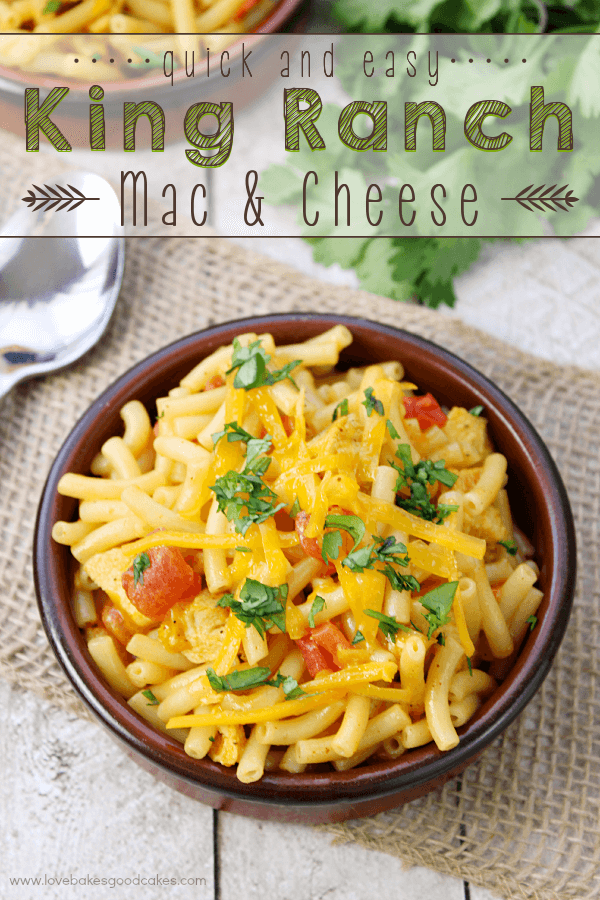 Quick and Easy King Ranch Mac & Cheese and Childhood Memories
This conversation is sponsored by Horizon. The opinions and text are all mine.
The other day, Isaac and Thomas were having a discussion about some of the things they liked to play with and watch on TV when they were younger. I sat and listened to them go back and forth while I finished up some blogging things. Then Isaac turned to me and asked me why Abby likes to watch the same movies over and over and over …… and I told him all kids do it. Just like they like having the same stories read to them a million times at bedtime. Part of it is comforting to them and part of it is actually learning. So naturally, his next question was what movies, tv shows and books he liked looking at over and over and over when he was little …… and what kinds of things I watched and had read to me over and over and over when I was a kid. It kinda hit me, because in that moment I realized how different my childhood had been from my own kids ….
Don't get me wrong …. I watched tv. When I was young, it was mostly Saturday morning cartoons. Some of you reading this may even remember, that was really our only choice. Cartoons weren't on 24/7 … and we waited all week for Saturday morning. That concept is sooooo foreign to my kids. The fact that we only had a few channels is foreign to my kids …. we didn't have 200 channels. I remember 3 channels with rabbit ears … and eventually we thought it was great to have 20 or 30 channels!
Go outside and play
As a kid, my parents' and grandparents' favorite line was, "Go outside and play." I spent a lot of time playing outside. I loved to jump rope as a kid. I also loved to roller skate. My cousins and I had an imaginary fort in the lilac bushes up on the top of the hill at my grandparents house … and every single time, we'd get in trouble for being in there. (They were the neighbors bushes!) My cousins and I love catching lightening bugs and putting them in jars … We played Simon Says and Red Rover. Sometimes, we used to lay out in the grass and watch the clouds go by and we would try to see shapes – and we wanted to see if our cousins saw the same thing we saw. We used our imagination in my grandparents back yard to travel the world, and we built forts. We played "house", and we played ball. I just realized, I'm old. I have become my parents with all of this talk of the "good ol' days."
Although my kiddos are more in tune with technology, they still have plenty of time to disconnect and just play because Brian and I feel that it is important. We have set time limits for electronics in our house. Oh yes, we are the mean parents.
Macaroni and cheese
Something my kids and I have in common from our childhood is our love of mac and cheese. I'm betting you loved it too as a kid! There is something comforting in a bowl of creamy mac and cheese! Of course, if you're going to play, you need to have energy! Horizon Mac and Cheese helps fuel you and your kids for active playtime – whether its on-the-go, making gluten-free tasty, or giving kids permission to play with their food, this classic mac can be a fun and tasty way to bring everyone together.
While I remember eating plenty of boxes of mac and cheese in my day, my mom always served it the regular way, as directed on the box. I'm a food blogger and my kiddos love helping me come up with new recipes or ways to prepare old favorites. Our mac and cheese is no exception. Using leftover chicken breasts and canned tomatoes, it's easy to create a gourmet style mac and cheese! This Quick and Easy King Ranch Mac & Cheese is great for lunch or a quick dinner! Mealtime is easy when you start with a box of Horizon Organic Mac & Cheese. My kids love the Horizon Mac & Cheese because it's so tasty and cheesy. I love it because it has 10 grams of protein and organic ingredients.
*Quick tip – use leftover chicken from last night's dinner or a rotisserie chicken!*
For more great recipes, special offers and the latest news from Horizon Organic, be sure to follow them on Facebook or Twitter!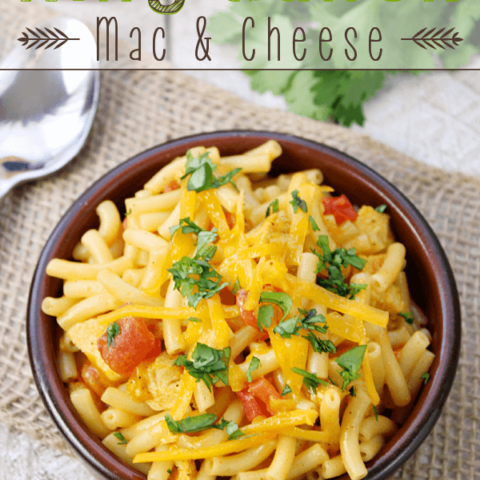 Quick and Easy King Ranch Mac & Cheese
This Quick and Easy King Ranch Mac & Cheese makes a great lunch or super simple dinner idea!
Ingredients
2 boxes (6 to 7.25 oz. each) Original Macaroni and Cheese Dinner
Ingredients listed on box to prepare mac & cheese
2 cups cooked chicken breasts, diced or shredded
1/2 cup Ro*Tel tomatoes, undrained
1/2 tsp. chili powder
1/4 tsp. ground cumin
1/4 cup shredded Cheddar cheese
chopped cilantro, for garnish
Instructions
Prepare the Mac & Cheese according to the package directions.
Stir in the cooked chicken, tomatoes, chili powder, and ground cumin.
Top each serving with a sprinkle of cheese and chopped cilantro. Serve immediately.
Nutrition Information:
Amount Per Serving:
Calories:

330
Total Fat:

23g
Saturated Fat:

12g
Cholesterol:

102mg
Sodium:

438mg
Fiber:

0g
Sugar:

1g
Protein:

29g