It seems summer is winding down for many folks. In most places, the kids are back in school already. (We are starting school on Monday - we seem to be the last of the bunch!) Some of us are trying to hold onto every little bit of summer we can ... others are flooding Pinterest with Fall recipes and decorating ideas fully embracing it. ;) I'm somewhere in the middle. Although I almost look forward to Fall, I'm not quite ready to let go of Summer. This recipe has all the flavor of summer's best and ripest berries packed into a pretty smoothie. It would be a great breakfast on the go ... or a quick snack. It would be a welcome reminder of summer sunshine and warmer days ... even in the middle of winter.

Today I'm also co-hosting Sweet Saturday over at Healthy Mommy, Healthy Baby! ... So be sure to check out the linky at the bottom of this post. :) Jessica has an awesome blog with tons of great, healthy recipes for you and your whole family!
Very Berry Cherry Vanilla Smoothie
3-4 strawberries, stems removed
1 container (6 oz.) vanilla yogurt
Place all ingredients in a blender. Place lid on top. Blend until thoroughly combined. Place in serving glass. Serve immediately.
I hope you enjoy!
Shared at these fun parties!
Now, for the Sweet Saturday linky that I'm co-hosting with Jessica ...
1. Link up something sweet to really WOW us all- your blog, Etsy store, Pinterest, Facebook, whatever you want!
3. Hop around and say hi.
4. Share my button to get more people to join us (not required, but it would be nice!)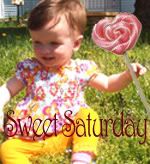 Copyright © Love Bakes Good Cakes 2012 All Rights Reserved