My absolute favorite meal is Chili .... with a side of cornbread ... and some sweet tea (my 11 yr. old calls sweet tea "dirty dog water"). Growing up, on the rare occasion when we would visit my grandparents (they lived about 1,200 miles away), my grandma always made a big ol' pot of chili ... I can still smell her kitchen and that chili. It wasn't anything fancy, but her love went into it. Chili always reminds me of my grandma. This is a bit different from grandma's version, but good none-the-less!
Chili - Like Wendy's
1/4 cup chopped green pepper
1/8 tsp. ground cayenne pepper
1 can (14.5 oz.) diced tomatoes
1 can (15 oz.) dark red kidney beans, drained
1 can (15 oz.) pinto beans, drained
your choice of toppings, optional
In a large soup pot, cook and crumble the beef over medium-high heat until meat is no longer pink; drain. Return meat to the pan and place all remaining ingredients, except toppings, in the soup pot, stir to combine. Bring to a boil. Reduce heat and simmer for 1 to 1-1/2 hours. Stir every 15-20 minutes.
Serve hot with your choice of toppings!
Topping ideas: crackers, Fritos corn chips, cheese, sour cream, green onions, chopped white onions, jalapenos, crushed red pepper, crumbled cornbread, avocado slices, bacon, tomatoes, black olives, cilantro, lime wedges, Corn Nuts, hot sauce, cooked elbow macaroni, a few dark chocolate chips ... oh, and don't forget the antacids ;)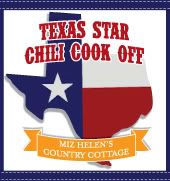 I hope everyone has a great weekend ... I think we're hitting up a car show, doing dinner out and maybe, if the weather cooperates, get in a nice little stroll down by the water.
Linked up at these fun parties!