This post may contain affiliate links. As an amazon associate, I earn from qualifying purchases. See my full Disclosure Policy for details.
My oldest son loves Salisbury Steak – He asks for it quite regularly. It's one of those meals that (to me) has assigned side dishes – mashed potatoes with gravy, green beans and biscuits are a must in my book. I hope you enjoy this comfort dish!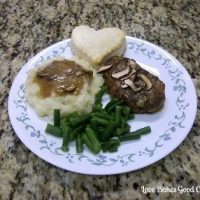 Salisbury Steak with Mushroom Gravy
I hope you enjoy this comfort dish!
Ingredients
2 lb. lean ground beef
3/4 cup dry bread crumbs
1 egg
splash of Worcestershire sauce
pepper to taste
1 can (10-1/2 oz.) cream of mushroom soup, divided***
1 small onion, diced
1 can (14-1/2 oz.) beef broth
2 tbsp. cornstarch
1/4 cup water
4 oz. sliced baby bella mushrooms
Instructions
Preheat oven to 350 degrees F. Spray a large baking dish (I used a roasting pan) with cooking spray. Set aside.
In a large bowl, combine the beef, bread crumbs, eggs, Worcestershire sauce, 1/4 cup of the cream of mushroom soup and onion. From into 8 oval-shaped patties. Place in prepared pan, sprinkle with pepper to taste and bake for 15 minutes.
Meanwhile, combine the remaining cream of mushroom soup, with the beef broth in a medium saucepan and heat until hot. Combine the cornstarch and water in a small bowl. Add to the soup mixture. Stirring constantly with a wire whisk, bring to a boil over medium heat and boil for 2 minutes or until slightly thickened. Season with additional salt and pepper, if desired. Pour gravy over beef patties. Top with sliced mushrooms.
Return pan to the oven and continue to bake an additional 10-15 minutes or until beef patties are fully cooked.
Best served hot with mashed potatoes and your favorite veggies!
Nutrition Information:
Amount Per Serving:
Calories:

385
Total Fat:

26g
Saturated Fat:

9g
Cholesterol:

101mg
Sodium:

607mg
Fiber:

1g
Sugar:

1g
Protein:

23g
*** You can find a Cream of Mushroom soup substitute
HERE
.
I hope you enjoy!
Don't forget to share and comment ♥
Copyright © Love Bakes Good Cakes 2012-2013 All Rights Reserved