With this White Beans with Rice recipe, you can easily use ham or Lil' Smokies in place of the smoked sausage. Try it and enjoy!
This post may contain affiliate links. As an amazon associate, I earn from qualifying purchases. See my full Disclosure Policy for details.
White Beans with Rice
I was a guest over at Call Me PMc recently and shared this post with Paula's readers. I am reposting it here for anyone who missed it! Cooler weather has started to settle here in Eastern NC. Our highs have been in the 70's and 80's during the day and the lows are in the 50's and 60's at night. (We even had one night in the low 40's!!) The cooler days and nights have been a welcome relief from the heat and humidity of summer. We may still have a few days here and there of the warmer temperatures, but I think our summer is mostly over … and really, I am ok with that.
When the weather starts getting cooler, my mind automatically thinks comfort food and soup. Does anyone else do this, too? I tend to want food that is more substantial and filling, a stick-to-your-ribs kind of meal. You can easily use ham or Lil' Smokies in place of the smoked sausage in this recipe. I have also been known to add chopped carrots to the mix. When we want Ham and Bean soup, this is the same base I use, with additional liquid (water or chicken broth) to make it "soupy".
Sometimes, instead of the tomatoes, I'll add a spoon or two of tomato paste – to make it more like the Bean and Bacon soup you get in a can. From time to time, I'll omit the tomatoes or tomato paste all together. There are plenty of ways to change this up for your family and their tastes.
Other recipes you may enjoy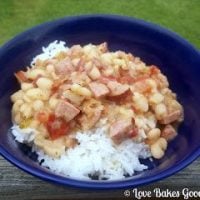 White Beans with Rice
Cook Time:
1 hour
30 minutes
Total Time:
1 hour
50 minutes
With this White Beans with Rice recipe, you can easily use ham or Lil' Smokies in place of the smoked sausage. Try it and enjoy!
Ingredients
1 pound dried Great Northern beans
1 tablespoon vegetable oil
1 pound smoked sausage, sliced and cut in quarters
1/2 pound bacon, chopped
1 medium onion, chopped
1/2 cup green pepper, chopped
1 stalk of celery, chopped
4 cloves of garlic, minced
1 can (14.5 oz) petite-diced tomatoes - if you prefer spicier food, you can use Ro-Tel
1 tablespoon dried parsley
Salt and pepper, to taste
Hot, cooked rice
Hot sauce for serving, optional
Instructions
Rinse and sort beans. Place beans in a stockpot and cover with enough water to be about an inch or so over the beans. Bring the beans to a boil. Cover with a lid and turn off the burner. Set the timer and let sit for one hour. Drain the beans into a colander. Set aside.
In the same pot, heat oil over medium-high heat. Add the sausage and cook until browned. Remove the sausage and drain on paper towels. Add the bacon to the pan and cook until crisp. Remove the bacon and drain on paper towels. Add the onion, green pepper and celery - cook until softened. Add the garlic and cook an additional minute or two. Return the sausage and bacon to the pan. Add the drained beans. Add enough water to cover - about an inch to an inch and a half over the beans. Bring the mixture to a boil. Reduce heat and simmer for an 1 hour to an hour and a half (add water if necessary - you want the beans to be slightly thick and not runny like soup at the end). Add the tomatoes and continue to cook until the beans are tender and the sauce has slightly thickened. Add the parsley, salt and pepper. Cook another 3-5 minutes; taste and adjust seasonings if necessary.
Serve over rice with a side of cornbread and hot sauce on the side. Mmmmm!
Nutrition Information:
Amount Per Serving:
Calories:

509
Total Fat:

37g
Saturated Fat:

11g
Cholesterol:

78mg
Sodium:

1176mg
Fiber:

6g
Sugar:

5g
Protein:

23g
Originally published on October 3, 2012. Updated on April 21, 2021.