This savory and hearty Mexican Pinto Bean Casserole will be a hit in your household! Our family always cleans their plates when we serve it!
Mexican Pinto Bean Casserole
Another day and another update for y'all! This time, I've updated the picture of my Mexican Pinto Bean Casserole. I think beans have to be one of the hardest things to take pictures of …… they just don't help themselves in pictures, ya know? I also hate taking pictures of rice …… they never look "right" to me.
Needless to say, this was another case where I thought the original picture needed some help. I won't even tell you what I think the first picture looks like to me – let's just say it rhymes with "comet." I think that original picture didn't do this dish justice at all. It really is a tasty and easy meatless dish – and it's very economical – the picture just left a lot to be desired! I can't imagine anyone looking at that first plate and saying, "I want some of that" ….. and for anyone who looked beyond the picture and pinned it or tried it based off the ingredients, I appreciate it! 🙂
I have actually posed that question – how important are pictures when determining whether to try a recipe or not – to my readers. There was about a 60/40 split – with 60% of my readers saying that pictures are indeed important ….. the other 40% mostly based their opinion on the ingredients list or ease of preparation.
I'm hoping that by revamping the picture for this dish, it will bring it some new interest – maybe the 60% who may not have given this dish a second thought with that horrible picture, will look at this one and at least give it a second chance! 😉 If you'd like to get the recipe, you can find the original post HERE.
Other recipes you may enjoy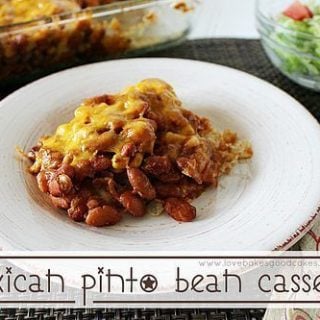 Mexican Pinto Bean Casserole
This is one of our family's favorite Meatless Monday meals. Since it's very economical, we enjoy it on occasion. Everyone love it!
Ingredients
1 package (11 oz.) Doritos or Fritos chips
2 cans (30 oz. each) pinto beans, rinsed and drained
1 can (15 oz.) whole kernel corn, drained
1 can (14.5 oz.) diced Mexican-style tomatoes, drained
1 can (8 oz.) tomato sauce
1 tablespoon chili powder***
1/4 teaspoon garlic powder
1/4 teaspoon onion powder
1/4 teaspoon dried oregano
1/8 teaspoon cayenne pepper
1/2 teaspoon paprika
1-1/2 teaspoon ground cumin
1 teaspoon salt
1 teaspoon pepper
2 cups (8 oz.) Cheddar cheese
Optional - lettuce, sour cream, jalapenos, black olives and tomatoes/salsa
Instructions
Preheat oven to 350°.
Crush chips and sprinkle into a greased 13x9x2-inch baking dish. In a large bowl, combine all of the remaining ingredients except the cheese - mix well. Pour evenly over chips. Sprinkle with cheese.
Bake, uncovered, for 20-25 minutes or until heated through.
Serve with lettuce, sour cream, jalapenos, black olives and tomatoes/salsa.
Notes
*** You may choose to use an envelope of taco seasoning in place of the spices, if desired.
Nutrition Information:
Amount Per Serving:
Calories:

398
Total Fat:

12g
Saturated Fat:

6g
Cholesterol:

29mg
Sodium:

963mg
Fiber:

14g
Sugar:

4g
Protein:

23g
Originally published on September 29, 2013. Updated on April 24, 2021.