You know and love Twix candy, but have you ever had Twix Cookies? They're a gooey and crunchy treat, with even MORE of that crispy bite!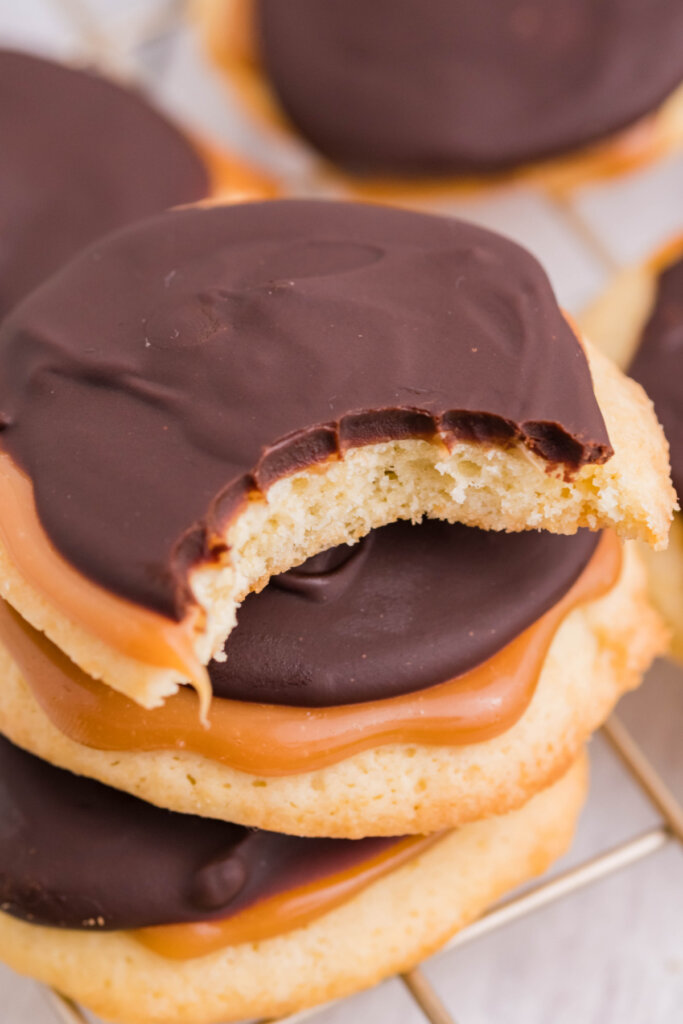 Recipe for Twix Cookies
These Twix cookies cram all the flavor you love about Twix bars into an even more cookie-lious form! Y'all know I love taking snacks everyone loves and making something new out of them, and this is one of those recipes. It's like a "glow-up" for Twix candy!! 😉
(By the way, did you know Twix has been around for almost 70 years?! They definitely deserve a make-over every so often!)
Full of rich chocolate and caramel on a crumbly, butter cookie base, Twix bar cookies are perfect for bringing to bake exchanges and family picnics. They're also a 100% kid-friendly treat, but that doesn't mean grown-ups can't chow down on a few, too.
These chocolate caramel cookies are perfect any time – enjoy!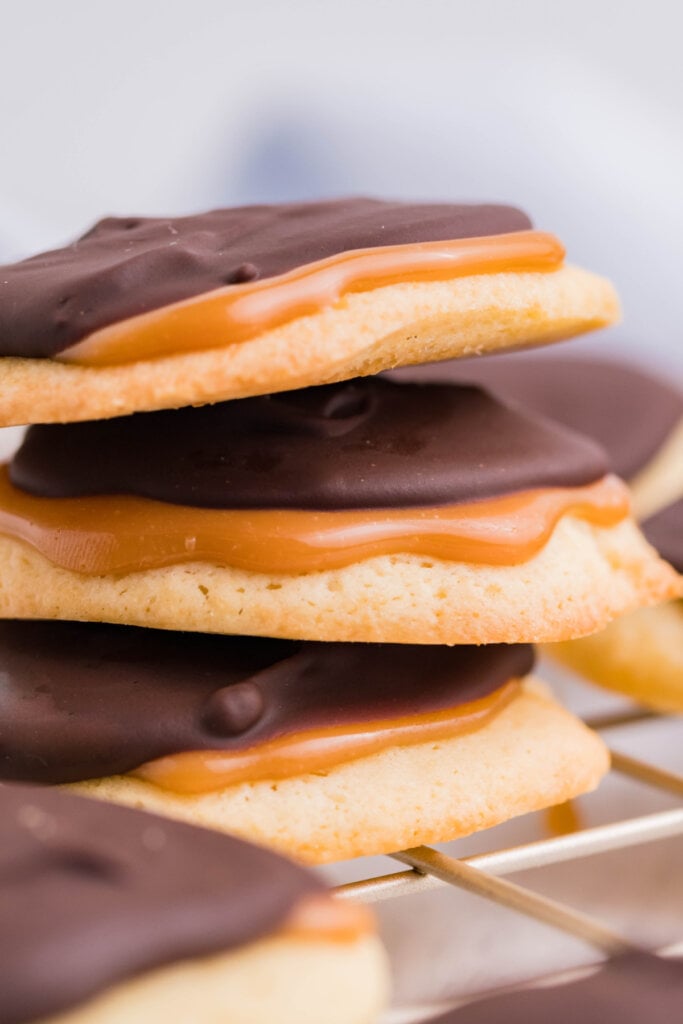 Twix Cookies Recipe: Ingredients & Equipment
To make this Twix Cookies recipe, you'll need …
Ingredients
For the cookie base …
unsalted butter and cream cheese – softened. By that, I just mean room temperature! So there's no need to melt either of these ingredients. Just leaving them out on the counter for a very short while should be enough, especially in the summer.
salt, baking soda, flour, egg, and sugar – standard baking ingredients. Not much to say about these! If you've baked anything before, they should be familiar!
vanilla extract – is another standard baking ingredient and a necessity for balanced flavors, even when it comes to sweets.
For the caramel …
soft caramel candy – about 40. The baking aisle of your local supermarket should have some unwrapped caramel cubes for you to use, saving lots of time and effort!!
heavy cream – this provides a light texture to your caramel.
For the ganache …
semi-sweet chocolate – about a cup, chopped. You can find pre-chopped bags in the confectionery aisle, but chopping it yourself can be a fun family activity!
heavy cream – much like the caramel, this provides the texture for your ganache.
Equipment
baking sheets and trays – you'll bake your cookies on this, of course!
mixing bowl and stand mixer – for beating together your ingredients.
cookie scoop – for spooning out the dough.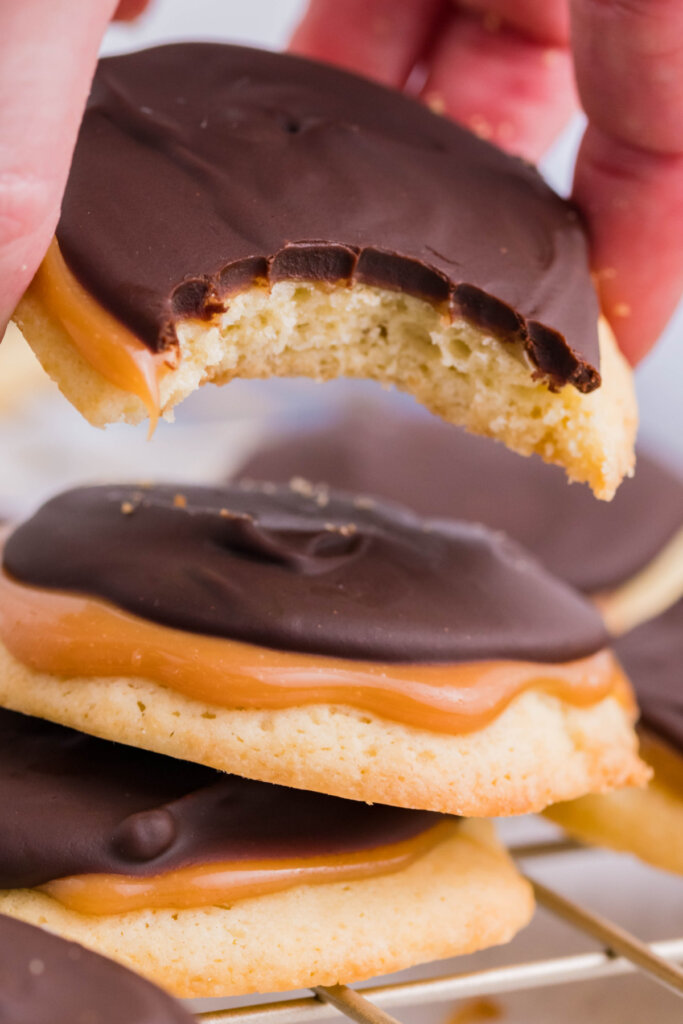 Twix Cookies: FAQS
How many cookies does this recipe make?
About 25! Lots to snack on or to give away.
How long does it take to make Twix cookies?
A little more than a half-hour! It's a quick recipe for some tasty treats.
What substitutions/changes can I make to this recipe? 
Using low-fat cream cheese isn't a bad idea to keep down the calories, though it might not taste quite the same!

To make this treat even more perfect, you can also try adding:
– extra chocolate
– extra caramel
– toffee
– peanut butter
… though it may not be exactly like a Twix bar anymore!

Also, if you love caramel, you can try indenting the very tops of the cookie dough with the tips of your fingers to make some extra room for all that nice sweet caramel to melt into. Yum!!

How long can I store Twix cookies?
Your homemade Twix cookies can stay in your fridge in an airtight container for a few days. Keeping them in the freezer can extend the shelf life for up to three months, though just be aware the chocolate may be discolored after a while. (It'll still be edible, though!)
Is it really necessary to chill the cookie dough between steps first?
Yes! To make sure that both the caramel and the chocolate layers are set properly, you need to be careful you don't skip the chilling steps for this recipe.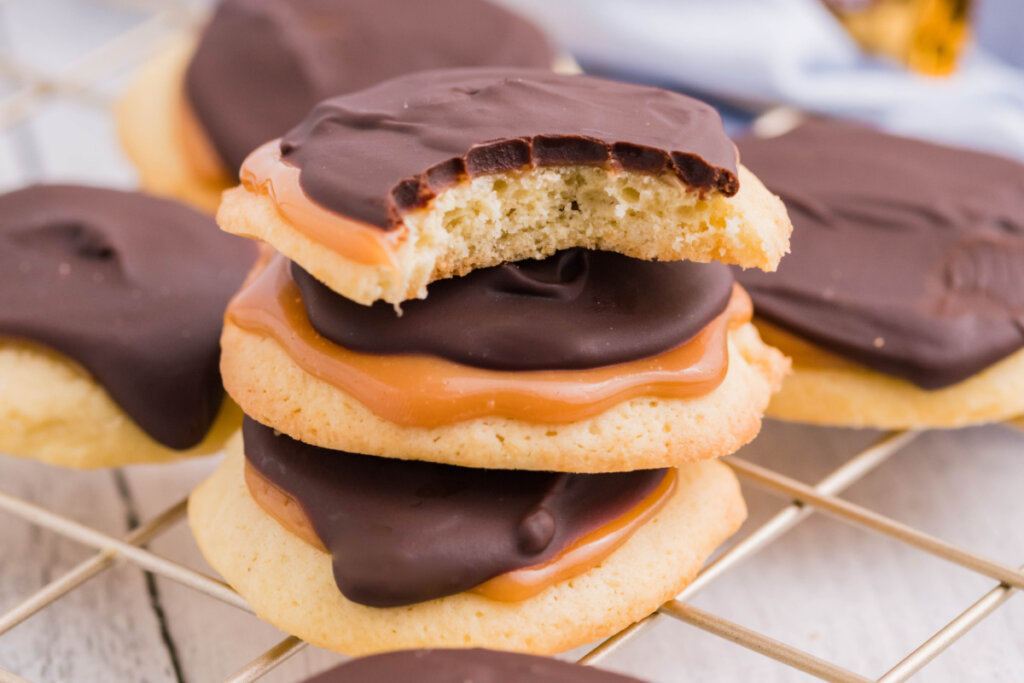 Other recipes you may enjoy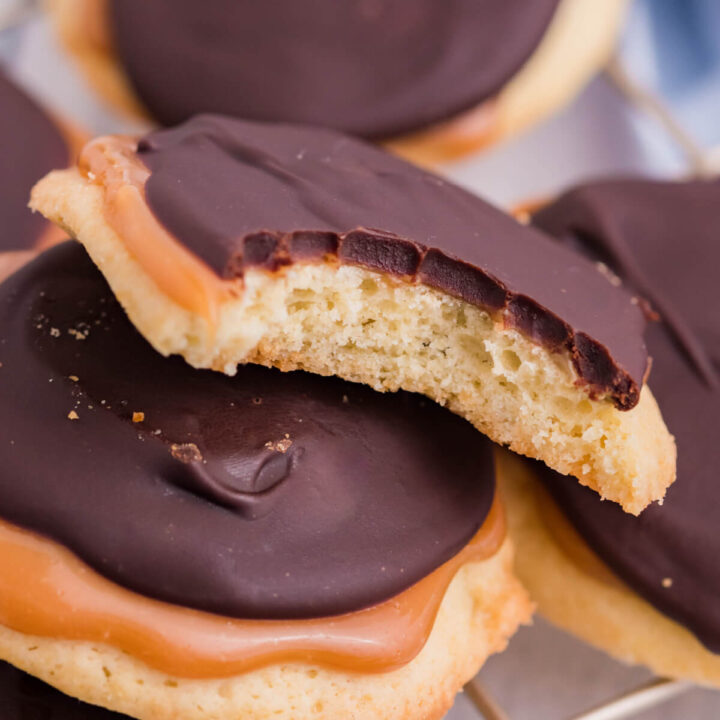 Twix Cookies
These Twix Cookies cram all the flavor you love about Twix bars into an even more cookie-lious form!
Ingredients
For the cookie
1 cup unsalted butter, softened
1/2 cup cream cheese, softened
1 cup granulated sugar
1 large egg
1 teaspoon vanilla extract
2-1/2 cups all-purpose flour
1/2 teaspoon salt
1/2 teaspoon baking soda
For the caramel
40 soft caramel candy
2 tablespoons heavy cream
For the ganache
1 cup semi-sweet chocolate, roughly chopped
1/4 cup heavy cream
Instructions
Line three baking sheets with parchment paper and set them aside.
In the bowl of a stand mixer equipped with a paddle attachment, cream the butter and cream cheese on high until smooth.
Add sugar, egg, and vanilla; mix until just combined, making sure to stop the mixer at least once to scrape the sides and bottom of the bowl.
Add the flour, salt, and baking soda to the mixing bowl and mix until thoroughly combined.
Place the bowl with the dough in it into the refrigerator for 20 minutes.
Remove the dough from the refrigerator and preheat your oven to 350°F.
Using a 1.5 tablespoon cookie scoop, scoop out even balls of dough and place about 2 inches apart on the baking sheets. Flatten the balls into about a 1-inch-tall disc.
Bake for 10-12 minutes or until golden brown.
Remove the cookies from the oven and transfer them to a wire rack to cool while you make the caramel and chocolate ganache.
In a medium microwave-safe bowl, add the caramel and heavy cream and heat in 30-second increments, stirring in between, until the caramel is melted and smooth. Spoon about 1/2 to 1 tablespoon of the caramel on top of each cookie and smooth.
Place the cookies in the refrigerator while you make the chocolate ganache.
In a microwave-safe bowl, add the chopped chocolate and heavy cream and heat in 30-second increments, stirring in between, until the chocolate is melted and smooth. Spoon 1/2 to 1 tablespoon of the chocolate on top of each cookie and smooth.
Chill the cookies until the chocolate is set.
Notes
Cookies can be stored in an airtight container in the refrigerator or at room temperature.
Nutrition Information:
Yield:

25
Serving Size:

1 cookie
Amount Per Serving:
Calories:

259
Total Fat:

14g
Saturated Fat:

8g
Trans Fat:

0g
Unsaturated Fat:

5g
Cholesterol:

37mg
Sodium:

128mg
Carbohydrates:

33g
Fiber:

1g
Sugar:

23g
Protein:

3g
Please note that the nutritional information listed on this page is an estimation based on the products I used. Ingredients and nutritional information can vary significantly between brands. Always be sure to read labels. Please verify that a recipe fits your needs before using it. Nutrition info may contain errors, so please verify it independently. Likewise, recipes may contain errors, so please use your common sense when following them.