Spanish Flan is a simple-to-make custard dessert that's a real winner after any Mexican-style meal. Of course, it's also just super delicious in general and picky-eater approved!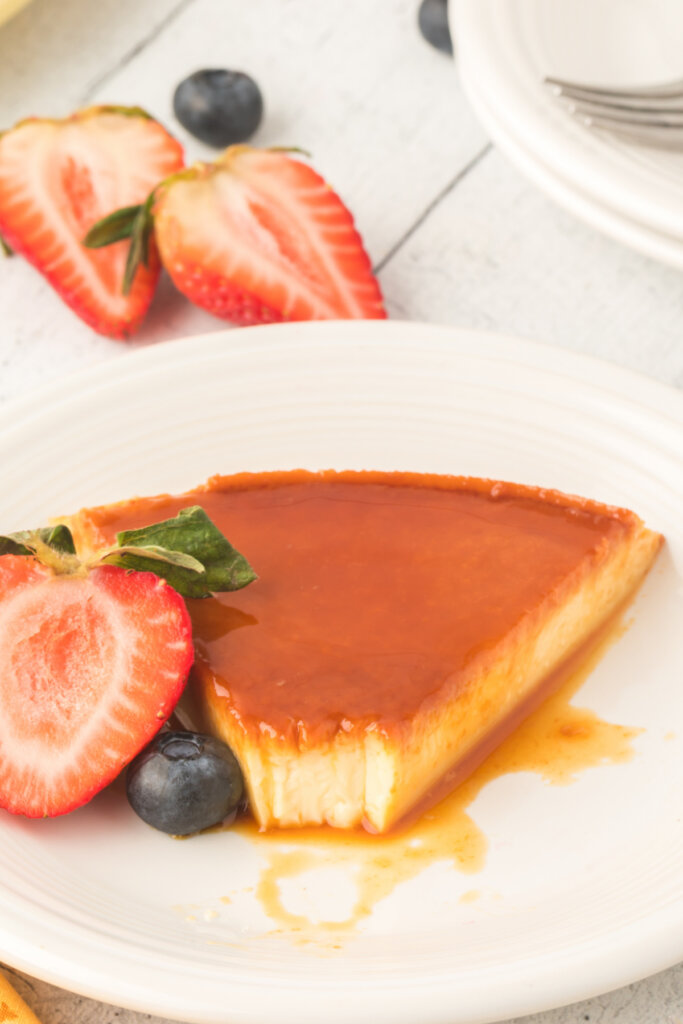 Flan Dessert
Have you ever had a Spanish flan? It's a common dessert where I live, but I just realized while writing this post that it may not be super obvious what flan actually is! Essentially, flan is a custard dessert from Mexican and Spanish cuisine. It's creamy, delicious, and generally topped with caramel. So good, y'all!
If you want to try flan for the first time (or have been looking for an easy recipe), this is my no-fuss Spanish flan recipe. It only requires five ingredients you likely have in the fridge or pantry already, and it's not hard at all to put together. While you'll have to leave it in the fridge for 4 hours (or overnight), it's extremely low-effort. No need to sit around watching the stove or stirring a pot!
Just five ingredients to make one of the best Spanish desserts ever? A total dream come true! Let's dive right in!
Flan Recipe: Ingredients & Equipment
For this Spanish Flan recipe, you'll need …
Ingredients
granulated sugar – you'll melt this to create the classic caramel sauce that tops all good flan. It'll be very hot when it melts down, so be careful! I've also noticed that the best texture comes if you don't stir this sauce. If needed, just swirl the pan.
eggs, condensed milk, whole milk, and vanilla extract – it only takes these four ingredients to make the custard part of your Spanish flan. In particular, you'll want to use room-temperature eggs.
Equipment
medium saucepan – to heat the sugar until it becomes caramel.
blender – the easiest way to mix your custard (eggs, condensed milk, etc).
hot water bath – essential for your flan! You'll put this in the oven with your flan so you get a consistent texture. Use a roasting pan.
glass pie plate – 9 inches. You'll bake your flan in this.
aluminum foil – to cover your flan while it bakes.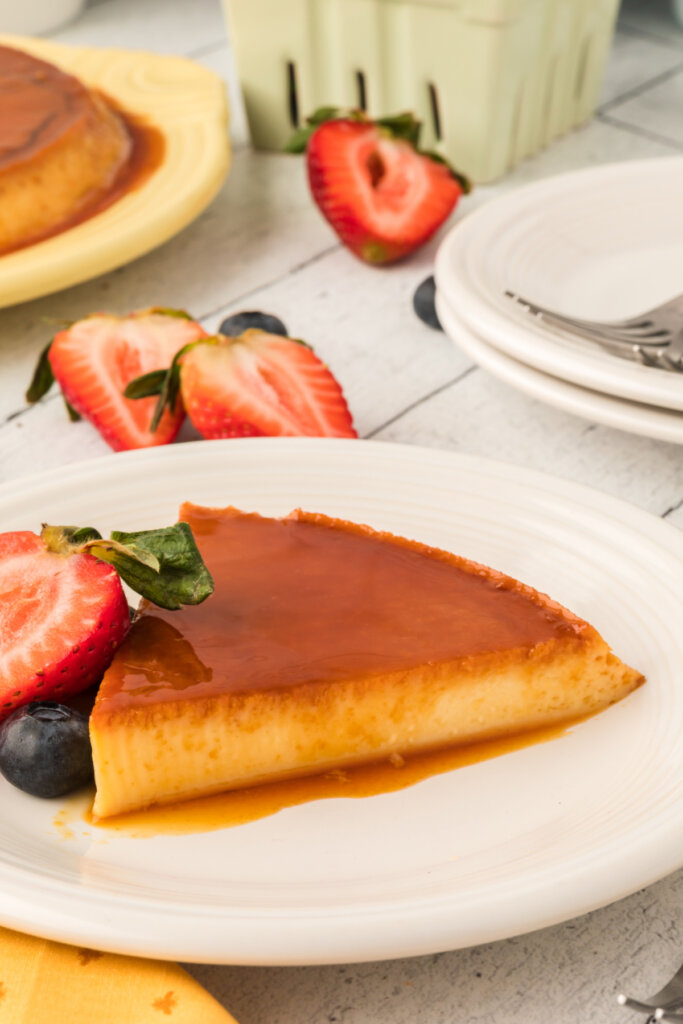 Easy Spanish Flan Recipe: FAQs
How many servings does this recipe produce?
8 servings – probably enough for all your loved ones to have seconds and they'll want to have seconds!
How long does it take to make Spanish flan?
I will admit, it takes a hot minute – but the prep is only 15 minutes long. The rest is the cooking time (1.5 hours) and the chill time (4 hours). So while it's not quick, it is easy!
I like a flan with a firmer texture than this recipe. Is there something I can add to it?
4 ounces of cream cheese will do the trick and it won't affect the flavor at all!
My flan isn't smooth! What did I do wrong?
This is a common issue, so no worries! First, make sure you don't agitate your egg mixture too much when you put it in the oven. Also, ensure you're not cooking the flan for too long – that can cause bubbles to arise and ruin the silky-smooth texture of the flan. Sometimes making flan is trial and error, though overall it's easy once you get the hang of it – I really do think this recipe is no-fuss no drama!
Can I put leftovers in the fridge?
Yes, for up to 5 days. Cover it with plastic wrap. Don't leave it out at room temperature for too long, since flan is made of eggs!
Do I need to use whole milk?
Heavy cream also works from what I've heard.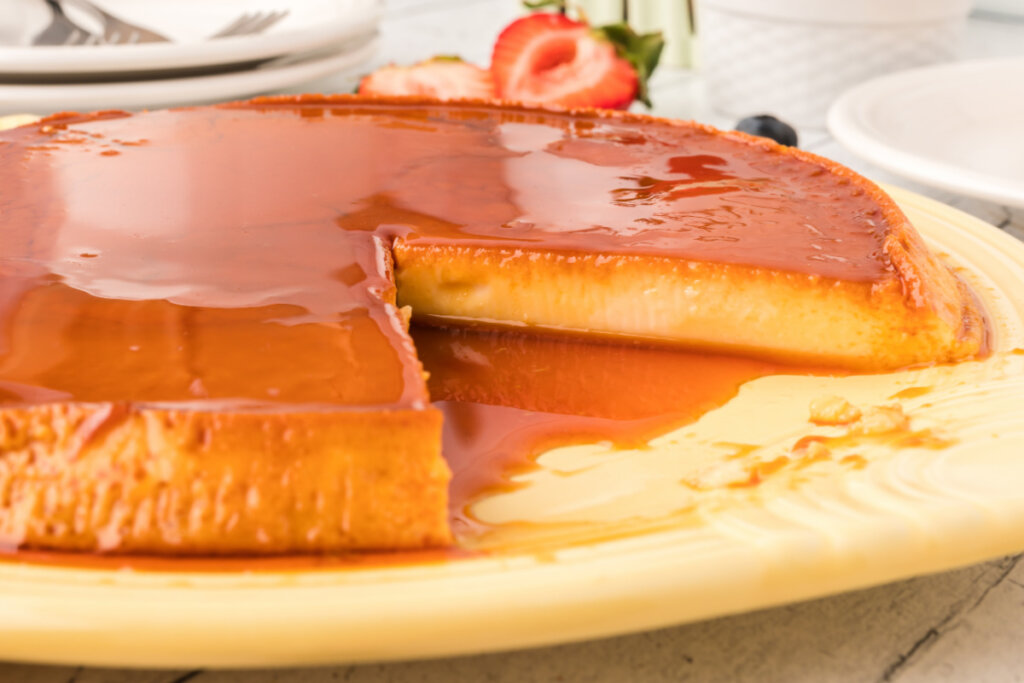 Other recipes you may enjoy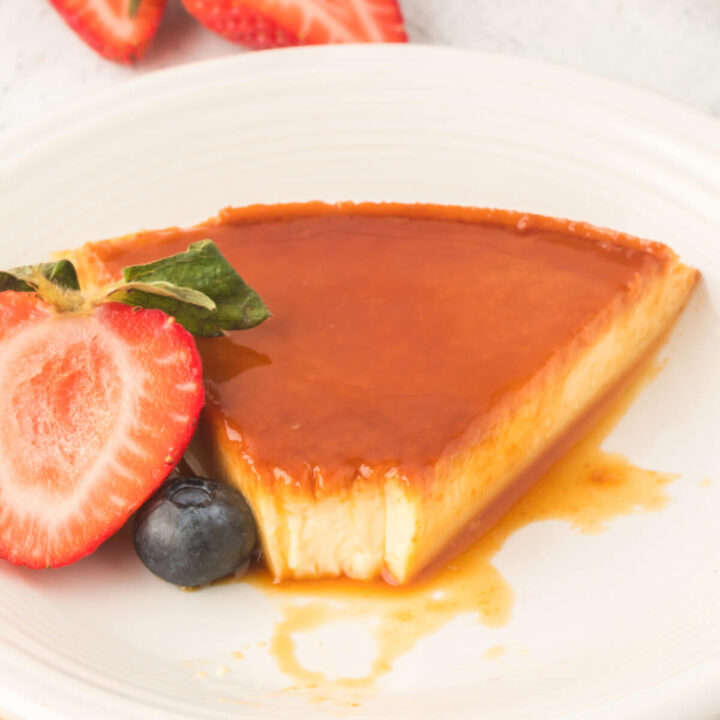 Spanish Flan
Cook Time:
1 hour
30 minutes
Total Time:
5 hours
45 minutes
Spanish Flan is a simple-to-make custard dessert that's a real winner after any Mexican-style meal. Of course, it's also just super delicious in general and picky-eater approved!
Ingredients
1 cup granulated sugar
4 large eggs
1 can (14 oz.) sweetened condensed milk
1-1/4 cup whole milk
1 tablespoon vanilla extract
Instructions
Preheat oven to 350 degrees F (175 degrees C). Prepare a hot water bath.
In a medium saucepan over medium-low heat, melt sugar until liquefied and golden in color. Carefully pour hot syrup into a 9-inch round deep glass pie plate, turning the dish to evenly coat the bottom and sides.
Place the pan with the custard into a larger baking pan and pour enough hot water to go about halfway up the sides of the pan with the caramel sauce.
Place the eggs, condensed milk, evaporated milk, and vanilla in the bowl of the blender and blend until smooth. Pour the egg mixture into the baking dish over the caramel sauce. Cover with aluminum foil.
Bake in preheated oven for 1 hour and 15 minutes.
Carefully remove the roasting pan from the oven and then remove the flan dish from the water bath. Remove the aluminum foil and let the flan cool completely at room temperature. After the flan is cool, refrigerate it for at least 4 hours (overnight is better!).
To serve, carefully loosen the flan from the edges of the pan with a knife and then invert it on a serving plate.
Notes
Plan on making this a day ahead.
For a firmer texture, add 4-oz. of cream cheese to the flan mixture.
For best results do not stir the caramel sauce - if needed, swirl the pan occasionally.
The sugar/caramel mixture will be very hot - use caution when handling it!
Recommended Products
As an Amazon Associate and member of other affiliate programs, I earn from qualifying purchases.
Nutrition Information:
Yield:

8
Serving Size:

1 slice
Amount Per Serving:
Calories:

227
Total Fat:

7g
Saturated Fat:

3g
Trans Fat:

0g
Unsaturated Fat:

3g
Cholesterol:

107mg
Sodium:

94mg
Carbohydrates:

34g
Fiber:

0g
Sugar:

34g
Protein:

7g
Please note that the nutritional information listed on this page is an estimation based on the products I used. Ingredients and nutritional information can vary significantly between brands. Always be sure to read labels. Please verify that a recipe fits your needs before using it. Nutrition info may contain errors, so please verify it independently. Likewise, recipes may contain errors, so please use your common sense when following them.