State Fair Corn Dogs
Printable recipe
Yields: 8-10 servings
1 cup yellow cornmeal
1 cup all-purpose flour
1/4 cup sugar
4 tsp. baking powder
1/4 tsp. salt
1 egg
1 cup milk
1 qt. oil for frying
16 oz. pkg. hot dogs
flour for dusting
wooden skewers
In a medium bowl combine the cornmeal, flour, sugar, baking powder and salt. Stir in eggs and milk.
Preheat oil in a fryer or deep saucepan until it reaches 375 degrees. Insert wooden skewers into one end of the hot dog, leaving enough of the skewer to hold onto.
Place about 1/4 cup of flour in a pie plate or ziplock bag and roll the hot dogs in flour to coat. Shake off excess flour. Put the cornmeal mixture in a tall glass and dip the hot dogs into the batter, coating well. Let excess batter drip back into the cup.
Fry 2-3 corn dogs at a time, until lightly browned, about 3 minutes. Flip if necessary to get even browning.
To serve, dip in ketchup, mustard – or your favorite condiments!
*** You can also make these ahead and freeze them. To reheat from frozen, put them in a preheated 400 degree oven for about 20 minutes, or until heated through.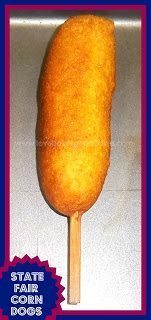 I hope you enjoy! Shared at these
fun parties!
Don't forget to share and comment ♥
Copyright © Love Bakes Good Cakes 2012-2013 All Rights Reserved