What a perfect way to warm up on a cold night, this Sausage Stroganoff Soup is a quick and easy, hearty soup idea that is so delicious!
Sausage Stroganoff Soup recipe
Living in Arizona, I don't' feel like we get many dreary, cold, or rainy days. It's actually kind of funny because when we do get them, they're a big deal to the locals. I look forward to them because they're the perfect days to make a big pot of soup!
Many of you know that I'm a big fan of soup. I think it's one of the few things we could eat that I would never get tired of! When the temperatures start creeping up into the 80s, 90s, 100s, and into the 110s … I just can't bring myself to eat many bowls of soup. No matter how much I love it. It's too gosh darn hot – I'm just trying to keep from melting! For real, though.
If I had to rank this soup, it would definitely be in my top 5 – because it's quick, easy, and most importantly, delicious! I've had this recipe for so many years and I've slightly adapted it over time to what it is today. It really is perfect when the weather is crappy or it's cold! You just have to try it for yourself to see!
Other recipes you may enjoy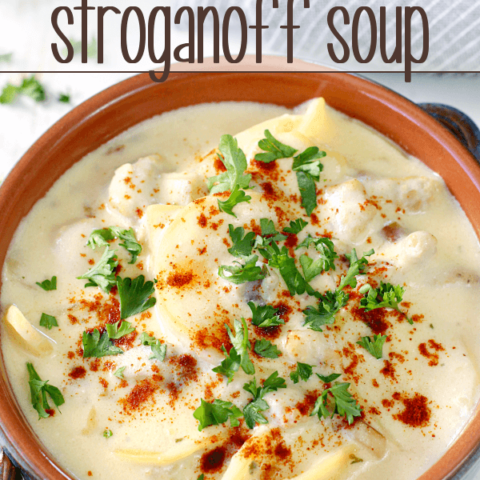 Sausage Stroganoff Soup
The perfect way to warm up on a cold night, this Sausage Stroganoff Soup comes together quickly!
Ingredients
1 pound breakfast sausage roll
2-3 cloves garlic, minced
4 ounces fresh mushroom, cleaned and chopped
1 package (5-6 oz.) scalloped potatoes
4 cups chicken broth
1 cup half-and-half
1 cup (8 oz.) sour cream
2 tablespoons Dijon mustard
Paprika, optional
Chopped parsley, optional
Instructions
In a large soup pot, cook and crumble the sausage until it is no longer pink. Add the garlic and mushrooms and cook an additional 3-4 minutes or until the mushrooms are softened.
Stir in the contents of the sauce packet and the potatoes. Add the chicken broth. Bring the mixture to a boil. Reduce heat and simmer, uncovered, for about 15 minutes, or until the potatoes are tender.
Stir in the half-and-half, sour cream and mustard. Heat through but DO NOT BOIL.
Sprinkle individual servings with paprika and parsley, if desired.
Nutrition Information:
Amount Per Serving:
Calories:

434
Total Fat:

18g
Saturated Fat:

8g
Cholesterol:

39mg
Sodium:

732mg
Fiber:

3g
Sugar:

7g
Protein:

15g