This Reuben Fry Basket has sweet potato fries topped with plenty of freshly chopped corned beef, melty Swiss Cheese sauce and tangy sauerkraut! Serve it with a Russian Dressing for a meal that will make your taste buds say "wow!" Typically, you enjoy the sandwich with a side of fries – why not combine the two for a tongue-teasing easy main dish?! #SpringIntoFlavor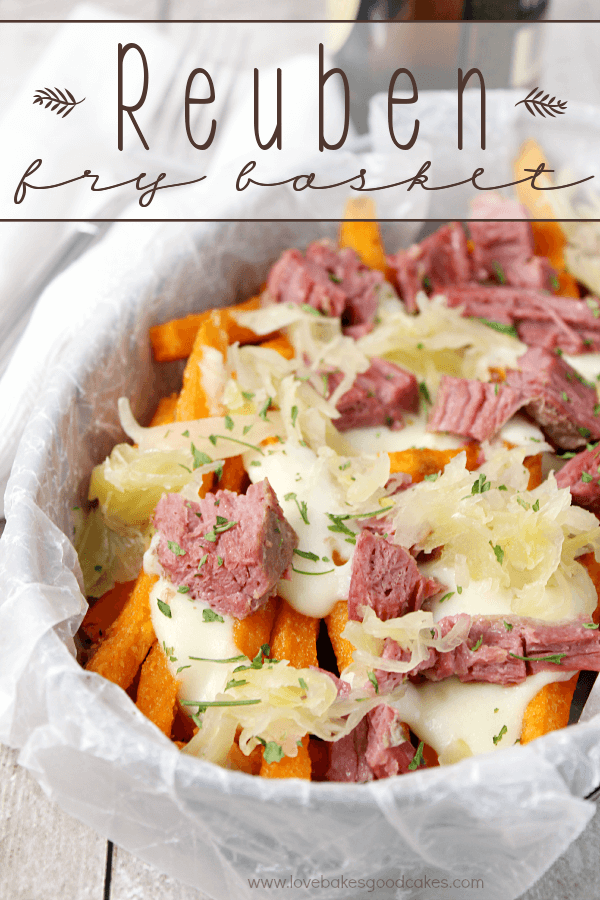 Reuben Fry Basket
This shop has been compensated by Collective Bias, Inc. and its advertiser. All opinions are mine alone. #SpringIntoFlavor #CollectiveBias
There are two sandwiches that I absolutely love. Adore even. And I just may daydream about them. Maybe. We make them at home about once or twice a year and I will order them at restaurants when given the chance. Patty Melts and Reubens, my friends. Patty Melts and Reubens. The two best sandwiches in the world. And don't ever tell me I have to choose between the two of them – because I can't. So why not create a Reuben Fry Basket.
Our menu
Being a food blogger, my family will tell you that we rarely eat the same thing twice. And if by chance we do, it could be months or even years between times. Let me clarify, we eat burgers throughout the Summer, but I can almost guarantee you that every single burger will be different. Yes, different. Maybe they're spiced differently or topped differently – but they're all different. I can't tell you how many times I have made a recipe to the praise of my family, only for them to never have it again! My favorite is when Brian says, "can you make that dish (whatever it is) again?" And I have to ask him 20 questions because 1. it's been so long ago that we had it or 2. I need to narrow down what variation of the same dish he's talking about. No joke. #foodbloggerproblems
Making the Reuben
I noticed my local Walmart had corned beef marked down – and let's keep it real, I'm a girl on a budget. My boys will eat us out of house and home if we let them. Since St. Patrick's Day has come and gone, my first thought is Reubens!! Yes! Yes and yes.
Being a food blogger, I can't leave well enough alone. I stood there contemplating a new way to have Reubens and it dawned on me …. we almost always have them with a side of fries – so why not combine the sandwich and the side dish to create a totally rocking main dish?
I quickly grabbed up two of the marked down corned beef (one for this recipe and the other for Reuben sandwiches later!). A few stops around the store for Swiss cheese and sauerkraut. I finally ended up in the frozen food section where I needed to see if I could find sweet potato fries. To be honest, I actually prefer them over regular fries.
Reuben fry basket fries
I picked up some Alexia Sweet Potato Fries with Sea Salt. They are such a versatile product. I love that they are Non-GMO verified and made with all natural ingredients!
Although I used Alexia Sweet Potato Fries with Sea Salt for my dish and recipe, Walmart also carries Alexia Onion Rings and Spicy Sweet Potato Fries in addition to the Alexia Sweet Potato Fries with Sea Salt.
As a matter of fact, Isaac made his plate using all three Alexia products and said he really loved the Reuben toppings on the onion rings! If you're a fan of onion rings, consider going the Alexia Onion Ring route! However, if you prefer things a little more spicy, feel free to use the Spicy Sweet Potato Fries. If you just can't make up your mind – use all three! You can find all three varieties of  Alexia products near the frozen potatoes at your local Walmart!
Just a side note – this is more of a "grab a fork" kinda dish …. sure, you could eat it with your fingers, but it's harder to keep the toppings on!
For more great recipes, special offers, and the latest Alexia Foods news, be sure to follow them on Facebook and Pinterest!
I've shared my upscale, spring-inspired recipe with you. I'd love to hear about yours! Leave a comment sharing your favorite spring recipe ideas.
Other Posts You May Enjoy: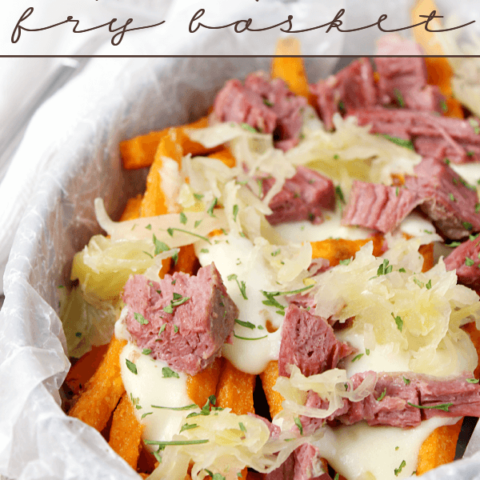 Reuben Fry Basket
Cook Time:
3 hours
30 minutes
Total Time:
3 hours
45 minutes
Sweet potato fries topped with plenty of freshly chopped corned beef, melty Swiss Cheese sauce and tangy sauerkraut! Serve it with a Russian Dressing for a meal that will make your taste buds say "wow!" Typically, you enjoy the sandwich with a side of fries - why not combine the two for a tongue-teasing easy main dish?!
Ingredients
For the Reuben Fry Basket
2-3 lb. Corned beef brisket
1 bag (20 oz.) Alexia Sweet Potato Fries with Sea Salt
Swiss Cheese Sauce (see recipe below)
1 can (14.5 oz.) sauerkraut, warmed
Parsley, for garnish (optional)
Russian dressing, for serving (optional)
For the Swiss Cheese Sauce
1/4 cup butter
1/4 cup all-purpose flour
2 cups milk
2 cups (8 oz.) Swiss cheese
Instructions
To prepare the corned beef:
Place corned beef in a Dutch oven and cover with water. Add the contents of the seasoning packet if desired. Bring to a boil. Reduce heat to low and cover with lid. Cook 2-3 hours or until the corned beef is fork tender.
Once the corned beef is cooked, remove from pan to cutting board. Chop into small pieces. Set aside and keep warm.
After the corned beef is cooked:
Prepare Alexia Sweet Potato Fries with Sea Salt according to package directions. Meanwhile, prepare the cheese sauce. Melt the butter in a large saucepan over medium heat. Add flour and stir until blended. Gradually add milk and cook stirring constantly until thickened. Stir in cheese and heat until cheese melts and sauce is smooth. Set aside.
To prepare the Reuben Fry Basket:
Divide the fries into 6 portions on individual plates. Top each serving with Swiss cheese sauce, sauerkraut, chopped corned beef and parsley. Serve immediately.
Notes
This Reuben Fry Basket is also great with Alexia Onion Rings or Alexia Spicy Sweet Potato Fries!
Nutrition Information:
Amount Per Serving:
Calories:

958
Total Fat:

68g
Saturated Fat:

30g
Cholesterol:

241mg
Sodium:

841mg
Fiber:

6g
Sugar:

14g
Protein:

49g