Dust off that rice cooker!! Did you know that your Ginny's Rice Cooker can be used for so much more than just to make rice? You can easily make a comforting bowl of from-scratch Mac and Cheese with just a few common kitchen ingredients! Dinner has never been so easy or so good!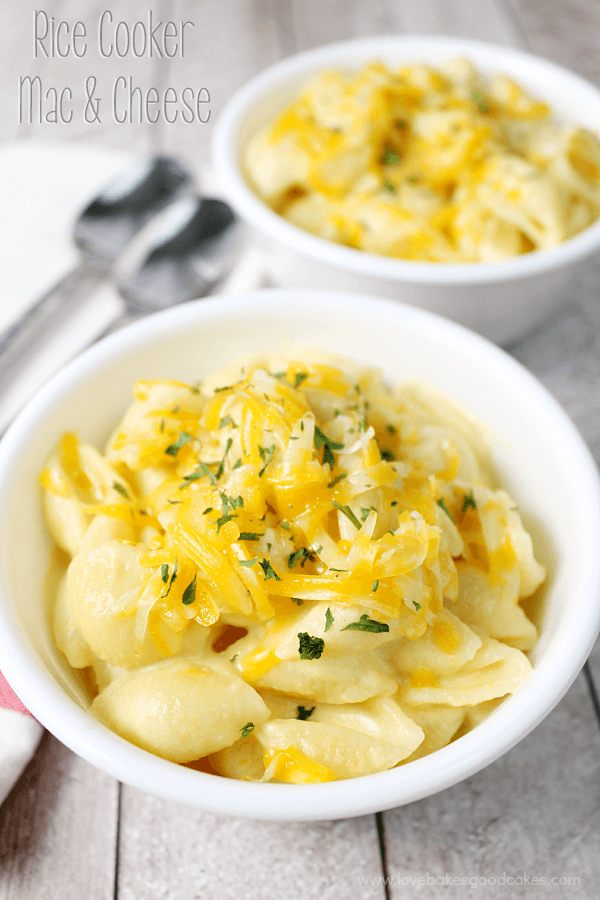 Rice Cooker Mac & Cheese and a Giveaway!
This conversation is sponsored by Ginny's. The opinions and text are all mine.
I recently had the pleasure to partner with Ginny's on a super fun blogger project. Eleven bloggers were asked to create a recipe using one of Ginny's appliances. I chose to use Ginny's Brand Rice Cooker and Food Steamer in red. As a side note, I'm slowly working on redecorating my kitchen by using pops of red and teal. I was pretty excited to have a red rice cooker to add to the kitchen collection!
Of course, it's obvious that you can use a rice cooker to cook rice …. but I wanted to take it a step further and use my new red rice cooker for more than just rice. If you have noticed, I've been on a Mac & Cheese kick these past few weeks. I wanted to see if it was possible to make Mac & Cheese from start to finish – from scratch – in a rice cooker. Let me tell you friends, not only is is possible, but it's so easy and delicious! Oh my gosh … and sooooo creamy!
An easier way to make macaroni & cheese
One of the things I really love about cooking Mac & Cheese in a rice cooker is, I can let my tween-agers do it without fear of them spilling boiling hot water on themselves! They're not quite to the stage where I can trust them to do that by themselves. With this rice cooker recipe, there is no need to drain the noodles as the pasta absorbs the liquid making this a truly easy and fuss-free meal. Plus, one pot meals are all the rage these days …. ya might as well jump on that bandwagon! I mean, who doesn't want less dishes to clean?! Exactly!
By the way, from now until May 31st, you can enter to win up to four $250 Ginny's Gift Cards! Head over to Ginny's Website to enter for a chance to win! You can enter as many times as you'd like! To enter, look for the pop-up box when you view my Rice Cooker Mac & Cheese recipe page. Easy peasy!
See my Rice Cooker Mac & Cheese on Ginny's
Don't forget that there are ten other bloggers who participated in this amazing opportunity. Be sure to check out their yummy recipes as well! 🙂
Other Posts You May Enjoy:
Quick and Easy King Ranch Mac & Cheese