This Pumpkin Brownies recipe is so simple and perfect for Fall! With only 2 ingredients and about 30 minutes, you can have a delicious chocolaty treat! #pumpkin #brownies #fallbaking
Pumpkin Brownies – only TWO ingredients!
Immaculate Baking sent me coupons and free products through the Immaculate Baking program, hoping that I might write about them. Any and all opinions expressed are 100% my own.
I am a huge fan of the Immaculate Baking Co. line of refrigerated products. They carry many great refrigerated products like: cookie dough, biscuits, scones, cinnamon rolls, sweet rolls, crescent rolls and pie crusts. I discovered that they have recently expanded their product line to include Scratch Baking Mixes! They even have organic and gluten-free options!
The Scratch Baking Mixes include brownies, cake mixes, cookie mixes and a pancake & waffle mix! I am super excited to try some of these new products … I've even spotted them on shelves at my local grocery store! The other day, I was craving something chocolaty and I really didn't feel like fussing with too much. I had picked up some pumpkin on my last grocery trip and decided to make these quick and simple Pumpkin Brownies – they only have TWO ingredients, y'all! Seriously, soooo easy!
Of course, these brownies cook up a bit different than regular brownies since we use pumpkin instead the regular ingredients listed on the box – but the pumpkin creates a fudgy-type brownies! So good!
Only two ingredients
How many recipes do you have that only use two ingredients?! I could use more in my life! 🙂 Since these brownies are full of pumpkin, I like to think there is some health benefit to them …… don't tell me otherwise! 😉 Seriously, pumpkin contains no saturated fat or cholesterol and is FULL of dietary fiber, antioxidants, vitamins and minerals. Of course, moderation is the key to anything, right?!
If you're looking for a quick, easy and delicious Fall (or anytime) treat, give these Pumpkin Brownies a try! You'll be glad you did!
To find the store nearest you that carries Immaculate Baking Co. products, visit the store locator.
For more recipes, the latest news, and special offers, be sure to visit Immaculate Baking Co. on Facebook, Pinterest or Instagram!
Other recipes you may enjoy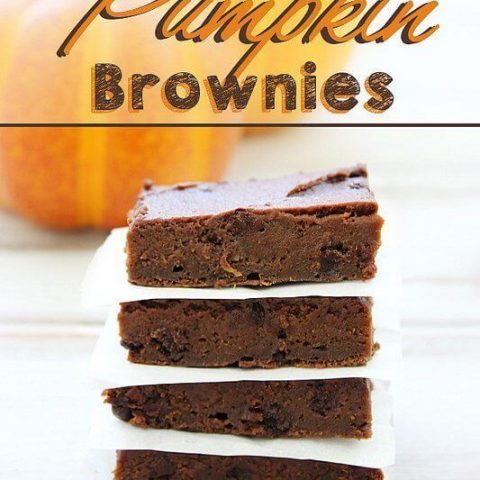 Two Ingredient Pumpkin Brownies
This Pumpkin Brownies recipe is so simple and perfect for Fall! With only 2 ingredients and about 30 minutes, you can have a delicious chocolaty treat!
Ingredients
1 box (18.3 oz) Immaculate Baking Brownie Scratch Baking Mix (or any similar sized box from another brand)
1 can (15 oz.) pumpkin puree (not pumpkin pie filling!)
Instructions
Preheat oven to 350°F. Line a 9x13-inch baking dish with parchment paper or spray with non-stick cooking spray; set aside.
In a large mixing bowl, combine brownie mix and canned pumpkin with an electric mix on medium speed until well combined, stopping the machine and scraping down the sides once. Pour the batter into a prepared pan; smooth and spread with a spatula.
Bake for 25-30 minutes or until completely set. Allow to cool on a wire rack before cutting.
Nutrition Information:
Amount Per Serving:
Calories:

98
Total Fat:

2g
Saturated Fat:

0g
Cholesterol:

0mg
Sodium:

144mg
Fiber:

1g
Sugar:

12g
Protein:

1g