Tender, fluffy deep-fried dough stuffed with decadent apple sweetness, these Apple Fritters are good all year round and at any time of day!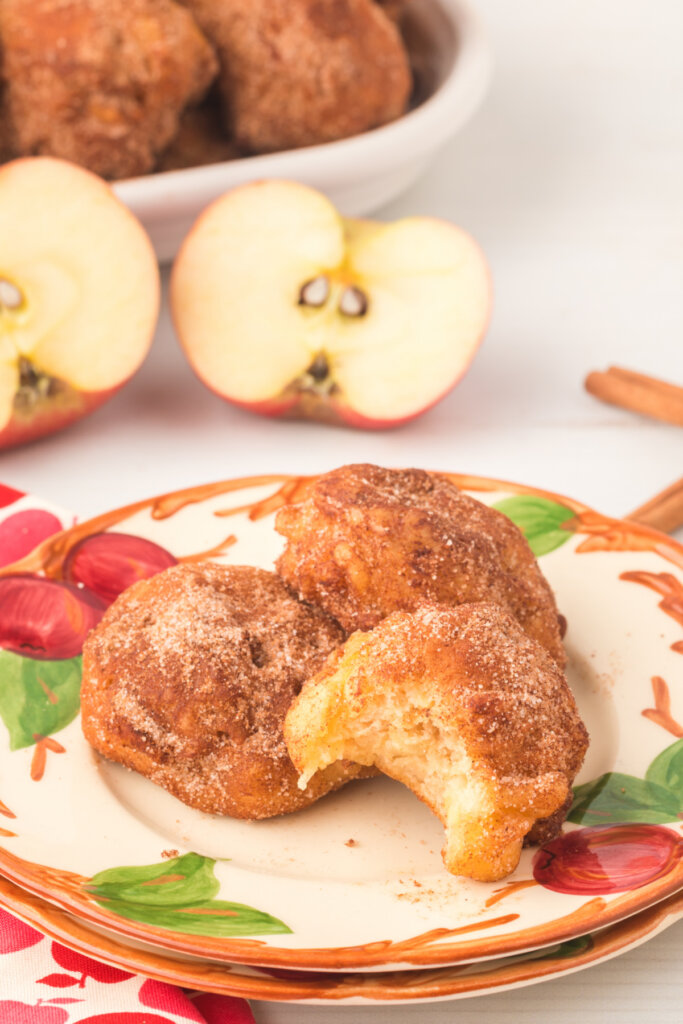 Recipe Apple Fritters
Apple Fritters are one of the best sweets for any occasion. Sweet, tart apples in cinnamon-dusted heaven of syrup, all coated with deep-fried batter. So good, y'all! Almost as good as chocolate! I had to share this recipe with you for the fall season.
By the way, the batter used in this recipe is the same kind used to make donuts, so you can count on that same fluffiness in every bite. Plus, Apple Fritters aren't just a wonderful dessert. They're a perfect choice for your family's breakfast too!! Nothing greets you in the morning like an Apple Fritter with a hot cup of coffee, I swear!
And if you follow this post, making Apple Fritters doesn't even take that long! Each batch should take over half an hour, so you can have fresh Apple Fritters from scratch anytime. Yes, really!!
If you're wondering how to make these Apple Fritters, you're basically just whisking together your ingredients, then dropping them into a deep fryer to cook. SUPER easy.
Whether you're chowing down on them for dessert or to start your day off right every morning, they're a sweet and filling delight!!
As always, there's a full set of instructions at the recipe card below. Enjoy!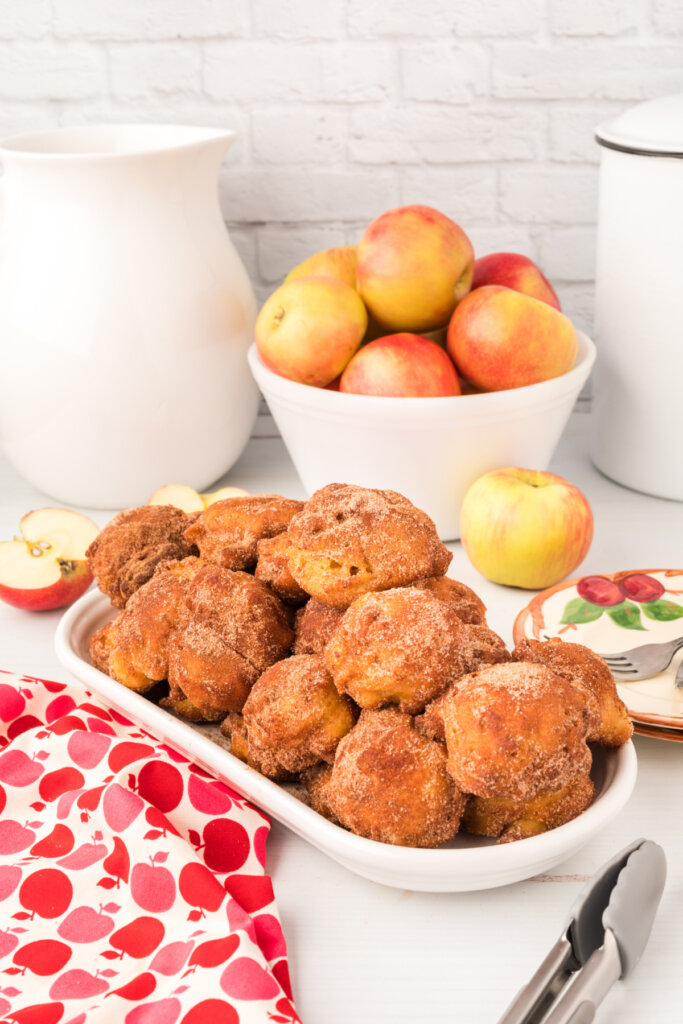 Recipe for Apple Fritters: Ingredients & Equipment
For this Apple Fritters recipe, you'll need …
Ingredients
oil – for deep-frying. Use whatever one is best for you or you know works! I tend to use canola oil.
all-purpose flour, granulated sugar, baking powder, salt – standard dry ingredients for any baked good! Nothing unusual here.
milk, eggs, vegetable oil, vanilla extract – more standard ingredients for baking, this time "wet."
ground cinnamon, cinnamon sugar – these provide that tasty autumn flavor to your apple fritters.
apples – peeled, cored, and finely chopped. Use apples that are a bit tart for this recipe! I have suggestions in the FAQ section below.
Equipment
deep fryer – necessary for cooking these apple fritters! Remember not to overcrowd it while you're making this recipe. Work in batches!
large bowl – for mixing your ingredients.
slotted spoon or wire skimmer – to remove your apple fritters from the fryer when they're done.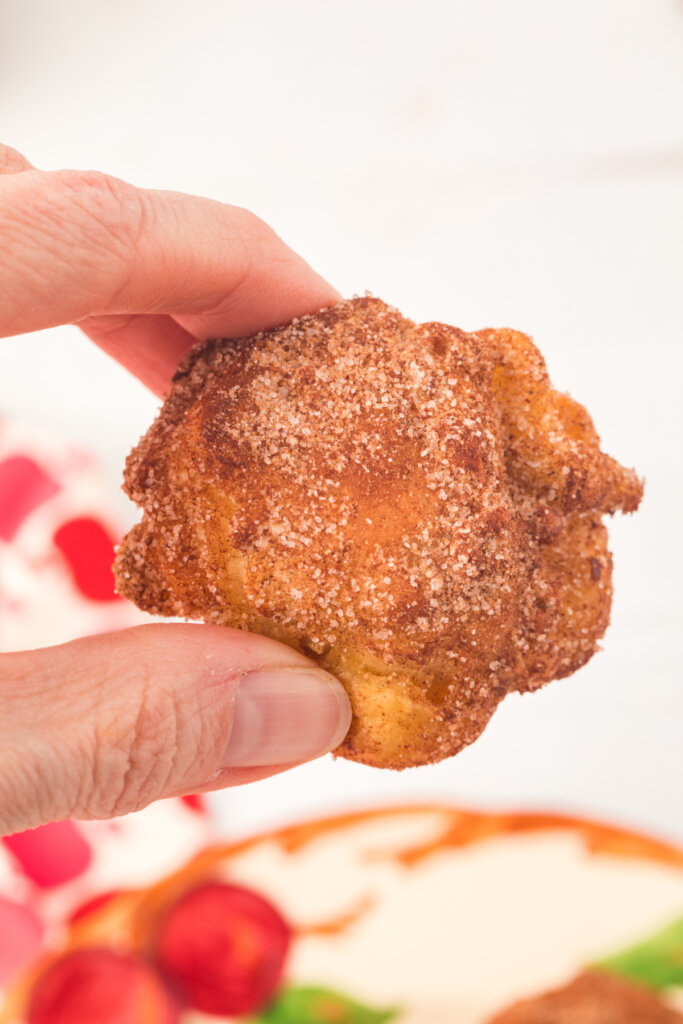 Apple Fritters Recipes: FAQs
How long does it take to make Apple Fritters?
You'll need 20 minutes to prep the ingredients and 15 minutes to cook (fry) them. Sweet treats in under an hour?! Don't mind if I do!
How many Apple Fritters Donuts does this recipe make?
It should produce 24 of them, more or less. Enough for a small get-together!
Is there a way to add more of that juicy apple flavor?
If you switch out the milk for apple juice or apple cider, you'll have very similar Apple Fritters, with even MORE of that yummy fruity taste!
What can I use if I don't have cinnamon sugar?
You're in luck. You can just make your own!! Use 1 cup of granulated sugar with 1/4 cup ground cinnamon.
When should I start heating the oil?
The ideal time to start heating your oil is right after the batter has come together. Starting the oil early may seem like you're saving time, but it will also cause it to get too hot! Hot enough to start burning the batter, even. Instead, try and allot the time to let the oil get to 375°F after you've made your batter. You'll want to ensure it stays at exactly that temperature for the best results!
What apples are the best to use for this recipe?
The best apples for deep frying are always tart ones with a firm texture, which hold up to the heat and complement the sugar you'll be using! So, I'd say the best apples for Apple Fritters would be varieties like granny smith, Honeycrisp, or fuji.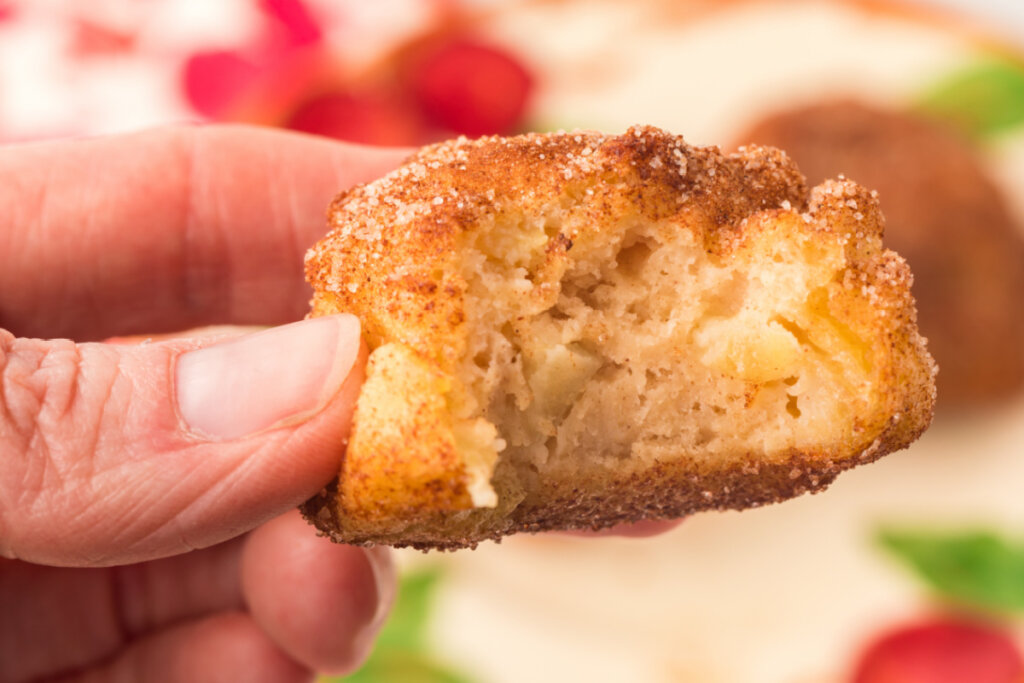 Other recipes you may enjoy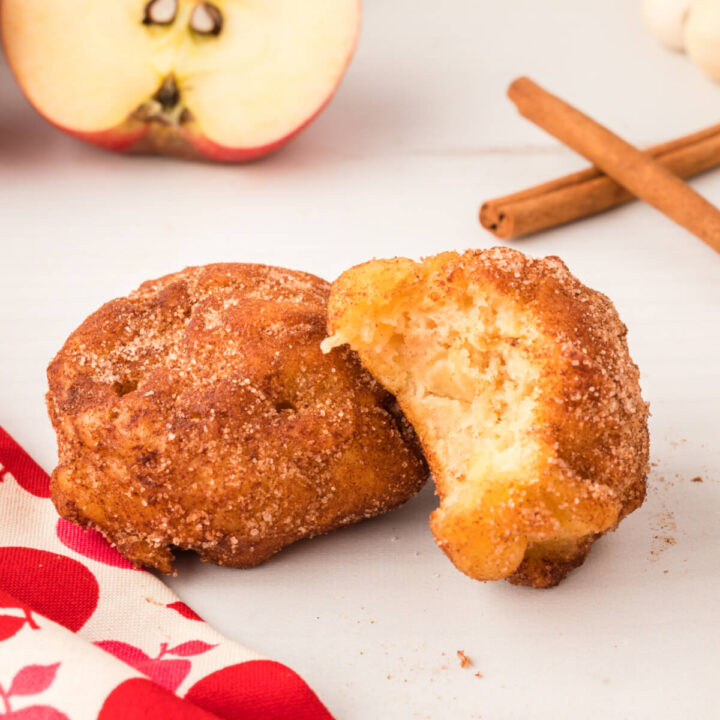 Apple Fritters
Tender, fluffy deep-fried dough stuffed with decadent apple sweetness, these Apple Fritters are good all year round and at any time of day!
Ingredients
oil for deep frying
1-1/2 cups all-purpose flour
1 tablespoon granulated sugar
2 teaspoon baking powder
1 teaspoon ground cinnamon
1/2 teaspoon salt
2/3 cup milk
2 large eggs, beaten
1 tablespoon vegetable oil
1 teaspoon vanilla extract
1-1/2 cups apples, peeled, cored, and finely chopped
1 cup cinnamon sugar
Instructions
Heat the oil in a deep fryer to 350F.
Whisk together the flour, sugar, baking powder, cinnamon, and salt in a large bowl.
Add the milk, eggs, oil, and vanilla to the flour mixture. Stir until well combined. Stir in the apples until well combined.
Working in batches, drop the batter by tablespoonfuls into the hot oil and fry until golden brown on both sides, about 4-5 minutes, depending on the size of your fritters.
Remove the fritters from the hot oil using a slotted spoon or wire skimmer and drain briefly on paper towels to absorb some of the oil.
While the fritters are still warm, gently toss the fritters in the cinnamon sugar.
Notes
Don't overcrowd the fryer. It is important to work in batches.
If you prefer glazed fritters, you can combine 2 cups of powdered sugar with approximately 6 tablespoons of milk. Use this mixture to glaze your fritters. 
For even more apple flavor, switch out the milk for apple cider or apple juice.
No cinnamon sugar on hand? Make your own by combining 1 cup of granulated sugar with 1/4 cup of ground cinnamon. 
Nutrition Information:
Yield:

24
Serving Size:

1
Amount Per Serving:
Calories:

93
Total Fat:

2g
Saturated Fat:

0g
Trans Fat:

0g
Unsaturated Fat:

1g
Cholesterol:

16mg
Sodium:

94mg
Carbohydrates:

18g
Fiber:

1g
Sugar:

8g
Protein:

2g
Please note that the nutritional information listed on this page is an estimation based on the products I used. Ingredients and nutritional information can vary significantly between brands. Always be sure to read labels. Please verify that a recipe fits your needs before using it. Nutrition info may contain errors, so please verify it independently. Likewise, recipes may contain errors, so please use your common sense when following them.