Be the star of any party or get-together with these amazingly easy and delicious Mini Cannoli Cups! A real crowd-pleaser!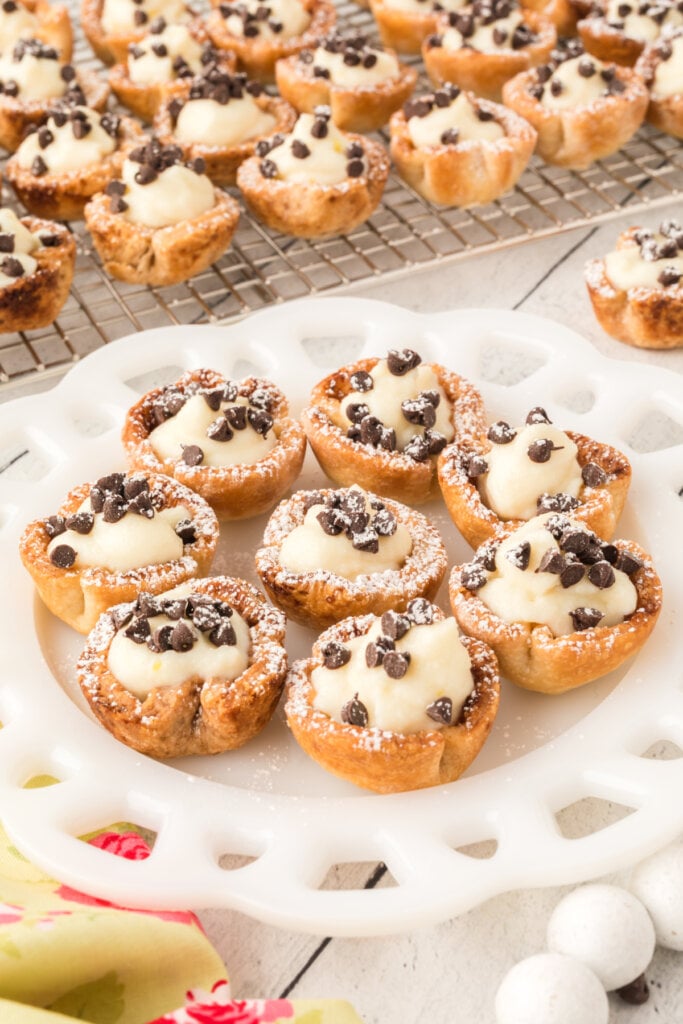 Cannoli Bites
When we entertain, I love to share recipes that wow my guests. Especially desserts! I can't help it! I especially love the ones that "seem" complicated but are easy – it adds to the "wow factor," don't you think?!
These Mini Cannoli Cups are one of those recipes! So divine and indulgent, but super easy to make! The fact that they are bite-sized adds to their appeal. People love them … trust me!
These are the perfect party food during summer get-togethers or winter holidays – your guests are sure to LOVE them!
By the way: a cannoli, if you've never had one, is an Italian dessert. It's a yummy and sweet cream cheese filling inside a crispy pastry shell, and it's glorious, y'all. It's also the kind of thing everyone adores when they try it.
Sometimes I like to dip the edges of the baked pie cups in melted chocolate before filling them with the filling … soooo decadent!!
Bring out these Mini Cannoli Cups next time you have company over, and you'll have people begging for the recipe! They're the perfect party food!
I always love desserts that are super simple and pretty much beloved by everyone, especially when they're tasty at any time of year! Enjoy!!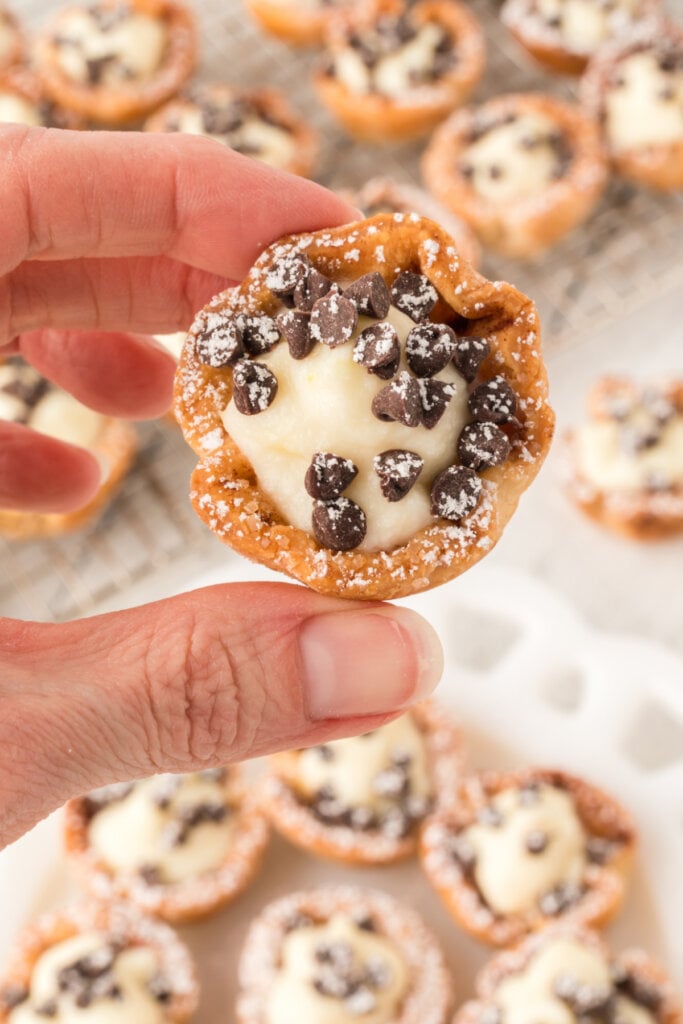 Mini Cannoli: Ingredients & Equipment
To make these Mini Cannoli Cups, you'll need …
Ingredients
ricotta cheese -full-fat (or whole milk), and drained with a cheesecloth. This is the traditional base of your cannoli filling!
vanilla, granulated sugar, and powdered sugar – these two ingredients, combined with the ricotta cheese, make for a simple but scrumptious cannoli filling.
orange or lemon zest – it sounds a little odd, but for those who know, you KNOW … every good cannoli filling needs a hint of citrus zest.
pie crusts – these will form your cannoli cup crust. I use the premade refrigerated crusts and follow the instructions on the package on softening them.
sugar, cinnamon – add these to your pie crusts to make a tasty cannoli shell!
additional powdered sugar and pistachios or semisweet chocolate chips – garnish for your mini cannoli cups. Yum!
Equipment
rolling pin, floured work surface – whatever is suitable for you! This is so you can work your pie crusts.
2.5" cookie/biscuit cutter – so you can cut your pie crust into pastry rounds.
mini muffin cup – you'll cook your pie crusts in here to make them bite-sized!
electric mixer and large mixing bowl – to mix your cannoli filling, of course!
zip-top resealable bag – an easy way to "pipe" your filling into the crusts/cups.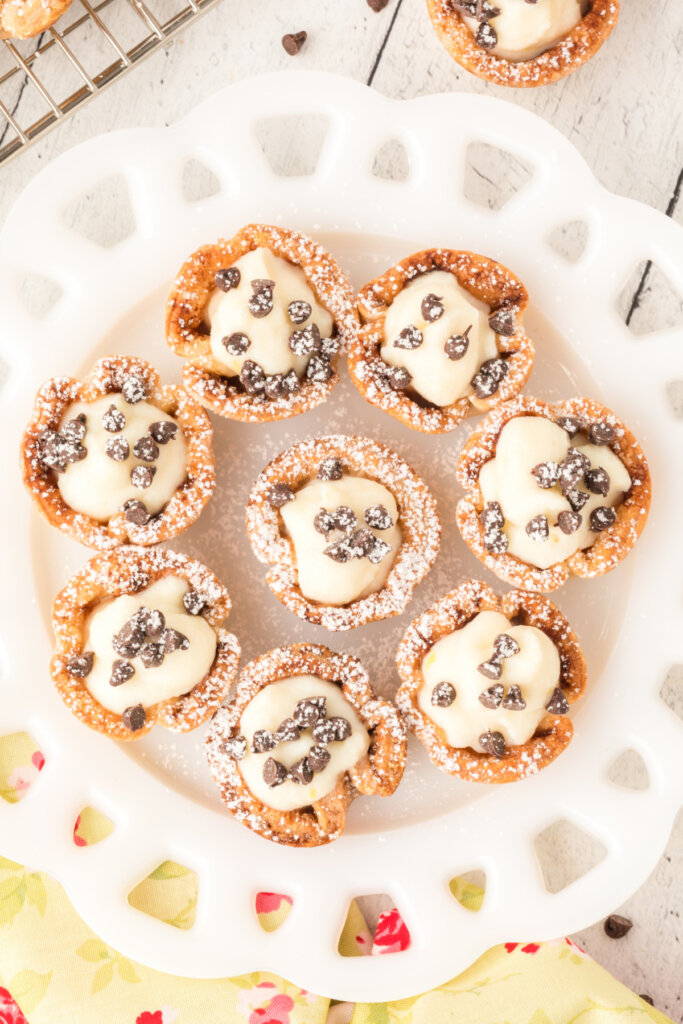 Cannoli Cups: FAQs
How many Cannoli Cups does this make?
48! More than enough for any get-together, I think!!
How long does it take to make Mini Cannoli Cups?
A little less than an hour (45 minutes). You'll need 15 minutes to prep the ingredients and 30 minutes to cook them.
How should I store leftover pastry cups or fillings?
Store any remaining pastry cups at room temperature and the filling in the refrigerator.
Can you use almond extract instead of vanilla extract?
Yes, I don't see why not! It may alter the taste slightly, but not enough to be noticeable, in my opinion. Lots of recipes use the almond instead!! I've also heard of people using orange liqueur instead of vanilla … I haven't tried it, but if you do, let me know in the comments because it sure sounds good.
What other toppings/garnishes work well on Cannoli Bites?
I find anything that tastes good on ice cream tastes good on a cannoli. Coconut, M&Ms, sprinkles … you don't have to be traditional if you don't want to be. (Especially if you have little ones who refuse anything that doesn't look like what they're used to.)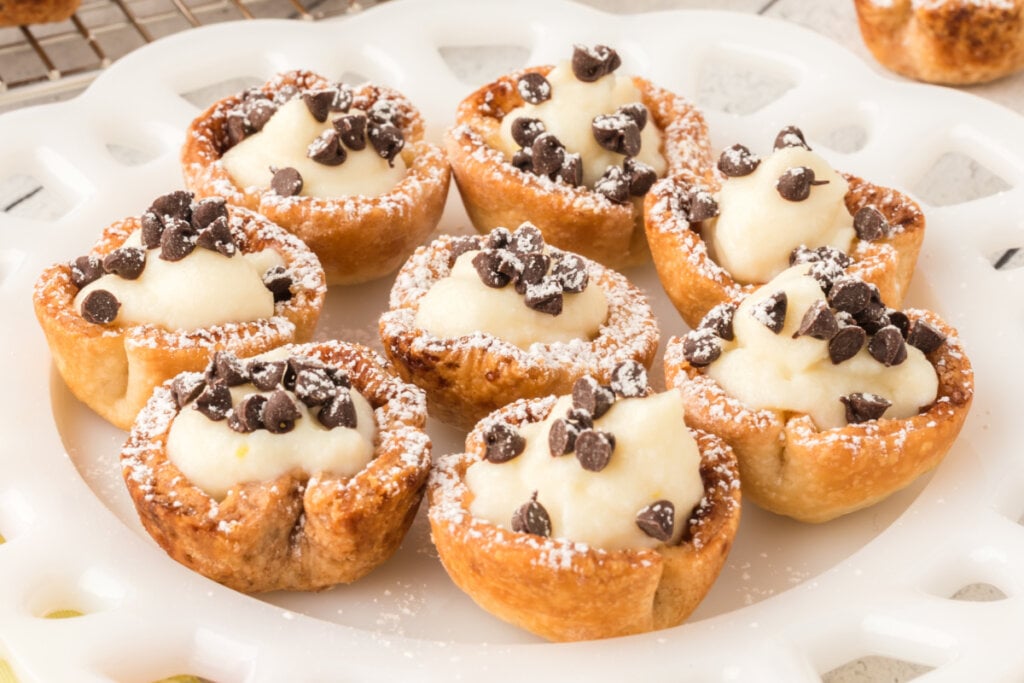 Other recipes you may enjoy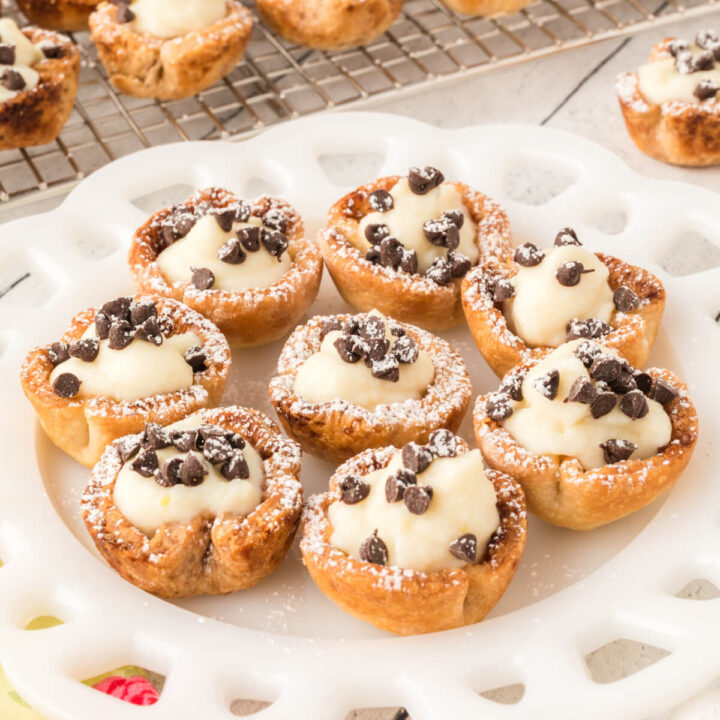 Mini Cannoli Cups
Be the star of any party or get-together with these amazingly easy and delicious Mini Cannoli Cups! A real crowd-pleaser!
Ingredients
Filling
1 container (15 oz) whole-milk ricotta cheese
1/2 cup powdered sugar
2 tablespoons granulated sugar
1 teaspoon finely grated orange or lemon zest
1/2 teaspoon vanilla extract
Cannoli Cups
1 box (2 count) refrigerated pie crusts, softened as directed on box
3 tablespoons turbinado sugar (raw sugar)
1 teaspoon ground cinnamon
Garnish
1/4 cup miniature semisweet chocolate chips or finely chopped pistachios
additional powdered sugar
Instructions
Preheat the oven to 425°F.
Lightly flour a work surface and unroll the pie crusts. Sprinkle both of the pie crusts with turbinado sugar and cinnamon. Gently roll a rolling pin over the top of the pie crusts to press the sugar and cinnamon into the dough. With a 2½-inch round cookie/biscuit cutter, cut out pastry rounds. Gently press each pastry round into ungreased mini muffin cups. (Note, you may need to gently re-roll the pie crusts and cut out more circles until you have 48 circles.)
Bake the crusts for 10 minutes, or until golden brown. Allow cannoli cups to cool completely in the pans, about 15 minutes, before removing them to a wire rack to cool completely.
While the cups are cooling, prepare the filling by beating all of the filling ingredients with an electric mixer on medium speed in a large mixing bowl until creamy. Place the filling in a 1-gallon zip-top resealable bag. Seal bag. Refrigerate until ready to serve.
Just before serving, remove the filling from the refrigerator. Snip one corner off of the bag and pipe approximately 1 tablespoon of filling into the cooled pastry cups. Sprinkle cups with mini chocolate chips or chopped pistachios. Dust with powdered sugar.
Serve immediately.
Notes
Store any remaining pastry cups at room temperature and keep the filling in the refrigerator. It is best to fill your cups right before serving, so they don't get soggy.
Try dipping the top edge of the cup into melted chocolate and letting it harden before filling the cups with filling.
Recommended Products
As an Amazon Associate and member of other affiliate programs, I earn from qualifying purchases.
Nutrition Information:
Yield:

48
Serving Size:

1 cup
Amount Per Serving:
Calories:

62
Total Fat:

3g
Saturated Fat:

1g
Trans Fat:

0g
Unsaturated Fat:

2g
Cholesterol:

1mg
Sodium:

32mg
Carbohydrates:

9g
Fiber:

0g
Sugar:

6g
Protein:

1g
Please note that the nutritional information listed on this page is an estimation based on the products I used. Ingredients and nutritional information can vary significantly between brands. Always be sure to read labels. Please verify that a recipe fits your needs before using it. Nutrition info may contain errors, so please verify it independently. Likewise, recipes may contain errors, so please use your common sense when following them.
Originally published on December 18, 2014. Updated on July 19, 2022.