Even people who don't like traditional potato salad like this Bacon Ranch Potato Salad! It's perfect for cookouts or tailgating!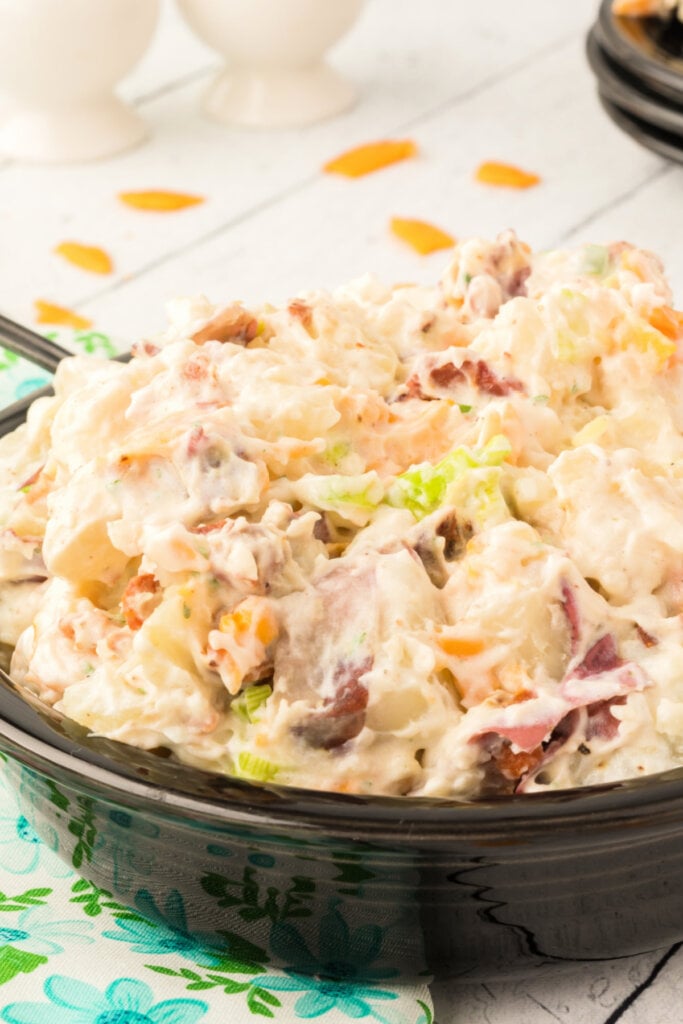 Ranch Potato Salad
I was digging through one of my old recipe boxes the other day and ran across this Bacon Ranch Potato Salad recipe I got from a friend many years ago. I haven't made it in quite a while and thought it would be the perfect side dish for just about every summer picnic under the sun!
It's wonderful when you want a different kind of potato salad or for those people who don't like traditional potato salad. Think potatoes, sour cream, green onions, crispy bacon, and Ranch dressing mix – it's glorious, filling, and amazingly delicious. Plus, every kid and picky eater I know loves it, so no squabbles with your little ones (or stubborn relatives!) over not wanting to finish up a plate.
This ranch potato salad is perfect for cookouts, potlucks, or tailgating parties since it's such a crowd-pleaser! It's easy to make and can easily be doubled to feed a small army. I know this because I've done it before!
This Ranch Potato Salad recipe is another one of those amazing picnic foods that seem to taste better outdoors, especially in the summer!! 😉 Enjoy!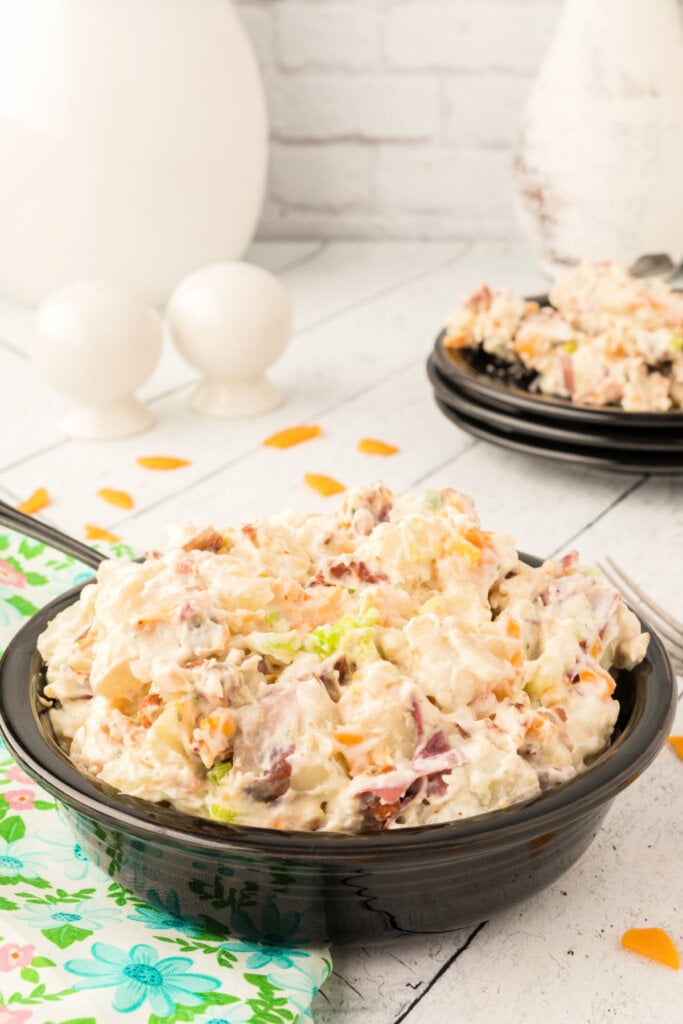 Bacon Ranch Potato Salad: Ingredients & Equipment
To make this Ranch Potato Salad, you will need …
Ingredients
red potatoes – cut into bite-sized pieces (1-inch chunks should be good) and cook until tender. Can't have a potato salad without them!
sour cream, ranch dressing mix – this forms your ranch-flavored "dressing" and it's out-of-this-world tasty.
bacon – cooked and crumbled. Y'all, I love bacon in just about anything, but adding it to this potato salad takes the cake. Reminds me of a baked potato sprinkled with tons of toppings and goodies!
cheddar, green onions – other stir-ins for your bacon ranch potato salad!
NOTE: You may also need to add salt and pepper to taste! I don't think it needs it, but that's just me!!
Equipment
large pot – to boil/cook your potatoes.
colander – for draining your cooked potatoes.
large bowl – to mix all your ingredients!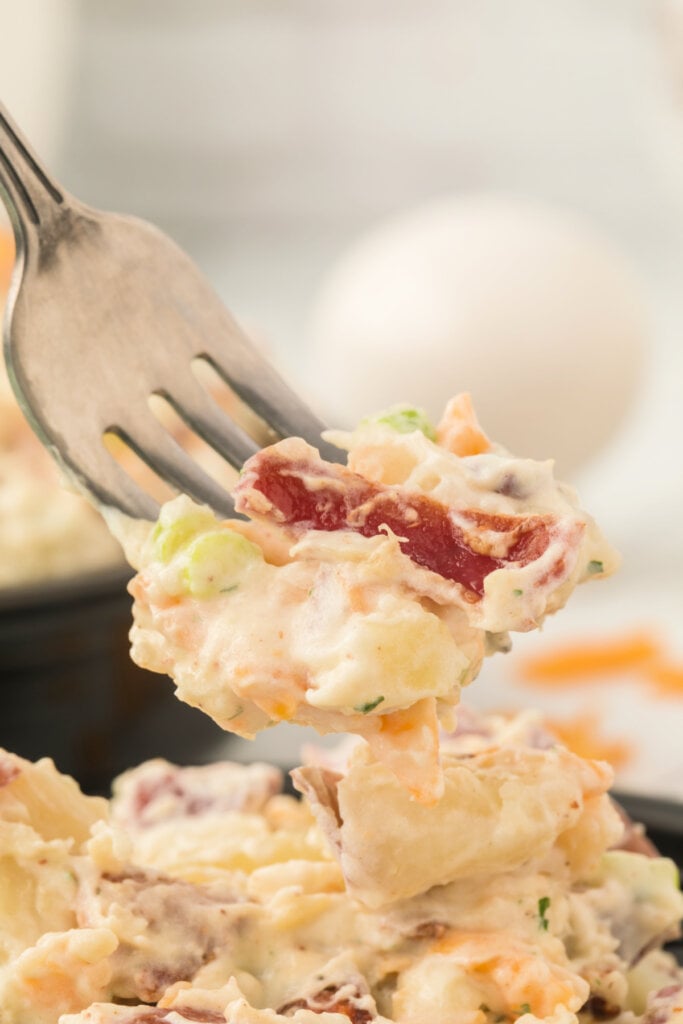 Bacon Ranch Potato Salad: FAQs
How long does it take to make bacon ranch potato salad?
About 45 minutes, plus two hours. Set aside 15 minutes to prep the ingredients and 30 minutes to cook the potatoes. You'll want to cover the salad and let it chill in the fridge for those 2 hours, as well. I know, I know, not fast – BUT – it's efficient since most of the time you aren't actively doing anything in the kitchen!!
How many servings does this recipe make?
Enough for about 8 people to have some, or 4 people to have seconds!
Can you use ranch dressing instead of sour cream and ranch dressing mix?
You can, but I feel it's much more flavorful with the sour cream/ranch dressing mix, plus, you get a thicker "dressing"!
Do you have to use cheddar cheese for this recipe to work?
Not at all! Use any sharp cheese you like.
My bacon isn't crispy when I serve the salad. Is there something I can do?
Cook and add the bacon immediately before serving! If you don't, it'll start to get a little mushy in the dressing over time.
Do I have to serve this immediately after chilling it for 2 hours?
I recommend it! You can chill it for about a day and then serve it, but I really wouldn't wait longer than that.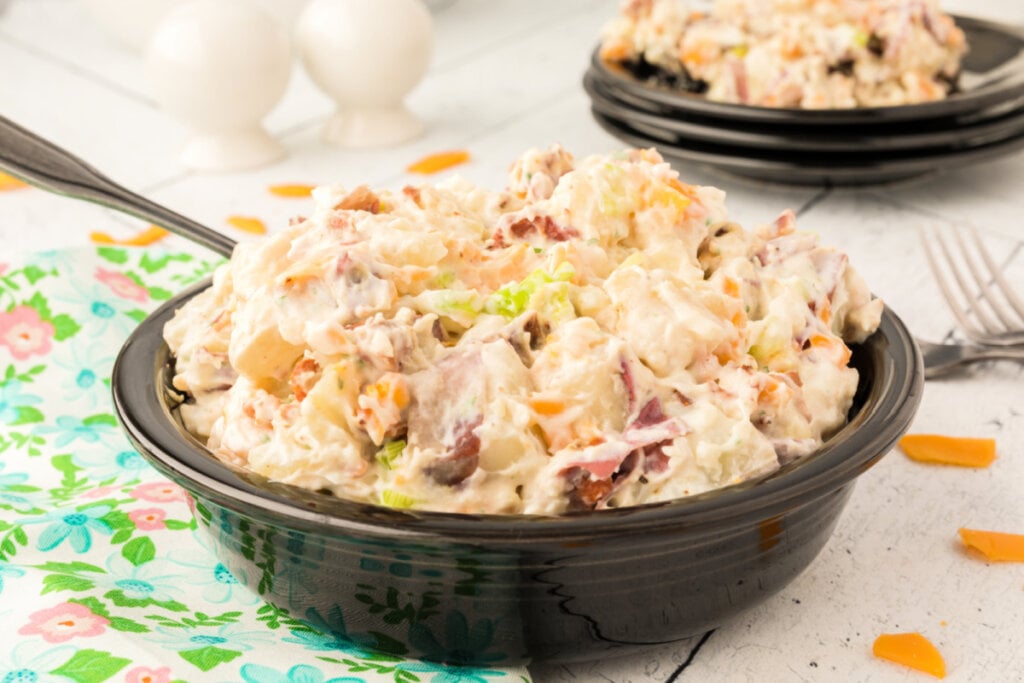 Other recipes you may enjoy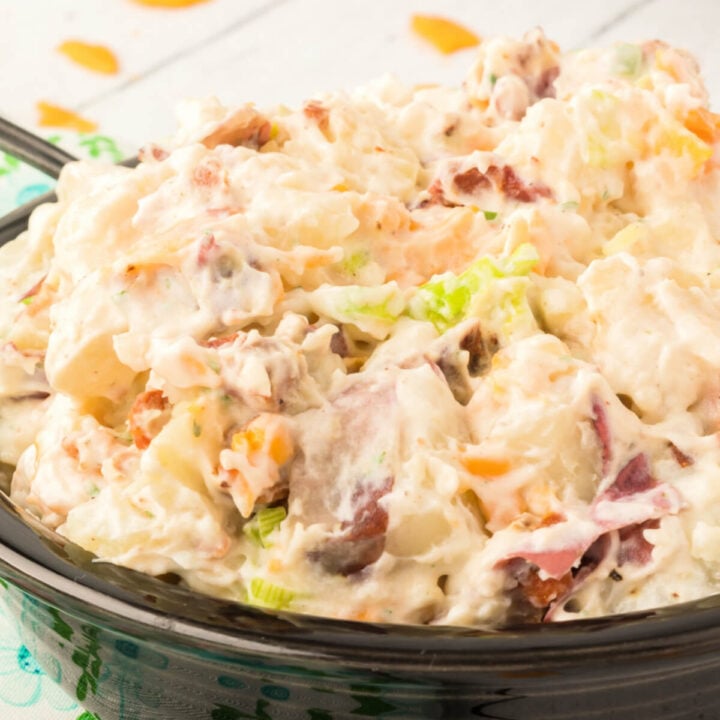 Bacon Ranch Potato Salad
Total Time:
2 hours
45 minutes
Even people who don't like traditional potato salad like this Bacon Ranch Potato Salad! It's perfect for cookouts or tailgating!
Ingredients
2 to 2-1/2 lb. red potatoes, cut into bite-size pieces
1 container (16 oz.) sour cream
1 packet (1 oz.) ranch dressing mix
1 package (12-16 oz.) bacon, cooked and crumbled
1-1/2 cups (6 oz.) Cheddar cheese, shredded
1 bunch of green onions, thinly sliced
Instructions
Place the potatoes in a large pot and cover them with water. Season the water with salt, if desired. Bring the water to a boil over high heat, then reduce heat to medium-low, cover and allow the potatoes to cook until tender - about 15-20 minutes.
Drain the potatoes into a colander and run them under cold water to cool.
In a large bowl, combine the sour cream and ranch dressing mix.
Add the potatoes, bacon, Cheddar, and green onions. Gently stir the mixture until it is well combined.
Cover and refrigerate at least two hours before serving.
Notes
If desired, you can use Russet potatoes in place of the red potatoes.
If you prefer a thinner dressing, you can add a touch of milk or buttermilk to reach your desired consistency.
Recommended Products
As an Amazon Associate and member of other affiliate programs, I earn from qualifying purchases.
Nutrition Information:
Yield:

8
Serving Size:

1
Amount Per Serving:
Calories:

151
Total Fat:

5g
Saturated Fat:

2g
Trans Fat:

0g
Unsaturated Fat:

2g
Cholesterol:

12mg
Sodium:

78mg
Carbohydrates:

23g
Fiber:

2g
Sugar:

2g
Protein:

4g
Please note that the nutritional information listed on this page is an estimation based on the products I used. Ingredients and nutritional information can vary significantly between brands. Always be sure to read labels. Please verify that a recipe fits your needs before using it. Nutrition info may contain errors, so please verify it independently. Likewise, recipes may contain errors, so please use your common sense when following them.
Originally published on September 1, 2014. Updated on May 30, 2022.