Sit back and watch the hilarious reactions to this surprisingly tasty Kitty Litter Cake. It's a prank treat perfect for a Halloween party or April Fool's Day.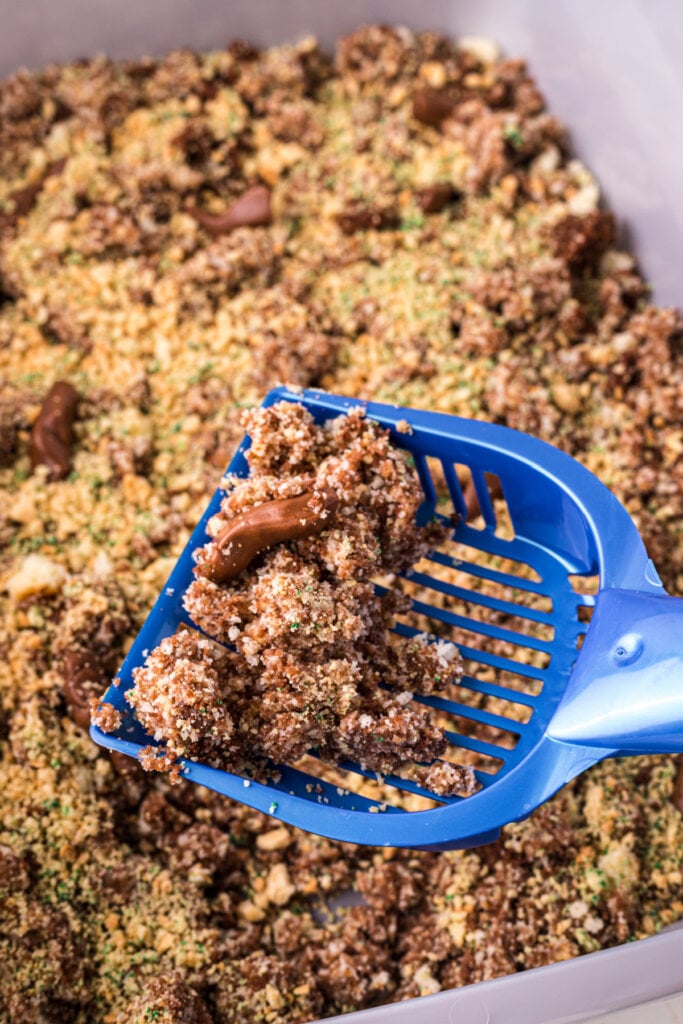 Halloween Dessert
I'm usually not a fan of gross-out humor, y'all, but this Kitty Litter Cake is just too adorable and funny. Not to mention it's so easy to make!
You can see from the pictures that it's meant to represent a litter box full of, well, what cats make best, after all! 💩 And I don't mean furballs! 😉
As hilariously weird and silly as this cake looks, the instant pudding and crushed cookies combined with crumbled cake makes for a really sweet and nicely textured treat.
It's a guaranteed hit with kids at Halloween parties in particular since the little ones LOVE their gross stuff, don't they? I'm sure kitty lovers everywhere will enjoy the humor, too.
Of course, don't limit this deliciously gross-looking cake to just Halloween! It's perfect for April Fool's Day, too! Or if you have a weird sense of humor like one of my kids, you can enjoy this for your birthday! 🍰🎉
No matter the occasion, I hope you enjoy this Kitty Litter Cake!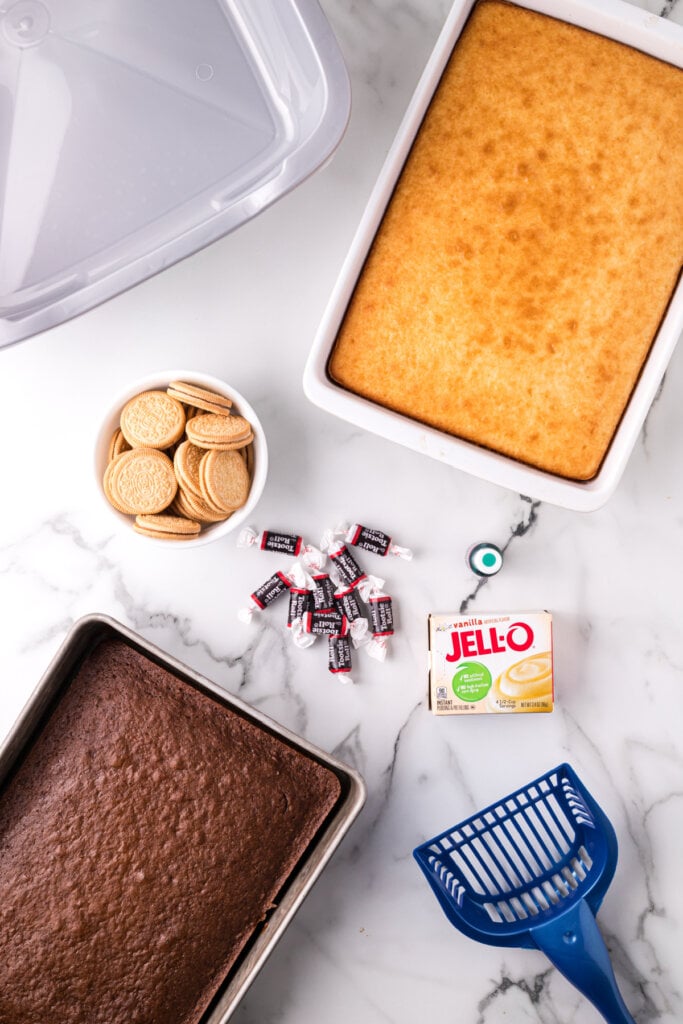 Ingredients & Equipment
For this Kitty Litter Cake recipe, you'll need …
Ingredients
white cake mix and German chocolate cake mix – you can just grab these at the store and make them according to the package directions. These will form the squishier, cakey portions of your Litter Cake.
ingredients to make both cakes – usually, this is water, oil, and eggs.
instant vanilla pudding mix – after making this pudding, you'll mix these in with your cake.
vanilla sandwich cookies – use Oreos or something similar to make the crunchier bits of your "litter"!
green food coloring – you know how cat litter usually has little crystals of other colors in it? Usually, they're an additional chemical to soak up the scent or something. You'll dye some of your crumbled sandwich cookies with this to represent that.
Tootsie rolls – you'll soften these and hide them randomly in your Kitty Litter Cake to represent – well, I think you know!! 🙈
Equipment
cat litter box – you'll serve your cake here for the full silly effect! You'll want to use a new, unused one – for obvious reasons!
cat litter scoop – a fun prop for your cake, and even more fun if you serve the cake with it, too. You'll want this to be a new, unused item, too.
food processor – to help you crumble your sandwich cookies. No food processor? No problem – use a large zip-top bag and a rolling pin or similar item to crush the cookies.
supplies for making a cake mix – grab anything you'll need for your box mix, like bowls, baking pans, etc.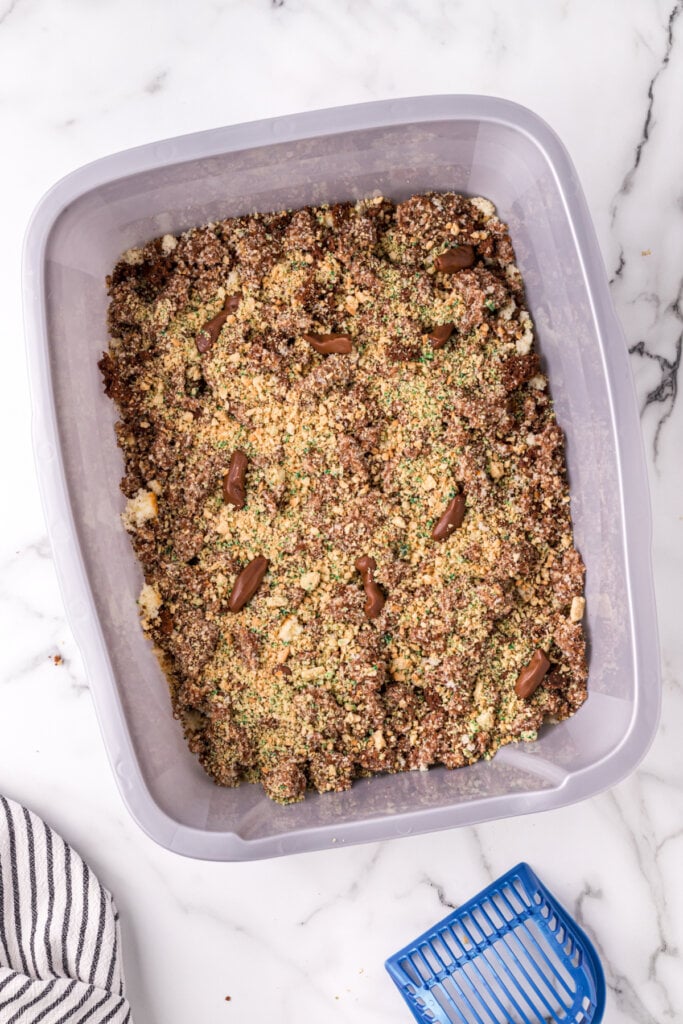 How to make Kitty Litter Cake
First, you'll start by preparing the cake mixes according to the box directions or recipe instructions and let them cool completely. You'll also prepare the instant pudding according to the package directions and refrigerate it until needed.
Next, you'll crush the cookies. You'll need to separate a small portion and use food coloring to color them green.
After that, you crumble and combine the cake mixes with the crumbled cookies and pudding. Then, you'll transfer the mixture to a clean, unused kitty litter box.
Lastly, you'll soften the Tootsie Rolls and arrange them in the litter box, then top the cake off with the green-colored crumbled cookies before serving with a new, unused kitty litter scoop.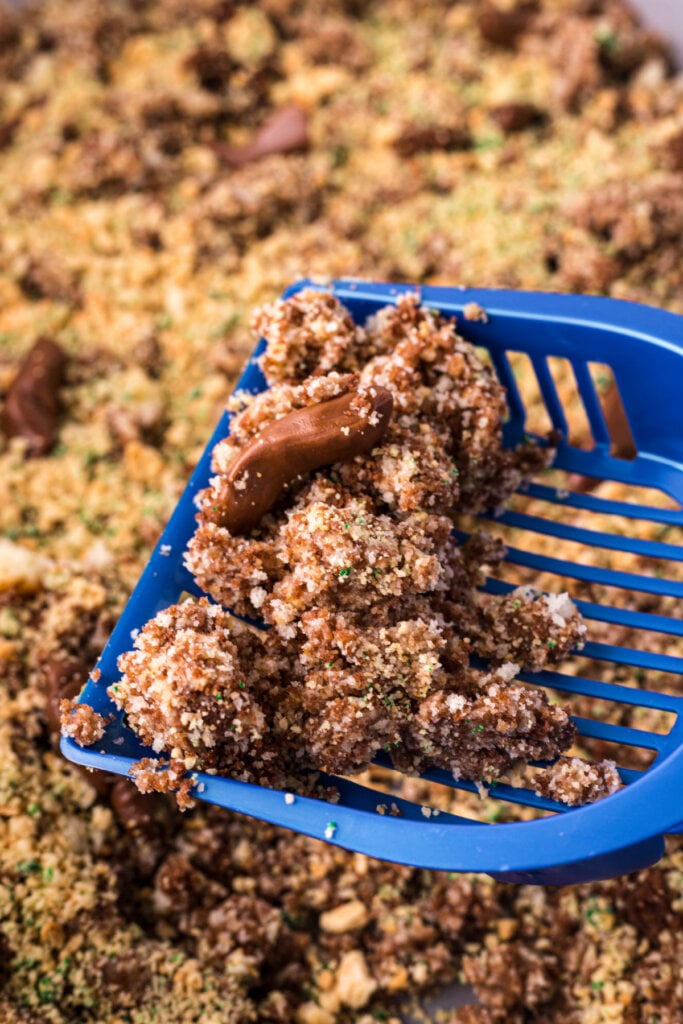 FAQs
How many servings does this Litter Box Cake make?
18-24 servings, depending on serving size.
How long does it take to make Kitty Litter Cake?
A little under an hour. You'll need 25 minutes of prep and 30 minutes of cooking time.
What alternatives can I use for the green food coloring in my Kitty Litter Cake?
If allergies are a problem or something similar, matcha is an easy alternative to green food coloring! You can either buy some matcha cookies and crush them up with the vanilla sandwich cookies or just sprinkle a few drops of matcha on top like the green food coloring.
Are there any substitutes I can make for the vanilla sandwich cookies
Rice Krispies work well too! Although they may not be as convincing up close, they certainly still look the part, in my humble opinion. Plus, they add a yummy toasted flavor that contrasts a bit with the heavy sweetness of the rest of the cake. You know, for you Kitty Litter Cake connoisseurs out there! 🤣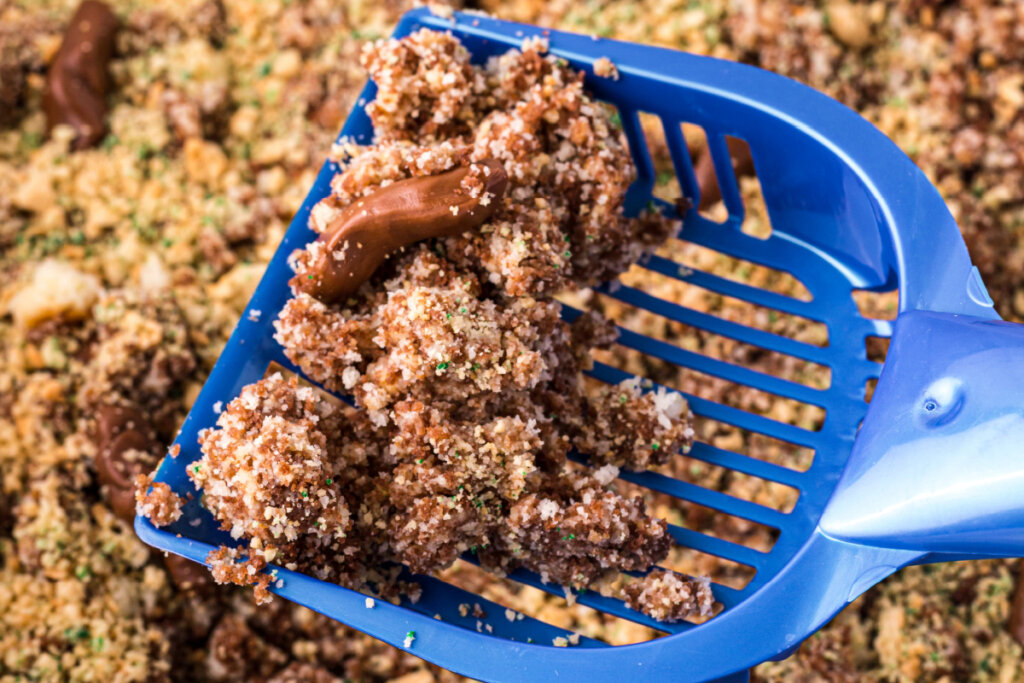 Other recipes you may enjoy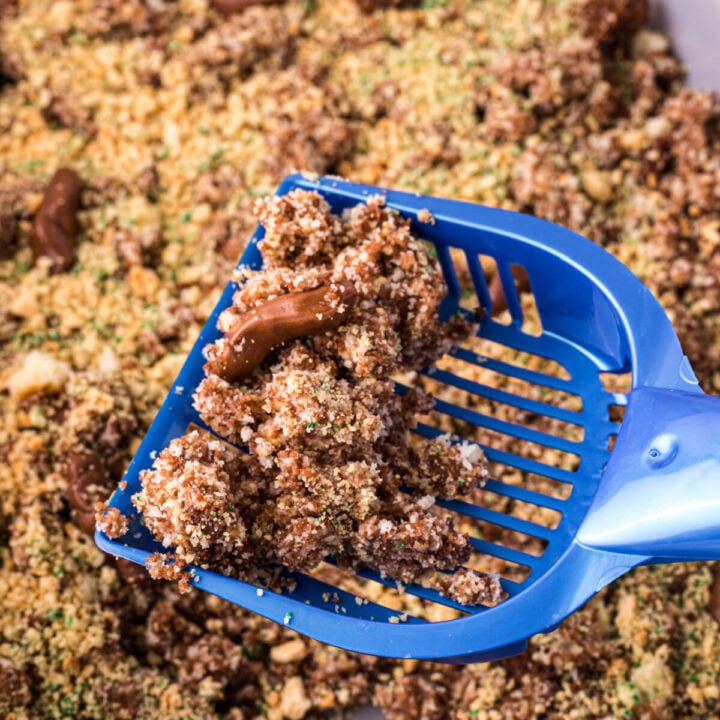 Kitty Litter Cake
Total Time:
1 hour
55 minutes
Sit back and watch the hilarious reactions to this surprisingly tasty Kitty Litter Cake. It's a prank treat perfect for a Halloween party or April Fool's Day.
Ingredients
1 package (15.25 oz) German chocolate cake mix
1 package (15.25 oz.) white cake mix
ingredients to make both cakes
2 packages (3.5 oz. each) of instant vanilla pudding mix
1 package (12 oz.) vanilla sandwich cookies
3 drops of green food coloring
1 package (12 oz.) tootsie rolls
1 new cat litter pan
1 new cat litter scoop
Instructions
Prepare both cake mixes separately and bake them separately according to the package directions (any size pan).
Prepare the pudding according to package directions and chill until ready to assemble.
Crumble the sandwich cookies in small batches in a food processor, scraping often. Set aside all but 1/4 cup. To the 1/4 cup, add a few drops of green food coloring and mix well.
When the cakes are completely cooled to room temperature, crumble them into a large bowl. Mix with 1/2 of the remaining cookie crumbs and the chilled pudding. You may not need all of the pudding. You want the cake to be just moist, not soggy.
Put the cake mixture into the kitty litter box.
Put half the unwrapped tootsie rolls in a microwave-safe dish and heat until softened, about 10-15 seconds. Keep an eye on them and DO NOT MELT THEM. Shape the ends, so they are no longer blunt, and curve the tootsie rolls slightly. Bury the tootsie rolls randomly in the cake and sprinkle with half of the remaining cookie crumbs. Sprinkle a small amount of the green-colored cookie crumbs lightly over the top.
Heat 3 or 4 of the tootsie rolls in the microwave until almost melted. Scrape them on top of the cake and sprinkle lightly with some of the green cookie crumbs. Heat the remaining tootsie rolls until pliable and shape them as before. Spread all but one randomly over top of the cake mixture. Sprinkle with any remaining cookie crumbs. Hang the remaining tootsie roll over the side of the litter box and sprinkle with a few green cookie crumbs.
Serve with the scoop.
Notes
You can use peanut butter sandwich cookies instead of vanilla sandwich cookies.
For more chocolate flavor, you can use instant chocolate pudding instead of vanilla pudding.
Recommended Products
As an Amazon Associate and member of other affiliate programs, I earn from qualifying purchases.
Nutrition Information:
Yield:

24
Serving Size:

1
Amount Per Serving:
Calories:

130
Total Fat:

1g
Saturated Fat:

1g
Trans Fat:

0g
Unsaturated Fat:

1g
Cholesterol:

0mg
Sodium:

303mg
Carbohydrates:

28g
Fiber:

0g
Sugar:

18g
Protein:

1g
Please note that the nutritional information listed on this page is an estimation based on the products I used. Ingredients and nutritional information can vary significantly between brands. Always be sure to read labels. Please verify that a recipe fits your needs before using it. Nutrition info may contain errors, so please verify it independently. Likewise, recipes may contain errors, so please use your common sense when following them.