These Halloween Stuffed Roaches are a disgustingly entertaining way to get in on some gross holiday fun!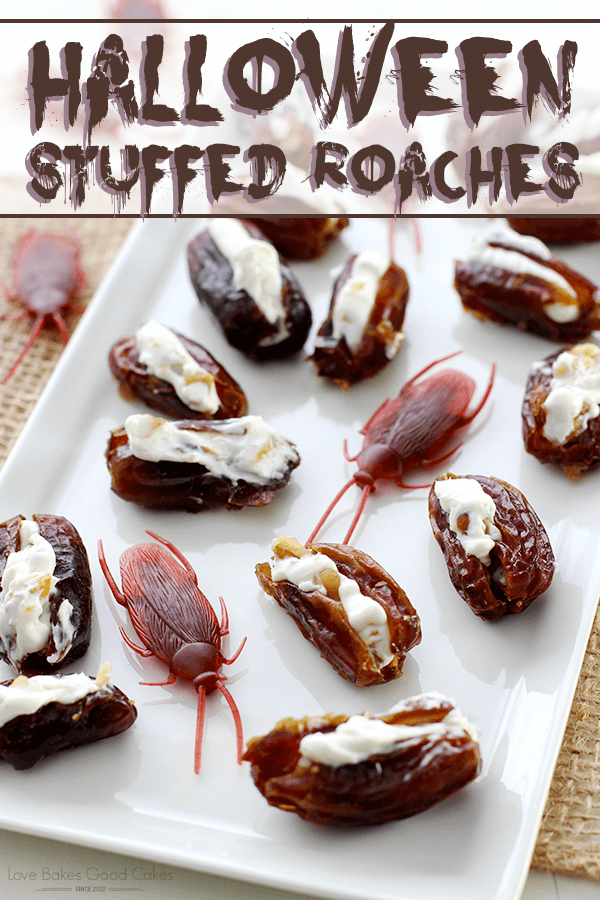 Halloween Stuffed Roaches
I'll be honest … when it comes to Halloween, I have a love/hate relationship. I love all of the fun recipes, and the fact you don't need an excuse to eat lots of candy. I even enjoy watching the kiddos dress up … but I don't like trick-or-treating in the traditional sense.
Thankfully, we live in a neighborhood where we have block parties instead. All of the families bring potluck food to share and when it gets dark, we have bowls and bowls of candy set out for the trick-or-treaters giving them a one-stop candy jackpot!
Every year, I love creating some kind of new Halloween-themed recipe with the kids. Sometimes, we do fun stuff like Boo-nanas – and other years, we do gross stuff like these Halloween Stuffed Roaches.
This has to be one of the grossest recipes I have ever made – and my kiddos get such a kick out of it so now we make them every Halloween! It's so gross in fact, that my 6-yr old daughter refuses to eat them because she thinks they're really bugs. Obviously, we need to work out some trust issues in the LBGC house – especially if she really thinks I would honestly feed her bugs! ?
To really trick out the effect, be sure to scatter a few plastic roaches among the Halloween Stuffed Roaches – you'll be sure to get a few comments! We love sharing this at our neighborhood block party and when we go to Halloween parties – people just love to talk about these little bug look-alikes!! Are you ready to freak your friends and family out this Halloween?! Let's get to the recipe, shall we?!
Other recipes you may enjoy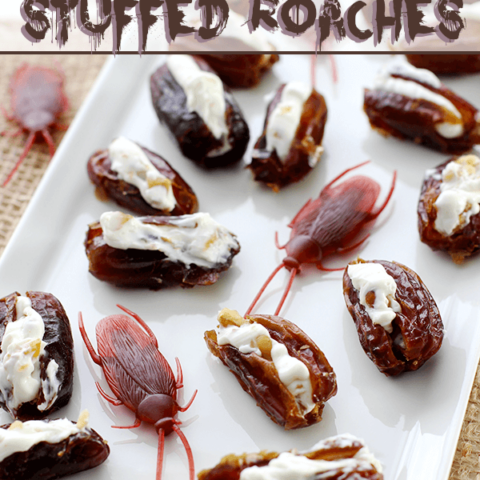 Halloween Stuffed Roaches
These Halloween Stuffed Roaches are a disgustingly entertaining way to get in on some gross holiday fun!
Ingredients
1 package (8 oz.) cream cheese, softened
1/4 cup finely chopped walnuts
2 packages (8 oz. each) whole pitted dates
Instructions
In a small bowl, mix cream cheese and walnuts together until well combined.
Using a small sharp knife, slice one side of each date lengthwise creating an opening, being careful not cut all the way through dividing the date in half. Carefully spoon or pipe the cream cheese mixture into the middle of each date. Pinch the dates closed.
Serve immediately or cover and refrigerate until serving time.
Nutrition Information:
Amount Per Serving:
Calories:

2078
Total Fat:

83g
Saturated Fat:

44g
Cholesterol:

249mg
Sodium:

832mg
Fiber:

31g
Sugar:

309g
Protein:

23g