The Denver Omelet Scramble is a spin-off of the traditional Denver Omelet. It's completely customizable, depending on your family's tastes.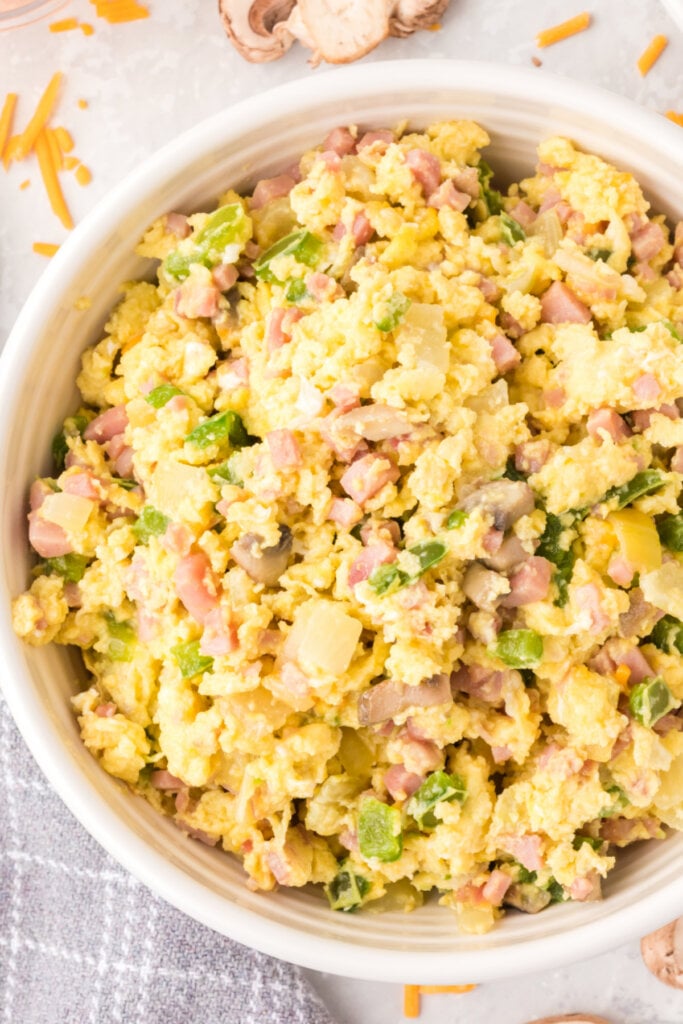 Denver Omelet Scramble
The Denver Omelet Scramble is a spin-off of the traditional Denver omelet. However, it's completely customizable, depending on your family's tastes!
Believe it or not…
I'm not really a fan of breakfast or breakfast for dinner. In fact, I generally only like biscuits and gravy! But since my family loves breakfast meals, I sometimes give in and make it for dinner. (Which really doesn't bother me, because did you know that most breakfast meals are super budget-friendly, too?!)
Although my family enjoys traditional omelets for both breakfast and dinner, it's a real pain in the neck to make seven (or more!!) of them! So one thing I like to do is to make our favorite omelets into "scrambles" like this Denver Omelet Scramble! All the yummy mix-ins are still there, just in a scrambled form.
Of course, this Denver Omelet Scramble is a spin-off of the famous Denver omelet with ham, onions, green peppers, and mushrooms. It's one of our faves! Really, though, you can make a scramble with anything your loved ones like in omelets. Enjoy!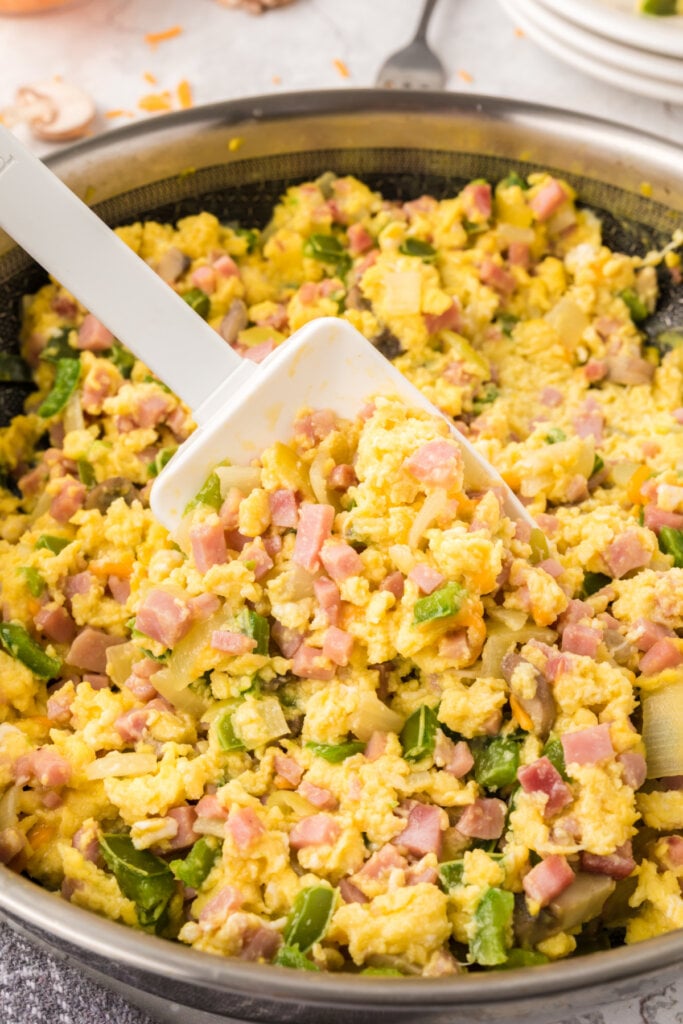 Denver Scramble: Ingredients & Equipment
To make this egg scramble recipe, you'll need…
Ingredients
eggs – you'll want to use large eggs for this recipe if you want more servings! More eggs, more scramble.
butter – for sautéing your veggies!
onion, pepper, mushrooms – your mix-ins, which you'll sauté before adding the eggs. You'll want to dice these at about 1/4th of an inch or so.
ham – be sure to use fully cooked. The Denver scramble classic!
Cheddar cheese – optional, but great sprinkled on top of the scramble once it's finished cooking.
Ingredients
knife and cutting board – for preparing your veggies and ham.
skillet – a large one, for cooking your scramble. Make sure it's non-stick (or else you might have to scrape your eggs off the bottom!)
large mixing bowl – grab one to beat your eggs before mixing them in with the rest of the scramble!
whisk – the most thorough way to beat your eggs.
cooking utensil or rubber spatula – for cooking your scramble.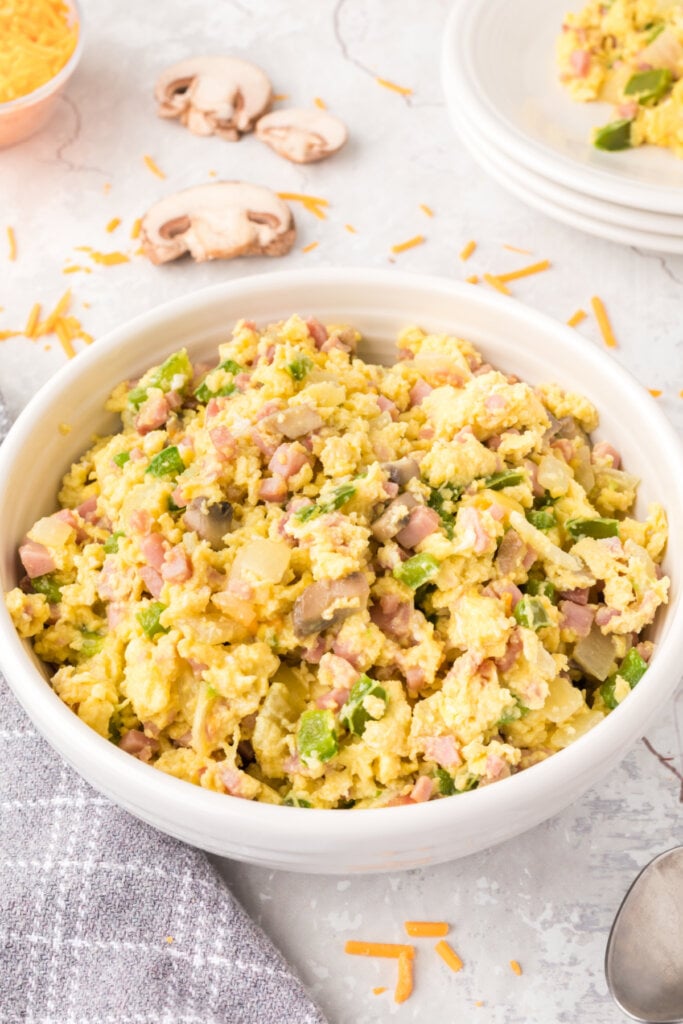 Denver Scramble: FAQs
How many servings does this egg scramble yield?
Six to eight servings, depending on the size of the eggs you use. Enough to feed your family (and maybe have seconds, too)!
How long does it take to make Denver Scramble?
About a half-hour. It's a super quick breakfast!
Is there a particular kind of onion you use?
You can use any kind you like or have on hand. I like using purple onions in Denver Scrambles if I have them on hand. They just add so much to the flavor, honestly! Nothing like onions in your eggs – delicious.

Do you have to use green peppers?
Not at all! Use whatever peppers you prefer. I just think green peppers taste the best without adding too much to the heat – perfect for a family meal.
Do you have to sauté the veggies first?
Oh, yes, it's actually important to follow the directions in that order. If you don't sauté your veggies first, their moisture will seep into the scramble overall, and you'll get an icky watery omelet scramble! Of course, you'll want to cook the ham right afterward, too, for the same reason. I know a lot of recipes will have you go in the opposite order, but trust me on this one!!
What kind of ham should I use?
You can use ham slices or ham steak. I think ham steak really provides a more juicy flavor, though!
Are there any other additions you recommend in particular?
Oh gosh, if you like omelets, you already know what additions you'd enjoy! This is basically just a scrambled-up omelet, so it's anything you'd put in any other egg dish. No need to stick to my recipe!
What is the difference between a Denver Omelet and a Western Omelet?
There really isn't much difference. The terms are often used interchangeably.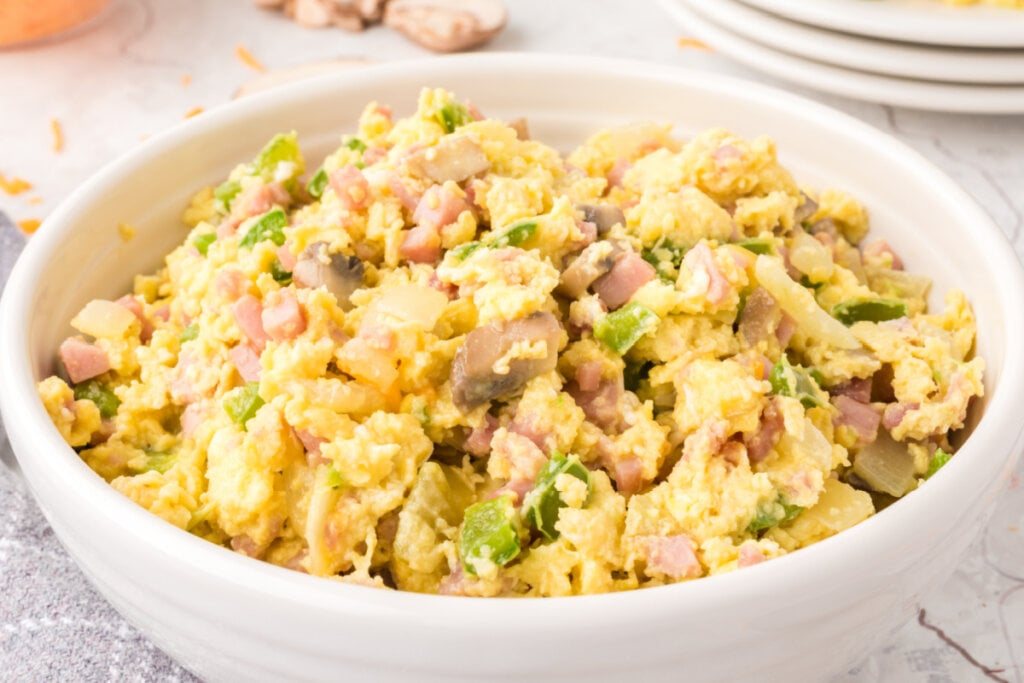 Other recipes you may enjoy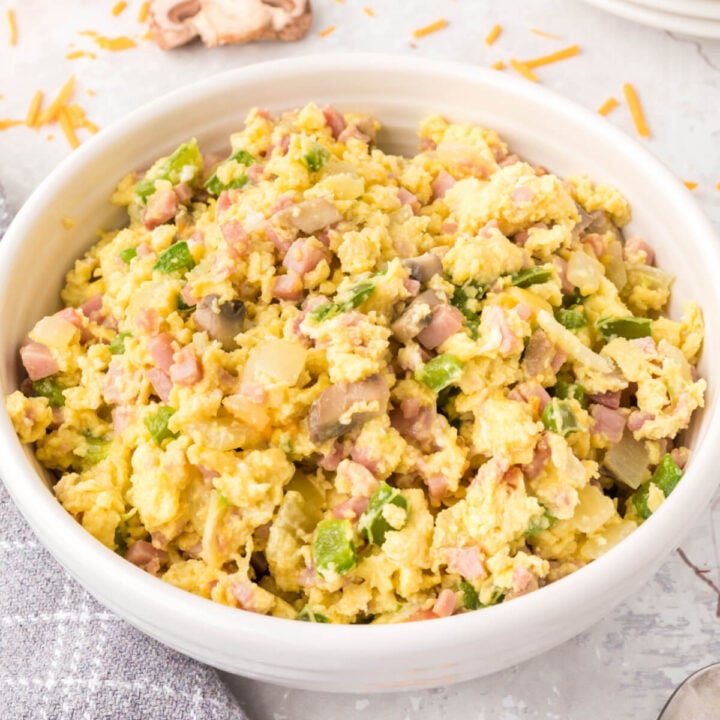 Denver Omelet Scramble
The Denver Omelet Scramble is a spin-off of the traditional Denver Omelet. It's completely customizable, depending on your family's tastes.
Ingredients
2 tablespoons butter
1 small onion, chopped
1 green pepper, seeded and chopped
4 ounces fresh mushrooms, chopped
1 to 1-1/2 cups fully-cooked ham, diced
10 large eggs, slightly beaten
1 cup (4 oz.) Cheddar cheese, shredded (optional)
Instructions
In a large non-skillet over medium-high heat, melt the butter. Sauté the onion, pepper, and mushrooms for 3-4 minutes or until the vegetables begin to soften. Add the ham and continue to cook until the veggies are soft. Lower heat to medium-low.
In a bowl, beat the eggs. Pour the eggs into the skillet and cook and scramble them until they are no longer runny and are as done as you like. Sprinkle with cheese if desired.
Serve immediately.
Notes
You can use your favorite cheese in place of the Cheddar.
Recommended Products
As an Amazon Associate and member of other affiliate programs, I earn from qualifying purchases.
Nutrition Information:
Yield:

6
Serving Size:

1
Amount Per Serving:
Calories:

249
Total Fat:

16g
Saturated Fat:

6g
Trans Fat:

0g
Unsaturated Fat:

7g
Cholesterol:

353mg
Sodium:

617mg
Carbohydrates:

5g
Fiber:

1g
Sugar:

2g
Protein:

22g
Please note that the nutritional information listed on this page is an estimation based on the products I used. Ingredients and nutritional information can vary significantly between brands. Always be sure to read labels. Please verify that a recipe fits your needs before using it. Nutrition info may contain errors, so please verify it independently. Likewise, recipes may contain errors, so please use your common sense when following them.
Originally published on August 14, 2013. Updated on March 20, 2022.