Caramelitas have ooey gooey caramel, paired with chocolate and an oatmeal crust. They are so easy to make and they are totally addicting!



It's been a long week and I am soooo glad it's the weekend – finally! Brian's work schedule is crazy and I have had a lot to deal with by myself this week. It has drained me. I need one of those "mom time-outs" that I've heard about!

Jamie @ Love Bakes Good Cakes's pin on Pinterest.
We've got family in town this weekend for a birthday party, so I am looking forward to having some down time and fun!
Speaking of fun, how fun are these Caramelitas?! Have mercy!! They've got a buttery oatmeal crust with yummy caramel and chocolate, sprinkled with nuts! I needed a little somethin' somethin' to brighten my spirits after this past week and these little treats hit the spot!

Caramelitas
Printable recipe
Yield: 24-30 bars
1 cup all-purpose flour
1 cup quick-cooking oats
¾ cup packed brown sugar
½ tsp. baking soda
¼ tsp. salt
¾ cup butter, melted
1 cup (6 oz.) semi-sweet chocolate chips
1 jar (12¼ oz.) caramel ice cream topping
1 tbsp. all-purpose flour
½ cup chopped walnuts
Preheat oven to 350°F. Grease a 9x13x2-in. baking pan and set aside.
In a bowl, combine the 1 cup of flour, oats, brown sugar, baking soda, salt and butter. Mix well. Press the mixture into the prepared pan. Bake for 10 minutes or until set. Sprinkle with the chocolate chips.
In a small bowl, combine the caramel topping with the 1 tbsp. of flour until smooth. Drizzle the caramel over the chocolate chips. Sprinkle the nuts over the top.
Bake 20-22 minutes or until bubbly. Cool completely. Cut into bars.
I have been known to take these tasty treats to potlucks – people just love them! They're so rich and indulgent! Make some – sharing is optional! 🙂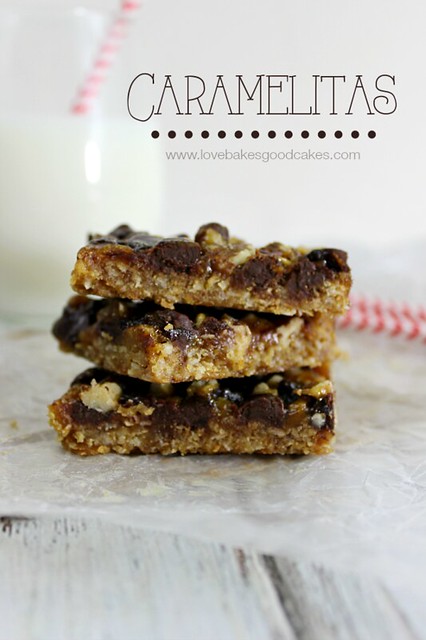 Other Posts You May Enjoy: