It's easy to make your own California Roll at home! California Rolls contain crab, avocado, and cucumber for a fresh and delicious meal or appetizer idea!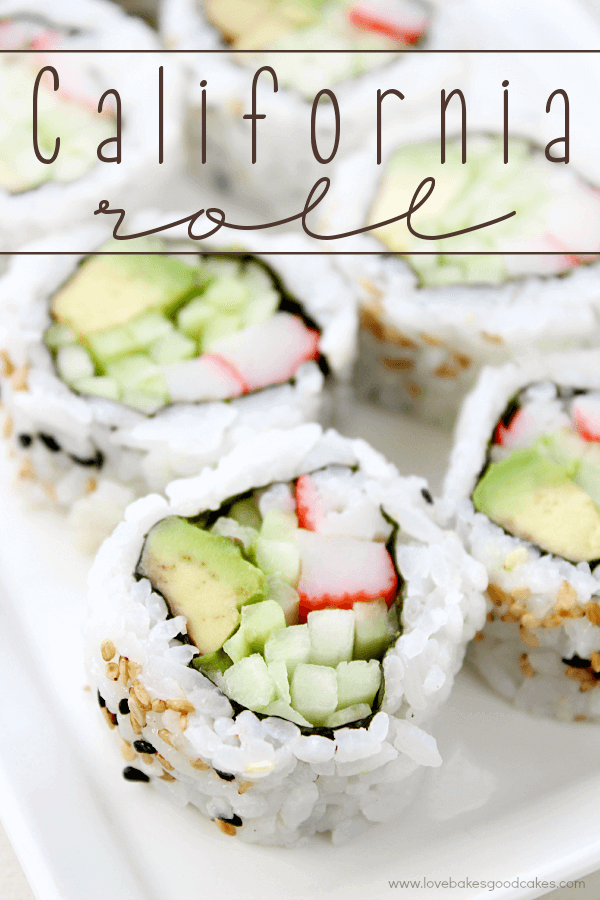 I was provided a Sushiquik to facilitate this review and giveaway. Any and all opinions expressed are my own.
California Roll Recipe
Let me preface this by saying, I have never made sushi at home before this post. I have always thought it was too complicated and I am not really a big fan of raw fish. That was always my excuse. It's funny how a simple little gadget can not only change your thinking but totally spark a new set of ideas and recipes. I hope y'all are ready – I have been stuffing all kinds of stuff into "sushi rolls" …. and this California Roll recipe is just the beginning, I'm sure!
When we visit our favorite local Asian restaurant, I often grab a few pieces of a California Roll and share some with my kiddos. Being perfectly honest, my older boys are way more adventurous when it comes to eating sushi …. they will try it all … and they actually like it! For them, it's a treat to get to eat something Mom doesn't make at home!
I was recently introduced to Sushiquik. SushiQuik offers the easiest and the best way to make sushi at home. They have designed the world's #1 sushi making kit, creating fun for the whole family! After so many times of trying various sushi rolls out, my boys had fun making and eating their own California Roll.
Our first couple looked a bit shabby, but by the third and fourth rolls, we were really getting the hang of it! You can see my hand model (Isaac) making his own California Roll! With the Sushiquik, it was easy to make our own sushi rolls at home!
Making the rolls
We had fun making California Rolls and I can see plenty of these being made when it's scorching hot this Summer here in Phoenix! Gabriel and Abby even got in on the fun by adding their ingredients to their rolls and helping spread the sushi rice!
Also, before this California Roll recipe, I have never made sushi rice before. I did a quick Google search and ran across a Sushi Rice recipe on No Recipes that did a great job of breaking it down into steps with pictures. I have linked that recipe into my recipe below in case you need it too! 🙂 Enjoy!
For the latest news, special offers and more recipes, be sure to follow Sushiquik on Facebook, Twitter and find them on Pinterest!
Sushiquik makes it so easy to enjoy your favorite sushi rolls at home! What kind of sushi roll do you want to try first?
Other recipes you may enjoy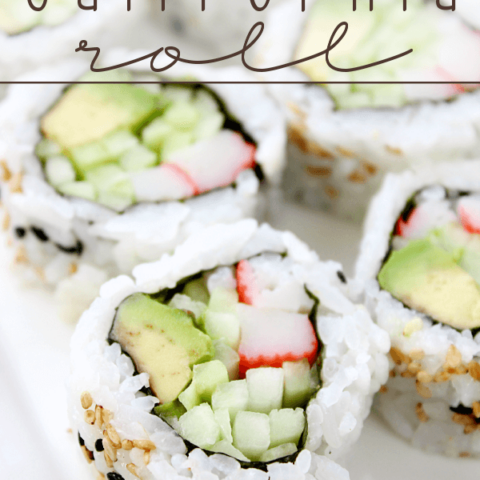 California Roll
It's easy to make your own California Roll at home! California Rolls contain crab, avocado, and cucumber for a fresh and delicious meal or appetizer idea!
Ingredients
Sushi Rice
1/2 Nori Sheet
Imitation Crab Meat strips
Cucumber strips
Avocado strips
Sesame Seeds (optional)
Optional ingredients for serving
Wasabi, Soy Sauce, Pickled Ginger
Instructions
Place the nori onto the white mat.
With the rice paddle, spread the sushi rice evenly onto the nori until it's completely covered.
Sprinkle sesame seeds over the rice.
Carefully flip the nori over so the rice is on the bottom.
Lay the crab sticks along the nori. Make sure that there's an even amount of crab sticks throughout the roll.
Top with avocado and cucumber.
Roll your sushi with the white mat, starting from the end closest to you.
Put your roll on a cutting board and then place the Sushiquik cutting guide over it to create equal pieces.
Serve with wasabi, soy sauce and/or pickled ginger.
Nutrition Information:
Amount Per Serving:
Calories:

55
Total Fat:

5g
Saturated Fat:

1g
Cholesterol:

0mg
Sodium:

3mg
Fiber:

2g
Sugar:

0g
Protein:

1g